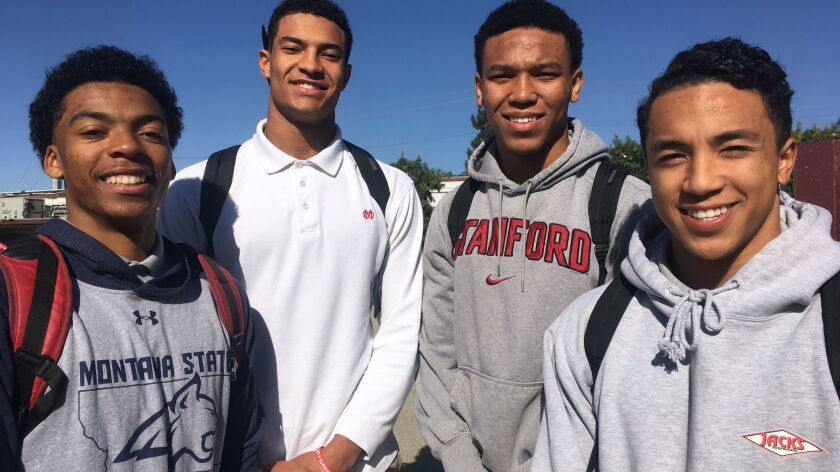 When Amon-ra St. Brown, Bru McCoy, C.J. Parks and Nikko Remigio line up on the football field together, opponents may think they are taking on the Avengers — Iron Man, Captain America, the Hulk and Thor.
Wearing their red Santa Ana Mater Dei uniforms, they form a receiver group that performs exceptional feats — diving, leaping, juking and catching.
"The constant drive to be great is what makes us be successful," Remigio said.
Few high school teams boast a better collection of receivers. St. Brown is considered the No. 1 uncommitted college recruit in California. Parks is committed to UCLA. Remigio is committed to Cal. And McCoy, a junior, has scholarship offers from Ohio State, UCLA and USC, among others.
On Saturday night at Sacramento State, they'll appear together for a final time, playing against Concord De La Salle in the CIF state championship Open Division bowl game. Kickoff is at 8 p.m. Mater Dei is seeking to finish its season 15-0.
Each has worked to be on the field at the same time, leading to a successful four-month partnership.
"It's those games you don't get as many touches that creates a drive and a passion to get better that next week in practice because you want some of that love as well," Remigio said. "It's the perfect cycle of you win some, you lose some, and you're always going to get a drive to work harder and be better than the other guy."
Their statistics are good — but not out of this world — because they embrace the idea that whoever is open gets the glory. St. Brown has 64 catches and 18 touchdowns. Remigio and McCoy each have 42 catches and 10 touchdowns. Parks is at 48 receptions and five touchdowns.
Quarterback J.T. Daniels, a USC commit and the two-time Gatorade state player of the year, waits to see who the defense tries to stop and then fires the ball to the open man.
"We all like to watch each other make plays," McCoy said. "It's all a mutual respect."
Receivers St. Brown, Parks, Remigio, McCoy form top unit
The daily competition in practice is what has put this foursome on such a high level. When one shows great hands or dives to make a catch, the others want to be part of the highlight club.
"Playing with Bru, Nikko and C.J., I think it brings out the best in all of us," St. Brown said. "We all compete in practice. We all want the best out of each other. When one of us sees something wrong, we all try to correct each other."
None has played in all 14 games because of injuries, and that depth has helped keep the Monarchs' offense rolling. When one isn't available, the others pick up the slack.
St. Brown missed the first three games because of a finger injury. When he came back, the offense took a major leap forward. His speed and strength make him the most feared of the receivers, but opponents who focus on stopping only him inevitably get burned by the others.
Two weeks ago, in the Southern Section Division 1 championship against Bellflower St. John Bosco, McCoy caught three touchdown passes. St. Brown caught eight passes for 150 yards and one touchdown.
"It's fun to have four guys who know what they're doing," Parks said. "They're all real aggressive and real assertive. They all try to be the alpha and show their physical presence."
McCoy is the one who will be left behind for 2018, but he says he's learned plenty from the other three, from dealing with the college recruiting process to how to handle success.
"I've had the most fun in my life," he said. "I can't be more grateful for the situation I'm in."
The foursome has thrived by relying on each other.
"Playing with three other great receivers is something special," McCoy said. "It's an opportunity most people don't get in high school. It creates a different type of environment. Every day, we push each other, learn from each other."
---