FBI ends search of lake in San Bernardino massacre investigation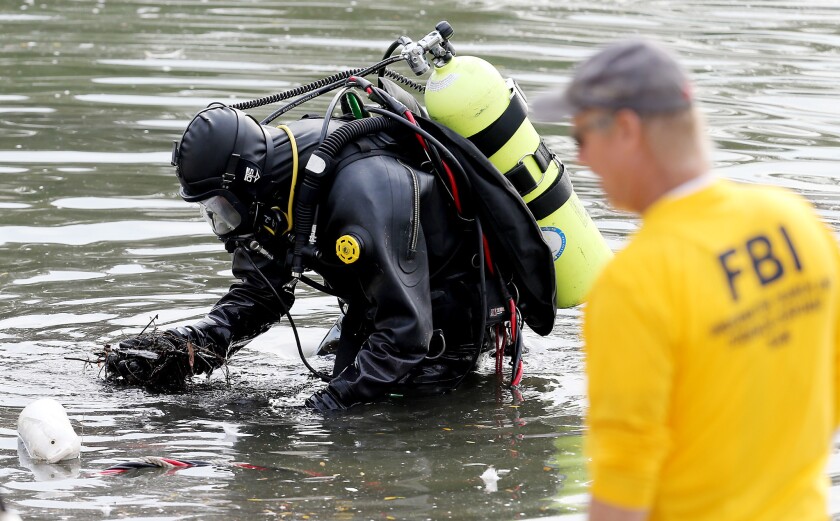 Terrorism investigators have completed for now their recovery effort at a lake where officials believe the San Bernardino shooters may have dumped electronics and other evidence.
Law enforcement sources said divers found some items Friday during the search of Seccombe Lake, but it's unclear what they were.
"The FBI has not commented on whether items retrieved from the lake are case-related due to the ongoing investigation, but the divers' findings will be analyzed for evidentiary value in this case," the agency said in a statement Sunday.
Interested in the stories shaping California? Sign up for the free Essential California newsletter >>
Investigators received a tip that the shooters — married couple Syed Rizwan Farook and Tashfeen Malik — may have visited the area on the day of the attack, said David Bowdich, assistant director in charge of the FBI's Los Angeles field office.
An examination of digital equipment recovered from the home of the couple who killed 14 people and wounded 21 others in San Bernardino has led FBI investigators to believe the shooters were planning an even larger assault, according to federal government sources.
Farook and Malik were in the final planning stages of an assault on a location or building that housed a lot more people than their Dec. 2 attack site, the Inland Regional Center, possibly a nearby school or college, according to federal sources familiar with the widening investigation.
Investigators have based that conclusion on evidence left behind on Farook and Malik's computers and digital devices, not all of which the couple were able to destroy before they were killed in a firefight with police hours after their rampage, the sources said.
Images of San Bernardino-area schools were found on a cellphone belonging to Farook, according to a law enforcement source. But the source cautioned that Farook may have had a legitimate reason to have the images because his work as a county health inspector involved checking on school dining facilities.
Meanwhile, memorial services for some victims of the attack were held over the weekend and more are planned this week. The community is still struggling to heal from the trauma of the massacre.
On Sunday evening, dozens of mourners gathered at a memorial outside the Inland Regional Center to honor the victims. Cindy Quinones wept as Pastor Gwen Rodgers prayed for peace. Quinones lost her cousin Aurora Banales Godoy, 26, in the attack and said she has visited the site every day to seek comfort.
"We feel her spirit here," she said. "It's a relief to be near her."
Also Sunday, the Los Angeles Ahmadiyya Muslim Community organized a blood drive at the Bait ul Hameed Mosque in Chino to honor those who were killed and "to emphasize the Islamic teachings of the sanctity of life."
"We're Muslims who give blood. We don't shed blood," said Ahsan Khan, president of the Ahmadiyya Muslim Community Los Angeles East chapter who drove to Chino to participate in the campaign. "This is to honor the victims of the shooting and their families and everyone in the community. This is our way to show solidarity."
The event was part of a larger national movement by Muslim leaders to reach out to the broader community and combat rising tensions in the U.S. in the wake of the mass shooting and terrorist attacks in Paris last month. A man was arrested Friday on suspicion of a hate crime and arson related to a fire Friday afternoon at a Coachella Valley mosque. Two other mosques were vandalized in Hawthorne over the weekend.
Zakaria Sayed, 26, who lives in Irvine and participated in the blood drive, denounced the actions of those involved in the San Bernardino shooting.
"We're not just keeping people in our thoughts and prayers, but actually doing something about it," Sayed said.
Sayed said it can be tiring to battle misconceptions about his religion but that he would continue to do so.
"I'm representing something much larger," he said. "I'm representing the entire community, not just myself."
A few minutes later he gave his blood inside a bus operated by LifeStream, a private blood center. The collected blood is distributed to medical facilities in Southern California. Since 9/11, the Ahmadiyya Muslim Community has given an estimated 40,000 pints of blood nationwide, Khan said.
Rabiya Chaudry, 25, another blood donor who drove from Brea, said she thinks it's important for the Muslim community to educate others that Islam is not about violence.
"You have to make the effort to show people that you're as normal as any other person," she said. "You do your efforts, then you leave the rest to God and you pray that all your efforts don't go wasted."
MORE ON SAN BERNARDINO
At memorial services for San Bernardino victims, 'a different kind of grief in people's faces'
'All hell broke loose' as police chased the San Bernardino shooters
After San Bernardino shooting, this gun show could get a crowd twice as big as usual
---
The stories shaping California
Get up to speed with our Essential California newsletter, sent six days a week.
You may occasionally receive promotional content from the Los Angeles Times.