'You gotta go': 7.1 earthquake upends a Friday night in L.A.
Patrick Schwarz was watching "The Last Black Man in San Francisco" in Los Angeles when his theater seat started shaking Friday night.
Having grown up in Northern California, he knew right away what was happening.
"The shaking was pretty intense, and it just kept going and going. It seemed like it might be over and maybe we were going to keep watching, but they came and said, 'You gotta go.' "
With two significant quakes in so many days, Schwarz said he'd be happy if Friday's was the last.
"I would hope we're done with them now, but who knows."
The 7.1 magnitude temblor that hit Southern California caused damage and rockslides in the Ridgecrest area. The shaking was much less intense in Los Angeles, more than 100 miles away. There were no immediate reports of damage or injuries in the L.A. area.
FULL COVERAGE: 2nd major quake in two days hits Southern California »
But the temblor still rattled nerves. Guests at Disneyland said some rides were temporarily closed.
Jeff Barnes and his wife, Niki, were waiting in line for the new Millennium Falcon attraction.
At first, standing on a bridge in line five minutes from boarding the ride, the couple thought the shaking was intentional.
"You think it's part of the show or maybe the bridge is supposed to sway," Barnes said. "It took us a while to figure out it was an actual earthquake." The murmurs from the rest of the line snaking through the room were a hint, and then staff began evacuating the guests out of the rides and into the park.
Disneyland is a whole different experience when no one is on a ride or in line, Barnes said. "It went from feeling busy to absolutely mobbed because, you know, nobody's in line anymore, nobody's on rides." He and his wife have annual passes, so they left, to save the Millennium Falcon for another day.
But, Barnes said, "for somebody who has driven across the country and has purchased a ticket and that was their one shot, what a major disappointment."
Across county lines at the Egyptian Theatre in Hollywood, a few hundred patrons were watching "Jaws" — protagonist Martin Brody had just found his son out on the pond, "and he's about to possibly get attacked by a shark" when the theater began to shake, said Tom Bond, who was sitting toward the front of the theater with a friend.
"A couple people started screaming" while others left the theater, Bond said. He and his friend stayed put, and after the shaking had ended, the event organizers stopped the movie, turned on the lights and gave the audience a 15-minute break before restarting the reel.
"There was a mild case of panic for like five or 10 seconds, and then everyone kind of chilled out," Bond said.
Here are the biggest earthquakes in California history »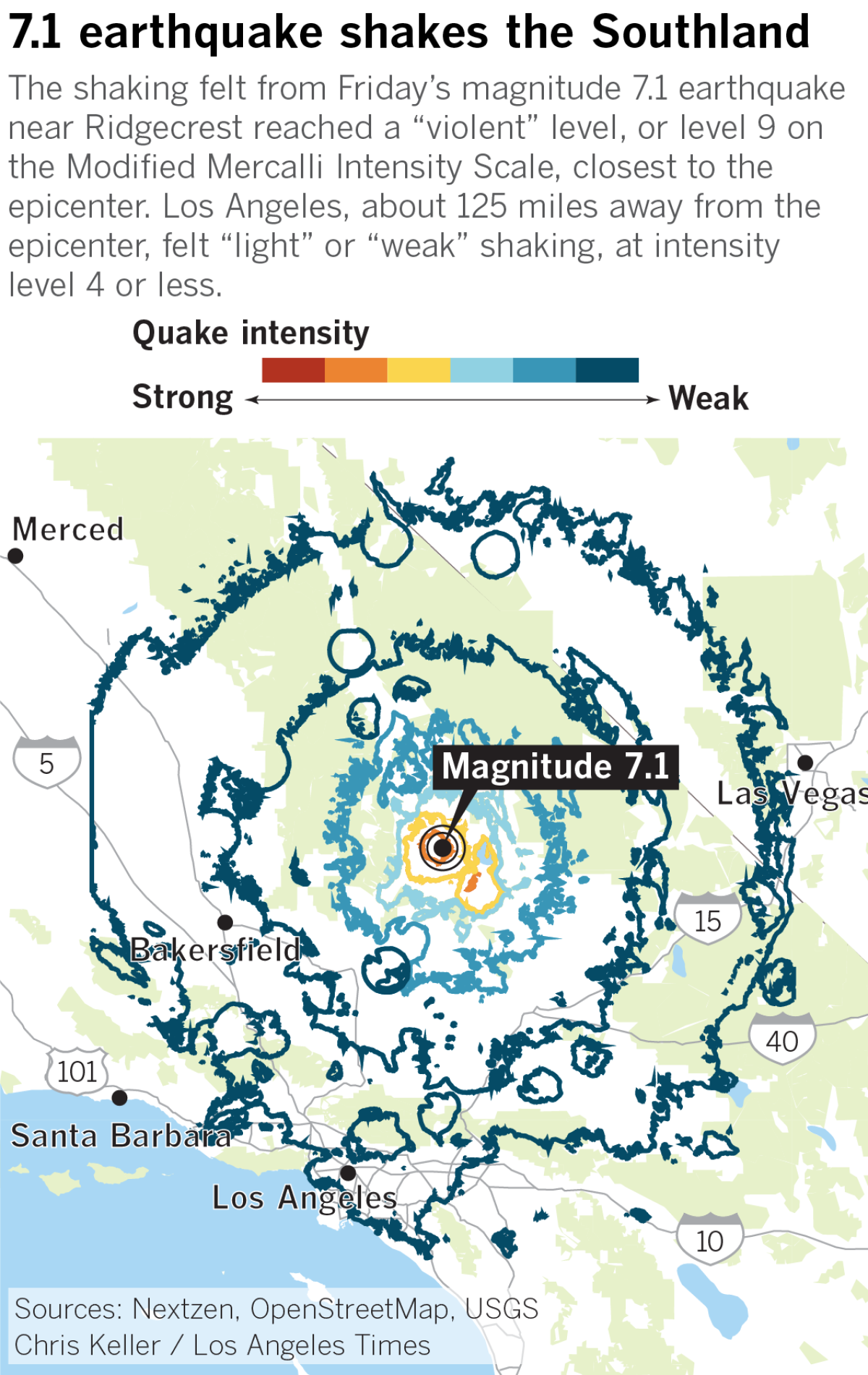 At the Crate and Barrel at the Grove, several items fell off the walls. A cashier ducked alongside the counter.
A manager yelled, "Everybody stay calm."
"Do you feel safe?" the manager asked the cashier.
"Yes," he replied.
At the Skirball Cultural Center in Brentwood, dozens of celebrants were eating the last of their chicken and fish at a wedding rehearsal dinner when the tables started shaking.
"People started yelling 'earthquake' and 'do you feel that?' " Joanna Korshak, 29, said. "We were outside and we could feel it, which is crazy. And I could see all the windows shaking on the museum."
"After it was over, everyone started clapping," Korshak said. Someone could be heard yelling, "Welcome to L.A.," amid the post-earthquake applause. The celebrations quickly resumed, with the father of the groom getting up to make a speech.
Velika Turner, 49, a registered nurse, was drinking wine with friends in the backyard of her Long Beach home when the quake hit: "All of the sudden we felt a rolling sensation and everyone was like, 'Is that an earthquake?' And then it got stronger and stronger." Turner said she ran inside her home after hearing her mother yelp and a crashing sound.
Her mom was fine — the noise came from a dog ramp falling to the floor. "The aquarium was really swishing back and forth," Turner said.
"I'm fine with it. I grew up here. This is part of life," she said, noting that she lived in West L.A. in 1994. "This is nothing. I lived through Northridge."
At Friday's Dodgers game, as Kiké Hernandez was coming to the plate, the televised view from the center-field cameras began bobbing up and down. Announcers Joe Davis and Orel Hershiser were calm and unflappable. "I think we've got another earthquake," Davis said in his normal announcer voice.
Earthquake preparedness: What to do before — and during — a big one »
Most fans stayed seated as the quake continued. "People in the upper deck are moving a little bit," Hershiser said. "I would not want to be sitting in one of the first rows of the upper deck ... I guess we kind of are," Davis added.
"How are they continuing to play baseball?" Davis wondered.
"I don't understand how the players can't feel it," Hershiser said.
As the quake tapered off, Dodger Stadium organist Dieter Ruehle started playing Carole King's "I Feel the Earth Move."
The foul pole was still swaying several minutes after the quake.
As the inning ended and the announcers went to a commercial break, Davis said, "No hits, no runs, one earthquake."
---
Life is stressful. Our weekly mental wellness newsletter can help.
You may occasionally receive promotional content from the Los Angeles Times.