L.A. voters will decide whether to eliminate a barrier to a public bank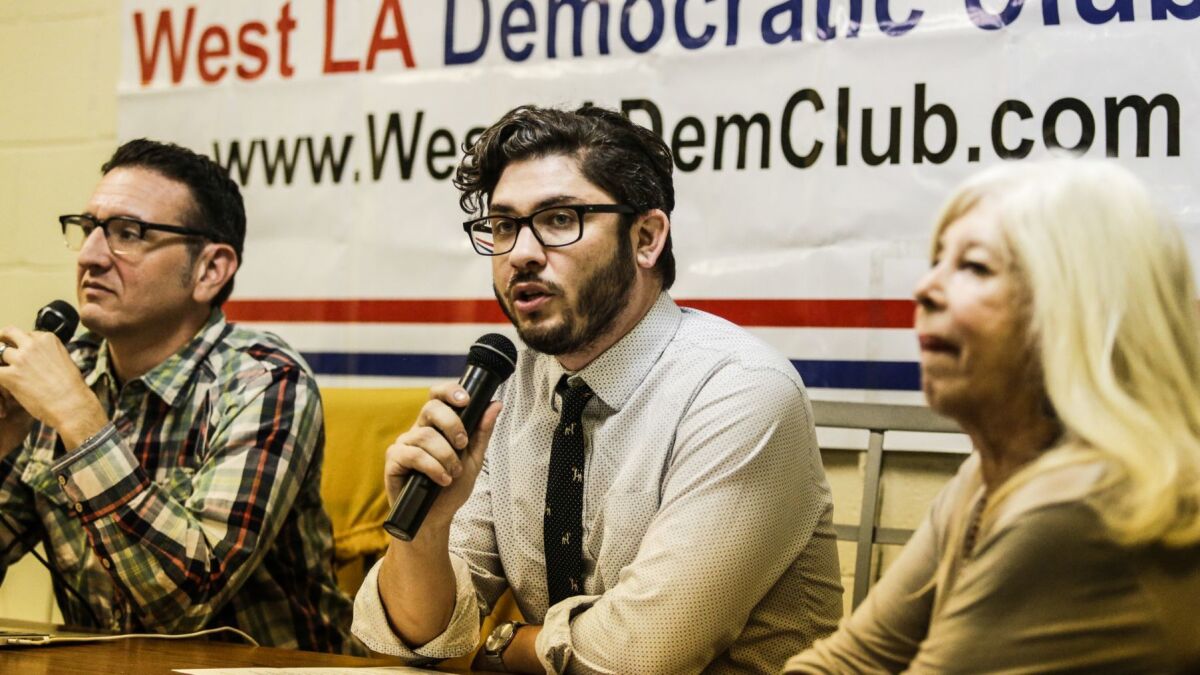 Los Angeles voters will decide next month whether to nudge along the budding movement to create a public bank owned by the city.
The choice is a seemingly modest one: whether to alter the City Charter to allow L.A. to create a "purely commercial" enterprise.
City Council President Herb Wesson, who first floated the idea of a municipal bank more than a year ago, said the ballot measure is simply a way to gauge whether Angelenos want officials to explore a public bank before the city goes to the trouble of hammering out a detailed plan.
"If people say, 'We don't want you to do this,' then we don't move forward with it," Wesson said.
But public banking advocates nonetheless see Charter Amendment B as a potential watershed moment — one that could help shape the debate about public banks for years to come.
If the ballot measure passes, advocates say it would bring fresh momentum to the public banking movement, as Los Angeles could be the first jurisdiction in the U.S. where voters have signed off on the idea.
There are only two public banks in the United States and its territories: the Bank of North Dakota, which was founded nearly a century ago, and the recently formed Territorial Bank of American Samoa, which was created after commercial banks decided to stop doing business in the seven-island territory.
If people say, 'We don't want you to do this,' then we don't move forward with it.
— City Council President Herb Wesson, on Charter Amendment B
Economic justice groups and other advocacy organizations have backed the idea of financial institutions owned by cities or states as an alternative that could save money on banking fees, avoid risky financial schemes and predatory lending, refinance public debt at lower rates and generate profit that could be invested to help the community.
Backers have pointed to recent scandals at Wells Fargo, which admitted to creating as many as 3.5 million unauthorized accounts, as an example of the ills of the financial services industry.
They have also highlighted the successes of the Bank of North Dakota, arguing that it successfully weathered the last recession without the bailouts that went to Wall Street banks, and has returned tens of millions of dollars in profits to state coffers.
The ballot measure is "the first step in a process where Angelenos will decide what kind of bank they want to put their money in — the Wall Street banks that crashed the economy and invest in guns and oil — or a public institution that invests in Los Angeles," wrote David Jette, legislative director for Public Bank L.A., a local group advocating for the measure.
But skeptics say voters should not give the green light before the city has spelled out how much forming a municipal bank would cost and how it would operate.
"The city of Los Angeles can't run a recycling program," said Valley Industry and Commerce Assn. President Stuart Waldman, alluding to the turbulent rollout of a new system for trash hauling. "So why would we think they can run a bank?"
Wesson said he expects that any move to form a bank would come back to Angelenos for another vote on the details. Even if voters back the measure, creating a public bank would be far from a sure thing. City analysts have warned that ensuring public funds go into such a bank could necessitate more changes to the City Charter and state law.
That has not reassured critics such as Jack Humphreville, a neighborhood council budget advocate who wrote the ballot argument against the measure, which he derides as a "blank check" that could lead to a poorly run and financially risky operation.
Humphreville has pointed to the failures of the shuttered L.A. Community Development Bank as an example.
That entity, which made loans but did not take deposits or provide other banking services, had a "politicized" loan process that "distorted decisions so as to favor politically connected borrowers," Cal State Northridge economics professors wrote.
Backers, in turn, argue that the municipal bank could be protected from political pressure with an independent board.
Wesson, who has his own financial problems, stressed that council members would not be running the bank themselves and there would be a "firewall" to prevent interference. Those and other details, he said, would be determined once voters decide if they want the city to move forward.
"We need to think more outside of the box," Wesson said. "This will create a conversation not only in Los Angeles, but throughout this country, on the upside and downside of public banking."
Mayor Eric Garcetti, who supports the initiative, said if it passes, "we'll need to take a serious look at how feasible it would be to create, fund and maintain such a bank in a responsible and effective way." Councilman Paul Krekorian, who heads a council committee focused on the budget, has not taken a position, his spokesman said.
As of late September, no campaign committees had reported spending funds to sway voters on the measure, according to Ethics Commission records.
Public Bank L.A. and other advocates have tried to drum up support among unions and voter organizations that backed Vermont's independent Sen. Bernie Sanders' last bid for president and reached out to local chambers of commerce, arguing that a public bank could provide loans to small businesses.
Online videos produced by volunteers denounce big banks for financing fossil fuel extraction and arms manufacturing, and tout that a public bank could help combat economic inequality and climate change.
With wounds still healing from the financial crisis and banking scandals in the news, "it's a perfect moment," Jette said. "But it's also a risky moment. Not everyone knows what public banking is."
Wesson had suggested that a municipal bank could give the cannabis industry a safe place to park its cash when it is turned away by other banks, but that could be complicated because marijuana is still illegal under federal law.
If the municipal bank tried to work with cannabis companies, it could be cut out of federal payment systems, for example. Cannabis groups have not made an aggressive push so far to support the measure.
And Wesson said he is not planning a "structured" campaign. His push to put the charter amendment on the ballot surprised public banking advocates such as Ellen Brown, founder of the nonprofit Public Banking Institute. She and others have fretted that a loss at the polls could be a major setback for the broader movement.
"If the voters say 'Yes,' we can say, 'Look, 4 million people want this,'" Brown said. "If they say 'No,' then critics will say 'Look, nobody wants this.'"
Still, some advocates believe that going straight to the voters could be a smoother path to a public bank than first creating a commission, as other jurisdictions that have mulled public banks have done.
Public bank advocates lament that those commissions, which often include members from the banking industry, generally end up concluding that creating a public bank would be too difficult and expensive.
Twitter: @AlpertReyes
Twitter: @JRKoren
---
The stories shaping California
Get up to speed with our Essential California newsletter, sent six days a week.
You may occasionally receive promotional content from the Los Angeles Times.