No bomb found near Oscars venue; police search area out of caution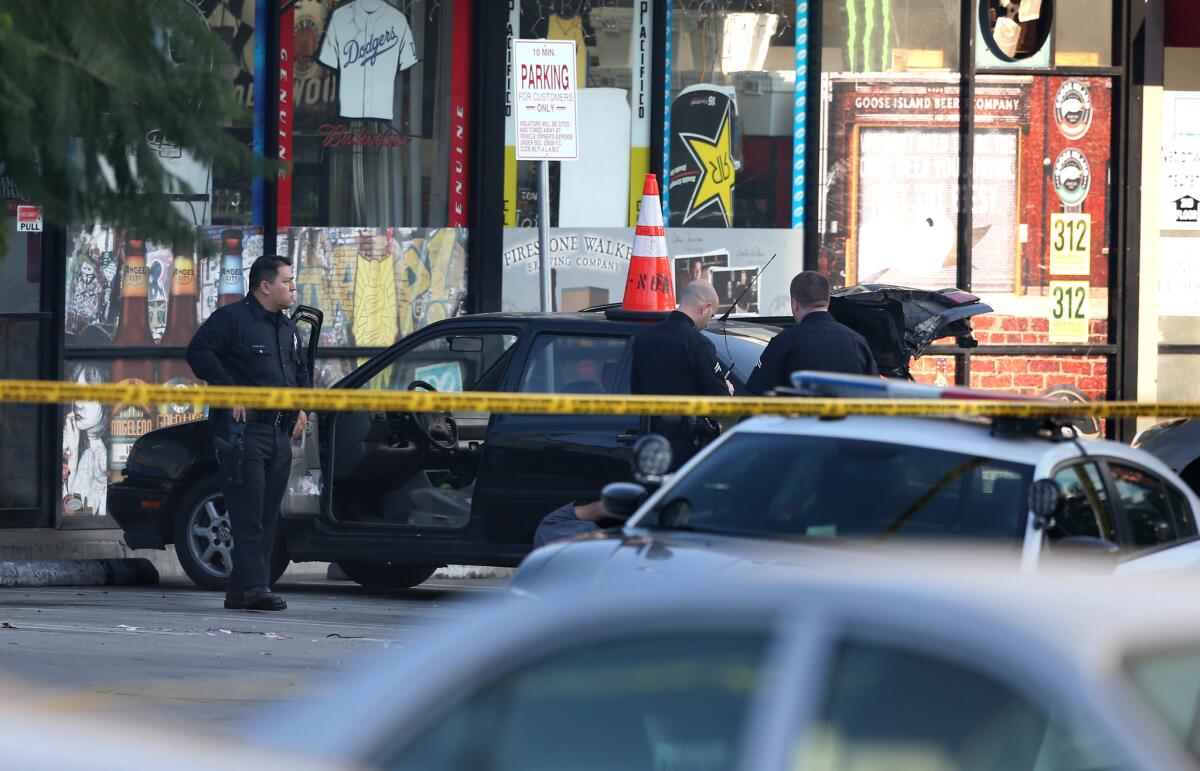 The Los Angeles Police Department's bomb squad descended Thursday on Highland Avenue near Hollywood Boulevard -- a stone's throw from the upcoming Academy Awards show -- over reports of explosives that turned out to be unfounded.
About 3 p.m., the possibility of a bomb prompted an effective shutdown of streets and sidewalks near a black Jetta parked one block from the Dolby Theater, where Sunday's Oscars will be held.
Firefighters and the bomb squad searched the vehicle -- and the suitcases and other items found inside -- but determined there was no explosive device, said LAPD Sgt. Barry Montgomery. Police are searching the area as a precaution and the driver of the Jetta, who was detained earlier, is being questioned.
"You always have to be cautious. This is the Academy Awards," Montgomery said. "You always have to treat it as if there is more to it."
The incident began shortly after 11 a.m. when police heard reports of the black Jetta driving recklessly near Highland Avenue and Yucca Street, Montgomery said.
The driver exited his car at some point, parked it, and began walking around carrying a propane cylinder, similar to the kind used in a barbecue grill.
Police received several reports about the man, and officers detained him near Selma Avenue. As the officers questioned him, Montgomery said, the man "spontaneously" made statements indicating there may be an explosive device in the Jetta, prompting the bomb squad's arrival.
Visitors to the Hollywood & Highland Center, which was unusually crowded due to preparations for Sunday's Oscars, watched as a robot inspected the black car for explosives in a strip mall parking lot at Highland and Yucca. Security instructed the visitors to step back from the windows as a loud boom was heard.
"The trunk blew open and liquid came out," said Mark Hagedorn, who is visiting L.A. from Hawaii and was watching from the windows of the Loews Hollywood Hotel. "There was no smoke or fire. It shattered the lower bumper."
Inside the Dolby Theater, Oscars host Neil Patrick Harris and Lady Gaga were rehearsing as the dramatic scene played out. The possibility of an explosive didn't halt the performers -- the show, after all, must go on.
For breaking news in California, follow @MattHjourno.
Sign up for Essential California for news, features and recommendations from the L.A. Times and beyond in your inbox six days a week.
You may occasionally receive promotional content from the Los Angeles Times.