City mourns L.A. firefighter who died in downtown training exercise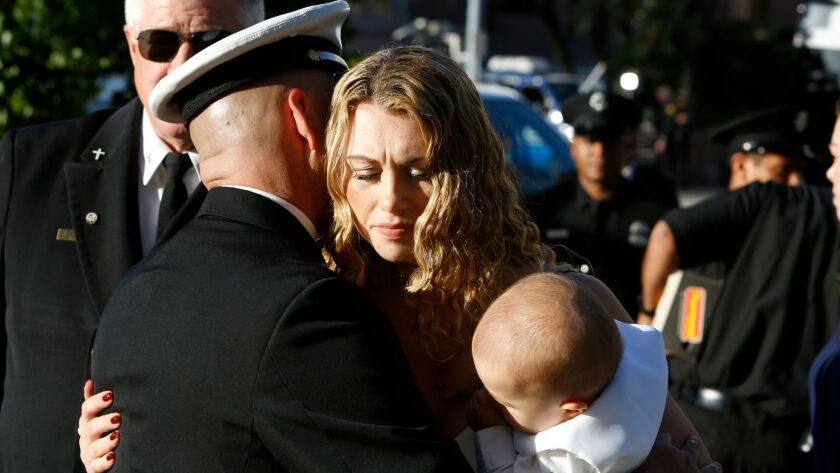 The funeral for a Los Angeles firefighter who died during a training exercise was expected to draw hundreds of people Friday morning as police closed several downtown streets to make way for a procession.
The memorial service for firefighter Kelly Wong will begin at 9 a.m. at Cathedral of Our Lady of the Angels at 555 W. Temple St., according to the Los Angeles Fire Department.
The funeral procession, which was led by a fire truck bearing Wong's casket, set out at 8 a.m. from Main and First streets.
The memorial service is open to the public and is expected to draw hundreds of firefighters from numerous agencies, said LAFD Battalian Chief Jaime Moore.
"We're expecting a huge turnout," Moore said.
The Street closures include:
Temple Street between Grand Avenue and Los Angeles Street
Hill Street between 1st and Ord streets
Main Street between 1st and Aliso streets
First Street between Main and Spring streets will be closed from 7 to 8:30 a.m.
Grand Avenue between 1st Street and the 101 Freeway on-ramp will be under a soft closure — meaning drivers will be stopped and asked to wait before they can proceed — beginning at 6 a.m., according to the LAFD.
Wong, 29, died June 5, two days after he fell 55 to 65 feet from an aerial ladder during a training exercise at the Barclay Hotel on 4th Street, according to a preliminary investigative report from the LAFD. He landed on the trailer deck of a fire truck.
Wong was climbing the ladder during a "simulated fire incident" when he fell, according to the LAFD. The Barclay, a six-story hotel in downtown L.A., is routinely used by the LAFD for training exercises, the report states.
Wong and the other participating firefighters were wearing full protective firefighting equipment. Three people ascended the ladder; Wong went first.
Fellow firefighters and paramedics treated him at the scene before he was taken to Los Angeles County-USC Medical Center, where he died two days later, officials said.
The LAFD investigation into his death is ongoing, Moore said.
The California Division of Occupational Safety and Health is also investigating the accident, agency spokesman Luke Brown said. The investigation will include reviewing the fire department's injury and illness prevention plan, inspecting the scene of the accident and talking to witnesses.
Wong had been a firefighter with the department for two years and was assigned to Station 92 in Rancho Park. He was set to transfer to Station 9, which serves the skid row area and downtown L.A. Wong was working at Station 9 at the time of his fall.
Wong graduated from the LAFD Recruit Academy on Terminal Island in San Pedro in August 2015. He was the top academic performer in his class, according to the LAFD.
Mayor Eric Garcetti said he had known the young firefighter for a couple of years. Wong emigrated from Hong Kong when he was 8, the mayor said.
"He was a hero to our city, a hero for this department, a hero for his family," Garcetti said.
Wong is survived by his wife, Danielle, and infant son, Colton.
Wong is the third LAFD firefighter to die this year.
Capt. David T. Moorman, 50, died on Feb. 5 when he suffered a medical emergency. He was off-duty and in his home.
Moorman worked with the department 27 years and was assigned to Station 96 in Chatsworth.
In April, Battalion Chief Jerome Boyd suffered a medical emergency and died while driving a city vehicle near downtown L.A.
The 55-year-old firefighter worked for the department for more than 30 years. Boyd was assigned to the department's Fire Prevention Bureau's Public Safety Section.
Twitter: @haileybranson
Times staff writers Veronica Rocha and Ruben Vives contributed to this report.
ALSO
Holstered pistol, dinette chairs, fake Christmas tree: Just part of the haul from Newport's harbor cleanup
LAPD cadets stole police cars and may have impersonated officers, chief says
La Cañada High will try letting teens sleep in a bit
---
UPDATES:
8 a.m., June 16: This article was updated with details on the start of the funeral procession.
This article was originally published at 12:30 p.m., June 15.
---
The stories shaping California
Get up to speed with our Essential California newsletter, sent six days a week.
You may occasionally receive promotional content from the Los Angeles Times.