L.A. judge agrees to delay Bill Cosby deposition, citing Pennsylvania criminal case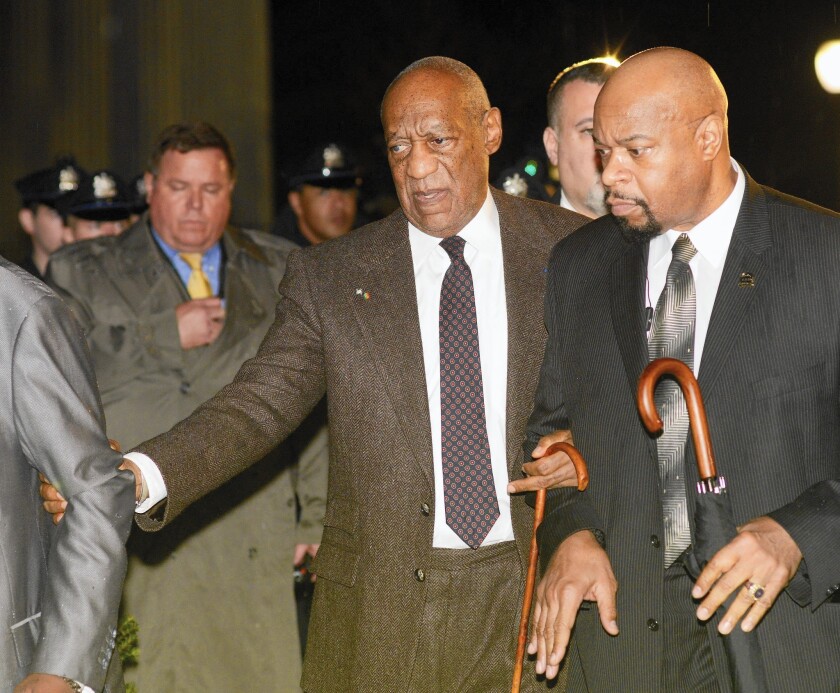 Citing the criminal prosecution of Bill Cosby in Pennsylvania on charges of sexual abuse, a Los Angeles Superior Court judge on Wednesday ordered a delay in a civil molestation lawsuit filed against the entertainer by a Riverside woman.
Gloria Allred, the woman's attorney, had been scheduled to begin deposing Cosby next week. A deposition of the plaintiff by Cosby's lawyers was scheduled after that.
Judge Craig D. Kaplan, however, put a hold on the depositions. "I do think it's fair to stay discovery, as to both parties," Kaplan said.
NEWSLETTER: Get essential California headlines delivered daily >>
Judy Huth alleges that Cosby plied her with alcohol and then sexually abused her at the Playboy Mansion in 1974, when she was 15.
Kaplan granted the stay after Cosby's legal team requested a delay so they could prepare for the criminal case. Cosby has been charged with three felony counts of aggravated indecent assault stemming from an alleged interaction in 2004 involving drugs and alcohol with former Temple University basketball staffer Andrea Constand.
Allred deposed Cosby once last year, but has requested a second deposition. What Cosby told Allred in the deposition has remained under seal.
Though denied the chance to question Cosby for now, Allred will be able to depose Playboy founder Hugh Hefner about events at the mansion in 1974.
More than 50 women have accused Cosby of sexually abusing them, with some charging that he drugged and raped them.
Cosby has denied any wrongdoing. Wednesday's decision comes a day after another L.A. judge allowed a defamation suit against Cosby by model Janice Dickinson to proceed to trial.
Huth alleges in the lawsuit that she and a friend were in San Marino's Lacy Park in 1974 when they wandered over to a movie set where Cosby was working. The comedian approached the teenagers, invited them to sit in his director's chair and asked how old they were, the lawsuit said.
Cosby asked the girls to his Los Angeles County tennis club the following Saturday, the lawsuit said.
The teens met him there, then followed him to a house, where he served them alcoholic beverages and played billiards with Huth, who was required to drink a beer every time Cosby won a game, the lawsuit said.
Later, the girls followed Cosby to the Playboy Mansion, where the comedian told Huth and her friend to say they were 19 if anyone asked their ages, the lawsuit said.
At one point, Huth used a bathroom and emerged to find Cosby sitting on a bed, the lawsuit alleges. The comedian asked the girl to sit down on the bed beside him and attempted to "put his hand down her pants," according to the lawsuit. He then took her hand in his and performed a sexual act on himself "without her consent," the lawsuit said.
For SoCal crime & investigations follow me on Twitter @lacrimes
ALSO
Head of L.A. County Fair Assn. quits after Times investigation
Man on Tulare County sheriff's most wanted list is wounded by deputy during capture
Why the FBI's hack of Apple iPhone could remain top secret
---
The stories shaping California
Get up to speed with our Essential California newsletter, sent six days a week.
You may occasionally receive promotional content from the Los Angeles Times.