O.C. sheriff vows to fix problems after jail escape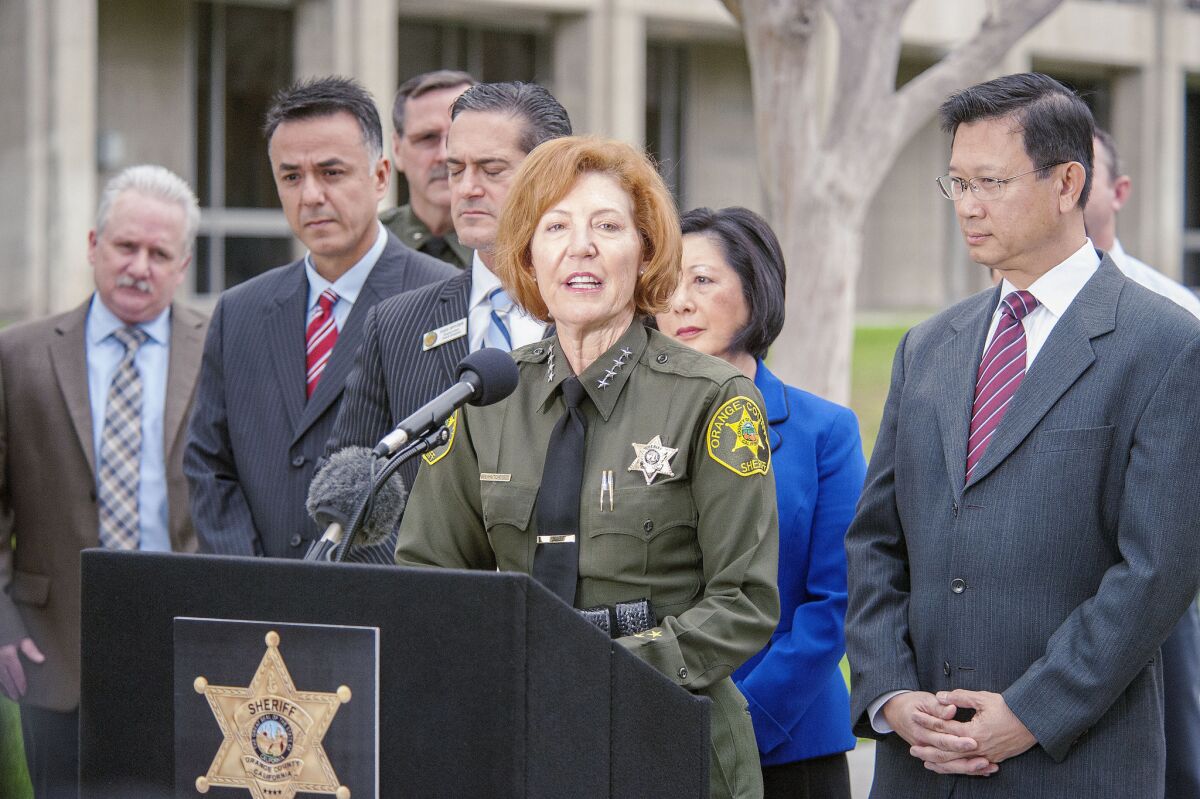 Orange County Sheriff Sandra Hutchens said Saturday that her department has begun an extensive review of security measures in the wake of the jail escape that had three fugitives accused of violent crimes on the run for much of the week.
Now that all three are in custody, Hutchens said Saturday that the department would now shift to reviewing policies and procedures that "were not followed or should have been tighter."
The sheriff said no officials inside the jail have been disciplined but said that could change.
See the most-read stories this hour >>
"We're looking at everybody," she said.
Detention experts and some officials have raised questions about security procedures at jails. It took about 16 hours to determine that the inmates had escaped, giving them a big head start.
Some also questioned why inmates accused of violent crimes were housed in dormitories rather than individual cells, which is the practice at other jails and prisons in the state.
The inmates -- Hossein Nayeri, Jonathan Tieu and Bac Duong -- were held in a section of the Santa Ana jail known as Module F, a fourth-floor dormitory where 68 inmates sleep in bunk beds rather than individual cells. To escape, they had to cut through at least four layers of metal, steel and rebar in the dormitory, go through unsecured plumbing tunnels and make their way to the roof, where they used a makeshift rope of knotted bedsheets and cloth to rappel to freedom.
Authorities arrested an instructor who taught an English-as-a-second-language class at the jail, accusing her of helping with the plot by giving Nayeri access to a Google Maps view of the Men's Central Jail. The instructor, Nooshafarin Ravaghi, allegedly exchanged personal letters with Nayeri, officials said.
Hutchens stressed that the investigation was still open and that officials have not determined whether others helped in the plot.
She said all three escapees will be housed in separate areas when they return to Orange County, as is done following any escape.
The department will now focus on reviewing policies and procedures, she said. "That will take some time, but believe me, we will be looking top to bottom on that," Hutchens said.
Hutchens said the department has made a number of changes to tighten security and "will continue to make changes," but did not elaborate on what those were.
Tom Dominguez, president of the Assn. of Orange County Deputy Sheriffs, sent a letter to Hutchens alleging that Men's Central Jail management directed deputies to conduct fewer physical checks of inmates than is required by the rules.
In response to the claims, Hutchens issued a statement that she was "deeply concerned about the length of time it took to recognize that three maximum-security inmates were unaccounted for" but said he staff is still trying determine what went wrong.
taylor.goldenstein@latimes.com
ALSO
O.C jail escapee surrenders with plea to a friend: Call police
O.C. jail escapees: San Jose motel manager describes their stay
ESL teacher may have played a 'significant role' in helping 3 O.C. inmates escape
---
Life is stressful. Our weekly mental wellness newsletter can help.
You may occasionally receive promotional content from the Los Angeles Times.