Near earthquake epicenter in Trona, 'it looks like a tornado went through'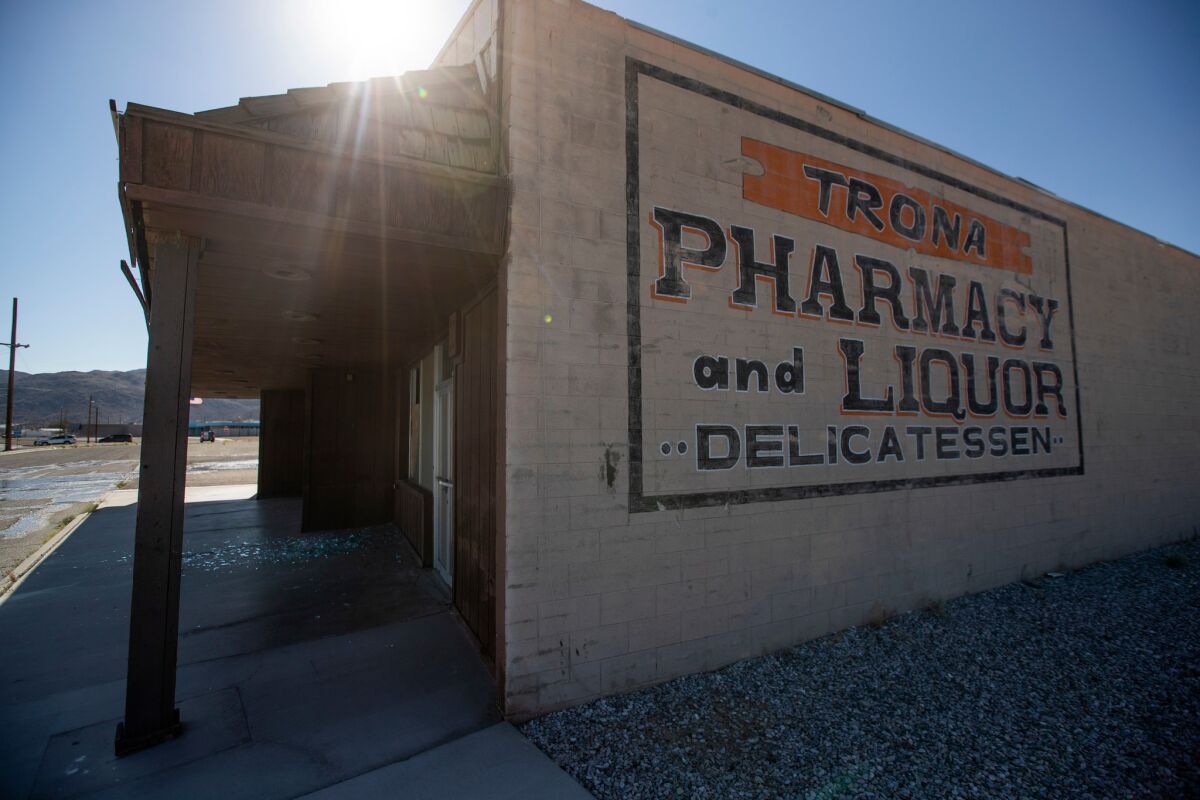 Reporting from TRONA, Calif. —
The small, unincorporated Searles Valley community of Trona seemed relatively unshaken by the magnitude 6.4 earthquake that rocked Southern California on Thursday afternoon, despite moderate damage to the town.
A sense of community is what will get people through this quake, say residents, most of whom work at the Searles Valley Minerals plant or the local high school.
When the quake struck Thursday morning, the remote town — situated in the northwest corner of San Bernardino County, the quake's epicenter — was quiet. The general store, library and a clinic all had "Closed" signs pasted to the doors in anticipation of the Fourth of July holiday.
Christina Sanders, a volunteer firefighter, was at her boyfriend's house with their children when the shaking started. The kids screamed and cried, she said.
"I watched the roof in the garage flex in and go back out."
FULL COVERAGE: July 4-5 Southern California earthquakes »
At first, the children thought the rattling was caused by military planes, which fly there often and whose sonic booms have shaken the house, she said. But Sanders knew immediately what it was — and that she had to head to the fire station.
She drove the streets in her firetruck for an hour, checking in with neighbors who had all lost power.
She stopped at the home of Rhonda Seyrkels, who gave her a thumbs-up. Sanders returned it and continued her rounds.
When Sanders finally returned to her own home, she found a pipe had broken and her house was flooded 2 feet deep with water. Everything had fallen off the top of her refrigerator and nearby shelves, and her 70-inch flat screen TV was face-down on the floor.
"It looks like a tornado went through there and tore it up," she said.
RELATED: Ridgecrest earthquake was intense. Exactly how strong was it? »
After surveying the mess, Sanders headed back to the station.
"I just shut my water and power off and just left it there," she said. "The community is more important."
That can-do attitude could even be seen in state officials' response to the quake. A giant crack that formed across Highway 178 on the outskirts of Trona had already been repaired by Caltrans crews an hour after the temblor tore up the road.
By Thursday afternoon, Seyrkels drove to the fire station to drop off spaghetti and macaroni and cheese for the volunteers. The small station is not usually fully staffed, but on Thursday it was one of the few signs of life in Trona, a town of just under 2,000. Firefighters chatted about the damage they had seen and residents occasionally dropped by asking for supplies.
"We just had to let them know we appreciate them," Seyrkels said, and apologized to Sanders that she couldn't bring more food.
Seyrkels said she was in Ridgecrest — 10 miles from the epicenter — buying ingredients for a barbecue when the quake hit, so the family couldn't finish shopping. In the end, three households were able to cobble together enough to make ribs, tri-tip, deviled eggs and steak.
'It was the scare of my life': Residents near Ridgecrest feel intense shaking and fear »
"It was supposed to be better," she said. "We were supposed to have dessert."
"The show must go on," said Winter Wilson, a family member and neighbor. "It's still about the kids."
Seyrkels agreed.
"It's a small community," she said. "We stick together because we have to. We're so far away from everybody else."
San Bernardino County Fire Department Battalion Chief Bill Villarino said most of Trona sustained minor to moderate damage. Some chimneys collapsed, and mobile homes were shaken off their bases, he said, but that was the worst of it.
No one was injured, and there were no evacuations, Villarino added, but half a dozen water mains broke — two of them major — causing water to spout out of the ground.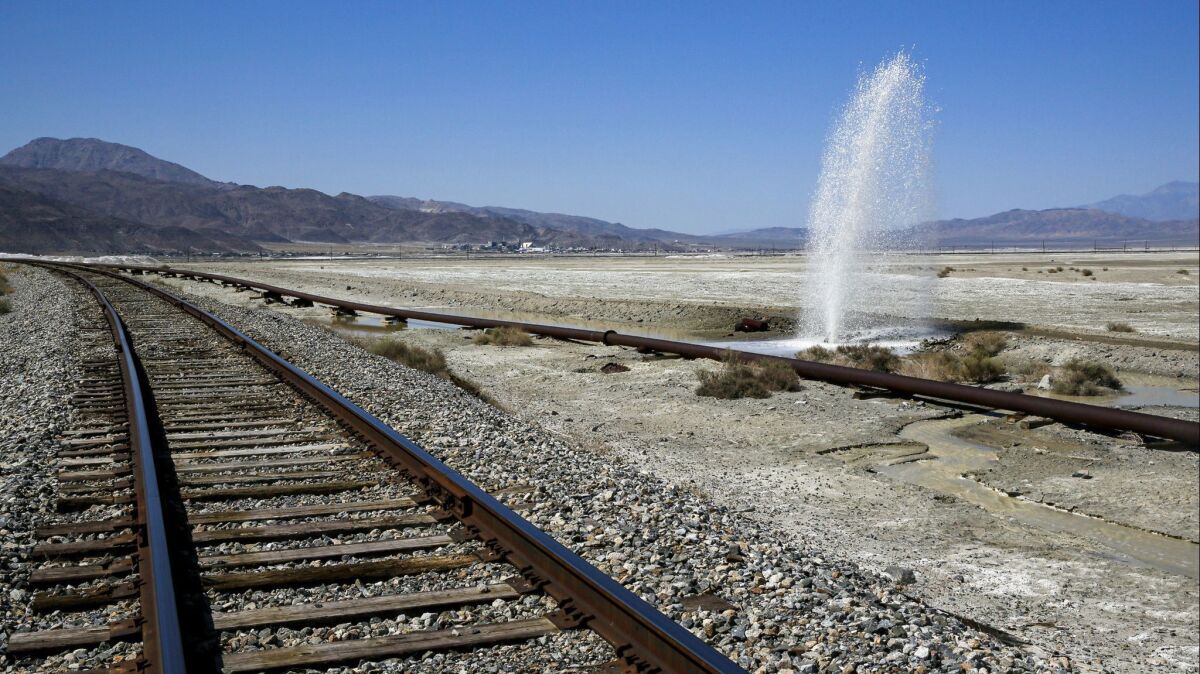 Power wasn't expected to be restored until Friday morning at the earliest, Villarino said.
Aftershocks seemed to strike the area roughly every half-hour, and residents braced themselves for another larger jolt.
Others stopped by the fire station, thanking firefighters and asking for water and ice. But the fire department was also limited in its resources and directed one family to a nearby golf course being used as a cooling center.
The town's usual emergency sites and shelters — a senior facility and the library — were closed for the holiday or had been damaged.
For San Bernardino County Fire Department Capt. Steve Simpson, the main priority was checking in with the industrial plant.
A swarm of 1,000 earthquakes hit Southern California — how nervous should we be? »
The site produces materials such as boric acid, sodium carbonate, sodium sulfate and several specialty forms of borax used in soaps and other industrial materials. It uses chemicals that if released could be toxic to the community, according to Simpson and Sanders.
"It hasn't happened yet," said Sanders, who also works as a security guard and EMT for the plant. She said there are many precautions in place to protect against leaks.
"Our chemicals are secure and did not release into the community, and I can say there are no injuries," according to a security representative for the plant who did not want to be named because he was not authorized to speak to the media.
The plant was not evacuated, but nonessential personnel were dismissed, he said.
Shawn Dodson was still in bed when the first earthquake struck. The volunteer firefighter and instrumentation technician for the mineral plant had stayed up late the night before watching a movie with his wife.
She came running into the room, screaming for him to wake up, about 10 a.m., when a magnitude 4.0 foreshock struck.
Earthquake preparedness: What to do before - and during - a big one »
"She was just freaked out," Dodson said.
About 30 minutes later, the bigger magnitude 6.4 quake came.
"The house shook like I've never heard before," he said. "I've never experienced an earthquake like that."
The family hadn't had any plans for the Fourth of July, but that changed after the shaking stopped.
"Well, you know what we're doing now," Dodson told his wife after the quake. The whole family — Dodson, his wife and three children — headed to the fire station to help out.
alejandra.reyesvelarde@latimes.com
Twitter: @r_valejandra
The stories shaping California
Get up to speed with our Essential California newsletter, sent six days a week.
You may occasionally receive promotional content from the Los Angeles Times.