It's halfway through October already, so here's a bit of a scheduling update. Halloween is in 17 days, and Dia de los Muertos in 18 days, although the Hollywood Forever festival is two weeks from today. And Thanksgiving is now 40 days away — not too soon to think about who's coming and what you'll be cooking, maybe while you're watching the Dodgers play Game 1 of the NLCS later today.
You could also read a few of this week's stories, starting with Jonathan Gold's latest review, of Micheal Voltaggio's new restaurant Ink.well. We also have some recipes for you, including one from chef Yotam Ottolenghi's latest cookbook "Sweet," his first solely devoted to desserts. We also have not a few beet recipes from our farmers market report, recipes for homemade doughnuts, a few for soup and some for dinners you can make in under 30 minutes. In other news, we have a report from California wine country, where catastrophic fires are still raging.
VOLTAGGIO REBOOTS
This week Jonathan considers Ink.well, the new restaurant from chef Michael Voltaggio. As you can probably tell by the name, it's not exactly a brand new restaurant as much as it is a relocation and reboot of his previous restaurant, Ink, which he closed at the end of July. Yes, the chef is still playing with liquid nitrogen, this time in the form of a horchata dessert. And there's a bar program.
MORE FUN WITH MERINGUE
British-Israeli chef Yotam Ottolenghi has a new cookbook out, an all-dessert book written with longtime Ottolenghi product developer Helen Goh. Recently the two came by The Times' Test Kitchen to make one of those desserts, a meringue in the shape of a rolled pavlova that looked not a little like a yule log. Very, very fun.
A WINE COUNTRY FIRE UPDATE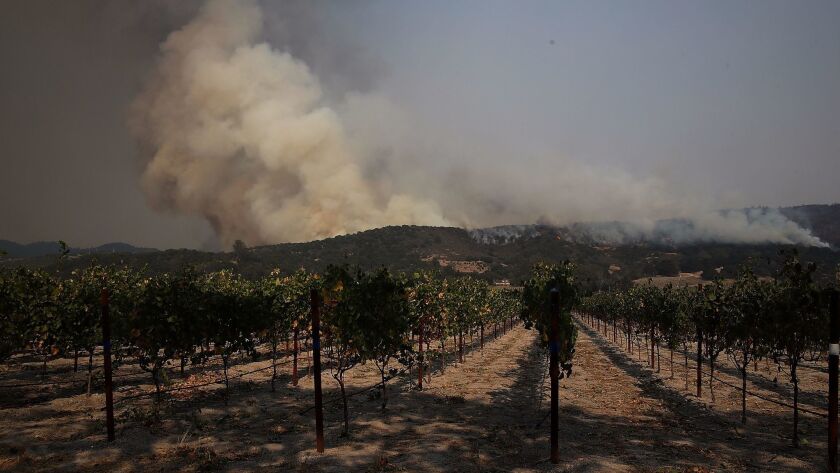 If you've been reading the news, you know of the catastrophic wildfires burning in Northern California and ravaging this state's wine country. Wine writer Patrick Comiskey reports from San Francisco on what's been happening, and how one winemaker — Adam Lee of Siduri Winery in Santa Rosa — is coping.
BRUNCH RECOMMENDATIONS
As deputy Food editor Jenn Harris writes in her weekly restaurant column, "brunch in Los Angeles isn't simply a weekend meal, it's a lifestyle." To that end, four new restaurants are making some pretty great iterations of the meal, including Journeymen in Atwater Village and Verlaine, where you can order, say, chilaquiles or an eggs Benedict sope.
The 2017 edition of Jonathan Gold's 101 Best Restaurants list is coming out soon, online on Oct. 23 and in print on Oct. 29. Will we have a new No. 1? Good question. The Gold List, the launch party for this year's 101 (previously called Bite Nite) ias set for Oct. 23 at the MacArthur Los Angeles. Get tickets here. And, of course, here's the 2016 edition.
The Daily Meal, the food and drink website under the editorial direction of Colman Andrews, is now one of our partners. Check out its new 2017 list of the 101 best pizzas in America and other stories, recipes and videos.
Check us out on Instagram @latimesfood
Check out the thousands of recipes in our Recipe Database.
Feedback? We'd love to hear from you. Email us at food@latimes.com.
---