Newsletter: Filipino food, foie gras and a guy named Foodgod
Good morning. It's been a long week of storms, strikes and political stalemates, so it's not a bad time to take a break and consider the marvelous things on local tables. We have the second round of reviews from our new restaurant critics: a Filipino place in Silver Lake, and a swank hotel restaurant downtown. Because there's nothing like a plate of "happy birthday fried chicken" to welcome you to your weekend.
We've got a lot more on the menu: a local woman cooks Burmese pop-up dinners while putting out a food-art zine; the traditional Georgian cheese and egg bread khachapuri gets our attention as an object of desire; as do bottles of the addictive red wine vinegar from the late, great Oakland restaurant Camino.
We also have restaurant news, including a new taqueria in Highland Park, two steak-friendly restaurants and a Peruvian place in Koreatown, plus a reaction piece from local chefs on the recent foie gras ban. Finally, we have a story about chefs who are teaching cooking classes at a skid row apartment complex. Enjoy the weekend.
SISIG ON SUNSET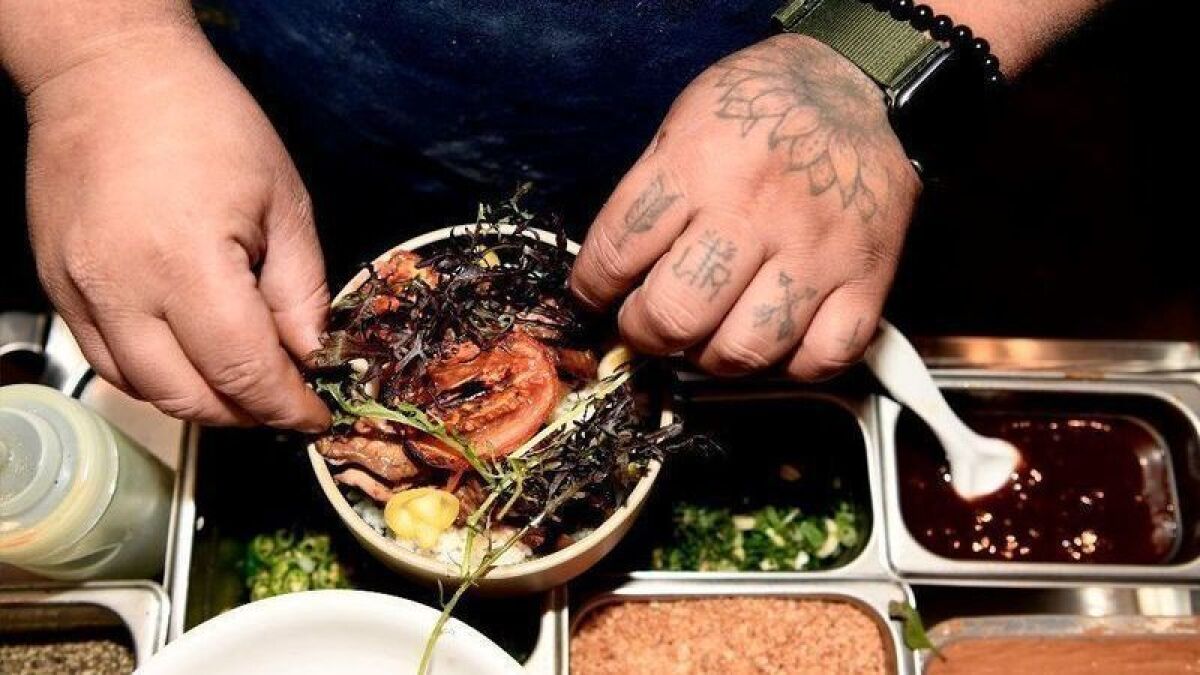 In this week's review Bill Addison considers Ma'am Sir, chef Charles Olalia's culinary ode to his childhood in the Philippines. Olalia, who left Patina a few years ago to open his tiny counter joint Rice Bar, is going far beyond rice bowls at his newish Silver Lake restaurant. Adobo, yes, but also sisig with sweatbreads.
NOMAD'S HOTEL FOOD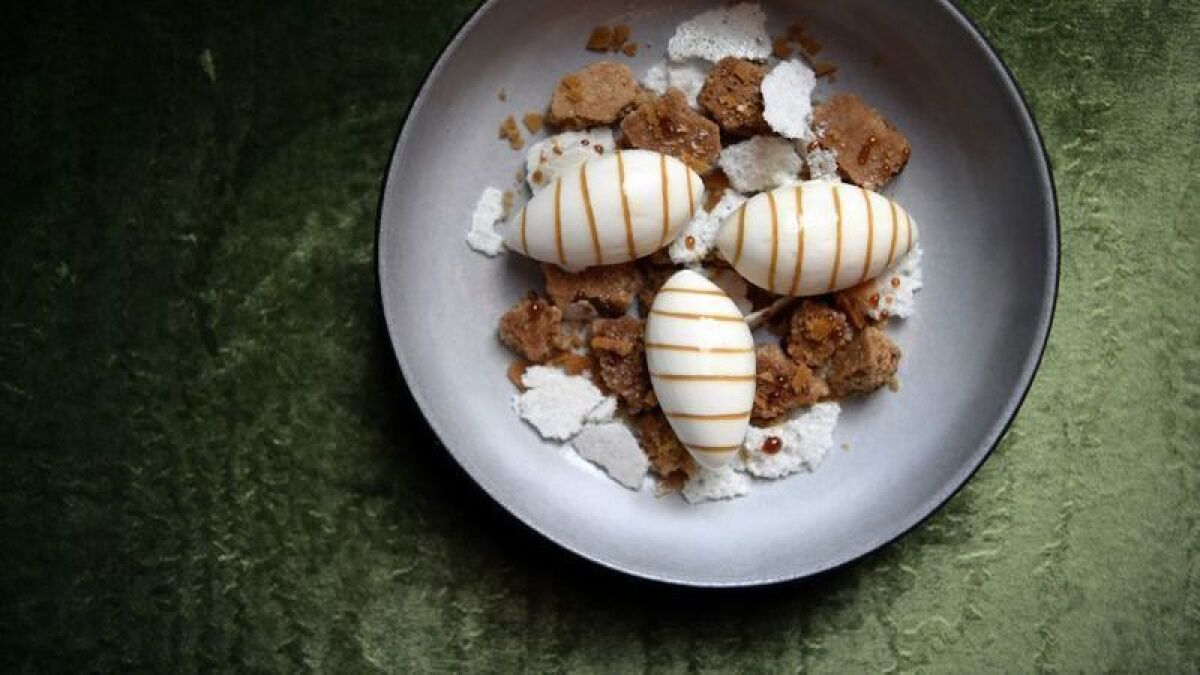 The DTLA hotel restaurant from the team behind New York's celebrated Eleven Madison Park is the subject of Patricia Escárcega's second review. NoMad is tricked out: stuffed peacocks, bathrooms in bank vaults and a menu that's laced with truffles. Foie gras might be off the menu now, but there's still those pig confit breakfast burritos.
FOODGOD AND FOLLOWERS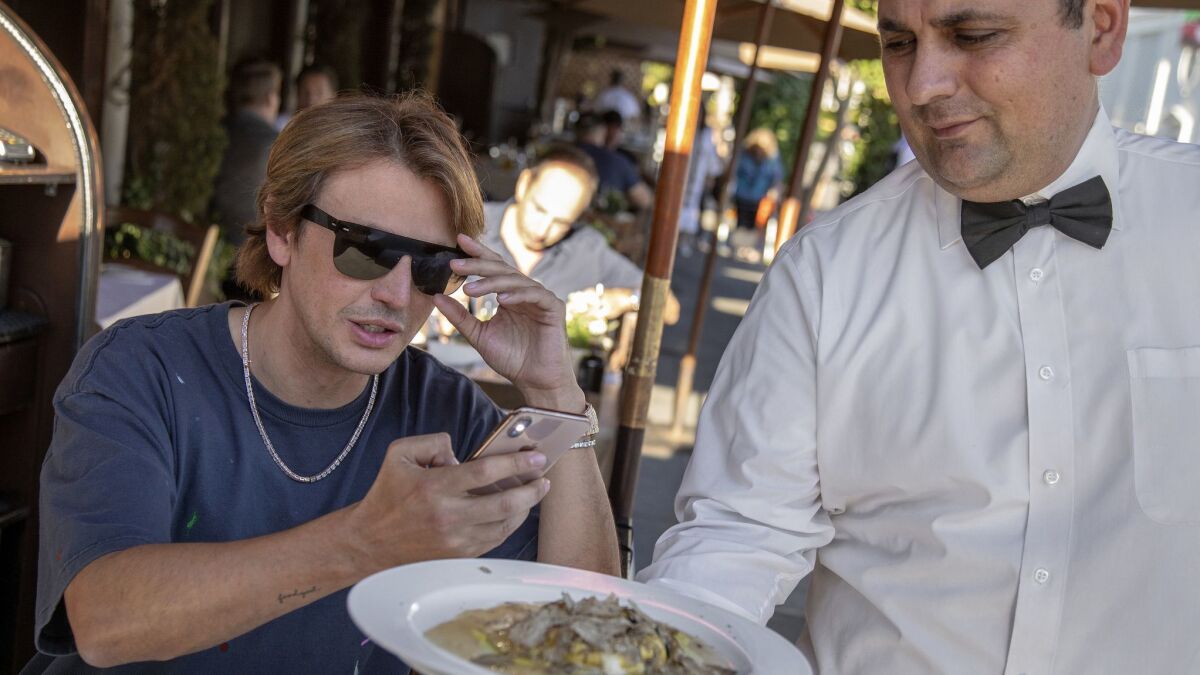 Jonathan Cheban is a television personality, probably best known for being friends with the Kardashians. And recently he's branched out to the food world, becoming a social media "influencer" under the name Foodgod, as Jenn Harris and Andrea Chang report. What does this mean? 3.1 million followers on Instagram, and counting.
GOODBYE TO FOIE
Speaking of foie, I have a piece on what the recent reinstatement of California's ban on the goose and duck liver delicacy means for Los Angeles chefs. Some are disappointed, mindful of the French tradition, but others are more circumspect, wanting to look forward to dishes that are more sustainable and less divisive.
SKID ROW COOKING CLASSES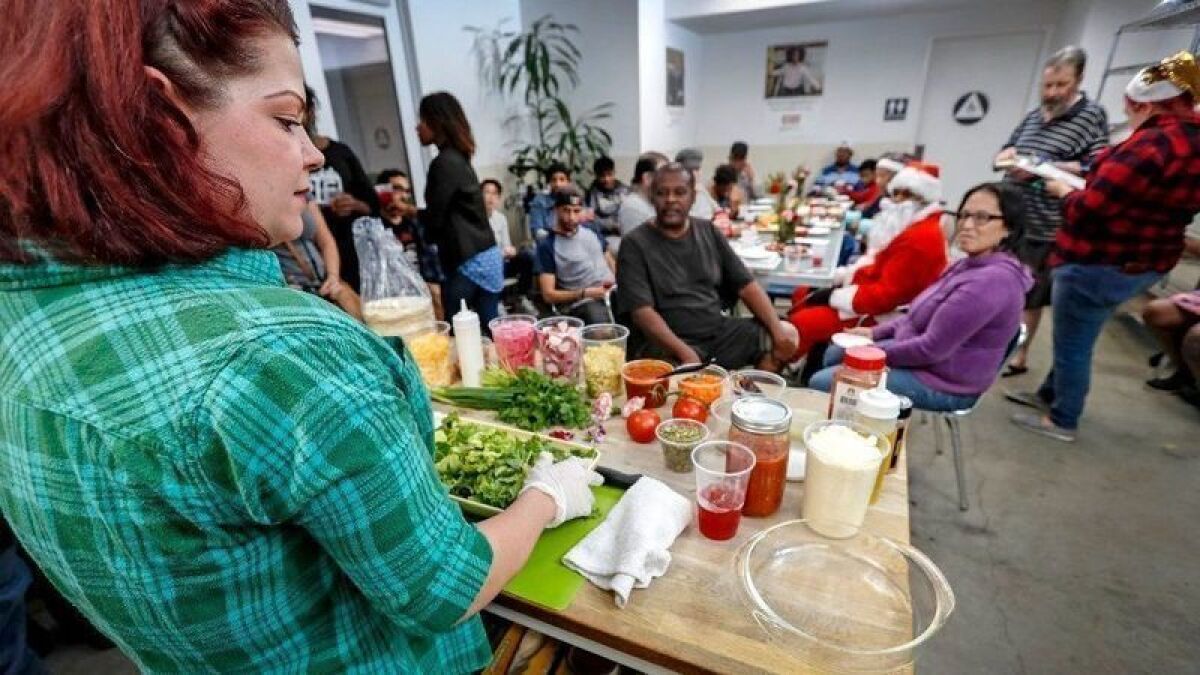 In a 76-unit permanent supportive apartment building called Charles Cobb Apartments on skid row, local chefs are teaching cooking classes to residents via the Skid Row Housing Trust. The idea is not only to increase culinary skills and awareness, but to bridge the gap between residents and the nearby food scene downtown.
Our 101 Restaurants We Love list for 2018 is out. The list incorporates restaurants and trucks from around Los Angeles and Orange County, in alphabetical order (no rankings this year). Plus this year there's a bonus list of 10 classic restaurants.
Check us out on Instagram at @latimesfood.
And don't forget the thousands of recipes in our California Cookbook recipe database.
Feedback? We'd love to hear from you. Email us at food@latimes.com.
---