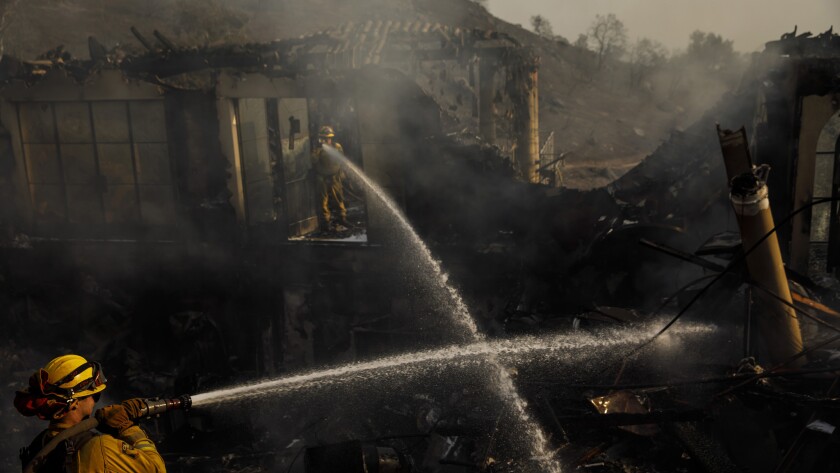 Good morning, and welcome to the Essential California newsletter. It's Monday, Dec. 18, and here's what's happening across California:
TOP STORIES
Rebuilding in the fire zone
More than 10,000 homes have been destroyed by wildfire this year, and hard-hit communities like Santa Rosa and Ventura are looking ahead to recovery. But with the frequency and cost of catastrophic blazes climbing, some experts say state and local officials need to look at compensating property owners to not rebuild in high-risk areas — or discouraging development there in the first place. Los Angeles Times
Plus: After a tense weekend, the Thomas fire continued to rage. It's now the third-largest fire in state history and might take weeks to contain. Los Angeles Times
Fallen firefighter: A multi-county funeral procession was held Sunday for Cal Fire engineer Cory Iverson, a San Diego-area resident who was killed in the Thomas fire.
Bigger still? Experts explain why the Thomas fire could become California's worst ever. Los Angeles Times
Toll: Multimillion-dollar mansions reduced to rubble in Montecito. Los Angeles Times
Housing near freeways is a health risk. So why is the state funding it?
State officials warn against building homes near freeways because of health problems linked to living near car and truck pollution. Yet they have given $65 million in public financing to at least 10 affordable housing projects within 500 feet of freeways since 2015, a Times review of records found. The latest in a Times series on building next to freeways. Los Angeles Times
L.A. STORIES
Worth it? In a region of hellish commutes, Steve Lopez found a woman who spends six hours a day coming and going from work. Steve went all the way to the end of the Metrolink line to have a look. And sure, 90 miles or so from downtown L.A., you can get far more stucco for your money. But it comes at a real price. Los Angeles Times
What's going on? The Weinstein scandal is putting focus on what happens behind closed doors in all those five-star hotels in Beverly Hills. New York Times
Detox stories: Digging into deaths during detox at Southern California rehab clinics. Orange County Register
Injunction lifted: For alleged gang members, now being able to wear Dodgers' gear is a long time in coming. L.A. Taco
The force: Hollywood got an early Christmas present: "Star Wars: The Last Jedi" dominated the weekend's box office, debuting with $220 million domestically. That makes the film the No. 1 debut of 2017, the second-best opening of all time. Los Angeles Times
GOVERNMENT AND POLITICS
Not necessarily near you: California's march to marijuana legalization hits its stride next month when the first state-issued licenses take effect for sales to recreational users. But most Californians won't see pot shops springing up in their neighborhoods any time soon — and some may never see them in their communities. Los Angeles Times
Split the difference: Is California ready to actually do something about Proposition 13? Los Angeles Times
Coming up? With BART and Muni jammed and gridlock on Bay Area freeways getting worse by the day, there is a new effort for an expensive, radical fix to the booming Bay Area's traffic woes. The Mercury News
Ordinary guy: In a city of self-appointed tech gods, many loved the late San Francisco Mayor Ed Lee because he took pride in being an ordinary Joe. San Francisco Chronicle
CRIME AND COURTS
Now what? From his small cell on California's death row, Scott Pinholster swore he could prove his innocence. The proof, he said, was in the dried blood on a work boot and a pink towel recovered from his home years ago. But what happened to that evidence? Los Angeles Times
Tragic crash: Four people were killed early Sunday in a head-on collision on the 210 Freeway. Los Angeles Times
Click: One Southern California city that refuses to take down its red light cameras. San Gabriel Valley Tribune
Rosie's story: The bloodhound at the center of a police and family drama. Orange County Register
CALIFORNIA FIRES
Fire season: "News coverage of great conflagrations runs in the well-worn grooves of cliché and sensationalism. Needless to say, the hoi polloi in incinerated trailer parks or tract homes get no more traction in headlines than the forgotten and uncounted victims of Hurricane Maria in Puerto Rico. The destruction of celebrity property, on the other hand, is always on the front page." -- "City of Quartz" author Mike Davis on California fires. The New Yorker
Connection problems: More evidence that many residents did not get warnings before the wine country fires swept into neighborhoods, killing more than 40 people. Press-Democrat
Help from above: San Diego's wildfires would have been a lot worse without significant air power. It took decades but the region finally has a firefighting powerhouse in the air. San Diego Union-Tribune
Sobering reality: The California Department of Forestry and Fire Protection is taking the rare death of one of its own hard, viewing it as a warning about the changing nature of fires. Sacramento Bee
CALIFORNIA CULTURE
Hawthorne revisited: Thanks to Elon Musk, Keanu Reeves and other boldface names, the blue-collar town of Hawthorne might end up being L.A.'s next trendy arts district. Los Angeles Times
Still smokin': A quarter-century later, Dr. Dre's beats from Compton and Long Beach now count as classic music. Washington Post
Don't go in the water: A third attack by a sea mammal in San Francisco in a week has prompted officials to ban swimming in the Aquatic Park Cove on the northern edge of the city's waterfront. Los Angeles Times
Join the club: Houston, whose architecture is perhaps even less celebrated than L.A.'s. Los Angeles Times
Space age: How Walt Disney celebrated the beauty of mid-century modernism in real time. Los Angeles Magazine
CALIFORNIA ALMANAC
Los Angeles area: Mostly sunny and 71. San Diego: Sunny and 69. San Francisco area: Sunny and 60. Sacramento: Sunny and 61. More weather is here.
AND FINALLY
This week's birthdays for those who made a mark in California: Rep. Steve Knight (Dec. 17, 1966), director Steven Spielberg (Dec. 18, 1946), Rep. Zoe Lofgren (Dec. 21, 1947), former L.A. County Supervisor Zev Yaroslavsky (Dec. 21, 1948), producer Jeffrey Katzenberg (Dec. 21, 1950) and former Dodger and Padre Steve Garvey (Dec. 22, 1948).
If you have a memory or story about the Golden State, share it with us. Send us an email to let us know what you love or fondly remember about our state. (Please keep your story to 100 words.)
Please let us know what we can do to make this newsletter more useful to you. Send comments, complaints and ideas to Benjamin Oreskes and Shelby Grad. Also follow them on Twitter @boreskes and @shelbygrad.
---