Newsletter: Essential California: New scooter rules for L.A.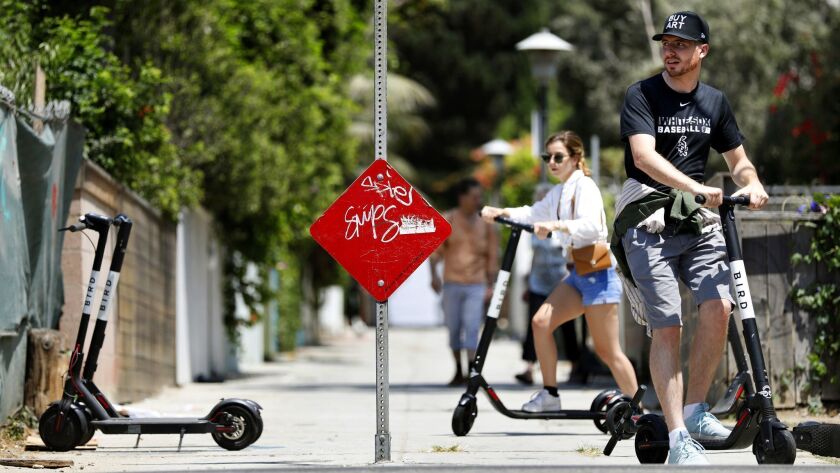 Good morning, and welcome to the Essential California newsletter. It's Wednesday, Sept. 5, and here's what's happening across California:
TOP STORIES
Los Angeles lawmakers have unanimously approved the city's first set of rules for the companies that have deposited thousands of electric scooters on sidewalks from the Westside to Mid-City. The City Council created a permit process and a one-year pilot program that will allow each company to deploy up to 10,500 scooters. The temporary rules will give transportation officials time to tinker with the policies before lawmakers approve a permanent plan, they said. Tuesday's vote follows months of debate over how Los Angeles should address the Bird and Lime scooters that began popping up on city sidewalks nearly a year ago. Los Angeles Times
Closing the door
In recent months, dozens of religious minorities from Iran have seen their asylum claims denied despite a decades-old program designed to help them. Many have been left stranded in Austria, unable to go home and unsure if they will ever make it to the U.S. The administration in February rejected the cases of 87 Iranian refugees — an unprecedented move for a program with a near 100% acceptance rate, attorneys said. The government did not provide a reason for the denials, saying it was "a matter of discretion." Some of the refugees, who had traveled to Vienna as part of the asylum process, and family members in the U.S. filed a class-action lawsuit in U.S. District Court for the Northern District of California. Los Angeles Times
UCLA fraternity organizations are sued
A UCLA student who was found to have been sexually assaulted by a campus fraternity member has sued him, his former fraternity and two other Greek life organizations for failing to protect students from alcohol abuse and sexual violence. Los Angeles Times
Get the Essential California newsletter »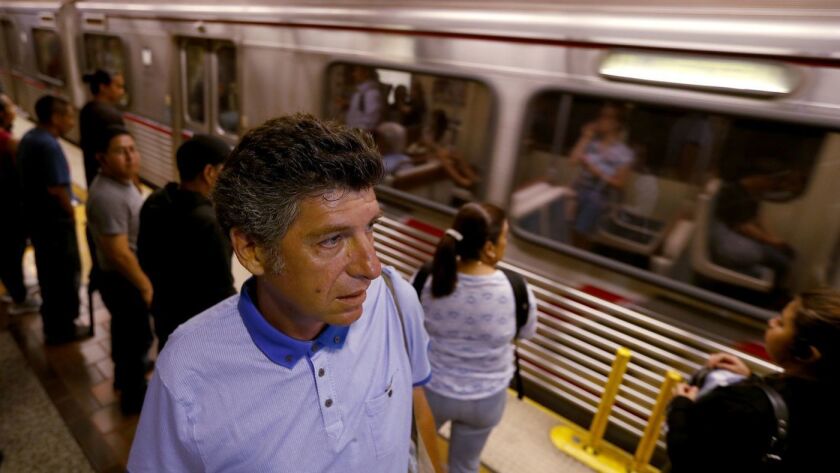 L.A. STORIES
No charges filed: The Los Angeles County district attorney's office has declined to file charges against three actors accused of sexual abuse in the wake of the #MeToo movement. Kevin Spacey and Steven Seagal won't face criminal charges following allegations from the 1990s because the alleged incidents are beyond the statute of limitations, and prosecutors rejected filing a charge against "black-ish" actor Anthony Anderson, citing insufficient evidence. Los Angeles Times
More details: Additional video and audio of a vehicle pursuit, shootout and hostage standoff at a Trader Joe's in Silver Lake that took the life of a store manager hit by a police officer's bullet was released Tuesday by the Los Angeles Police Department. Los Angeles Times
Fun yarn: Storytelling about L.A.'s public transit finds the magnificent in the mundane. Los Angeles Times
IMMIGRATION AND THE BORDER
Self-defense: Female janitors working the night shift take safety into their own hands. Los Angeles Times
From grapes to raisins: "The ongoing battle over immigration could hit wine lovers in the wallet as many California vineyards are struggling to find seasonal workers to assist with harvesting the 2018 crop." Fortune
POLITICS AND GOVERNMENT
An election about elections: L.A. residents will vote again on changing the city's election date — at a cost of $3.1 million. Los Angeles Times
He'll be back: In his first major foray on the campaign trail ahead of November's midterm election, former President Obama will drop into Southern California on Saturday, holding a rally to boost seven Democratic candidates running in competitive House districts across the state. Los Angeles Times
More gun-control bills: Nearly 30 years after California became the first state to ban the sale of assault weapons and embarked on a path toward the strictest firearm laws in the nation, legislators have sent Gov. Jerry Brown nine new gun-control bills in response to a surge in mass shootings. Los Angeles Times
Listen! There's a new book out about Gov. Brown and his father. KVPR
Worrying trend: "Growing consolidation among hospitals and doctors' practices in California is linked to higher health insurance premiums and higher prices for specialty and primary care, according to a study by UC Berkeley researchers published Tuesday." San Francisco Chronicle
CRIME AND COURTS
Ruh-roh: A Los Angeles police commander and an LAPD sergeant have been charged in connection with an alcohol-related incident in April in which Glendale police said they found the two intoxicated inside an unmarked police cruiser. Los Angeles Times
Reward offered: Long Beach and Los Angeles County officials plan to offer up to $20,000 in reward money in the hope of solving the July killing of a Long Beach man whose family believes he was the victim of a hate crime. Los Angeles Times
Following up: Former UCLA basketball player Tyler Honeycutt had marijuana present in his body at the time of his death in July but did not test positive for any other drugs, according to the autopsy report released Tuesday. Los Angeles Times
THE ENVIRONMENT
In Sacramento: Stocks of PG&E Corp. and Edison International rose after California lawmakers passed legislation designed to help the utilities pay for billions of dollars in potential liabilities from wildfires that ravaged the state last year. Bloomberg
CALIFORNIA CULTURE
More trouble for Elon: With everything else bearing down on Elon Musk and Tesla Inc. — a production mess, cash crunch and Twitter-induced drama — you can add looming competition in the luxury e-car market. Los Angeles Times
Plus: "Musk has renewed his attacks against a British man who played a key role in the rescue of a youth soccer team trapped in a flooded cave in Thailand." BuzzFeed
On the Klamath River: "Can these California tribes beat heroin and history?" New York Times
It's now not just the egg: "At Alvin Cailan's first sit-down restaurant, in the Nolitan Hotel, the Eggslut creator graduates to the full bird." The New Yorker
CALIFORNIA ALMANAC
Los Angeles area: sunny, 78, Wednesday; partly cloudy, 79, Thursday. San Diego: partly cloudy, 77, Wednesday; partly cloudy, 75, Thursday. San Francisco area: partly cloudy, 73, Wednesday and Thursday. San Jose: sunny, 81, Wednesday; sunny, 80, Thursday. Sacramento: sunny, 89, Wednesday; partly cloudy, 90, Thursday. More weather is here.
AND FINALLY
Today's California memory comes from Kurt Nickerson:
"Too many memories to relate growing up in '50s Sierra Madre. Kick the can with neighborhood kids until bedtime on warm summer nights, rooting for the Dodgers (Koufax, Drysdale, Wills, Snider); Roy Campanella tribute at the Coliseum; orange groves everywhere; the greeter in Laguna Beach, before only the wealthy were predominant; submarine races at the Hastings Drive-in; 19-cent McDonald's burgers on Foothill; three freeways (!!) and so many more. If only we had known how lucky we were to grow up in paradise. What a time it was."
If you have a memory or story about the Golden State, share it with us. Send us an email to let us know what you love or fondly remember about our state. (Please keep your story to 100 words.)
Please let us know what we can do to make this newsletter more useful to you. Send comments, complaints and ideas to Benjamin Oreskes and Shelby Grad. Also follow them on Twitter @boreskes and @shelbygrad.
---