Newsletter: Essential California: Child poverty, hiding in plain sight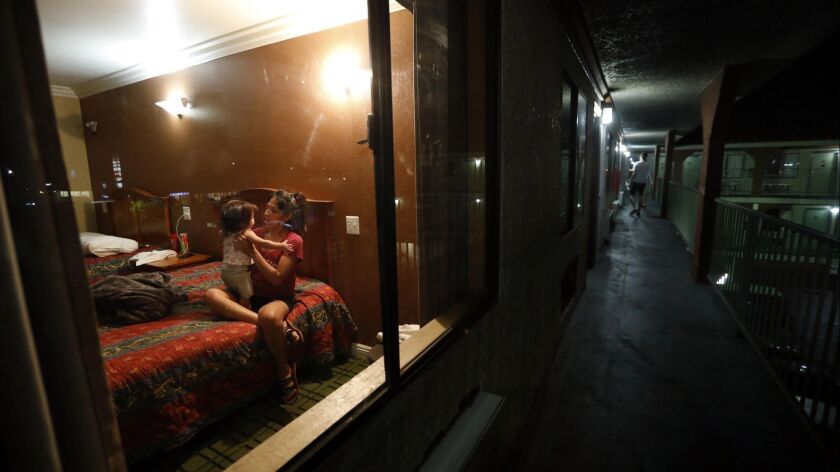 Good morning, and welcome to the Essential California newsletter. It's Monday, Nov. 26, and here's what's happening across California:
TOP STORIES
In a corner of the San Fernando Valley, child poverty hides in plain sight — in the motels that become a last resort for homeless family, packed apartments and even garages rented out for those who cannot afford more. Launching a four-part series, Times columnist Steve Lopez and photographer Francine Orr report on the community and the school where nearly a quarter of the students were classified as homeless. To many it would seem an unlikely place where poverty stalks children and destroys dreams. Los Angeles Times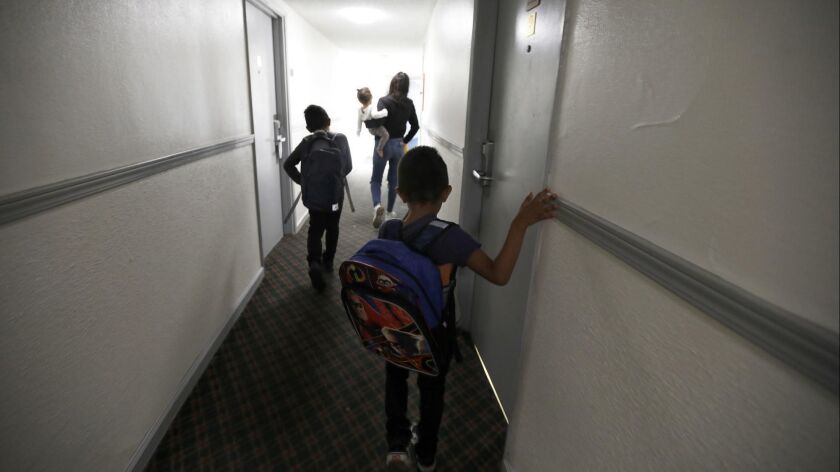 -- Part 2: Telfair Elementary School in Pacoima has more students classified as homeless than any other in L.A. Unified. For the principal, teaching these kids is personal. Years ago, he lived as so many of them do today. Los Angeles Times
-- Steve Lopez on why he embedded in this community: "If you measure poverty by the number of students whose family income is low enough for them to qualify for meals at school, 8 out of 10 children in the L.A. Unified School District hit that mark. That's an astonishing figure, given L.A.'s wealth and California's standing as the world's fifth-largest economy." Los Angeles Times
Some of Lopez's earlier columns on child poverty:
-- They are kids with less than nothing, but they still have their dreams. Los Angeles Times
-- Doctors are shocked by what they see treating L.A.'s poorest children. Los Angeles Times
-- Two young women bond as they plot an escape from poverty. Los Angeles Times
Get the Essential California newsletter »
CALIFORNIA FIRES
Across Butte County — a primarily agricultural area known for its walnut, almond and rice farms — towns are struggling to absorb the roughly 50,000 people displaced by the Camp fire. Through no fault of their own, the evacuees' arrival has worsened the state's housing crisis and raised the possibility that they could be evicted from the region again, not by fire but by a scarcity of suitable dwellings. Hotels and motels from Sacramento to Redding are full. The vacancy rate in the rental market, which hovered around 3% before the fire, has fallen to near zero. Los Angeles Times
-- California's deadliest fire is 100% contained. Los Angeles Times
-- How many on the missing list are actually dead? Sacramento Bee
-- In Malibu, surveying the ruins and deciding what's next. Los Angeles Times
-- Editorial: "To rebuild Paradise as it was would be land-use malpractice." Los Angeles Times
-- Packing for an evacuation, according to comedy writer Merrill Markoe. New York Times
BORDER DEBATE
Weeks of growing tensions in Tijuana over thousands of migrants who have poured in hoping to enter the United States boiled over Sunday when a group of them rushed the border, prompting U.S. Border Patrol agents to fire tear gas to disperse them. The incident marked a significant escalation in the migrant crisis at the border as well as the U.S. political debate about immigration policy and border security. It also prompted the U.S. to temporarily shut the San Ysidro border crossing. Los Angeles Times
-- The caravan presents an existential moment for Tijuana. San Diego Union-Tribune
-- Mexico's hard-line tactics bring questions. Los Angeles Times
L.A. STORIES
Is he telling the truth? Sam Little has been giving authorities details of at least 90 slayings he claimed he committed across the country from 1970 to 2005, a bloody ledger that would make him one of the deadliest serial killers in U.S. history, authorities said. In almost every case, investigators say he targeted prostitutes and drug addicts — "women that wouldn't be missed," as one detective put it. Los Angeles Times
Trying times: "I'll tell you, after the Borderline shooting, the fires were easy." A veteran Ventura County leader is doing what she can to help her community heal from twin traumas. Los Angeles Times
Unrest in Troy: USC football coach Clay Helton may have lost the fan base during a disappointing 5-7 campaign, but he did not lose the faith of athletic director Lynn Swann, who announced that Helton will be back for a fourth season, ignoring the desperate pleas of USC fans and alumni for change at the top of the football program. Los Angeles Times
Stunner: The curious, high-stakes battle over the future of a vast ranch in the San Gabriel Valley. Orange County Register
POLITICS AND GOVERNMENT
Howdy, partner: California's next first lady would like to be known as "first partner." A fascinating profile of Jennifer Siebel Newsom and the politics of being the governor's wife. Los Angeles Times
Misconduct allegations: The California Democratic Party has launched an investigation into unspecified allegations of sexual misconduct against Chairman Eric Bauman involving party staff members. Los Angeles Times
CALIFORNIA CULTURE
"Co-living" made easier: Amid a sharp rise in housing costs in California, a growing number of companies believe the affordability crisis has grown so bad that there's significant money to be made in offering — if not solutions —at least some relief. Los Angeles Times
Symbolic: A dying mall in the shadow of Apple's world headquarters offers a window into the debate over the future of Silicon Valley. San Francisco Chronicle
Timber! How do you move a 110-foot Christmas tree? LAist
A veritable feast: The Hollywood box office revival is continuing, with a record-setting Thanksgiving weekend. Thanks, Ralph. Los Angeles Times
RIP Ricky Jay: "The coolest person ever" has died in L.A. Los Angeles Times
CALIFORNIA ALMANAC
Los Angeles area: Sunny, 77, Monday. Mostly sunny, 74, Tuesday. San Diego: Sunny, 73, Monday. Sunny, 72, Tuesday. San Francisco area: Partly cloudy, 62, Monday. Rainy, 59, Tuesday. San Jose: Partly cloudy, 65, Monday. Rainy, 63, Tuesday. Sacramento: Partly cloudy, 63, Monday. Rainy, 56, Tuesday. More weather is here.
AND FINALLY
This week's birthdays for those who made a mark in California: former Angels manager Mike Scioscia (Nov. 27, 1958), retired Dodgers broadcaster Vin Scully (Nov. 29, 1927), Nobel chemistry laureate and UC Berkeley professor Yuan Lee (Nov. 29, 1936) and UC President Janet Napolitano (Nov. 29, 1957).
If you have a memory or story about the Golden State, share it with us. Send us an email to let us know what you love or fondly remember about our state. (Please keep your story to 100 words.)
Please let us know what we can do to make this newsletter more useful to you. Send comments, complaints and ideas to Benjamin Oreskes and Shelby Grad. Also follow them on Twitter @boreskes and @shelbygrad.
---