Newsletter: Essential California: Paradise tries to imagine its future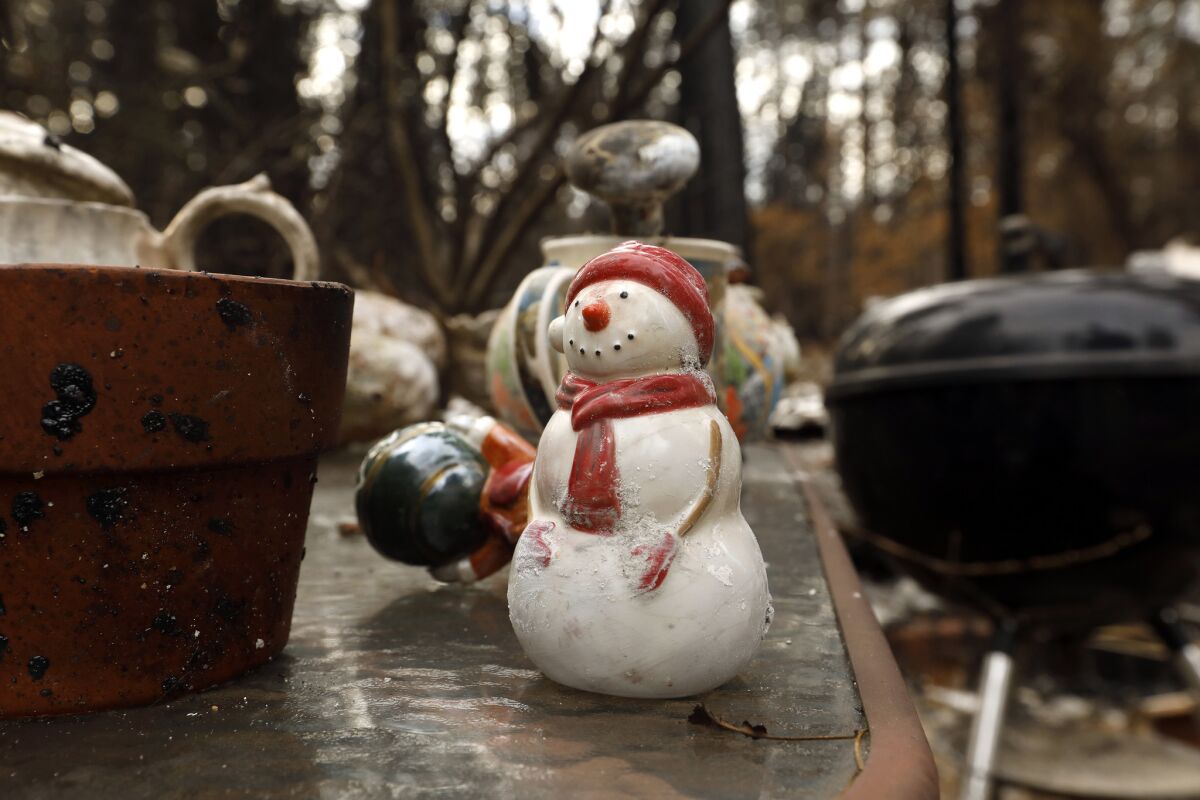 Good morning, and welcome to the Essential California newsletter. Merry Christmas! It's Tuesday, Dec. 25, and if you're in search of a last-second stocking stuffer, a subscription to the Los Angeles Times might be the perfect thing.
Now to the news. Here's what's happening across California:
TOP STORIES
In the aftermath of the Camp fire, the city of Paradise is reassessing its economy and learning that the first steps of reconstruction often begin with addressing the problems of the past. Residents and business owners say they will return and rebuild — Paradise Strong — and an army of utility workers has already swept through the city. But what comes next? Los Angeles Times
A city within a city: After the Camp fire, which ignited more than a month ago, residents of Chico are starting to get back to the "new normal," which means increased traffic, travel trailers dotting the landscape, and homes crowded with multiple families. Los Angeles Times
Plus: Devastated by the Woolsey fire, a farmer and forager begins to rebuild. Los Angeles Times
A chance at clemency
Gov. Jerry Brown has ordered new tests of physical evidence in the case of Kevin Cooper, whose high-profile quadruple-murder conviction three decades ago has come into question in recent years. Brown said in a statement that he was directing "limited retesting of certain physical evidence in the case and appointing a retired judge as a special master to oversee this testing, its scope and protocols." Los Angeles Times
In limbo on the border
The migrant caravans are stuck. Thousands of Central Americans who traveled north to the U.S. border in the fall, drawing dire warnings from President Trump, have settled into an uneasy existence in Tijuana, facing a backlash on both sides of the border. Los Angeles Times
Get the Essential California newsletter »
L.A. STORIES
New coach in town: As Kliff Kingsbury prepares for a new life as the offensive coordinator at USC, his heart remains in Texas. Los Angeles Times
Great story: Before an exuberant packed house, Long Beach Mayor Robert Garcia weds his longtime partner. Long Beach Press-Telegram
"Military industrial sexuality": A moving history of gay life in Los Angeles — and about a little-known pioneer whose fight with the military made a big difference. Boom California
IMMIGRATION AND THE BORDER
En CDMX: It's not easy to find, but in the middle of the cacophonous, crowded and heavily polluted megalopolis of Mexico City lies a peaceful, verdant oasis, known by many as "the magic garden." Los Angeles Times
POLITICS AND GOVERNMENT
Dashing through the snow: NORAD's Santa tracker — unaffected by the federal government shutdown — goes to work for children. Los Angeles Times
What should Gavin Newsom do? For California's incoming governor, big mistakes will lead to greatness, writes Joe Mathews. Zocalo Public Square
CRIME AND COURTS
By the Bay: Violent crime dropped sharply this year in San Francisco, with killings in 2018 approaching the lowest number in more than 50 years to continue a decade-long trend of declining violence around the region. San Francisco Chronicle
Plea bargain: A man previously charged with murder in the death of a San Bernardino County sheriff's deputy has accepted a plea bargain to lesser charges, according to court documents. Los Angeles Times
D'oh: A man shot himself in the ankle while playing with gun in a car on the 60 Freeway. Los Angeles Times
Sentenced: A part-time birthday party clown was sentenced to 38 years in state prison for sexually assaulting a 9-year-old girl in Huntington Beach. Los Angeles Times
THE ENVIRONMENT
Back against the wall: Fans of a once-secret California redwood grove race to fund a project to preserve it: The deadline is Dec. 31. Los Angeles Times
CALIFORNIA CULTURE
Big Baller Brand? Uh...: Lakers guard Lonzo Ball's game has gone into a deep freeze. Los Angeles Times
Fast pass: "The Lakers are playing blisteringly fast basketball, and we have the charts to prove it." LAist
He said what? LeBron James has apologized for something he posted on an Instagram story. The Wrap
The department store of the future: Selling art off the walls and car insurance at checkout. Wall Street Journal
Pay your respects and say goodbye: This could be it for the Oakland Coliseum. ESPN
CALIFORNIA ALMANAC
Los Angeles area: sunny, 66, Tuesday; partly cloudy, 66, Wednesday. San Diego: showers, 61, Tuesday; partly cloudy, 64, Wednesday. San Francisco area: sunny, 58, Tuesday and Wednesday. San Jose: partly cloudy, 59, Tuesday and Wednesday. Sacramento: cloudy, 59, Tuesday; sunny, 56, Wednesday. More weather is here.
AND FINALLY
Today's California memory comes from
Mark Shier:
"It was Christmas Day 1969, and I was a graduate student at UCLA. Just a few months downstream of an Army tour in Vietnam, I was still readjusting to normal, civilian life. A classmate and his wife had invited me to their apartment to share Christmas dinner. Since they lived only a few blocks away, I decided to walk (I know, heresy in my new home). As I walked down the street in the balmy 75-degree weather, not a cloud in the sky, deeply green grass in the yards, flowers blooming, palm trees swaying, I sighed deeply and decided that this is my home — and it has been ever since. (Perhaps some of that decision was the memory of the last few weeks in Army basic training in Fort Dix, New Jersey, in December 1966, when we marched and bivouacked for days in a cranberry swamp, a North Atlantic snowstorm, in summer uniforms, wet through from marching through creeks and marshes. I decided that if I lived I was going to go somewhere where it is warm and stay there. And I did.)"
If you have a memory or story about the Golden State, share it with us. Send us an email to let us know what you love or fondly remember about our state. (Please keep your story to 100 words.)
Please let us know what we can do to make this newsletter more useful to you. Send comments, complaints and ideas to Benjamin Oreskes and Shelby Grad. Also follow them on Twitter @boreskes and @shelbygrad.
---