Newsletter: Essential California: In Little Saigon, a generational divide over a new deportation threat
Good morning, and welcome to the Essential California newsletter. It's Wednesday, Dec. 26, and here's what's happening across California:
TOP STORIES
After word spread about a renewed push by the Department of Homeland Security to get Vietnam to accept more deportees, some people saw it as a mistake by the Trump administration, given the GOP's fading strength in Orange County and the historical support that the Republican Party has gotten from Vietnamese Americans. But in a community where many older residents oppose illegal immigration and younger ones tend to lean left politically, the controversy is just the latest to underscore the generational divide among those of Vietnamese descent. Los Angeles Times
Street racing's toll
Since 2009, authorities have made arrests in more than half of cases where street racing was a suspected factor in a car crash where someone died. Those arrests rarely lead to significant jail time, according to a Times analysis of law enforcement and court records. For the family of Natalie Volkoff, this light punishment wasn't enough. Los Angeles Times
Another child dies in custody
An 8-year-old Guatemalan boy died Christmas Eve in the custody of U.S. immigration authorities, the second death in less than three weeks of a child in detention and a searing new emblem of Trump administration border policies that critics are lambasting as cruel and inhumane. The boy's death at a New Mexico hospital marked yet another grim inflection point in the wider immigration struggle that has roiled U.S. politics this year, stirring partisan passions and fueling outrage over the ongoing separation of hundreds of children from their parents at the border. Los Angeles Times
Get the Essential California newsletter »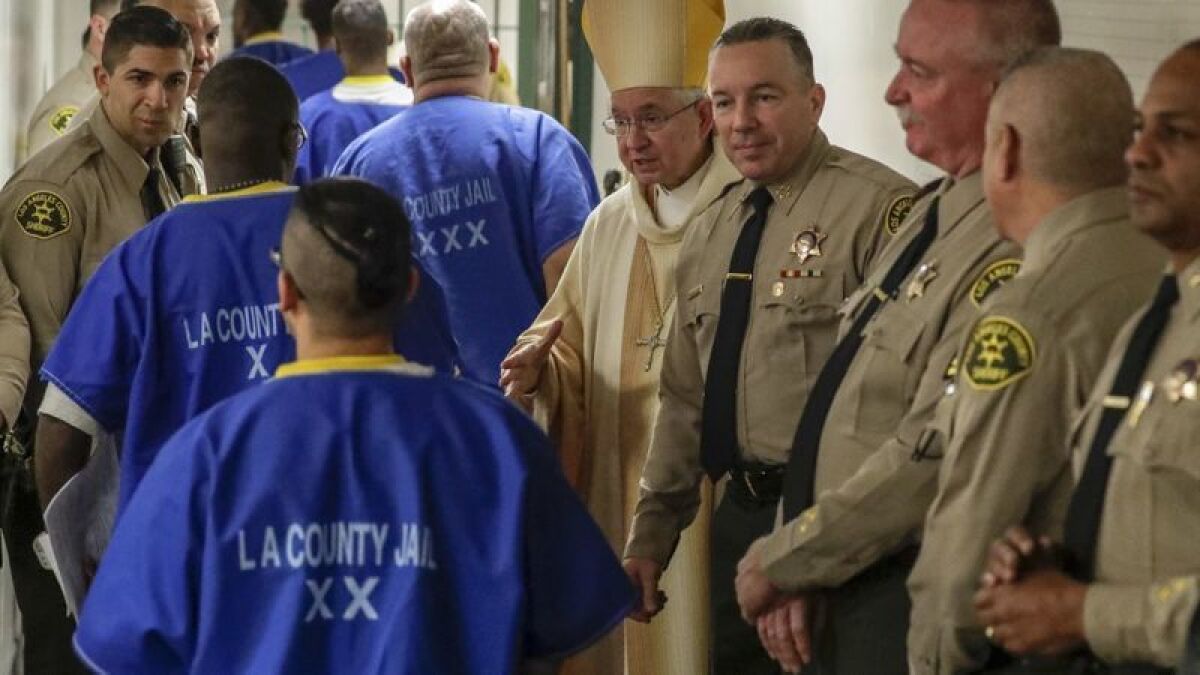 L.A. STORIES
Mass in jail: On Christmas Day, the front pew of the jail chapel was empty — reserved for Los Angeles County Sheriff Alex Villanueva and his entourage. But when Villanueva arrived, he chose a spot near the back. The VIP pew eventually was filled by some of the nearly 200 inmates who had gathered to celebrate Mass with the archbishop of Los Angeles, Jose H. Gomez, at Men's Central Jail. Los Angeles Times
LOL: The Los Angeles and New York police departments are poking some fun at their perceived rivalry and wading into the hotly contested debate: Is "Die Hard" a Christmas movie? Los Angeles Times
Making a list: Here's columnist Bill Plaschke's Christmas wish list for all the Southland's teams. Los Angeles Times
IMMIGRATION AND THE BORDER
Tragedy in Mexico: A helicopter crash took the lives of the governor of Mexico's south-central Puebla state and her husband, a federal senator and former state governor, authorities said. Los Angeles Times
Plus: "ICE dumps hundreds of migrants with nowhere to go at a bus station on eve of Christmas without warning shelters." Texas Tribune
What's already built: Trump wants a border wall. See what's in place already. New York Times
POLITICS AND GOVERNMENT
Making history in the O.C.: California's youngest female mayor holds the gavel in Yorba Linda. Los Angeles Times
Oops: "The California Department of Motor Vehicles issued 2.3 million new IDs this year using a process that doesn't meet the federal government's standards, the DMV was told last month." Sacramento Bee
Crunching the numbers: California is in danger of losing a House seat despite adding 2.3 million people. Quartz
CRIME AND COURTS
Another pardon: Heather Steels Burnett doesn't remember the name of the official-sounding man who called from Gov. Jerry Brown's office. Only that his message brought tears to her eyes. The day before Christmas, the Chico resident received a full and unconditional pardon from California's governor, erasing a 20-year-old drug offense from another, very different chapter in her life. Her husband had gotten one a few weeks earlier, as they deal with the loss of their home in the Camp fire. Los Angeles Times
Plus: Brown is the most forgiving governor in modern California history. Cal Matters
But: "Mayor London Breed's plea for mercy for her brother, who is serving a 44-year prison sentence in the death of his girlfriend, was spurned by Gov. Jerry Brown." San Francisco Chronicle
Nabbed: Authorities have arrested a 29-year-old man suspected of spray-painting swastikas on President Trump's star on the Hollywood Walk of Fame, police said. Los Angeles Times
THE ENVIRONMENT
$$$$: Four researchers at Scripps Institution of Oceanography have earned state grants to study how climate change is shifting conditions on the Pacific Coast, including cliffs and tide pools. Los Angeles Times
Another fire-induced problem: "Tens of thousands of acres of private woodlands in California are being gobbled up by wildfires as the state gets warmer, winters get shorter and fuel gets drier — and these dense stands of burned trees, crucial in the fight against global warming, are often lost forever." San Francisco Chronicle
CALIFORNIA CULTURE
At the theaters: How Supreme Court Justice Ruth Bader Ginsburg's nephew helped Felicity Jones turn into his aunt in "On the Basis of Sex." Los Angeles Times
Coming soon: Early Christmas morning, "Get Out" director Jordan Peele unveiled the trailer for his next horror flick, "Us," which will hit theaters March 15. Los Angeles Times
All aboard! Kenneth Matassa keeps Orange County's smallest trains running on time. Los Angeles Times
Yum: Searching for China's most famous noodle dishes in the San Gabriel Valley. LAist
A taste of the holidays: The high-stakes world of Christmas tamales. The Atlantic
CALIFORNIA ALMANAC
Los Angeles area: sunny, 66, Wednesday; sunny, 65, Thursday. San Diego: sunny, 64, Wednesday; partly cloudy, 63, Thursday. San Francisco area: sunny, 58, Wednesday and Thursday. San Jose: sunny, 59, Wednesday; sunny, 58, Thursday. Sacramento: partly cloudy, 57, Wednesday; cloudy, 56, Thursday. More weather is here.
AND FINALLY
Today's California memory comes from Paul Kasbar:
"As a young boy in Brooklyn in the 1950s, I'd spend most of my waking hours outdoors — riding my bike around the neighborhood, going to the beach and the Catskill Mountains during the summer. My love of nature took seed. My first trip to California in 1976 took me to San Francisco, Marin County including Muir Woods and Mt. Tamalpais, Kings Canyon and Sequoia National Parks. I fell in love with the raw beauty of the state. After 10 years of traveling from New York to California on business in the '80s, I couldn't take it anymore and escaped to San Francisco in 1991. I now live in Marin County. I cycle to Muir Woods and Mt. Tamalpais all the time."
If you have a memory or story about the Golden State, share it with us. Send us an email to let us know what you love or fondly remember about our state. (Please keep your story to 100 words.)
Please let us know what we can do to make this newsletter more useful to you. Send comments, complaints and ideas to Benjamin Oreskes and Shelby Grad. Also follow them on Twitter @boreskes and @shelbygrad.
---