Newsletter: Essential California: Pot problems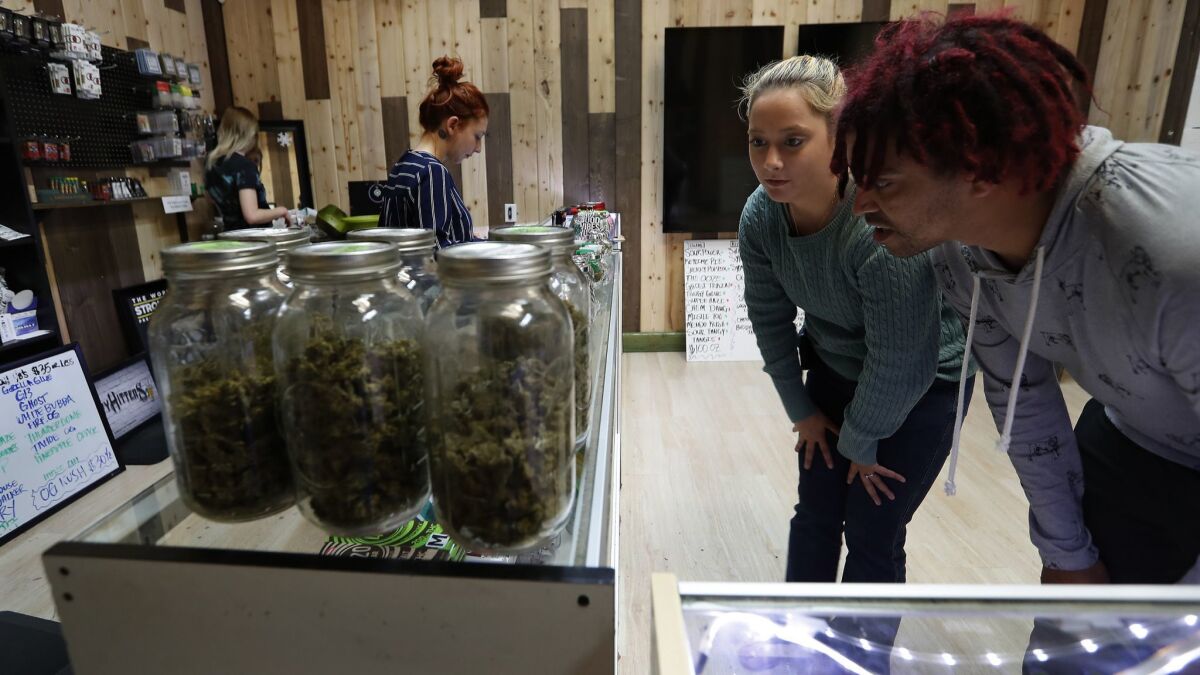 Good morning, and welcome to the Essential California newsletter. It's Thursday, Dec. 27, and here's what's happening across California:
TOP STORIES
When Californians voted in 2016 to allow the sale of recreational marijuana, advocates of the move envisioned thousands of pot shops and cannabis farms obtaining state licenses, making the drug easily available to all adults within a short drive. But as the first year of licensed sales comes to a close, California's legal market hasn't performed as state officials and the cannabis industry had hoped. Retailers and growers say they've been stunted by complex regulations, high taxes and decisions by most cities to ban cannabis shops. At the same time, many residents are going to city halls and courts to fight pot businesses they see as nuisances, and police chiefs are raising concerns about crime triggered by the marijuana trade. Los Angeles Times
On the mean streets of L.A.
For decades, Los Angeles members of the National and International Brotherhood of Street Racers had organized legal races on a strip of land on Terminal Island with the backing of some police and civic leaders. The legal events ended in the mid-1990s. Members of the brotherhood now organize clandestine races in the middle of the night, in industrial areas where the odds of a pedestrian or uninvolved motorist passing through are minimal. The group discourages people from performing doughnuts or other vehicle stunts, which police say are common at takeover scenes and can endanger nearby spectators. Empty beer bottles and the scent of marijuana are prevalent at their events, but they say they refuse to let anyone who has even sipped a drink get behind the wheel of car. Los Angeles Times
Kids dying in detention
The secretary of Homeland Security ordered medical checks on every child in Border Patrol custody and a series of other measures Tuesday after a boy from Guatemala died in custody on Christmas Eve, the second such death this month. No child had died in the custody of U.S. immigration authorities for more than a decade until December — when first a 7-year-old girl and then an 8-year-old boy, both from Guatemala, died in less than three weeks, despite receiving emergency hospital care. Los Angeles Times
Get the Essential California newsletter »
L.A. STORIES
RIP: Denise Harlins, who became an activist after her 15-year-old niece was fatally shot in the lead-up to the 1992 Los Angeles riots, died Tuesday. Los Angeles Times
My kingdom for a charging station: one electric-vehicle driver's frustrating search. Los Angeles Times
Coming in 2019: Will L.A. raise a fist — or shake it — when teachers strike? Los Angeles Times
IMMIGRATION AND THE BORDER
From earlier this year: How the mayor of Oakland became a hero of the "sanctuary city" movement. BuzzFeed
POLITICS AND GOVERNMENT
Sprucing it up: Capitol Corridor passenger trains just got the biggest safety upgrade in a century. Sacramento Bee
More study required: A proposed renewable-energy plant at the Scholl Canyon Landfill in Glendale will be getting a more thorough review to assuage fears expressed by some residents who think the project poses health and environmental hazards. Los Angeles Times
An ongoing story: Silicon Valley's worker shortage has created an upside-down labor market. East Bay Times
Here's some sweep: Gov. Jerry Brown's greatest legacy is proving California is governable. The Atlantic
CRIME AND COURTS
What a few months it's been: In Ventura County, a new sheriff comes to town on the heels of a mass killing and raging wildfires. Los Angeles Times
Plus: "First Las Vegas, Then Thousand Oaks. Now he must survive in Afghanistan." New York Times
Keeping up: Kim Kardashian capped a year of prison reform advocacy with a message to Gov. Brown. Los Angeles Times
In the Central Valley: A manhunt was underway Wednesday for a man suspected of fatally shooting a police officer during a traffic stop in Stanislaus County. Los Angeles Times
Only in Oakland: In a Christmas week miracle, officers were able to recover a police car that was stolen from the Oakland Coliseum during a Raiders game. Los Angeles Times
THE ENVIRONMENT
Tiny guys, big problem: A trio of tiny salamander species could mean big trouble for federal officials spearheading a controversial $1.4-billion public works project to heighten the Shasta Dam in Northern California. Los Angeles Times
CALIFORNIA CULTURE
The burger boss: Come New Year's, most people are devising ways to eat less and lose weight. Lawrence Longo, a restaurant investor, kicked off 2018 with the opposite plan: Eat 365 different L.A. burgers over the next 365 days. Longo is nearly there and has some thoughts about the experience. Los Angeles Times
C'Mon! Clippers broadcaster Ralph Lawler should be in the Basketball Hall of Fame. Too bad it's not that easy. Los Angeles Times
Happy New Year! "May your city never become San Francisco, New York or Seattle or Portland, Denver, Boston, Dallas, Houston or Los Angeles." New York Times
Hmm: Do lane-splitting motorcyclists make California roads safer? SF Gate
CALIFORNIA ALMANAC
Los Angeles area: sunny, 66, Thursday; sunny, 64, Friday. San Diego: partly cloudy, 62, Thursday; sunny, 63, Friday. San Francisco area: cloudy, 58, Thursday; sunny, 58, Friday. San Jose: sunny, 58, Thursday; sunny, 57, Friday. Sacramento: cloudy, 57, Thursday; partly cloudy, 56, Friday. More weather is here.
AND FINALLY
Today's California memory comes from Judith Samuelson:
"As I sit in my apartment of 35 years in NYC, I read the horrific reports of fires consuming brush and forest in my homeland, and recall a gentler time. It was Oct. 30, 1967, and my 15th birthday, when a fire that broke out near Ramona airport raced toward Mt. Woodson, and then into Poway, consuming homes in the highlands and among the lush avocado groves of Green Valley where we lived. My mom worked at the high school then, and left with my older sister to rescue our visiting grandmother, who was home baking my birthday cake. Mom climbed onto the roof to hose it down and had to be rescued by a neighbor who luckily spotted her while evacuating the area. Meanwhile, I sat with my classmates in French class, watching the flames encroach across the road and listening to our radio station of choice, KCBQ, which was giving nonstop coverage of the fire, and announced — erroneously — that the 5-year-old high school had been evacuated! My brother made it back from L.A. where he was in his freshman year at USC to aid the fledgling Poway Fire Department, where he had volunteered along with other members of his Boy Scout Explorer troop during high school. The day ended when our family, reunited, but without electricity, drove into San Diego for my birthday dinner. And then on Dec. 13, the unthinkable happened — Poway, and much of coastal San Diego County, was visited by snow — the first and only time most of us had seen snowfall. Classes were canceled, and the entire school adjourned to the football field to build snowmen and engage in snowball fights. The Poway High School yearbook called it the 'Year of Fire and Ice.' "
If you have a memory or story about the Golden State, share it with us. Send us an email to let us know what you love or fondly remember about our state. (Please keep your story to 100 words.)
Please let us know what we can do to make this newsletter more useful to you. Send comments, complaints and ideas to Benjamin Oreskes and Shelby Grad. Also follow them on Twitter @boreskes and @shelbygrad.
---