Newsletter: Essential California: Gov. Gavin Newsom starts with an ambitious agenda
Good morning, and welcome to the Essential California newsletter. It's Tuesday, Jan. 8, and here's what's happening across California:
TOP STORIES
Gavin Christopher Newsom has taken his place as California's 40th governor, christening a new political era of progressive activism in a Golden State both brimming with wealth and hollowed by poverty. Beneath a tent outside the Capitol protecting him and thousands of well-wishers from the threat of rain, Newsom rested his hand on a Bible held by California Chief Justice Tani Gorre Cantil-Sakauye and recited the oath of office. His wife, documentary filmmaker Jennifer Siebel Newsom, stood at his side, along with his four children. Los Angeles Times
Leading off: Newsom, in his first act as chief executive, announced a sweeping plan to create California rules requiring health coverage for all residents, as well as allowing more young adults in the U.S. illegally to obtain health services — a swift rebuke to the Trump administration. Los Angeles Times
Analysis: He is now the titular leader of the most dominant political party in America's largest state. Few governors have come into office with more potential power. Los Angeles Times
Columnist George Skelton weighs in: Newsom needs to address what no one wants to talk about. Los Angeles Times
Verbatim: Read Newsom's prepared inaugural address remarks. Los Angeles Times
One more take from the former governor: "Jerry Brown's midnight in America." Politico Magazine
Perspective: What Brown means to California, as interpreted by Brown family biographer Miriam Pawel. New York Times
Street racing in Los Angeles
Now we're going to tell you about a series of stories about street racing in Los Angeles County that came out last year. Crime reporter James Queally — who worked on the articles with reporter Nicole Santa Cruz — has this to say:
"Honestly, we started writing this story because our editor lost a file. Jack Leonard had always bemoaned the carnage caused by illegal street racing in L.A. and wanted us to do a project on the lives and families hurt by it. We were supposed to base this project on the contents of a mythical folder of such information, which he claimed to have compiled (but could never produce). Undeterred by our editor's disorganization, Nicole and I tried to get a victim list and data from local police agencies, and found no such data existed. So we started creating our own, and spent the better part of a year poring through coroner's reports, news accounts and spreadsheets hoping to find out what made the scene tick and why it was so dangerous. By the end of it, we'd been involved in a California Highway Patrol pursuit, cursed out by popular racing accounts on YouTube and offered pupusa out of the back of a truck at 2 a.m. in Compton while someone performed a burnout nearby."
From the series:
-- 17 years. 179 victims. The deadly toll of street racing in Los Angeles. Los Angeles Times
-- In prosecutions of street racing, penalties aren't as stiff as some would like. Los Angeles Times
-- In L.A.'s street-racing scene, "likes" and followers can be just as important as engines and tires. Los Angeles Times
-- Is there a safer way to street race? In L.A., some speed demons think so. Los Angeles Times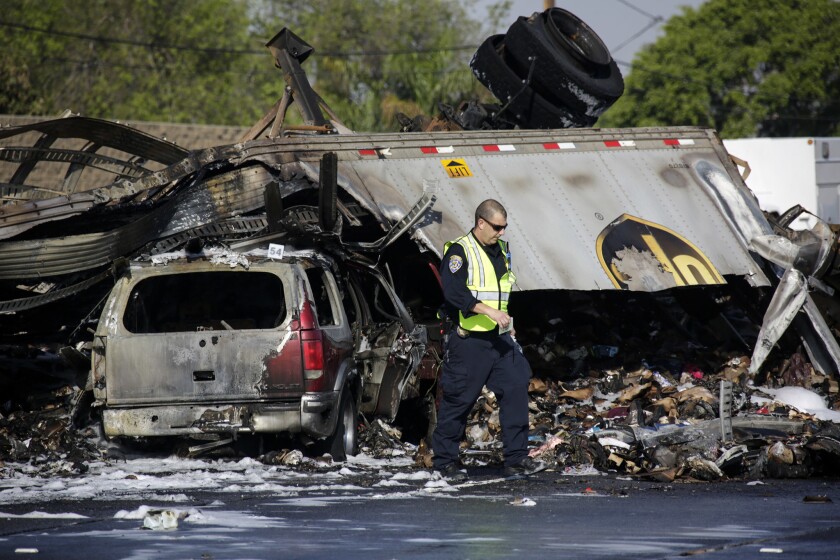 Get the Essential California newsletter »
L.A. STORIES
Inching toward a strike: A last-ditch bargaining effort to avert a Los Angeles teachers' strike fell short Monday, although the two sides have agreed to meet again on Wednesday morning, the day before a strike is scheduled to begin. Whether the strike starts on schedule could depend more, however, on legal maneuvers that will play out on Tuesday. Los Angeles Times
Plus: Coaches and athletes could be among those most affected by an LAUSD teacher strike. Los Angeles Times
Mud and muck: A stretch of Pacific Coast Highway in the Malibu area was reopened Monday evening as crews worked to clear the road of mud and debris after Saturday's storm, officials said. Los Angeles Times
Off the coast: Marines have "invaded" Santa Catalina Island to fix a crumbling airstrip at the Airport in the Sky. Los Angeles Times
IMMIGRATION AND THE BORDER
Trump's big speech: President Trump will address the nation on Tuesday night and travel on Thursday to the U.S.-Mexico border to press his case for a wall there, amid a partisan funding impasse over the issue that has kept the government partially shut down into a third week. Los Angeles Times
Data from the border: "U.S. Customs and Border Protection encountered only six immigrants on the U.S.-Mexico border in the first half of fiscal year 2018 whose names were on a federal government list of known or suspected terrorists." NBC News
POLITICS AND GOVERNMENT
Gearing up: Sen. Kamala Harris hasn't launched a bid for the presidency yet, but she has launched the narrative it would be built around. Her new book attempts to position Harris as a battle-hardened civil rights crusader at a time Senate colleagues question if she has enough political experience to be the nominee. Los Angeles Times
A $20,243 bike crash: Aggressive tactics at Zuckerberg San Francisco General Hospital leave patients with big bills. Vox
CRIME AND COURTS
Charged: A 42-year-old man with a history of arrests connected with weapons offenses was charged Monday in a series of shooting incidents that left a father dead and caused widespread panic in Malibu last year, authorities said. Los Angles Times
Arrested: Torrance police arrested a 47-year-old parolee Monday in connection with a shooting at the Gable House Bowl that left three people dead and four others injured. Los Angeles Times
Another death: A man's body was found early Monday in the West Hollywood home of prominent Democratic donor Ed Buck. This is the second time that a body has been found in Buck's home. Buck's attorney, Seymour Amster, said Buck was not arrested and is cooperating with investigators. Los Angeles Times
Bucking the trend: "The San Diego County district attorney's office plans to challenge a new state law that could release from prison people serving time for murder when they didn't do the actual killing but were accomplices." inewsource
Expect more of this: "In one of the first releases of records under a new state law designed to show how police officers are disciplined for major offenses, documents show the Burlingame Police department fired a veteran officer last year after it found he offered to help a woman charged with DUI if she had sex with him." Mercury News
THE ENVIRONMENT
What to do with all that trash? The long road to recovery in the town of Paradise starts with removing millions of tons of charred rubble left in the Camp fire's aftermath. But the question remains: Where will it all go? Los Angeles Times
A fundamental challenge: PG&E, California's largest power company, faces an existential crisis as it confronts the looming possibility of tens of billions of dollars in wildfire liability. Los Angeles Times
CALIFORNIA CULTURE
A film critic's view: After Golden Globe wins for "Bohemian Rhapsody" and "Green Book," awards season can only improve ... right? Los Angeles Times
About that new ID card: Yes, Real ID has hit a bump. But if you already have yours, don't panic. It will work. Los Angeles Times
Check 'em out: Five places to visit in Beverly Hills. New York Times
Foie g-wat! "The U.S. Supreme Court announced Monday it would not hear a challenge to California's 2004 ban on the production and sale of foie gras, leaving in place a 2017 ruling upholding it." San Francisco Chronicle
CALIFORNIA ALMANAC
Los Angeles area: Partly cloudy, 69, Tuesday. Partly cloudy, 66, Wednesday. San Diego: Partly cloudy, 68, Tuesday. Partly cloudy, 64, Wednesday. San Francisco area: Cloudy, 59, Tuesday. Rainy, 58, Wednesday. San Jose: Cloudy, 62, Tuesday. Showers, 61, Wednesday. Sacramento: Showers, 59, Tuesday and Wednesday. More weather is here.
AND FINALLY
Today's California memory comes from Jack Hopkins:
"Back in 1968, I was 17 years old driving to Los Coyotes Golf Course in Buena Park to play in a junior golf tournament. I remember pulling my Opel Kadett into a neighboring gas station and filling up at 19.9 cents per gallon for regular gas. Two years later, I found myself in the military and stationed in Germany. I bought a Volkswagen bus and remember this same gas was selling for $3.60 per gallon."
If you have a memory or story about the Golden State, share it with us. Send us an email to let us know what you love or fondly remember about our state. (Please keep your story to 100 words.)
Please let us know what we can do to make this newsletter more useful to you. Send comments, complaints and ideas to Benjamin Oreskes and Shelby Grad. Also follow them on Twitter @boreskes and @shelbygrad.
---