Newsletter: Essential California: The legal technicality that delayed the LAUSD strike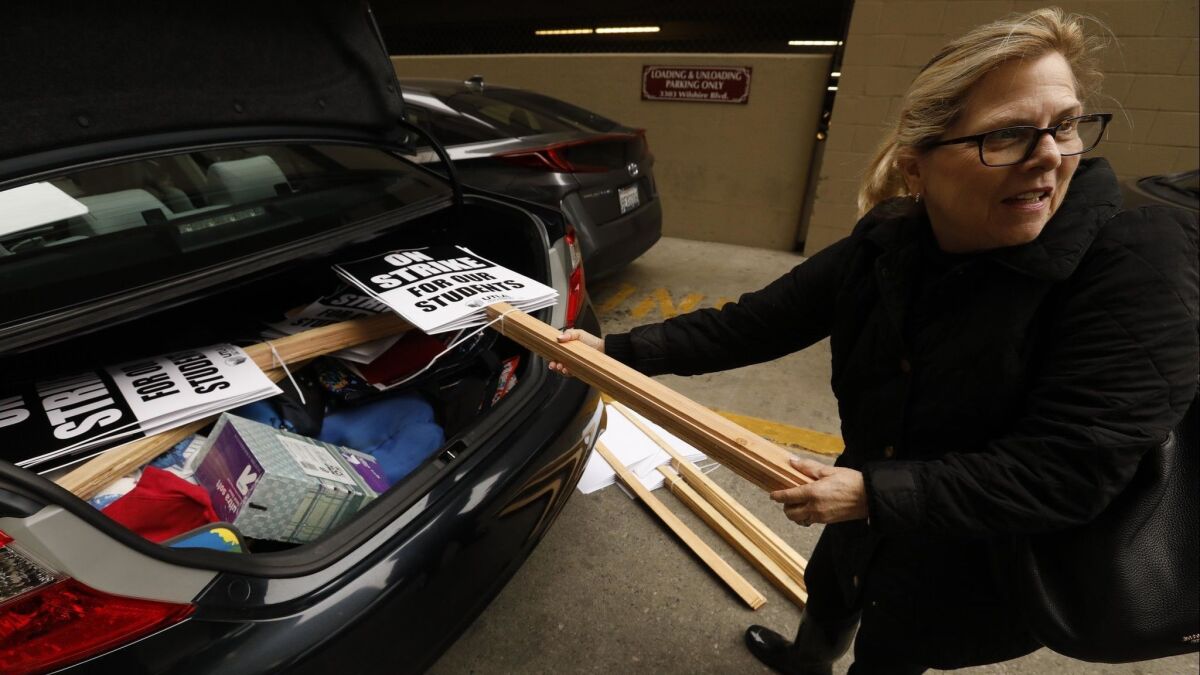 Good morning, and welcome to the Essential California newsletter. It's Thursday, Jan. 10, and here's what's happening across California:
TOP STORIES
Thousands of posters were ready, along with thousands of teachers to hold them. Nothing, it seemed, could stop a Los Angeles teachers' strike from starting Thursday. Then, just the day before, came a stunning midday announcement from the teachers union: The strike would have to wait four more days, until Monday. United Teachers Los Angeles didn't make the decision Wednesday because it had agreed to a contract. That still seemed for the time being beyond reach, beyond hope. Instead, the delay was due to a legal technicality. Los Angeles Times
Parents' dilemma: As the teachers' strike approaches, concern increases for parents, but it differs depending on the circumstances of their lives. In poorer Latino neighborhoods like El Sereno, parents struggling to make ends meet see new burdens. In Pacific Palisades, worries are less about how to manage than how to make the strike a teachable moment. Los Angeles Times
Negotiations update: Dueling news conferences after the half-day session Wednesday indicated that little to no progress was made. The two sides will meet again on Friday. Los Angeles Times
Video: Meet the L.A. teachers union's chief negotiator. L.A. Taco
Better forest management?
President Trump, in a tweet, said early Wednesday that he had ordered the Federal Emergency Management Agency not to send more disaster funding to fire-ravaged California "unless they get their act together, which is unlikely." It was not immediately clear, however, whether Trump's threat was bluster like other tweets he has sent falsely criticizing California's fire management, or if he had actually ordered a funding cutoff to thousands of Californians trying to rebuild after the two devastating fires that hit the state late last year. Los Angeles Times
Budget bonanza coming soon?
Gov. Gavin Newsom will set the tone and tenor for his first year in office by sending lawmakers on Thursday a lengthy blueprint for California government spending — one where dozens of high-profile campaign promises will hinge on whether he sees boom or bust times on the state's economic horizon. State officials use that prediction to calculate expected tax revenues. It is also a key component in gauging the size of what's believed to be a substantial windfall — as much as $15 billion in unexpected, discretionary revenues through next summer. Newsom piqued the curiosity of state Capitol watchers on Tuesday when he described a soon-to-be-revealed decision he made in preparing his first budget as governor. Los Angeles Times
Plus: Newsom ordered an overhaul of the California Department of Motor Vehicles, which has been plagued by hours-long wait times at field offices, computer crashes and voter registration errors involving tens of thousands of customers. Los Angeles Times
Get the Essential California newsletter »
L.A. STORIES
Mongols MC: Federal prosecutors in California pressed ahead with a novel attempt to dismantle an outlaw motorcycle club, arguing to jurors that the group should be stripped of trademarks it owns on its insignia as punishment for operating a criminal organization. Los Angeles Times
Yum: In Boyle Heights, Lebanese dishes with a Oaxacan accent. Los Angeles Times
The Purple line opposition: "The ultimate test of Trump's local cronyism is playing out in Beverly Hills." Reveal News
Don't go in the water: High surf will continue to pummel the Southern California coastline Thursday, the result of large swells created by storms spreading from the northern Pacific and sparking dangerous conditions along the beaches of Los Angeles and Orange counties. Los Angeles Times
IMMIGRATION AND THE BORDER
On the ground: The reality on the border differs widely from Trump's "crisis" description. Los Angeles Times
Waiting and waiting: Asylum-seekers in California wait for their day in immigration court. NPR
POLITICS AND GOVERNMENT
Hefty sum: The California Senate paid $350,000 to settle a workplace discrimination lawsuit filed by a former employee who alleged that the upper house failed to accommodate her emotional disabilities and fired her in retaliation after she claimed that she was sexually assaulted by an Assembly staff member. Los Angeles Times
Held in custody: Iranian authorities confirmed Wednesday that a U.S. Navy veteran from San Diego has been detained in Iran, making him the latest foreigner with ties to America to be imprisoned. Los Angeles Times
Intriguing: "How two governors and a mayor plan to plug the holes in Obamacare." The Huffington Post
Perspective: "Kamala Harris' new book tries to massage her record as a prosecutor, but the facts aren't pretty." Reason Magazine
CRIME AND COURTS
Not cool! Authorities have arrested a Northern California man they say tried to steal his roommate's $10-million winning lottery ticket. Los Angeles Times
Cleared of one murder: The man accused of being the Golden State Killer has been cleared of involvement in the 1975 murder of a 14-year-old girl in the Central Valley, prosecutors say. Los Angeles Times
He said what? A lead gang prosecutor in the San Bernardino County district attorney's office has resigned, six months after an investigation was launched into offensive comments he made on social media. Los Angeles Times
Impact: "The San Mateo County district attorney said Tuesday that he is considering reopening a criminal investigation into a fired Burlingame police officer after information about his past misconduct was made public under a new state transparency law designed to shine a light on bad cops." KQED
THE ENVIRONMENT
In Joshua Tree National Park: Rand Abbott is a man in motion: a paraplegic rock climber; a lightning rod at town hall meetings in this high desert enclave; a conservation campaign organizer; a pitchman for the Southwestern desert landscape and its resident creatures. Two weeks ago, he added to his workload by volunteering to clean restrooms and remove trash in Joshua Tree National Park during the partial federal government shutdown. Abbott, 55, figures he's spent nearly $5,000 on bleach, rags and garbage bags and driven 702 miles cleaning up and documenting the mess in a park that lures 3 million visitors a year. Los Angeles Times
Where'd the butterflies go? With an 86% drop, California's Monarch butterfly population has hit a record low. New York Times
CALIFORNIA CULTURE
Podcast: Previewing the Cowboys-Rams and Chargers-Patriots NFL playoff games. Los Angeles Times
He's back: Former Pixar Animation pioneer John Lasseter has found a new job after exiting the computer animation unit under a cloud last year, and the backlash was swift. Los Angeles Times
Hollywoodland: Here's what should be nominated for original song at the Oscars. Los Angeles Times
So scary! A surfer described a terrifying shark attack at Montaña de Oro. San Luis Obispo Tribune
CALIFORNIA ALMANAC
Los Angeles area: partly cloudy, 65, Thursday; cloudy, 65, Friday. San Diego: sunny, 64, Thursday; partly cloudy, 63, Friday. San Francisco area: partly cloudy, 56, Thursday; rainy, 58, Friday. San Jose: partly cloudy, 62, Thursday; showers, 63, Friday. Sacramento: partly cloudy, 58, Thursday; showers, 58, Friday. More weather is here.
AND FINALLY
Today's California memory comes from Donna Mills:
"When I was very young, my grandparents lived in a beautiful Art Deco-style house in Whitley Heights. The picture window in the living room afforded a spectacular view of the city of L.A. I thought I could see the whole world from my perch up there, beginning with the Capitol Records building (which I thought was Seattle, because the Space Age look of the building resembled the Space Needle that was on postage stamps at the time). When we stayed with them, my grandmother would pop my baby sister in a stroller and we would walk straight down Whitley to the J.J. Newberry store on Hollywood Boulevard (which sold 'Romper Room' toys, like punch balls) — and then back up the palm-lined street. They sold that house in 1964 and moved into a nice apartment building on Rossmore. Oddly, that neighborhood has changed very little in the 50-plus years since they moved. I drive through there and marvel that my grandmother had no problems climbing up that very steep hill with a toddler and a 4-year-old."
If you have a memory or story about the Golden State, share it with us. Send us an email to let us know what you love or fondly remember about our state. (Please keep your story to 100 words.)
Please let us know what we can do to make this newsletter more useful to you. Send comments, complaints and ideas to Benjamin Oreskes and Shelby Grad. Also follow them on Twitter @boreskes and @shelbygrad.
---