Newsletter: Essential California: Even for the wildlands, the 'new normal' is too tough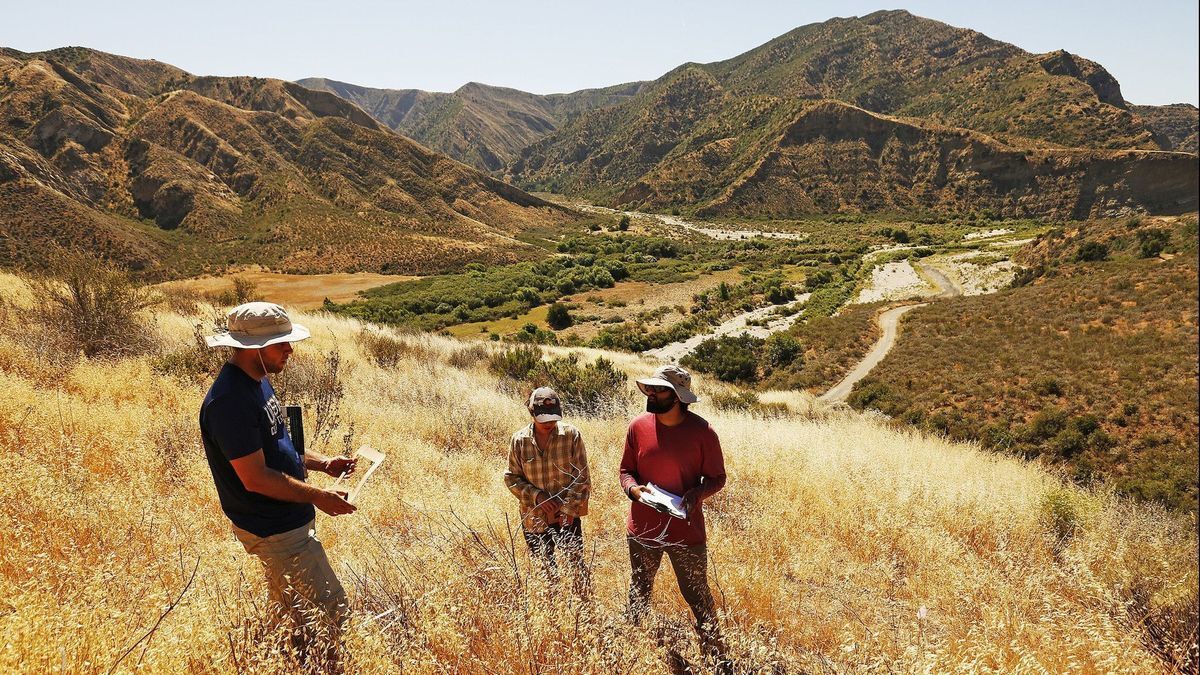 Good morning, and welcome to the Essential California newsletter. It is Saturday, Jan. 12. Here's what you don't want to miss this weekend:
TOP STORIES
Southern California's native shrublands are famously tough. Conservationist John Muir celebrated them as Mother Nature at her "most ruggedly, thornily savage." They evolved along with long, hot summers, at least six rainless months a year and intense wildfires. But not this much fire, this often. The combination of too-frequent wildfires and drought amplified by climate change poses a growing threat to wildlands that deliver drinking water to millions, provide refuge from Southland sprawl and — 142 years after Muir penned his mash note — are still home to mountain lions, bears and big-eared woodrats. Los Angeles Times
Plus: Days of wet weather ahead will renew mudslide concerns in Malibu and other areas scarred by wildfires. Los Angeles Times
Newsom speaks … and speaks
Gov. Gavin Newsom's stagecraft this week as he rolled out his budget was an unmistakable departure from the more sober performances of former Gov. Jerry Brown. Brown took on the persona of a stern economics professor in his budget presentations, wielding enlarged charts showing California's volatile tax revenue to preach fiscal caution and issue warnings of economic calamity ahead. "What's out there is darkness. Uncertainty. Decline and recession," Brown said after releasing his final budget a year ago. "So good luck, baby!" Newsom offered similar warnings Thursday but still threw a few soft elbows at Brown's restraint. "I, unlike the previous administration, may spend a little bit more on this than you want. Just warning you. Full disclosure. This is something I really enjoy," Newsom said. Los Angeles Times
Shutdown shudder
Officials have given President Trump a plan to divert funds designated for Army Corps of Engineers projects in California and Puerto Rico to help pay for a wall along the southern border, a leading member of Congress said Thursday. Los Angeles Times
Plus: Tens of thousands of federal employees on the front lines of border security — Border Patrol agents, immigration judges, Coast Guard crews and asylum officers — missed paychecks Friday due to the partial government shutdown. Los Angeles Times
AROUND CALIFORNIA
Tragic: A rookie 22-year-old police officer who had just completed field training before Christmas was fatally shot while she responded to a car crash in downtown Davis, the city's police chief said. The gunman ambushed her, rolling up on a bicycle and waiting in the shadows before opening fire. Los Angeles Times
Free agent: Megyn Kelly's turbulent two-year run at NBC News is over as both sides reached an agreement Friday night on her exit from the network. Los Angeles Times
Let go: SpaceX, citing a need to get "leaner," said Friday it will lay off more than 10% of its roughly 6,000 employees. Los Angeles Times
Whatta sight! Hard-core bird-watchers from across the nation are converging on a downtown Los Angeles library to catch a rare glimpse of a lone red-flanked bluetail. The bird, which has been spotted only twice before in California and never on the state's mainland, has been hanging out with common sparrows in the hedges at the William Andrews Clark Memorial Library. Scores of binocular-toting birders have been arriving each day to score a peek. Los Angeles Times
Spooky: A Cal Poly Pomona student uses "rogue taxidermy" to make real stuffed animals. Los Angeles Times
Throwing it back: "Ronald Reagan's last speech as president was about his faith in America and its people. Our current president could not be more different." New York Times
Thinking ahead: "Doubling down on a mission to connect public transportation to the airport, San Diego's mayor and the county's transit chief have landed on a 71-acre, airport- and freeway-adjacent site that they see as the region's utopian transit hub of tomorrow." San Diego Union-Tribune
A preview: Get ready for a big weekend of football in Los Angeles as both the Chargers and Rams seek to advance in the NFL playoffs. Los Angeles Times
Double threat: Kyler Murray could be an Oakland A or enter the NFL draft. It's his choice. ESPN
Our planet: Scientists call for a drastic drop in emissions, but the U.S. appears to have gone the other way. ProPublica
Parched: In this water-starved California town, one citrus farmer is trying to hold on. Desert Sun
Thinking through a problem: "How transgender inmates are treated has become a problem for police, so here's what's being done about it." Long Beach Press-Telegram
Get the Essential California newsletter »
THIS WEEK'S MOST POPULAR STORIES IN ESSENTIAL CALIFORNIA
1. As California's new governor, Gavin Newsom needs to address what no one wants to talk about. Los Angeles Times
2. Nine views of the L.A. River before and after it was paved in 1938. Curbed LA
3. The best and worst looks from the Golden Globes. Los Angeles Times
4. Sen. Kamala Harris' new book tries to massage her record as a prosecutor, but the facts aren't pretty. Reason
5. The ultimate test of Trump's local cronyism is playing out in Beverly Hills. Reveal
ICYMI, HERE ARE THIS WEEK'S GREAT READS
Looking back and forward: As Coachella turns 20, its press-shy co-founder gets candid about sexual harassment and why Kanye dropped out. Los Angeles Times
Licks lips: Forget prosciutto and pepperoni, Mexico City's "pizza exótica" bears chile relleno and chapulines. Los Angeles Times
A pristine plot: Tres Hermanos Ranch is a rare glimpse at a pastoral past. But what about its future? Los Angeles Times
Life's ups and downs: "Todd Marinovich was 'the test-tube QB' the first half of his life, a drug addict since. Closing in on 50, the former USC and Raiders quarterback is struggling to come to terms with his raging beast of a father — and the big lie that he only now can share." Sports Illustrated
Laurel Canyon revisited: "In the 1960s, artists like Carole King, 'Mama' Cass Elliot, and Joni Mitchell found space in Laurel Canyon to form their own counterculture family and create their own kind of music." Curbed LA
The perfect fit: Radiohead frontman Thom Yorke has turned down the opportunity to score films often enough, but something about the "recklessness" in which director Luca Guadagnino was approaching his "Suspiria" source material made him give it a try. Los Angeles Times
Please let us know what we can do to make this newsletter more useful to you. Send comments, complaints and ideas to Benjamin Oreskes and Shelby Grad. Also follow them on Twitter @boreskes and @shelbygrad.
---