Newsletter: Essential California: Will the L.A. teachers' strike have a winner?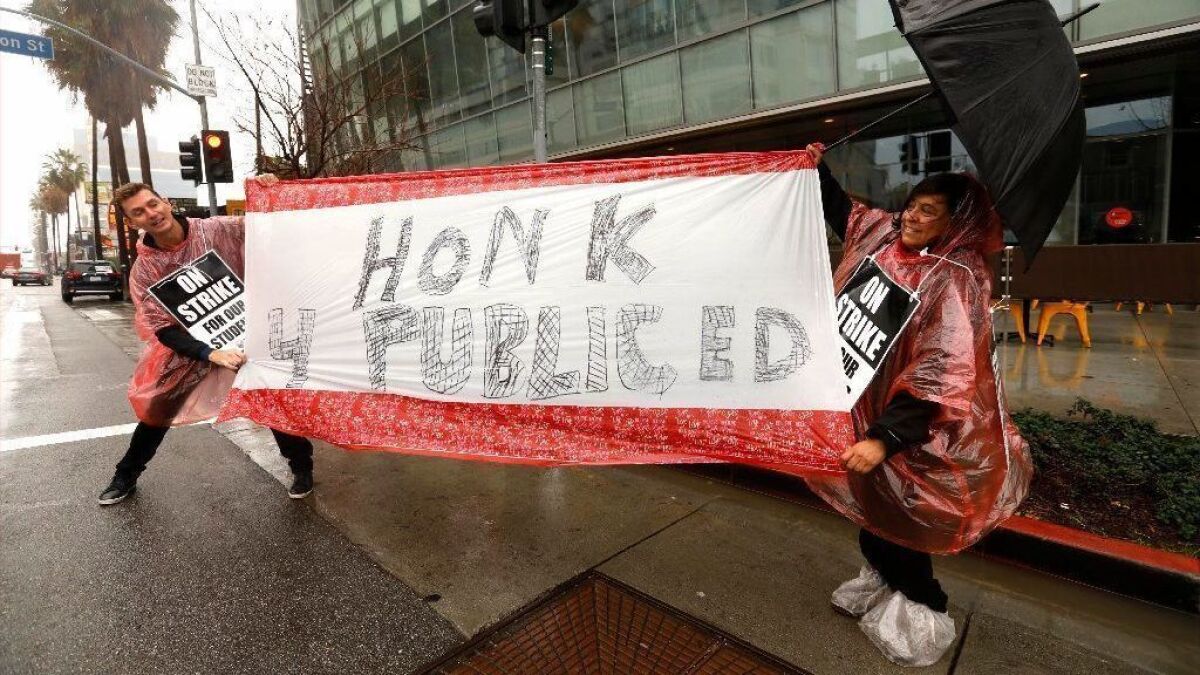 Good morning, and welcome to the Essential California newsletter. It's Friday, Jan. 18, and here's what's happening across California:
TOP STORIES
In political terms, the L.A. teachers strike appears to be creating winners and losers. Mayor Eric Garcetti is up; L.A. schools Supt. Austin Beutner is down. But anything could change in this high-stakes event. So as the L.A. teachers' strike enters its fifth day, optics and politics are working against Beutner, who has been trying at every opportunity to make the case that the union refused to negotiate seriously during the first L.A. teachers' strike in 30 years. The teachers in the rain have been passionate, articulate and persuasive. They've told personal stories to make cases that many find hard to argue with: that too many students shouldn't be crowded into classes, that schools should have nurses on hand every day. Inside campuses, meanwhile, skeleton crews of supervisors, subs and remaining workers have herded students into large spaces, showed movies and plugged students into online coursework. Los Angeles Times
— Elysian Heights Elementary in Echo Park has always been civic-minded. For its parents, supporting the LAUSD teachers' strike is a moral responsibility. So the school community got together to figure out how to help all parents keep their kids home, even for those who couldn't afford to pay for daycare or babysitters. Los Angeles Times
— A lesson in passion and compassion from teachers on a Venice picket line. Los Angeles Times
— Negotiations resumed Thursday for the first time in a week to settle the teachers' strike in the Los Angeles Unified School District. Los Angeles Times
— How are LAUSD strike negotiations going? We're in the dark. Collective bargaining needs some sunshine. Los Angeles Times
— Here's the story of one school. L.A. Taco
— Opinion: The L.A. teachers' strike may be cutting edge of a revolution against what's rotten in America. Philadelphia Inquirer
Back in Washington
The Trump playbook on dealing with foes is well-documented: If attacked, strike back 10 times harder; zero in on your enemy's weakest spots; go personal. Now the often-pugnacious president has a new opponent, Rep. Nancy Pelosi, the Democratic Speaker of the House. As the two most powerful elected officials in the country have battled, the spectacle has riveted Washington. How the two deal with each other has implications beyond just their personal relationship. With power in Washington divided between the two parties for the first time since Trump's election, the ability of the president and the speaker to work together will largely determine if the U.S. government falls into complete dysfunction for the next two years. Los Angeles Times
An amazing story
Katelyn Ohashi's smile filled her face as she danced across the blue floor; her bob cut bounced with each movement in her now-famous floor routine. UCLA's gymnasts gravitated toward their 21-year-old senior captain, moving closer as the music blared. They began cheering and dancing behind her. Eyes were glued to her from all directions. Ohashi playfully stuck out her tongue, moving into position for a line of gravity-defying flips. Los Angeles Times
Get the Essential California newsletter »
L.A. STORIES
History lesson: Oil put L.A. on the map. It may have exaggerated the city's quake risk too. Los Angeles Times
Another rainy day: The latest in a series of winter storms that have hammered Southern California for days sent soil sliding from beneath a house in the Hollywood Hills, forcing evacuations, and a boulder tumbling down a hillside in Malibu, leaving a hiker critically injured. Los Angeles Times
Trouble in Paradise: The partial government shutdown threatens to stall recovery in the wildfire-ravaged city. NPR
IMMIGRATION AND THE BORDER
Eesh: The Trump administration probably separated thousands more children from their families at the border than has been previously acknowledged, a federal watchdog said Thursday. Los Angeles Times
Plus: Migrant border crossings are down, but in Texas the bodies keep showing up. Los Angeles Times
In Mexico: There's a new migrant caravan. Los Angeles Times
POLITICS AND GOVERNMENT
Never mind? A landmark law to abolish California's money bail system has been put on hold until voters decide its fate in November 2020 after elections officials certified a statewide referendum backed by a coalition of bail industry associations. Los Angeles Times
This would be big: L.A. Metro CEO Phil Washington told members of the transit agency's congestion, highway and roads committee that staffers would recommend pursuing "some form" of congestion pricing at a meeting of the Board of Directors next week. Curbed LA
In the Bay Area: People are upset about an unexpected missing feature on new Muni trains. SFGate
CRIME AND COURTS
DNA match: A young woman whose body was found 31 years ago is identified in a cold case as an Anaheim resident. Los Angeles Times
Scary stuff: A Temecula woman was among six people charged this week with operating a sprawling prostitution ring that forced women, many of them from China, to work in brothels across the globe. Los Angeles Times
That mug shot: A Hesperia man was charged this week after prosecutors said he arranged a meeting with a minor for lewd purposes, the San Bernardino County district attorney's office said. Los Angeles Times
THE ENVIRONMENT
Snow report: Earlier storms had brought snow to Southern California's ski resorts, but on Thursday a wet storm moved in, bringing rain and high winds. Mountain High in Wrightwood and Mt. Baldy ski resorts temporarily closed Thursday, citing the wet weather and winds. Both plan to reopen to skiers and snowboarders Friday, just in time for the Martin Luther King Jr. Day weekend. Los Angeles Times
A sputtering green economy? "California has set its sights on having millions more electric cars on the road over the next decade, but the planned bankruptcy of Pacific Gas and Electric Co., the state's largest investor-owned utility, could complicate efforts to achieve that goal." San Francisco Chronicle
CALIFORNIA CULTURE
Protest, groans and a punch: Louis C.K. has brought his divisive stand-up comedy act to the West Coast, and it's already causing quite a reaction. Los Angeles Times
Changing times: Is San Diego County done building single-family homes? San Diego Union-Tribune
"It has a very sexual energy": "Los Angeles megamansion developer Nile Niami is listing his bachelor pad-style West Hollywood home, complete with a cold-therapy cryogenic chamber that is intended to help with weight loss and a sensory deprivation tank, for $55 million." Wall Street Journal
Paramount problems: "After decades of nearly slapstick mismanagement — spinning off TV and missing the internet — the studio behind 'The Godfather' is fighting for its life." New York Times
Eat, drink, be merry: Mixing drinks, books and music, North Light, a bar with a new twist, opens in Oakland. DateBook
Tales from the dark side: Inside a "Making a Murderer" lawsuit and the hidden dangers of TV's true-crime craze. The Hollywood Reporter
CALIFORNIA ALMANAC
Los Angeles area: partly cloudy, 65, Friday; partly cloudy, 75, Saturday. San Diego: partly cloudy, 63, Friday; partly cloudy, 73, Saturday. San Francisco area: mostly cloudy, 59, Friday; cloudy, 60, Saturday. San Jose: partly cloudy, 64, Friday; cloudy, 67, Saturday. Sacramento: cloudy, 58, Friday; cloudy, 64, Saturday. More weather is here.
AND FINALLY
Today's California memory comes from Margaret Solari:
"I recall one foggy evening when we were coming home from Hesperia to Alhambra. Thick as pea soup describes the fog. My mother aimed the spotlight on our 1948 Plymouth at the centerline, and we slowly made our way home down Cajon Pass. There were cars lined up behind us as far as we could see trying to get home safely. They were all depending on our light to get to San Bernardino. I was about 8 but remember that scary trip. No one wanted to die on that foggy night."
If you have a memory or story about the Golden State, share it with us. Send us an email to let us know what you love or fondly remember about our state. (Please keep your story to 100 words.)
Please let us know what we can do to make this newsletter more useful to you. Send comments, complaints and ideas to Benjamin Oreskes and Shelby Grad. Also follow them on Twitter @boreskes and @shelbygrad.
---