Newsletter: Essential California: PG&E is cleared in Tubbs fire, but more problems loom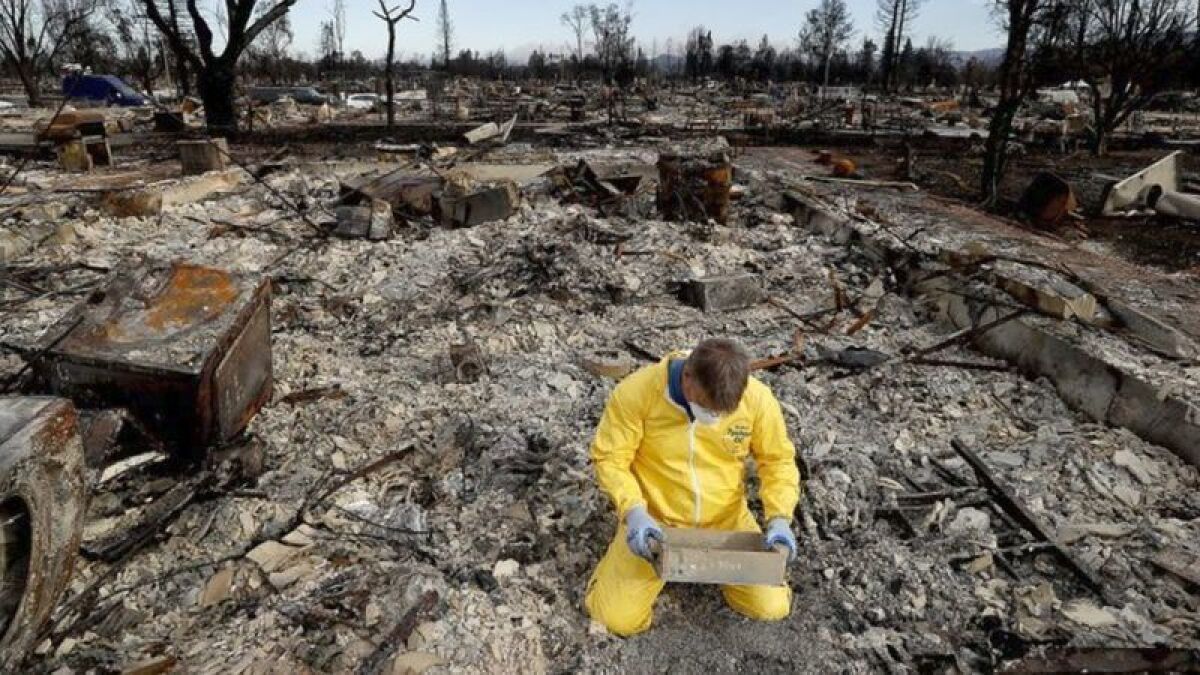 Good morning, and welcome to the Essential California newsletter. It's Friday, Jan. 25, and here's what's happening across California:
TOP STORIES
A bit of good news, but not enough for Pacific Gas & Electric Co.: A long-awaited state investigation released Thursday concluded that the 2017 Tubbs fire was caused by private power lines, not those owned by the utility giant. The wine country fire killed 22 people and destroyed thousands of homes in Santa Rosa. PG&E's electrical systems were found responsible for numerous destructive Northern California fires in recent years. In many cases, heavy winds downed power lines that sparked the blazes. Los Angeles Times
Plus: California's largest power company plans to file for bankruptcy as soon as next week. But a growing chorus of shareholders, ratepayer advocates and lawyers for fire victims says there's no need for PG&E to enter bankruptcy. Los Angeles Times
The teachers' strike is over, but ...
Despite resolving its labor dispute, the Los Angeles Unified School District is still faced with a series of critical problems that pose an existential threat. The nation's second-largest school system remains beset by declining student enrollment, lagging academic achievement and serious financial problems. Perhaps biggest of all, privately operated charter schools still can still hobble the district, and a solution goes far beyond the negotiating table. Los Angeles Times
— The teachers' strike, seen from the right. Wall Street Journal
— The teachers' strike, seen from the left. The Nation
-- The action now moves to Sacramento. CALmatters
Big change at the border
U.S. border officials finalized plans Thursday to require asylum seekers to remain in Mexico while their cases are considered in the United States, the latest escalation of the Trump administration's immigration crackdown. Los Angeles Times
Get the Essential California newsletter »
L.A. STORIES
White House ambitions: Even as troubles in Los Angeles have muddied his case for a presidential campaign, Mayor Eric Garcetti has made clear in Washington that he is still very much preparing to launch one. Los Angeles Times
"I just want to do my job": An L.A. County sheriff's deputy who learned to live his own truth as one of the department's transgender deputies. Los Angeles Daily News
It's a crowded, small world: With Disneyland expecting a surge in attendance when it opens its Star Wars land this summer, the Anaheim park is relying on a plan to ease congestion by improving or eliminating visitor chokepoints rather than putting strict limits on attendance. Los Angeles Times
Bill Plaschke on the boys in blue: "The news is that the Dodgers have signed free agent outfielder A.J. Pollock. The story is that they won't be signing Bryce Harper." Los Angeles Times
CRIME AND COURTS
Never mind? A man is backing away from his lawsuit that leveled a rape allegation against the late Brad Grey, the former chairman and chief executive of Paramount Pictures, and accused a former MTV executive of sexual assault. Los Angeles Times
Keeping it secret: A Los Angeles County judge granted a temporary restraining order Thursday to block some police use-of-force and misconduct records from being released by the county, marking the latest step in an effort by California police unions to bar access to records following the passage of a landmark transparency law. Los Angeles Times
POLITICS AND GOVERNMENT
Affordable housing in the Bay Area? Facebook CEO Mark Zuckerberg's Chan Zuckerberg Initiative and other organizations and companies are raising money to fund programs intended to protect and produce affordable housing in the Bay Area amid calls from regulators and voters for tech companies to help solve the state's housing crisis. Los Angeles Times
"Doomsday" warning: Former Gov. Jerry Brown may be out of elected office, but he has no intention of exiting public life. On Thursday he launched the newest phase of his career in signature style — standing before a giant clock in Washington to warn that the world lies dangerously close to catastrophe. Los Angeles Times
Crossing the aisle: In a political move that caught some San Diegans by surprise and could have a statewide impact, San Diego Assemblyman Brian Maienschein announced Thursday that he was switching his political party allegiance from Republican to Democrat. San Diego Union-Tribune
History lesson: Could this case haunt Sen. Kamala Harris in her run for president? San Francisco Chronicle
CALIFORNIA CULTURE
Hollywoodland: Pixar pioneer John Lasseter may be the first real-time trial balloon for a comeback in the #MeToo era. Los Angeles Times
Food for thought: Josiah Royce, California's original academic rock star, offers some advice still relevant in 2019: When evaluating your life, don't ask, "How happy am I?" Ask, "How loyal am I, and to what?" New York Times
Intriguing project: Ron Howard is making a documentary about the Paradise fire and rebuilding. Press-Democrat
Fandom 101: Your Los Angeles Rams are in the Super Bowl, but the "your" part of the sentiment leaves a lot to be desired. There are too many visiting team jerseys in the Coliseum, says LZ Granderson. Los Angeles Times
Why so mysterious? Netflix's ratings reveals have rivals riled up. Los Angeles Times
CALIFORNIA ALMANAC
Los Angeles area: partly cloudy, 75, Friday; partly cloudy, 77, Saturday. San Diego: partly cloudy, 72, Friday; partly cloudy, 74, Saturday. San Francisco area: sunny, 62, Friday; cloudy, 61, Saturday. San Jose: sunny, 66, Friday; cloudy, 66, Saturday. Sacramento: sunny, 62, Friday; cloudy, 61, Saturday. More weather is here.
AND FINALLY
Today's California memory comes from Phil Wood:
"Moved to La Cañada in 1950 from a little town in the East Bay called Orinda. At 13, I thought L.A. was a wonderland. My friends and I hung out at Oak Grove Park, just down the hill from St. Francis School. Across the vast and empty Arroyo was this weird conglomeration of buildings we knew only as JPL. We didn't know what they did over there except that it was very creepy and very secret. My old house — which sat on what used to be the old Flintridge Country Club golf course — is no longer there since they paved paradise for the 'new' freeway through La Cañada. It was a great time to be a kid."
If you have a memory or story about the Golden State, share it with us. Send us an email to let us know what you love or fondly remember about our state. (Please keep your story to 100 words.)
Please let us know what we can do to make this newsletter more useful to you. Send comments, complaints and ideas to Benjamin Oreskes and Shelby Grad. Also follow them on Twitter @boreskes and @shelbygrad.
---