Newsletter: Essential California: L.A.'s mayor bows out of a presidential run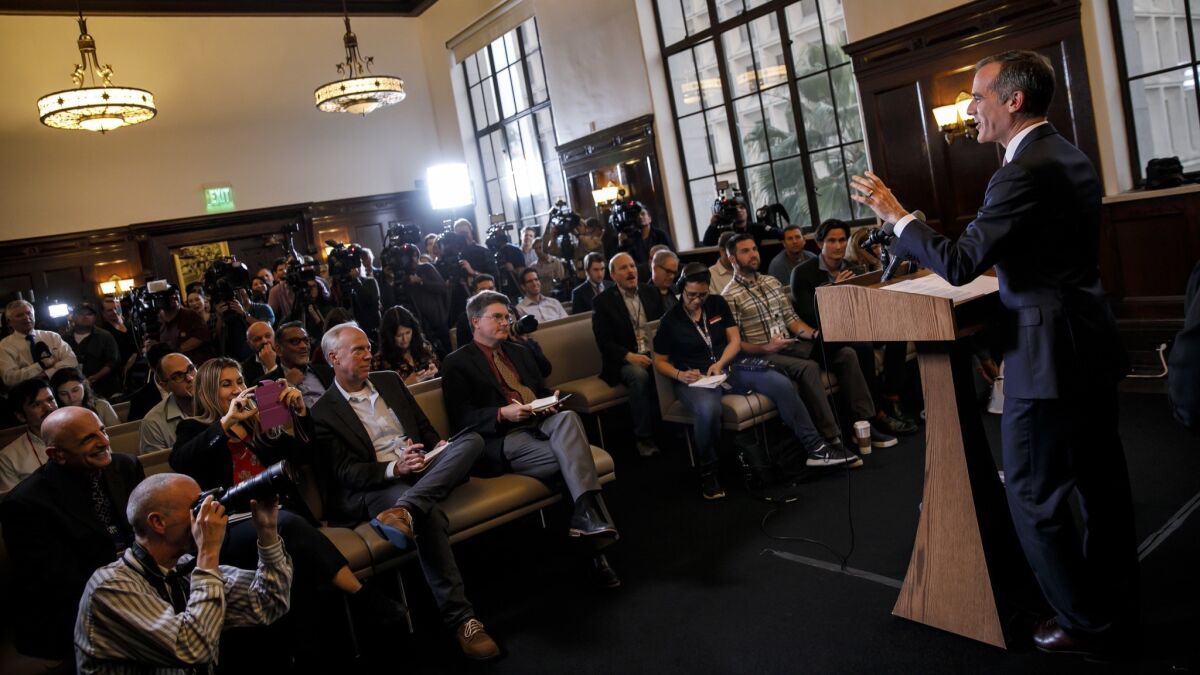 Good morning, and welcome to the Essential California newsletter. It's Wednesday, Jan. 30, here's what's happening across California:
TOP STORIES
Los Angeles Mayor Eric Garcetti has announced that he will not run for president, declining to take a long-shot gamble that Democrats will pick a little-known local official to challenge President Trump. After nearly two years of flirting with the idea that he could leap from City Hall to the world's most powerful job, the mild-mannered mayor reached a decision in keeping with his reputation for avoiding political risk. He passed up a chance to run for governor last year when the odds seemed stacked against him. Los Angeles Times
About that LAUSD deal
Los Angeles school officials have approved a new contract with teachers despite concerns it places the struggling system at increased financial risk, while separately backing a resolution meant to slow down the booming charter school movement that has drained students from L.A. Unified. The sweeping actions by the Board of Education deliver on promises the district made to teachers, who staged a six-day strike earlier this month. The contract both sides agreed on got classrooms open again. But a new analysis by the L.A. County Office of Education raised alarms about whether the district can afford the terms of the deal, with officials saying the district will eventually fall below its required reserves. Los Angeles Times
The shutdown's consequences
More than 130,000 households in Los Angeles County receive some form of federal rental assistance and were at risk of not being able to pay their rent if the shutdown had lasted through the end of February. But the mere threat of thousands of poor people returning to homelessness in L.A. — and the possibility of that threat happening again — has rattled government officials and affordable-housing advocates. In a letter to members of the California congressional delegation, Douglas Guthrie, president of the Los Angeles Housing Authority, explained that landlords who accept vouchers depend on the government to come through with funding, and losing their trust could be a problem. Los Angeles Times
Get the Essential California newsletter »
L.A. STORIES
Stuck in traffic no more? The Valley to the Westside in 20 minutes? Metro says it would be possible on a Sepulveda Pass line. Los Angeles Times
Housing plans: The Los Angeles City Council voted 14-0 to set aside $120 million, a substantial slice of the Proposition HHH homeless housing bond, for a pilot program that will ask developers for strategies to change the way publicly subsidized housing is built. Los Angeles Times
Big for mom and dad: New and soon-to-be parents working for Los Angeles businesses would be guaranteed up to 18 weeks of paid leave — at as much as 100% of their usual wages — under a proposal introduced at L.A. City Hall. Los Angeles Times
One writer's view: Watching "Leaving Neverland" after a lifetime of loving Michael Jackson. Los Angeles Times
IMMIGRATION AND THE BORDER
In D.C.: With more than 2,300 U.S. troops still stationed at the southern border, lawmakers pressed Defense Department officials to defend the deployment of active-duty members and asked whether President Trump plans on declaring a national emergency so he can use Pentagon funds for a border wall. Los Angeles Times
Perilous journey: For many migrants, the trek across the border veers into more remote terrain. New York Times
POLITICS AND GOVERNMENT
Columnist Michael Hiltzik weighs in: PG&E's bankruptcy offers a chance to clean a very dirty house. Los Angeles Times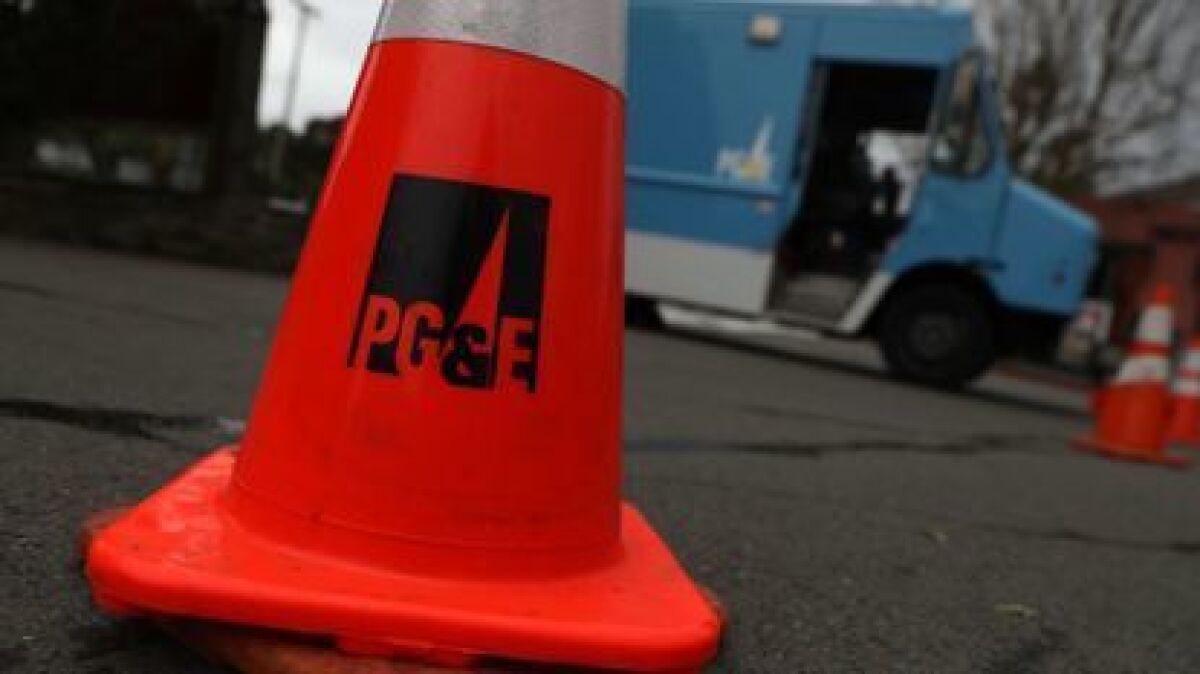 Diplomacy: Hopes are riding high on U.S.-China trade talks in Washington on Wednesday, but the reality paints a dimmer outlook. Los Angeles Times
Big change: A bill would end a $5 co-pay that has some California inmates choosing between buying soap or seeing a doctor. Los Angeles Times
Big picture: California's Latino voters showed up in force in 2018. Will they do it again? The Sacramento Bee
Her book: Sen. Kamala Harris' choices. The New Yorker
Plus: Can Harris repeat Barack Obama's success with black voters? It's complicated. New York Times
CRIME AND COURTS
A sharp rebuke of the sheriff: Los Angeles County supervisors issued a rebuke to Sheriff Alex Villanueva on Tuesday over his reinstatement of a fired deputy, in an unusual show of disapproval to come so early in his term. Los Angeles Times
Revisiting Vegas: A high-stakes gambler who rained down gunfire from his high-rise hotel suite in Las Vegas, killing 58 people, wanted infamy and mass destruction, the FBI said, but took whatever other motive he had to his grave. Associated Press
Victims of politics? Attorneys for a Newport Beach surgeon and his girlfriend who are accused of drugging and sexually assaulting several women say the allegations against their clients were misrepresented amid a "political showdown" in last year's race for Orange County district attorney. Los Angeles Times
Exposé: JoAnn Parks was convicted of killing her kids in a fire. Now journalist Edward Humes is making the case for her innocence. Los Angeles Times
THE ENVIRONMENT
Tragic: A hiker died over the weekend after slipping down an ice chute in the San Bernardino National Forest, authorities said. Los Angeles Times
CALIFORNIA CULTURE
Super Bowl podcast: A first-timer's perspective from Atlanta. Los Angeles Times
Plus: The Super Bowl didn't make L.A. a football town; the Rams had already done that. Los Angeles Times
That would be a good movie! How Netflix makes one author worry about the future of fiction. The New Yorker
Elon Musk's highflying 2018: What 150,000 miles in a private jet reveal about his "excruciating" year. Washington Post
CALIFORNIA ALMANAC
Los Angeles area: partly cloudy, 70, Wednesday; showers, 59, Thursday. San Diego: partly cloudy, 64, Wednesday; showers, 63, Thursday. San Francisco area: showers, 61, Wednesday; partly cloudy, 59, Thursday. San Jose: partly cloudy, 67, Wednesday; partly cloudy, 60, Thursday. Sacramento: partly cloudy, 64, Wednesday and Thursday. More weather is here.
AND FINALLY
Today's California memory comes from Renne Gardner:
"In the summer of 1965 my parents bought a house in the newly renamed city of La Palma in north Orange County. There were still a handful of dairies in the area, but by and large, the dairies had all moved from Dairyland (La Palma's former name) to the wide-open spaces of Corona and Norco. The drive-through Rockview Dairy at Valley View and La Palma was one of the last reminders of our cow-centric history. I was 7. The neighbor across the street was a milkman, and I loved whole milk. I also loved riding my Schwinn Stingray to school. On hot days, Mom would have a wet washcloth chilled in the Kenmore refrigerator to cool down with when I got home. It seemed to be a long way to bike. But when I checked the mileage recently between the old La Palma home and my former school, it was only 1½ miles! A relatively short distance, a long time ago, in a city called Dairyland."
If you have a memory or story about the Golden State, share it with us. Send us an email to let us know what you love or fondly remember about our state. (Please keep your story to 100 words.)
Please let us know what we can do to make this newsletter more useful to you. Send comments, complaints and ideas to Benjamin Oreskes and Shelby Grad. Also follow them on Twitter @boreskes and @shelbygrad.
---