Newsletter: Essential California: See you in court, Trump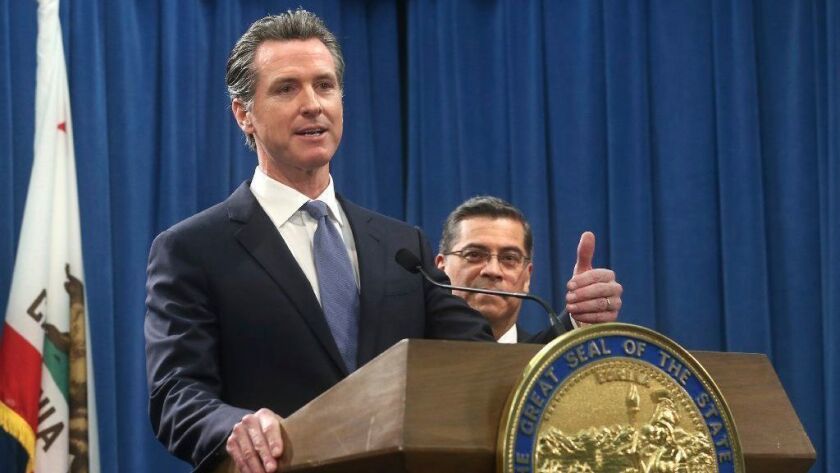 Good morning, and welcome to the Essential California newsletter. It is Saturday, Feb. 16. Here's what you don't want to miss this weekend:
TOP STORIES
Gov. Gavin Newsom said Friday that California was planning to sue the Trump administration over its declaration of a national emergency on the southern border with Mexico, delivering on a promise state Atty. Gen. Xavier Becerra made last week "to reject this foolish proposal in court the moment it touches the ground." Newsom and Becerra announced they were developing plans for the legal action at a Capitol news conference just hours after President Trump declared a national emergency in an attempt to divert up to $6.6 billion from other projects, including military construction jobs, to build or reinforce as many as 234 miles of border barriers. Los Angeles Times
Plus: Trump's national emergency declaration isn't an act of strength, columnist Jonah Goldberg writes. It's a show of weakness. Los Angeles Times
What a history!
Nobody looks at the mural. Tourists keep their heads down as they walk past. They scan maps, reach for keys, tell their children to use the bathroom. Considering possible destinations, they say, "Did you want to do Hidden Valley and Keys Ranch?" Or, "We can start at Skull Rock." They don't notice the image of a gray-haired woman in a wide-brimmed hat staring out at them. Serene. Determined. To her right loom stark rock formations and groves of surreal Joshua trees. Flowers bloom at her feet in bright purples and oranges. Look closely and you'll see a pair of pencil-legged Gambel's quail and a roadrunner enjoying the desert Eden she nearly single-handedly preserved. The mural at a federal visitors center is a tribute to the South Pasadena matron who devoted much of her life to saving nearly 1 million acres of desert that would one day become Joshua Tree National Park. Los Angeles Times
Short-circuiting the system
Under Trump, the secretary of Homeland Security has repeatedly invoked a little-known waiver to cast aside federal environmental and public notice laws that could block or slow border barrier construction — more than under any other administration. Citing national security, the Trump administration has issued six such waivers for replacement fencing and barrier projects in the last two years, bypassing the Endangered Species Act, the Clean Air Act, the National Environmental Policy Act and other regulations that the department would be forced to consider for any other public works project. Los Angeles Times
AROUND CALIFORNIA
Wild weather: More snow in California than in Boston? A "bonkers" winter continues with an approaching storm. Los Angeles Times
More on that shooting: A temple on Fairfax with an armed security guard. A transgender YouTube vlogger. A confrontation. A shooting. An arrest and many questions. Los Angeles Times
A 47-year-old Los Angeles gang member was charged Friday with killing three men at a Torrance bowling alley last month, the Los Angeles County district attorney's office announced. Los Angeles Times
Walking it back: Bowing to fierce blowback — and throwing yet another wrench into an already tumultuous Oscar season — the motion picture academy has announced that it is shelving a controversial plan to move the presentation of four key awards to commercial breaks during this year's telecast. Los Angeles Times
Robbery gone wrong: An off-duty 20-year veteran Los Angeles police officer was in critical condition Friday after a confrontation in downtown's skid row ended with the officer shooting his suspected assailant, police said. Los Angeles Times
Sweet commute: "Darin Selnick, the architect of the Trump administration's controversial new policies on private health care for veterans, traveled to Washington from his home in California twice a month at taxpayer expense." ProPublica
Long-running dispute settled: The NFL has reached an agreement with players Colin Kaepernick and Eric Reid to resolve their collusion grievances, the sides announced Friday. Terms of the deal were not disclosed. Los Angeles Times
Big endorsement: "Dolores Huerta, the iconic labor and civil rights leader who co-founded what became the United Farm Workers, is endorsing Sen. Kamala Harris for president." POLITICO
New video: "Video footage of police killing a 20-year-old California man in his car shows a group of officers firing more than a dozen shots at him, prompting his family to say he was 'executed by a firing squad.'" The Guardian
A 27-year-old man was charged with murder Friday in the slayings of his parents and their housekeeper, whose bodies were found in a Newport Beach home this week. Los Angeles Times
What we're into: The pizza crust dip at Jon & Vinny's. Los Angeles Times
Some new solutions, maybe: Five winning ideas to build housing more quickly and cheaply for L.A.'s homeless community. Los Angeles Times
LOL: Los Angeles County health officials said Friday that bringing in cats to deal with City Hall's rat infestation would only spread the fleas being carried by rodents. Los Angeles Times
Get the Essential California newsletter »
THIS WEEK'S MOST POPULAR STORIES IN ESSENTIAL CALIFORNIA
1. Grammys' Motown tribute with Jennifer Lopez upsets some viewers. Los Angeles Times
2. The fast-food diner Is L.A.'s true regional specialty restaurant, and it's all thanks to pastrami. Eater LA
3. If San Francisco is so great, why is everyone I love leaving? Curbed San Francisco
4. Secrets of the Chateau Marmont. Vanity Fair
5.Someone urinated in a female sergeant's boots. Now the California Air National Guard faces cover-up allegations. Los Angeles Times
ICYMI, HERE ARE THIS WEEK'S GREAT READS
Sex, birth, death and battles royal: The greatest show in California is on the Central Coast. Los Angeles Times
RIP: Robert Winter, who explored and explained L.A.'s architecture, dies at 94. Los Angeles Times
Great story: "Rucci has survived the death, deportation and displacement of his family and friends. Now the Inglewood rapper is ready to take over the world." TheLAnd
Great history: When mobsters and movie stars ruled the Sunset Strip. Curbed Los Angeles
On the horizon: Soboba Casino Resort is about to open. Here's how it's honoring the past and looking ahead. Press-Enterprise
Please let us know what we can do to make this newsletter more useful to you. Send comments, complaints and ideas to Benjamin Oreskes and Shelby Grad. Also follow them on Twitter @boreskes and @shelbygrad.
---