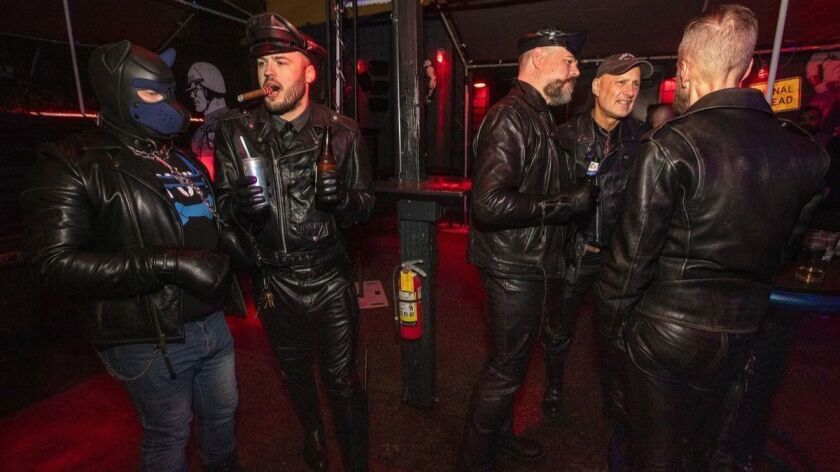 Good morning, and welcome to the Essential California newsletter. It's Tuesday, March 5, and here's what's happening across California:
TOP STORIES
Catalyst, a leather community center and dungeon just outside the boundaries of San Francisco's official leather district, must vacate its home by year's end. The brick dungeon — with ceilings high enough to swing a whip and a calendar filled with "BDSM sampler parties" and Leathermen's Discussion Group meetings — is scheduled to give way to apartments. If Catalyst can't find a new home in this era of high property values and even higher rents, San Francisco will be left with only one commercial dungeon space. So what's a big-hearted city to do when its standing as one of the leather capitals of the world is under siege? Los Angeles Times
Trouble in Orange County
The images of high school students at a house party in Costa Mesa, with a swastika formed from plastic cups and the students' arms outstretched in a Nazi salute, quickly spread across social media, drawing shock and outrage from peers, parents and politicians who strongly condemned the behavior. But for many students in Newport Beach and Costa Mesa, the anti-Semitic display reflects larger attitudes in the school system that have sown divisions at a time when anti-Semitic incidents at schools across the country have increased. Los Angeles Times
Big ruling
The California Supreme Court has made it clear that state and local governments may reduce pension costs by repealing certain benefits without running afoul of constitutional protections for public pensions. In a unanimous decision written by Chief Justice Tani-Cantil Sakauye, the court upheld California's 2012 repeal of the "air time" benefit that allowed state workers to buy credits toward retirement service. Los Angeles Times
Get the Essential California newsletter »
L.A. STORIES
The fight over a deputy: Los Angeles County sought an injunction against Sheriff Alex Villanueva on Monday over his reinstatement of a deputy who was fired in connection with allegations of domestic abuse. Los Angeles Times
Frank Shyong's latest: On Virgil Avenue, avocado toast and four different versions of the same city. Los Angeles Times
Back on the scene: A decade after it pulled out of Los Angeles because of low sales and chilly reception, the vaunted but divisive Michelin Guide is making a comeback. Los Angeles Times
IMMIGRATION AND THE BORDER
Horrific: "The hidden nightmare of sexual violence on the border." New York Times
POLITICS AND GOVERNMENT
Pushing back: Leading what is expected to be a national battle over the issue, California has sued the Trump administration seeking to block a new regulation that restricts access to abortion and other family planning services. Los Angeles Times
Giving up the gavel: West Hollywood Mayor John Duran said Monday he would cede the title of mayor and let Mayor Pro Tem John D'Amico fill the remaining two months of his term. The move comes amid sexual harassment allegations and growing calls for Duran to resign. Duran said he will stay on the City Council. Los Angeles Times
Some book recommendations: "The jungle of politics, then and now." Alta Online
CRIME AND COURTS
A serial killer's end: Juan Corona, convicted in the slayings of 25 itinerant farm laborers in one of America's worst serial murder cases, has died, California state prison officials said Monday. Los Angeles Times
On the lam? After days of searching, investigators think a Scotsman who reportedly vanished after diving into the waters off Carmel may have faked his own death to evade justice in his native country, where he stands accused of multiple rape charges. Los Angeles Times
Looking back: "How much do you remember about the Rodney King beating and riots?" The Marshall Project
Impact: "A Solano County Superior Court judge has dismissed all charges against Katheryn Jenks, the 56-year-old Rio Vista woman who was wrongfully arrested for allegedly misusing the 911 system and mauled by a police dog during an arrest in September." KQED
THE ENVIRONMENT
Interesting study: California winter rains used to ward off wildfires, but not anymore. Sacramento Bee
"Absolute miracle": A pair of young sisters were found safe in the woods near South Fork Eel River after going missing for two days. NPR
Unexpected: A massive aquifer lies beneath the Mojave Desert. Could it help solve California's water problem? Washington Post
CALIFORNIA CULTURE
Hollywoodland: Bob Greenblatt, former NBC Entertainment chief, has joined WarnerMedia to run HBO and other channels as part of a sweeping reorganization that gives substantial new turf to CNN Worldwide President Jeff Zucker and Warner Bros. Chairman Kevin Tsujihara. Los Angeles Times
RIP: Luke Perry, the actor best known as bad-boy heartthrob Dylan McKay from the 1990s TV drama "Beverly Hills, 90210," has died after suffering a massive stroke. He was 52. Los Angeles Times
Changing times: The University of California has broken with one of the world's largest academic publishers. Is this the end of a very profitable business model? The Atlantic
Gearing up: "As Uber prepares to go public, its lead lawyer races to clean it up." New York Times
Yum: How Niki Nakayama's kaiseki restaurant became a highly coveted reservation in L.A. The New Yorker
CALIFORNIA ALMANAC
Los Angeles area: Cloudy, 67, Tuesday. Rainy, 62, Wednesday. San Diego: Partly cloudy, 66, Tuesday. Showers, 64, Wednesday. San Francisco area: Showers, 56, Tuesday. Showers, 58, Wednesday. San Jose: Showers, 59, Tuesday. Showers, 60, Wednesday. Sacramento: Showers, 55, Tuesday. Showers, 59, Wednesday. More weather is here.
AND FINALLY
Today's California memory comes from Jeannie Nagle:
"When I grew up in Southern California in the early '70s, there was always a park nearby. I was the youngest of seven kids, with five brothers and one sister. My friends and I, if we were not playing sports at Bolivar Park in Lakewood, we were playing at the local school in the summertime. Back then, free daycare for my parents was stepping across the street on Bomberry to Madison Elementary School in Long Beach Unified. We could play kickball all day, but, best of all, baseball with the boys. I was the only girl to play. One day with a fellow peer named Craig Grebeck, we on our way to a game altogether in the back of a jeep. That day I will never forget; we shared what we planned to do one day. Craig proclaimed, 'I want to hit a home run against Nolan Ryan.' I am jealous to say he not only played with the White Sox with Carlton Fisk & Bo, he later became the only man to hit his first home run and grand slam against the great pitcher."
If you have a memory or story about the Golden State, share it with us. Send us an email to let us know what you love or fondly remember about our state. (Please keep your story to 100 words.)
Please let us know what we can do to make this newsletter more useful to you. Send comments, complaints and ideas to Benjamin Oreskes and Shelby Grad. Also follow them on Twitter @boreskes and @shelbygrad.
---