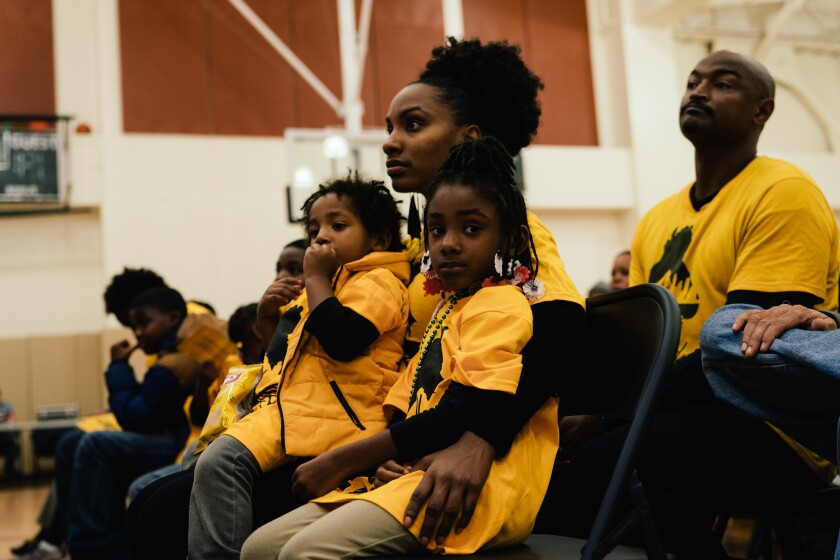 Good morning, and welcome to the Essential California newsletter. It's Friday, March 29, and here's what's happening across California:
TOP STORIES
California is home to about 1 out of 5 charter schools in the United States, but when it comes to overseeing them, experts say it's far from a national model. The state relies largely on local school districts to authorize and watch over charters, and their performance in that role has varied widely. Since the Charter Schools Act of 1992 was passed more than a quarter of a century ago, a political standoff in Sacramento has made it almost impossible to repair even the parts of the charter law that no one disputes are broken. With the arrival of Gov. Gavin Newsom, there are signs that the gridlock is ending. Los Angeles Times
If you missed the first two parts of this stunning series from Times reporter Anna Phillips, here they are:
-- Part 1: How a couple worked charter school regulations to make millions. Los Angeles Times
-- Part 2: Small districts reap big profits by approving charter schools with little oversight. Los Angeles Times
Changes in state law after the admissions scandal?
Outraged by widespread allegations of cheating in the college admissions process, California lawmakers on Thursday proposed a sweeping package of bills aimed at closing loopholes that gave the children of wealthy parents a side door into elite universities. Los Angeles Times
Plus: How one wealthy parent is defending himself in the college admissions scandal. Los Angeles Times
Changing views of Silicon Valley in 2020 race
Silicon Valley's standing in presidential politics has fallen many notches amid big-tech privacy intrusions, platform vulnerability to election interference and perceived corporate excess. The community that not long ago had candidates pining for its approval now finds its political reputation stuck somewhere between that of Wall Street and Big Pharma. Los Angeles Times
More about that reinstated deputy
Investigators reviewing the case of Caren Carl Mandoyan, the Los Angeles County sheriff's deputy fired for misconduct only to be reinstated recently by Sheriff Alex Villanueva, learned that he was a member of a secret society of deputies known as the Reapers, according to documents reviewed by The Times. A woman who accused Mandoyan of abuse told investigators she saw the group's tattoo on Mandoyan's inner left ankle. Los Angeles Times
Get the Essential California newsletter »
L.A. STORIES
Baseball is back! On a smashing opening day with a record eight home runs, everything seems possible for Dodgers fans. Los Angeles Times
Plus: Columnist Bill Plaschke says the Dodgers show no sign of a World Series hangover, despite some empty seats. Los Angeles Times
Survey says … : Pay $4 to drive to the Westside? A report says congestion pricing could cut traffic gridlock. Los Angeles Times
Just the facts, ma'am: That's Katy Perry's house — or is it? This L.A. group aims to certify tour guides. Los Angeles Times
Buh-bye: Wells Fargo CEO Tim Sloan is retiring as the bank struggles to get past scandals. Los Angeles Times
IMMIGRATION AND THE BORDER
Broken promise? "The Trump administration has curtailed a key component of its 'zero tolerance' immigration policy, no longer charging first-time illegal border crossers with a crime along a busy stretch of West Texas." Wall Street Journal
Trying to speed things up: "The Trump administration asked to restart nearly 20,000 suspended immigration cases — as it faces an existing backlog." BuzzFeed
POLITICS AND GOVERNMENT
In D.C.: A clash between Republicans and Rep. Adam Schiff overshadowed a Russia intelligence hearing. Los Angeles Times
No more lawsuit: A female employee of the California Democratic Party who alleged a workplace culture of harassment, retaliation and discrimination is withdrawing from a lawsuit she filed against the organization and its former chairman. Los Angeles Times
No go: Former L.A. Ethics Commissioner Serena Oberstein is barred from running for a Los Angeles City Council seat that is up for grabs this summer, a Superior Court judge ruled Thursday. Los Angeles Times
Coming soon: Buy stuff online? A new California tax law takes effect Monday, but the rules might change. Sacramento Bee
LOL O NO: "The DMV reviewed thousands of hilarious vanity plate applications last year. These are our favorites." Los Angeles Magazine
CRIME AND COURTS
Crime counts: As crime falls to record lows, some San Diego neighborhoods are left behind. San Diego Union-Tribune
More docs being released: "Two Santa Clara County corrections officers were fired in 2016 and 2017 after internal affairs investigators found that one used unnecessary force when she choked and stepped on an inmate and both attempted to cover it up." San Francisco Chronicle
Impact! "The U.S. Department of Housing and Urban Development said Thursday it is charging Facebook with housing discrimination, alleging that its targeted advertising platform violates the Fair Housing Act by 'encouraging, enabling, and causing' unlawful discrimination by restricting who can view housing ads." Washington Post
THE ENVIRONMENT
Answering questions: David Bernhardt, a former oil and gas lobbyist who is facing questions over his industry ties, vowed Thursday to "fundamentally transform" the Interior Department's ethics programs "to ingrain a culture of ethical compliance and reduce workplace misconduct." Los Angeles Times
All that rain: Some major Southern California roads are closed for repairs after winter storm damage. Los Angeles Times
CALIFORNIA CULTURE
Great story: The Volkswagen Bus' long, strange trip from hippie van to hot collectible. Los Angeles Times
Behind the story: One writer's eventual embrace of the red-hot VW Bus. Los Angeles Times
Columnist Carolina Miranda says: In a new redesign, the Los Angeles County Museum of Art experiences shrinkage — and shapeshifts yet again. Los Angeles Times
Give it a listen: Don't panic, but "The Big One" podcast helps us face the crazy quake that's on the way. Los Angeles Times
Good dog: "As California's truffle industry grows, so does the need for trained hunters. In Placerville, Alana McGee trains dogs bred for centuries to sniff out the luxury ingredient." San Francisco Chronicle
Family matters: This map shows where kids live in the Bay Area. KQED
Reaching out: What happens when you put a classroom on wheels and park it in the poorest neighborhoods of San Francisco? California Sunday Magazine
CALIFORNIA ALMANAC
Los Angeles area: Sunny, 72, Friday. Partly cloudy, 78, Saturday. San Diego: Partly cloudy, 67, Friday. Partly cloudy, 72, Saturday. San Francisco area: Sunny, 59, Friday. Partly cloudy, 62, Saturday. San Jose: Sunny, 64, Friday. Partly cloudy, 69, Saturday. Sacramento: Partly cloudy, 65, Friday. Partly cloudy, 71, Saturday. More weather is here.
AND FINALLY
Today's California memory comes from Ellie Lainer:
"I was a child of an employee on the Fox studio lot in the late '40s. We visited often. Movie stars roamed the lot. Among stars I remember: Betty Grable (legs insured for $1 million), handsome Dan Dailey, gorgeous Linda Darnell, and child star Margaret O'Brien. We ate in the famous commissary, saw lavish sets, and attended the amazing Fox employee annual picnic, digging fabulous toys out of a sawdust pile. My dad brought home photos (Tony Curtis decorated my wall) and fan mail from all over the world. We kept their postage stamps. Darryl Zanuck's name entered daily conversations. Great childhood memories."
If you have a memory or story about the Golden State, share it with us. Send us an email to let us know what you love or fondly remember about our state. (Please keep your story to 100 words.)
Please let us know what we can do to make this newsletter more useful to you. Send comments, complaints and ideas to Benjamin Oreskes and Shelby Grad. Also follow them on Twitter @boreskes and @shelbygrad.
---