Newsletter: Who are the mystery investors buying some of California's last family-owned newspapers?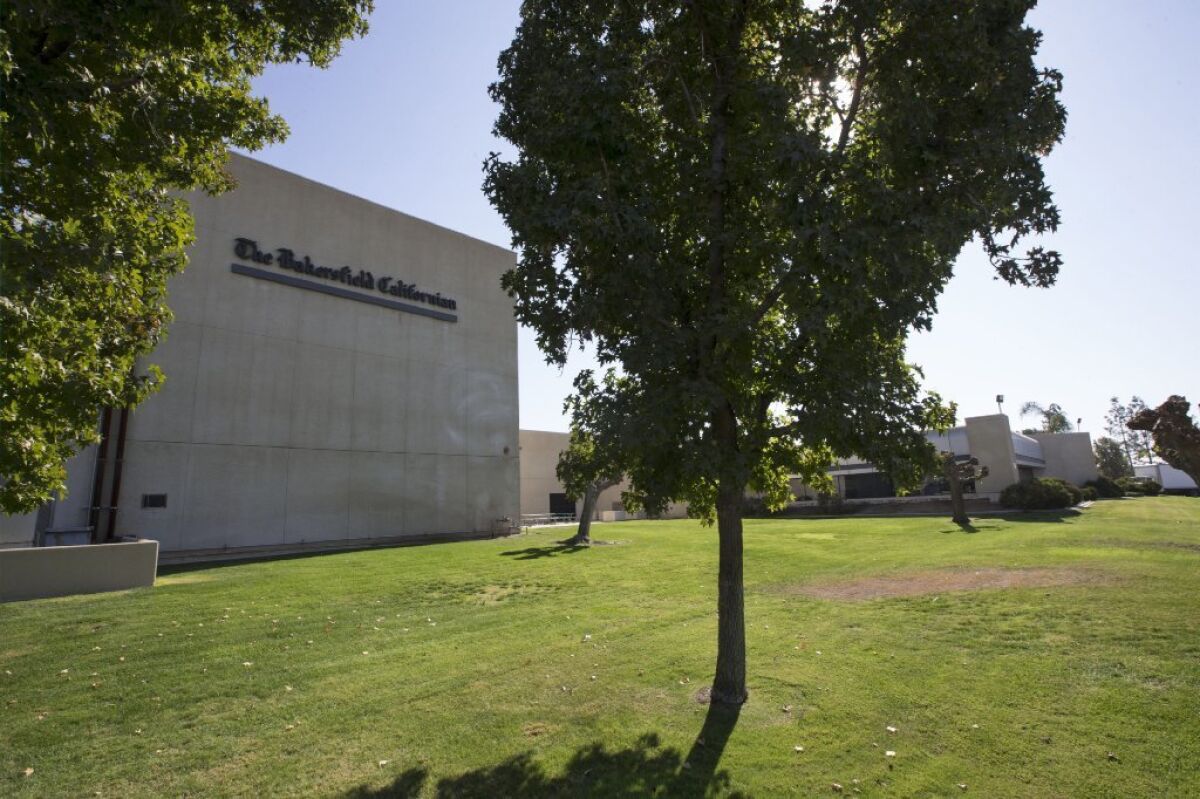 Good morning, and welcome to the Essential California newsletter. It's Tuesday, June 4, and I'm writing from Los Angeles.
Prominent families once were synonymous with the newspapers they owned — the Chandlers, Hearsts, Copleys, Ridders and De Youngs. But most of them long ago gave way to corporate chains. Then the downturn in the print business hit, leaving a dwindling number of papers under family ownership.
On Sunday night, that list got smaller. The Harrell-Fritts family announced it would be selling the Bakersfield Californian after 122 years.
The Central Valley paper had been one of the state's last major family-owned newspapers in an increasingly difficult economy for the local news business. The paper was sold to Sound News Media, a new company led by a "veteran newspaper executive" named Steven Malkowich.
This isn't the first time Malkowich has served as the face of the sale for a longtime family-owned California local paper being purchased by a newly formed entity. The Canadian newspaperman was listed in press releases for the sales of the Lodi News-Sentinel and the Antelope Valley Press in 2015 and 2017, respectively.
And Malkowich's reach extends beyond California. The Rhode Island Suburban Newspapers group, which owns a number of community newspapers serving Rhode Island and Connecticut, is also "led by Canadian newspaper executive Steven Malkowich," according to a news release on one of those sales. Last year, when two family-owned local papers in Massachusetts were sold, the purchaser was another "new entity led by Canadian newspaper executive Steven Malkowich."
Despite his growing newspaper portfolio, little has been written about Malkowich. So, I kept digging around.
Here's what I know, and some of what I don't:
The Vancouver-based Alberta Newspaper Group, where Malkowich is employed as an executive vice president, is run by David Radler, the man who helped fallen media baron Conrad Black build a global newspaper empire. Radler was Black's longtime right-hand man, and later — in exchange for a plea bargain in their fraud case — served as the star witness against Black at trial. Radler, who was formerly the publisher of the Chicago Sun-Times, served less than a year of his 29-month sentence for fraud. Black was recently pardoned by President Trump.
In 2007, Canada's Financial Post wrote that, amid the criminal proceedings, Radler was "quietly amassing a burgeoning community newspaper empire with his eldest daughter" Melanie Walsh (née Radler). The article details the early holdings of the Rhode Island newspaper group, which have since grown.
Before we get any further, I want to be clear about what we don't know. Numerous Canadian newspaper stories (as well as the woman who answered the phone at their Vancouver office) have said that Radler runs the Alberta Newspaper Group, where Malkowich is executive vice president, but it's unclear what direct involvement — if any — Radler has in purchasing this growing portfolio of local newspapers around the country.
Radler's daughter Melanie Walsh is listed as the chief executive in a filing for the newly formed company that purchased the Bakersfield Californian. She is also listed as the CEO on documents for the entities that purchased the Antelope Valley Press and the Lodi News-Sentinel.
The Lodi News-Sentinel had been in former publisher Marty Weybret's family since 1959 when Weybret made the difficult decision to sell the paper in 2015. Weybret told me that he dealt directly with Malkowich, but he never knew who his investors were. "He very conspicuously did not want to show me how his organization worked," Weybret said.
Weybret said Malkowich "kept referring to Radler" but never confirmed what role he played in the company, if he even had a formal role. Sometimes Malkowich quoted Radler as having a 'philosophy of newspapers.' "
There are actually even more small papers that this group has purchased in California. Between 2013 and 2015, Rhode Island Suburban Newspapers was announced as the new owner for both the Porterville Recorder in the San Joaquin Valley and the Imperial Valley Press in the Imperial Valley. Melanie Walsh was listed as CEO on filing documents for the newly formed companies that purchased both papers. She was also listed as CEO on filing documents for an entity called Vista California News Media, which has purchased several local California papers, including Northern California's Marysville Appeal-Democrat and the Tri-County Newspapers in Glenn, Tehama and Colusa counties.
Malkowich did not return multiple requests for comment.
Local news is a notoriously rough business. I can't help but root for anyone brave or stupid enough to keep investing in it. But, as a journalist, I'm also acutely aware of how much influence an owner can have over a paper, and how much communities deserve to know the full picture, including who actually owns their local paper.
And now, here's what's happening across California:
TOP STORIES
The House has passed a long-stalled disaster relief bill that includes billions in aid for California wildfire victims, sending the long-delayed legislation to President Trump to sign into law. San Francisco Chronicle
Police swarmed the Del Amo Fashion Center mall in Torrance after a gunman opened fire, wounding one individual. Los Angeles Times
Two months after the Michelin Guide announced that it would once again evaluate the dining scene in Los Angeles, the prestigious but unpredictable restaurant guide awarded stars to 90 California restaurants, including 24 in L.A. Los Angeles Times
Get the Essential California newsletter »
L.A. STORIES
An L.A. City Council seat is up for grabs in the San Fernando Valley and voters will head to the polls Tuesday to decide between the 15 candidates vying for the job. (Also, a reminder to Angelenos that the special election for Measure EE — a parcel tax that would fund L.A. schools — is also Tuesday.) Los Angeles Times
Filth from homeless camps is luring rats to L.A. City Hall, according to a new report. Los Angeles Times
On a lighter note, here are 20 ideal spots to picnic around Los Angeles. Curbed LA
Your support helps us deliver the news that matters most. Subscribe to the Los Angeles Times.
IMMIGRATION AND THE BORDER
U.S. Customs and Border Protection officers shot a motorist Monday night at the San Ysidro Port of Entry after the person attempted to drive through the port without stopping, authorities said. San Diego Union-Tribune
POLITICS AND GOVERNMENT
The latest battle over SB 50, a California housing bill that was shelved last month, has been playing out on state Senate President Pro Tem Toni Atkins' Wikipedia page. Voice of San Diego
Presidential hopeful Pete Buttigieg journeyed to the Central Valley for a town hall in Fresno. Fresno Bee
And Buttigieg isn't the only one who's made the trip to the state's interior. Former Texas Rep. Beto O'Rourke and former U.S. Housing Secretary Julián Castro have also campaigned in the valley so far. Los Angeles Times
CRIME AND COURTS
California has sued Purdue Pharma over the company's marketing of the drug OxyContin. Los Angeles Times
THE ENVIRONMENT
A trucker came across an unusual sight in the middle of a Woodland road: a white deer. The rare albino fawn was subsequently taken in by a local wildlife rescue group. (Albino animals often struggle in the wild.) Sacramento Bee
CALIFORNIA CULTURE
Don't expect fireworks when the California State Fair comes to Sacramento in July. An artificial glow created by flying drones will replace the traditional display. Los Angeles Times
Kaiser mental health workers at 100-plus facilities around California plan to walk out next week for an indefinite strike if their concerns about patient care aren't addressed. Sacramento Bee
In Tulare County, many are saying a "Cowboy Prayer" for Chad Nicholson, a legendary rodeo announcer and voiceover artist killed in a four-wheeling accident. Visalia Times Delta
The Golden State Warriors just sold the most expensive seats in NBA Finals history. The deep-pocketed mystery buyer remains unknown. East Bay Times
Apple is replacing iTunes on Macs with three separate apps. Los Angeles Times
Recode reviewed data on Glassdoor, a site where employees can anonymously share their salaries, to take a look at the gap in pay between Google contractors and full-time employees. Recode
When Google bought this San Jose house, two families were left reeling. Mercury News
Keanu Reeves' role in the Netflix movie "Always Be My Maybe" has lots of people obsessing. Here's why. Los Angeles Times
CALIFORNIA ALMANAC
Los Angeles: partly sunny, 72. San Diego: partly sunny, 69. San Francisco: sunny, 71. San Jose: sunny, 86. Sacramento: sunny, 98. More weather is here.
AND FINALLY
Today's California memory comes from Lambert Chee:
"It was June 1971 when I came across the Nevada border into California, having driven across the country from New York City with all my worldly possessions in a VW bug to start graduate school. As I reached the Sierra foothills, I was disappointed to see the hills covered in tan coloring, and not the vibrant green that I had expected. But then the memory of the description of California from the Chinese immigrants, 'Gold Mountain,' came into my mind. I realized then that indeed, I had entered the promised land."
If you have a memory or story about the Golden State, share it with us. (Please keep your story to 100 words.)
Please let us know what we can do to make this newsletter more useful to you. Send comments, complaints, ideas and unrelated book recommendations to Julia Wick. Follow her on Twitter @Sherlyholmes.
The stories shaping California
Get up to speed with our Essential California newsletter, sent six days a week.
You may occasionally receive promotional content from the Los Angeles Times.