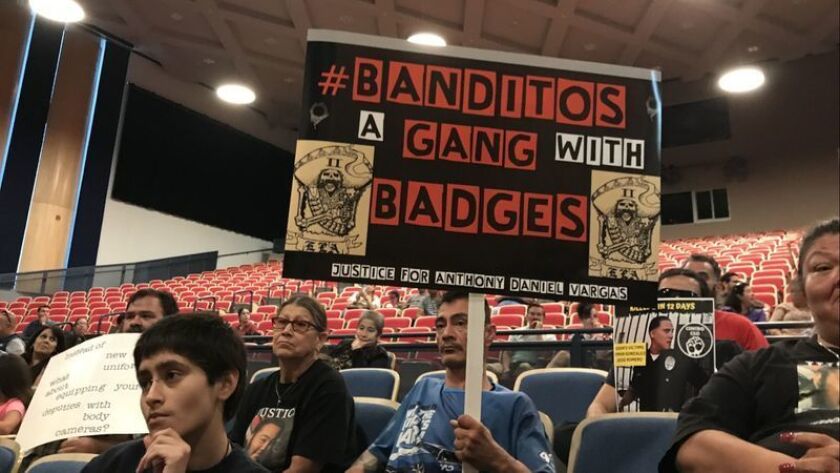 Good morning, and welcome to the Essential California newsletter. It is Saturday, July 13. Here's a look at the top stories from the last week, including an FBI investigation into secret societies of tattooed deputies.
TOP STORIES
Secret sheriff gangs? The FBI is investigating a secret society of tattooed deputies in East Los Angeles as well as similar gang-like groups elsewhere within the Los Angeles County Sheriff's Department, according to people familiar with the inquiry. The federal probe follows allegations of beatings and harassment by members of the Banditos, a group of deputies assigned to the Sheriff's Department's East L.A. station.
Quake aftermath. After the big earthquakes July 4 and 5, structural engineers descended on Ridgecrest expecting to study destruction from the largest temblor to hit Southern California in nearly 20 years. They found relatively little. However, the damage to the Earth's crust could be seen in a satellite image released by NASA.
Mural mystery. No one seemed to know who had painted the scene adorning the L.A. Memorial Coliseum's main archway — or when. But one local teenager managed to track down the original artist and solve the historic stadium's 50-year-old puzzle.
Wildfire money. Lawmakers on Thursday approved complex legislation to overhaul California's method of paying for damage from wildfires linked to utility equipment at the urging of Gov. Gavin Newsom, who has sought to calm Wall Street concerns about liability. Here's how the wildfire fund will work.
Rising disaster. The slow-moving disaster of rising seas has paralyzed Californians and left us with "both too much and not enough time" to act. Read the L.A. Times' special report examining sea level rise and the future of California's disappearing coastline. (There's also a game to go with it.)
Short contract? Kawhi Leonard and Paul George, perhaps the most talented all-around tandem in the NBA, were officially added to the Clippers' roster Wednesday. But instead of signing the full-term max contract, Leonard signed a contract with a player option for the final season in 2021-22.
'Carp' diem. Turns out people go fishing in the L.A. River — and eat what they catch. Here's a recipe for Los Angeles River Backyard Carp Larb.
Barriers. As L.A.'s homelessness crisis grows, residents are increasingly erecting walls, fences and even planter boxes full of prickly flora in public spaces to deter the presence of homeless people.
Disneyland violence. A violent brawl that was captured on video broke out last weekend among family members at Disneyland as bystanders tried to separate the fighters. Some have criticized the park for what they say was a slow response to the incident.
Ghost Ship trial. Derick Almena, the man who founded the Oakland art installation that turned into the site of one of the deadliest blazes in California history, took the stand in his manslaughter trial Monday to express remorse.
Get the Essential California newsletter »
THIS WEEK'S MOST POPULAR STORIES IN ESSENTIAL CALIFORNIA
1. Frank Lloyd Wright at 150: Why his Los Angeles houses deserve a closer look. Los Angeles Times
2. The U.S. wants to dump 1.5 tons of rat poison pellets on the Farallon Islands. Biologists say it's for the best. Los Angeles Times (Update to this story: On Wednesday, the U.S. Fish and Wildlife Service withdrew its request to have the California Coastal Commission sanction the controversial plan.)
3. The California coast is disappearing under the rising sea. Our choices are grim. Los Angeles Times
4. Video shows violent family fight at Disneyland as stunned parkgoers try to intervene. Los Angeles Times
5. What will happen to Silver Lake's beloved Happy Foot Sad Foot sign? Curbed Los Angeles
ICYMI, HERE ARE THIS WEEK'S GREAT READS
Meet Jose Gurrola: The millennial mayor of a small San Joaquin Valley town took on Big Oil and won. The Nation
A retired teacher found some seahorses off Long Beach. Then he built a secret world for them. Los Angeles Times
Man and myth: Uncovering the legend of L.A. street racer Big Willie Robinson. Los Angeles Times
From the archives: More news about "Space Jam 2" is as good a reason as any to revisit this delightfully detailed and fun 2015 deep dive on the strange history of the original "Space Jam" website — and how a ragtag group of young coders skirted the studio and created a pop culture sensation that's still standing two decades later. Rolling Stone
LOOKING AHEAD
Saturday Recommendation: The Jazz Burger at Jitlada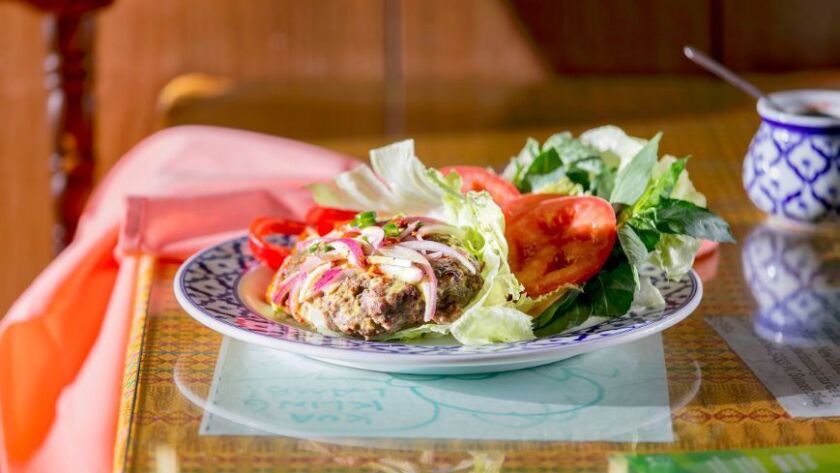 Today's recommendation — about one of my favorite dishes at one of my favorite restaurants in Los Angeles — comes from Los Angeles Times food writer Jenn Harris:
"Ordering the Jazz burger at Jitlada, a Southern Thai restaurant in Thai Town, is like betting on black in roulette. It's an off-menu item named after and created by owner Jazz Singsanong, so you'll need to ask for it, and the kitchen will need to feel like making it. The beef patty is a minefield of chiles. The larger ones you can mercifully see — the red and green fire bombs protrude from the ground beef, giving you some time to mentally prepare for the heat. But the smaller ones can be lethal. Two bites in and you're hit with the tail end of a Thai chile that will cause sweat to trickle down your now-tingling forehead. The burger is slightly different every time, but you can count on no bun and a stack of crisp iceberg lettuce, red onion, sliced tomato and a zigzag of mustard. If Singsanong is there, she'll probably add extra chopped chiles and her special 'spicy sauce' on top. She will tell you her goal is to have you saying 'Oh, my God' after each bite."
Jitlada is located at 5233 Sunset Blvd. in East Hollywood. (323) 667-9809
This week, the L.A. Times Food team chose their top picks for the best burgers in Los Angeles. Check out the full (and very interactive!) list of 21 essential L.A. burgers.
Please let us know what we can do to make this newsletter more useful to you. Send comments, complaints, ideas and unrelated book recommendations to Julia Wick. Follow her on Twitter @Sherlyholmes. (And a giant thanks to the legendary Diya Chacko for all her help on the Saturday edition!)
---