The Sports Report: Kawhi Leonard may not be a Clipper as long as we first thought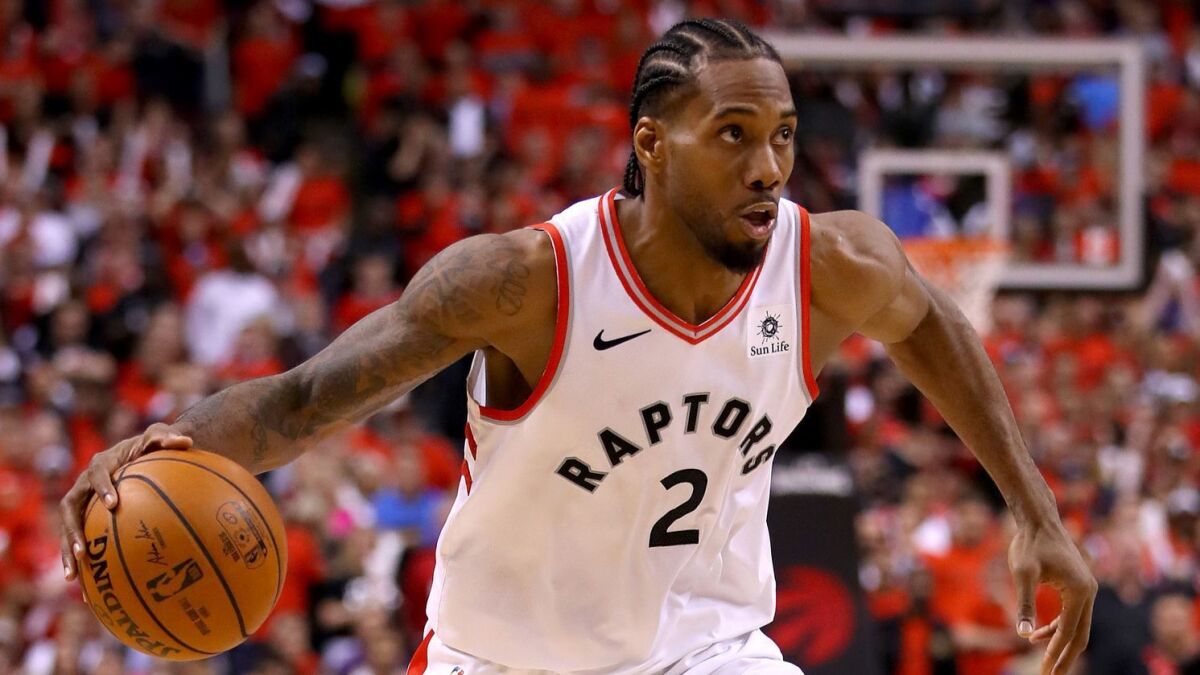 Howdy, my name is Houston Mitchell and it's strange having no baseball on to watch in the middle of July.
Clippers
Kawhi Leonard and Paul George officially joined the Clippers' roster on Wednesday, but there was a twist. Instead of signing the full-term max contract everyone assumed, Leonard signed a three-year contract worth $103 million, with a player option for the final season in 2021-22.
Which basically means that if Leonard doesn't like what he sees, he's gone in two years.
George also has a player option for the 2021-22 season, which means he could leave at the same time as Leonard. And suddenly the news of them joining the team isn't quite as exciting.
As Andrew Greif points out in his story, "Leonard's motivation for opting out in 2021 would be financial. By that time he will have finished his 10th NBA season, a threshold that allows players to sign contracts worth the maximum 35% of a team's salary cap. By not signing a long-term contract now, there is some risk for Leonard to stay healthy. But one lesson of 2019 NBA free agency, as demonstrated by the cases of Kevin Durant and Klay Thompson, is that stars of the highest caliber can command maximum-salary, long-term contracts, even if injured."
But the Clippers were all smiles Wednesday while announcing the official acquisition of Leonard. "He wins everywhere he goes, and he always has, from King High School to San Diego State to the NBA," Clippers president of basketball operations Lawrence Frank said. "His expectation, and ours, is to contend for championships.
"Having him on our side is a tremendous privilege and a massive responsibility, one we will take very seriously."
More reading
Cliff Alexander is hoping for another NBA shot, maybe with the Clippers
Lakers
The Lakers held an introductory news conference for DeMarcus Cousins, and he had some interesting things to say in this story by Tania Ganguli:
On teaming with Anthony Davis: "Me and A have talked about it numerous times, about being teammates again. We never wanted it to end but everything happens for a reason."
They played together for the New Orleans Pelicans for about one season until Cousins tore his left Achilles tendon and that was the end for them.
"We realized how much better we made one another and how much we made the game easier for one another. I think we both appreciate each other's presence," Cousins said. "To add LeBron James to the mix, his resume speaks for itself. One of the greatest players ever to play this game added to that. It should be an exciting season.
"We're all here this season to compete for a championship. That's that. I think we can all agree on that. With that being said it was an easy decision."
Cousins didn't play basketball last season until mid-January — a week shy of the anniversary of his torn Achilles. But then he tore his left quadriceps muscle in the second game of the playoffs, against the Clippers, and the process began again. But the injury has increased his love for the sport.
"I love it that much more" Cousins said. "Everything I've gone through in the past three years it just helped me realize how fast this thing can be taken away from you. I love it that much more. I'm grateful for every opportunity. I learned the hard way.
"I've kind of been doubted my whole life. I use that as fuel to continue to push every single day. One of my biggest fears is to be proven wrong by somebody that doesn't agree with me or doesn't have my best interest at heart. With that being said I'm always seeking to prove those types of people wrong."
Ducks
Curtis Zupke, on former Kings coach Darryl Sutter joining the Ducks:
"To think that Sutter would one day be on the Ducks' side seemed as plausible as an ice storm in July, but snow fell last week when Sutter was hired as an advisor to the Ducks' coaching staff. The move reverberated locally and beyond, although Sutter didn't think it registered high on the irony scale.
"Not a big deal," Sutter said in a phone interview this week from his cattle ranch in Viking, Canada. "[They're a] divisional rival. It's not just the Ducks. I've [also] watched Edmonton, Vancouver and Calgary the past couple of years."
"Sutter likened his role to that of Larry Robinson, the former Kings coach and player who is a senior consultant to hockey operations for the St. Louis Blues. And Sutter said it's a necessary role in today's NHL.
"It makes a big difference in the coaching staff," Sutter said. "You look at every team, they have big development staffs. You know what? The head coaches have a lot on their shoulders. You need someone to help guide them. That's why I wanted to do this.."
"Sutter said that first-year coach Dallas Eakins has the "right attitude and the right frame of mind to take the next step." He also pointed out that today's salary cap often forces teams to play entry-level players more, and Eakins is the ideal coach to usher in that development. Above all, Sutter likes how Eakins worked his way up from the lower ranks, in the American Hockey League, and rebooted his career with the San Diego Gulls to get another shot at the NHL.
"That's something that has to start happening [more]," Sutter said. "You bring players up from the minors, you should be bringing coaches up. So Dallas is classic."
More reading
Alex Iafallo signs two-year contract with Kings
Sports poll
Who will win the NBA's Western Conference this season? Click here to vote in our poll. Or, if you prefer, you can email me here.
Your favorite sports moment
What is your favorite all-time L.A. sports moment? Click here to tell me what it is and why, and I'll start running them in future newsletters. And yes, if your favorite moment is about the Angels or Ducks or a team just outside of L.A., I'll count that too. And the moment doesn't have to have happened in L.A., just needs to involve an area team.
Our next one comes from Michael Holloway of Boca Raton, Fla.:
"My favorite L A sports moment believe it or not was in Anchorage, Alaska..
"I had moved there from LA in 1976 and am a die hard Dodger, Lakers, Rams and Kings fan.
"In the mid-eighties, Anchorage had built it's first indoor stadium called Sullivan Arena and had scheduled a preseason game with the Lakers.
"I was so excited to see this game, Remember it was the 1985 Lakers. I started to watch the Lakers warming up for a shoot around and noticed no security at all near them.I stood under their basket and marveled how large these guy really were. Then a ball bounced towards me. I grabbed it and boom pass to Magic.
"Another bounce pass to Worthy in the corner. Lofted one to Kareem in the paint. Coop open at the top of the key. This went on for maybe10 minutes and Magic high fived me when they were done.
"I tell people that for 10 minutes I was part of Showtime. But the story doesn't end here. While going to the concession stand with my son I noticed near the rails a man sitting in at a fold-out table, fold-out chair, all by himself. It was and still is my idol Jerry West watching the game. He was so nice and cordial to me and my son. We shook his hand and I introduced him to my son Tommy as the greatest basketball player ever which I don't think he liked. What a day!"
Odds and ends
Those Dodgers stars you cheer? Marty Lamb saw them first…. Dodgers activate Corey Seager off 10-day injured list, send Matt Beaty to minors…. Jim Bouton, Yankees pitcher and author of tell-all book 'Ball Four,' dies at 80…. Youth girls' soccer team from South Los Angeles wins AYSO national games title…. Wimbledon: Roger Federer and Rafael Nadal will meet in semifinals…. Wimbledon fans camp out for days to buy tickets: 'It's a very jolly atmosphere'…. World Cup champs are honored with a ticker tape parade in New York…. Billie Jean King adds her voice to the USWNT's equal pay fight…. Balls, strikes and beers: a father-son umpiring crew saw four gritty stars rise in Detroit sandlots…. Ex-UCLA star McCall Zerboni has helped carry the torch for women's soccer…. Tour de France: Peter Sagan sprints to victory in Stage 5.
Other newsletters
We also have other newsletters you can subscribe to for free. They are emailed to you and we don't sell your name to other companies, so no spam from us. They are:
Our Dodgers newsletter, written by me. Subscribe here.
Lakers newsletter, written by Tania Ganguli. Subscribe here.
Horse racing newsletter, written by John Cherwa. Subscribe here.
Soccer newsletter, written by Kevin Baxter. Subscribe here.
Today's local major sports schedule
No major events scheduled.
Born on this date
1932: Horse trainer Ron McAnally
1953: Boxer Leon Spinks
1966: NBA player Rod Strickland
1970: Former Dodger Billy Ashley
1990: Tennis player Caroline Wozniacki
Died on this date
2009: Boxer Arturo Gatti, 36
And finally
Leon Spinks vs. Muhammad Ali, the rematch. Watch it here.
That concludes the newsletter for today. If you have any feedback, ideas for improvement or things you'd like to see, please email us here. If you want to subscribe, click here.
---
Get our high school sports newsletter
Prep Rally is devoted to the SoCal high school sports experience, bringing you scores, stories and a behind-the-scenes look at what makes prep sports so popular.
You may occasionally receive promotional content from the Los Angeles Times.