Newsletter: Today: Trump Gives a Tweet-Lashing Over Flynn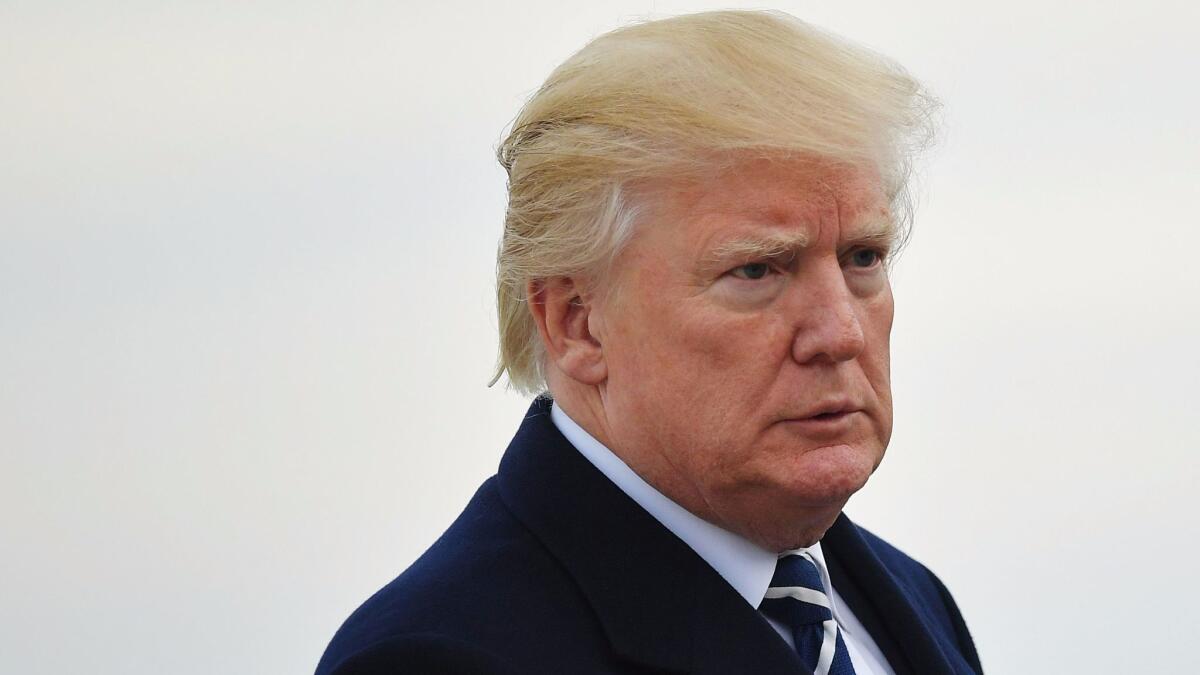 President Trump used his weekend tweets to attack the Justice Department, the FBI and James B. Comey, the FBI director he fired in May, and a few others too.
TOP STORIES
Trump Gives a Tweet-Lashing Over Flynn
President Trump didn't immediately respond to the news that his former national security advisor Michael Flynn had pleaded guilty to lying to the FBI and was cooperating with special counsel Robert S. Mueller III's wide-ranging Russia investigation. But when he did, it was with a tweetstorm (apparently with help from his personal lawyer and perhaps "Fox & Friends") that began by muddying the waters over his reasons for firing Flynn and went on from there. By the end of the weekend, Trump had disputed former FBI Director James Comey's sworn contention that the president had sought to derail an investigation into Flynn; blasted the Justice Department and the FBI, saying "its reputation is in Tatters"; renewed his attacks on Hillary Clinton; and questioned the impartiality of Mueller's inquiry because of reports that an FBI agent had been removed from Mueller's team over text messages that were interpreted as being critical of Trump. Meanwhile, Comey has been having some fun of his own on social media.
More Politics
-- President Trump tweeted on Monday "we need Republican Roy Moore" to win the U.S. Senate race in Alabama. Moore is accused of making unwanted sexual advances on teenage girls several decades ago.
-- The expanding federal investigation into Russian interference is shining new light on the central role played by Trump's son-in-law and top advisor, Jared Kushner, in reaching out to Moscow.
-- Flynn grew up breaking the rules. It caught up with him as Trump's national security advisor.
-- The Republican tax bill could become Trump's most significant first-year accomplishment, but the Senate success rests largely with Mitch McConnell, who shattered the norms he once championed.
Aetna, Will CVS Be Glad It Met Ya?
CVS, the nation's largest pharmacy chain, wants to buy the healthcare insurer Aetna for $69 billion. If the Justice Department signs off on the deal, it would enable CVS to expand its range of healthcare services to Aetna customers — offering an alternative to visiting a doctor's office or an emergency room. At the very least, it's one more indication of how the industry is looking to consolidate.
The Innocent Afghans in Harm's Way
In Afghanistan, where the United States' longest-running war is now in its 17th year, American fighter planes have dropped 3,554 explosives through Oct. 31, the most since 2012. Though U.S. officials say the bombings have deterred Islamic State's South Asia affiliate, the number of civilian casualties has also surged. Some Afghans believe the number of innocent people killed is higher than reported. Case in point: A disputed incident in eastern Afghanistan that left 10 people dead, including two children and an infant in his mother's arms.
Oakland's Artists Still Struggle for a Place to Call Home
One year ago, the Ghost Ship warehouse in Oakland became engulfed in flames while an artists collective living there held a party; the fire killed 36 people. Since then, the city has tried to make buildings safer while preventing artists and other low-income residents from being forced out. It hasn't been easy striking that balance. One artist who survived the Ghost Ship blaze says it's impossible to find a place to settle down.
Leaving for Las Vegas
Oakland is of course just one place in California where the high housing costs have pushed tenants to the brink. Figures from the 2016 Census show more people fled L.A. and Orange counties for less expensive locales, including those out of state. One of the most popular: Las Vegas. Columnist Steve Lopez recently went to Sin City to catch up with a few California natives who reluctantly headed east and found a life with less economic stress and shorter commutes.
OUR MUST-READS FROM THE WEEKEND
-- The alleged misdeeds of powerful men in Hollywood have not only harmed numerous victims but also upended the livelihoods of hundreds of people who depended on them for their work.
-- Why the jury in the Kathryn Steinle murder trial and Trump saw two different cases.
-- Some Los Angeles families have complained that efforts to change names and gender designations were met with callousness and stereotypes about transgender people in court.
-- The major political parties just aren't cutting it anymore for many California voters.
-- How to keep that fresh-cut Christmas tree, holly and mistletoe looking fresh into 2018.
MUST-WATCH VIDEO
-- A San Diego gun buyback proved so popular, police ran out of money.
-- The L.A.-based Syncopated Ladies have danced their way into the boys' club of tap.
-- Actress-author Jenifer Lewis shows she is "The Mother of Black Hollywood."
CALIFORNIA
-- Got a criminal record? L.A. might help you get into the pot business or ban you, depending on what you were convicted of.
-- Extreme-right provocateur Milo Yiannopoulos' tour of California was largely a bust, so now he's headed to speak in Australia.
-- LA Weekly's new owners were revealed in a short online message from the publication's new operations manager. The lineup is heavy with men who have strong Orange County ties.
-- Joseph L. White, a pioneer in the field of black psychology and an influential figure to students at UC Irvine, has died at age 84.
HOLLYWOOD AND THE ARTS
-- The Los Angeles Film Critics Assn. had lots of love for the coming-of-age tale "Call Me by Your Name," declaring it best picture, and gave several awards to Guillermo del Toro's "The Shape of Water."
-- New York's Metropolitan Opera said it was suspending its relationship with longtime conductor James Levine pending an investigation into multiple allegations of sexual misconduct against him.
-- Alec Baldwin reprised his role as President Trump on "Saturday Night Live" in a cold open inspired by "A Christmas Carol" featuring "the ghost of witness flipped," Michael Flynn.
-- With Trump choosing to not attend the Kennedy Center honors, the spotlight stayed on Norman Lear, LL Cool J, Gloria Estefan, Lionel Richie and Carmen de Lavallade.
CLASSIC HOLLYWOOD
As a boy growing up in Tennessee, Winston Conrad Martindale dreamed of being a radio announcer. He also got the nickname "Winkie," which later became "Wink," because a friend couldn't pronounce his first name. Little did he know then that he'd become a deejay at 17 and host nearly two dozen game shows. Martindale was born on this date in 1933.
NATION-WORLD
-- The Senate tax plan could help Trump pivot away from clean energy and back to fossil fuels.
-- A county in Utah wants to suck 77 million gallons of water a day out of Lake Powell, which could threaten the Colorado River.
-- Thousands of Hondurans, worried that their election is being stolen, took to the streets to protest and demand that President Juan Orlando Hernandez concede defeat.
-- Uber has cut its prices 40% in Nigeria, but that still hasn't helped the ridesharing company take hold.
BUSINESS
-- Our top picks for the best of the LA Auto Show.
-- How to avoid outliving your retirement savings.
SPORTS
-- Alabama will join Clemson, Oklahoma and Georgia for the College Football Playoffs; left out were Ohio State and USC, who'll meet in the Cotton Bowl on Dec. 29.
-- The Rams beat the Arizona Cardinals to lock up their first winning season since 2003, while the Chargers moved into a tie for first in the AFC West by defeating the Cleveland Browns.
OPINION
-- If he did nothing wrong, why did Michael Flynn lie?
-- The "gay wedding cake" case isn't about religious freedom or free speech.
WHAT OUR EDITORS ARE READING
-- The reliance on special operations forces by the U.S. around the world is taking a toll on those troops. (Time)
-- "Yes, Donald Trump, you said that": Billy Bush writes about the "Access Hollywood" recording and its aftermath. (New York Times)
-- The story of the cat who was banned from a library and became an internet star. (Minneapolis Star Tribune)
ONLY IN CALIFORNIA
Some are famous; most, not so much. Either way, California Craftsman bungalows are instantly recognizable by their low-slung roofs, large windows and use of local materials such as redwood, Arroyo Seco river rock and Batchelder tiles from Pasadena. The style enjoyed its heyday from about 1905 to 1915. Here's the story of how these homes got their look.
If you like this newsletter, please share it with friends. Comments or ideas? Email us at headlines@latimes.com.
Sign up for Essential California for news, features and recommendations from the L.A. Times and beyond in your inbox six days a week.
You may occasionally receive promotional content from the Los Angeles Times.