Newsletter: Today: The Comey Memos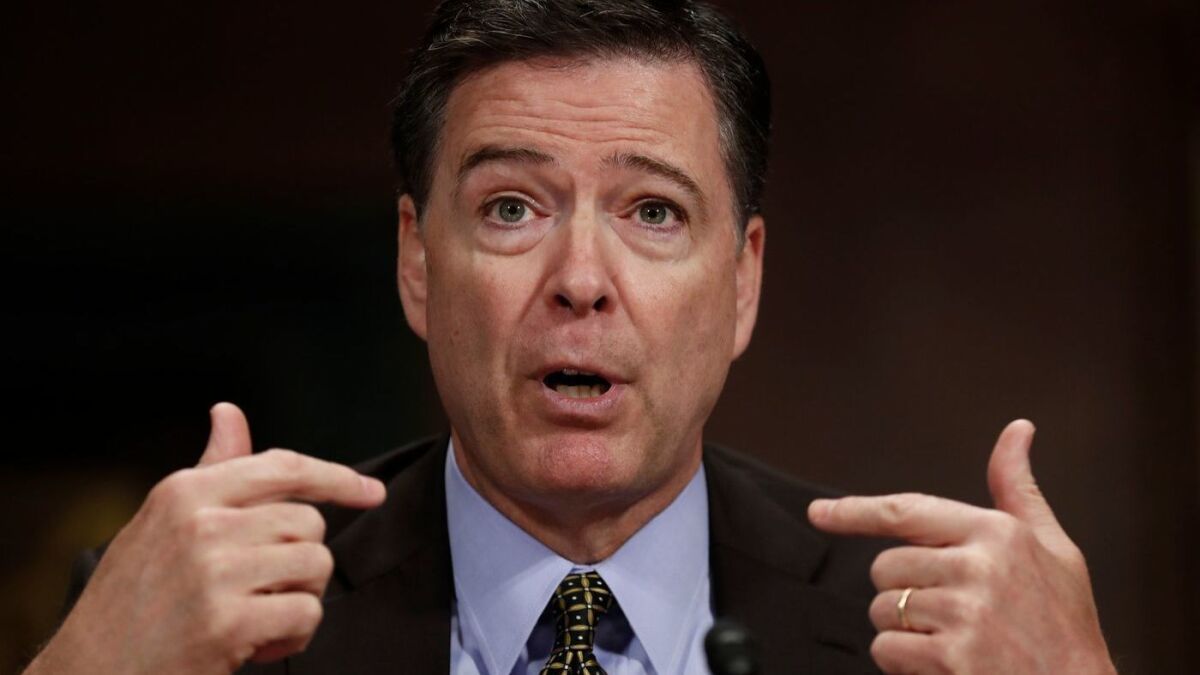 Amid legal maneuvering in the Russia investigation, some of former FBI Director James B. Comey's memos surface.
TOP STORIES
The Comey Memos
Fifteen pages of fired FBI Director James B. Comey's memos about his interactions with President Trump have come to light after House Republicans demanded the FBI turn them over. In them, Comey quotes Trump saying that Michael Flynn, his national security advisor at the time, "has serious judgment issues." He also describes encounters with Trump asking him for loyalty, wanting him to end an investigation of Flynn and dealing with leaks and salacious claims in the so-called Steele dossier. (Read the redacted memos here.) The documents capped a day in which Rudolph W. Giuliani said he's joining Trump's personal legal defense team, a Justice Department lawyer said Paul Manafort came under scrutiny because prosecutors suspected he might be a back channel between the Trump campaign and Russia, and Trump lawyer Michael Cohen withdrew defamation lawsuits against BuzzFeed and the political research firm Fusion GPS related to the dossier.
More Politics
-- The Justice Department's inspector general referred its findings on former FBI Deputy Director Andrew McCabe to the U.S. attorney in the District of Columbia for consideration of criminal charges.
-- California officials say they received written confirmation from the Pentagon that a new deployment of California National Guard troops would be funded, despite Trump tweeting that he would refuse to pay.
-- Sen. Tammy Duckworth's newborn daughter, Maile, became the first baby of a senator to be allowed on the chamber floor.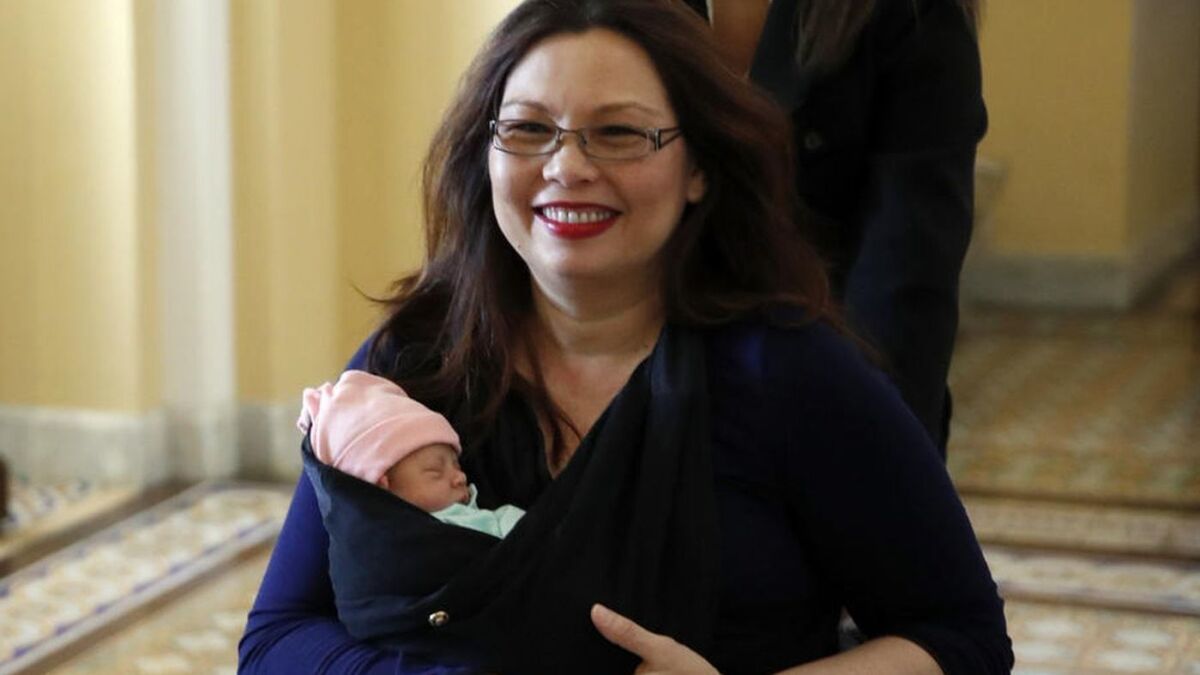 In Seoul, There Is Hope
With a summit between the Koreas a week away, the South's president says the North may be willing to denuclearize — even if the U.S. keeps its troops on the Korean peninsula. Seem unlikely? Though one of Pyongyang's big public talking points over the years has been the withdrawal of American forces, former diplomats say North Korea has not been so insistent in private since the 1990s. Still, experts have been skeptical that leader Kim Jong Un would be willing to give up his country's nuclear program.
So, Who's Running for Governor?
California has its problems — traffic, a lack of affordable housing, and homelessness, to name three. But as many Californians will tell you, things are looking up lately. That feeling of relative contentment may be one reason why so few are paying attention to who will be the next governor. With the primary coming up June 5, most of more than 100 people interviewed across the state could not identify a single candidate who was running. Here's a look at what some residents have on their mind — and, yes, who's running to succeed Gov. Jerry Brown.
Amsterdam, East of Doheny
Today is 4/20, the annual celebration of all things weed. Just because recreational pot in California is legal these days doesn't mean it can be used anywhere. Marijuana businesses have been warned to not participate in unlicensed events, and only a few cities like San Francisco, Oakland and South Lake Tahoe allow pot lounges modeled after those in Amsterdam. West Hollywood, Palm Springs and Cathedral City plan to join their ranks, despite concerns about safety.
Sign up to get Today's Headlines delivered to your inbox. »
FLASHBACK FRIDAY
A week after President Harry S. Truman relieved Gen. Douglas MacArthur of his command over disagreements in the Korean War, MacArthur received a hero's welcome upon his arrival in San Francisco with a parade on April 18, 1951. The next day, he was in Washington to deliver his "Old Soldiers Never Die" farewell speech to Congress.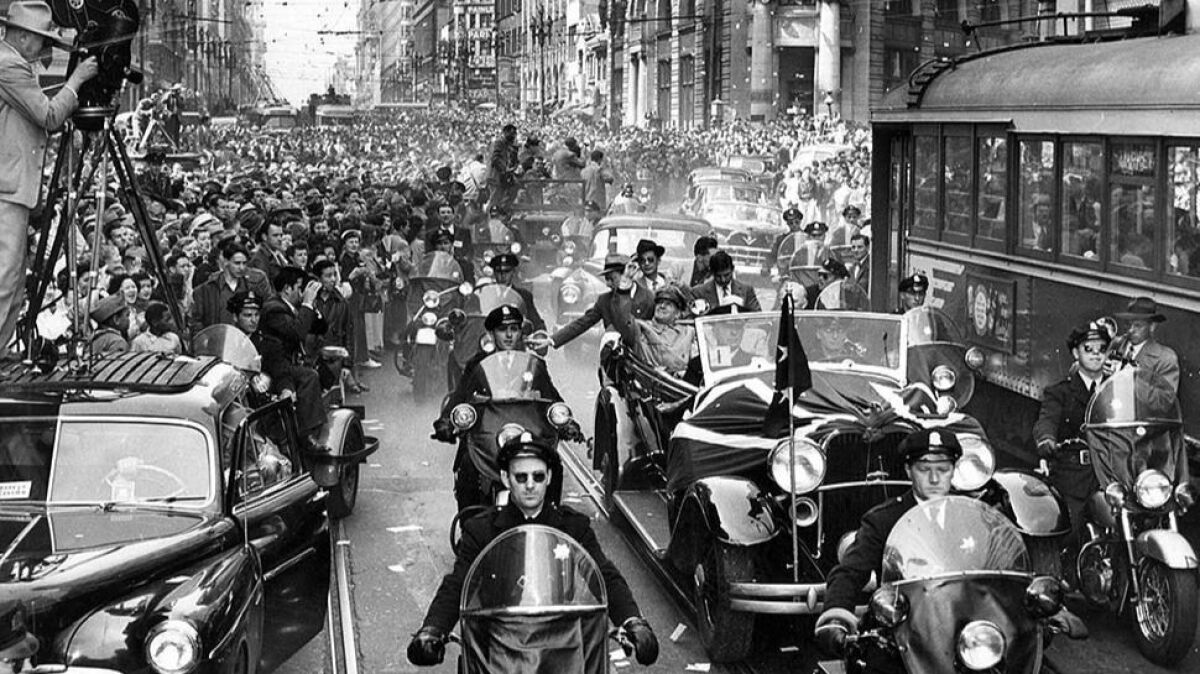 MUST-WATCH VIDEO
-- Saudi Arabia's first new cinema in decades held its grand opening with a screening of "Black Panther."
-- Film critic Justin Chang says "I Feel Pretty" is uneven, sweetly amusing and features a beaut of a performance by Amy Schumer.
CALIFORNIA
-- In the San Gabriel Mountains National Monument, the largest spot of wilderness in L.A. County, new oil, gas and mineral exploration and development will be barred under a management plan.
-- Los Angeles Mayor Eric Garcetti's budget proposal is looking to ramp up efforts to fix buckled sidewalks, rebuild the city's most damaged roads and reduce the number of traffic deaths.
-- In Barstow, anger is growing over the police killing of a black man in a Walmart parking lot.
-- Someone stole a trailer full of 8,000 Disney California Adventure tickets intended for high school students in the Central Valley.
YOUR WEEKEND
-- The L.A. Times Festival of Books takes place at USC on Saturday and Sunday. Here's your complete guide.
-- A weekend escape to Sequoia National Forest is just the thing, if you've ever wondered what it's like to sleep in a fire lookout tower.
-- Twelve French toast recipes to start your morning or evening (we don't judge!) off right.
-- Want to become a beekeeper and raise chickens? This is your chance.
HOLLYWOOD AND THE ARTS
-- In a heart-to-heart with our reporter, Amy Schumer faces her critics with a message of self-love and confidence: "The fear is gone."
-- "Scandal" went off the air the same way the TV show burst onto the scene seven seasons ago: amid a flurry of tweets, emojis and GIFs.
-- "It's civilization on steroids": Painter Mark Bradford discusses making art in the Trump era and how comics channel this moment.
NATION-WORLD
-- A judge has barred the Trump administration from sending a U.S. citizen captured on a Syrian battlefield to Saudi Arabia. The case could set new boundaries for the war on terrorism.
-- A doctor and other associates who illegally gave pain pills to Prince will not face criminal charges. The singer died of an accidental opioid overdose in 2016.
-- Protesters want the secretive board that awards the Nobel Prize in literature to resign after a sex-abuse scandal linked to the prestigious Swedish academy.
-- Lance Armstrong has agreed to pay a $5-million settlement to the U.S. government in a whistle-blower lawsuit and says he's "made peace with the Postal Service," his longtime sponsor.
BUSINESS
-- In the face of federal efforts to dismantle the Affordable Care Act, California policymakers are proposing laws not only to counter them but also to expand health coverage even further.
-- Starbucks is closing thousands of stores for racial bias training. Will it work?
SPORTS
-- Time for the Lakers to make a big move for San Antonio Spurs forward Kawhi Leonard? Columnist Bill Plaschke thinks so.
-- To become contenders again, the L.A. Kings and the Anaheim Ducks have to get up to speed with the rest of the NHL, writes columnist Helene Elliott.
OPINION
-- SB 827, the bill to put taller buildings in areas zoned for single-family houses, is rightfully dead. But California still can, and should, build more housing near transit.
-- Is L.A. becoming the new Iowa? Astronomical housing costs and stagnant wages are pushing new immigrants and college graduates to live elsewhere.
WHAT OUR EDITORS ARE READING
-- A Washington, D.C., lawmaker who said wealthy Jews control the weather visited the U.S. Holocaust Memorial Museum with Jewish leaders but left early. (Washington Post)
-- "AI gives you the power to do good and evil": An expert breaks down the artificial intelligence arms race and the stakes at hand. (Der Spiegel)
-- Fifty years ago, "2001: A Space Odyssey" was a new kind of science fiction film. How does the future look now that it's the past? (The New Yorker)
ONLY IN CALIFORNIA
At UC Berkeley, a student Senate candidate has won election by campaigning on a platform of safe spaces for squirrels, better access to acorns and support groups for those experiencing habitat loss. Sound a bit nutty? Stephen Boyle, who ran under the name Furry Boi and wore a squirrel suit at appearances, says it began as a joke, but now that he's won, he's ready to shake some trees to bring about change.
If you like this newsletter, please share it with friends. Comments or ideas? Email us at headlines@latimes.com.
Must-read stories from the L.A. Times
Get the day's top news with our Today's Headlines newsletter, sent every weekday morning.
You may occasionally receive promotional content from the Los Angeles Times.