Newsletter: Today: The Caravan at California's Door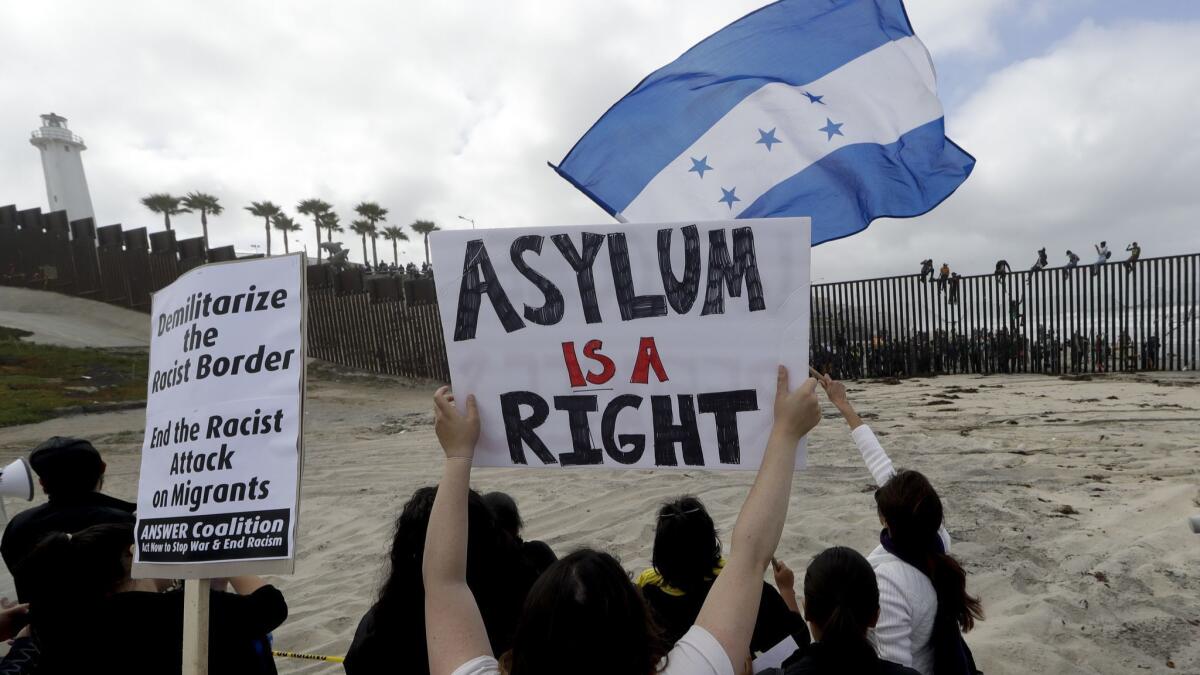 A caravan that's become a focus of the immigration debate has reached the California-Mexico border.
TOP STORIES
The Caravan at California's Door
It was a scene bound to spur debate about immigration and fuel President Trump's ire: A group of migrants fleeing violence in Central America converged at Playas de Tijuana, with some waving Honduran flags or climbing atop tall fencing on the border with California. Others quietly held on to infants. Those who have already surrendered to American authorities can expect a lengthy process ahead, most likely spent in detention facilities run by private prison companies. Meanwhile, Trump threatened to shut down the federal government in September if Congress doesn't approve enough funding for his border wall.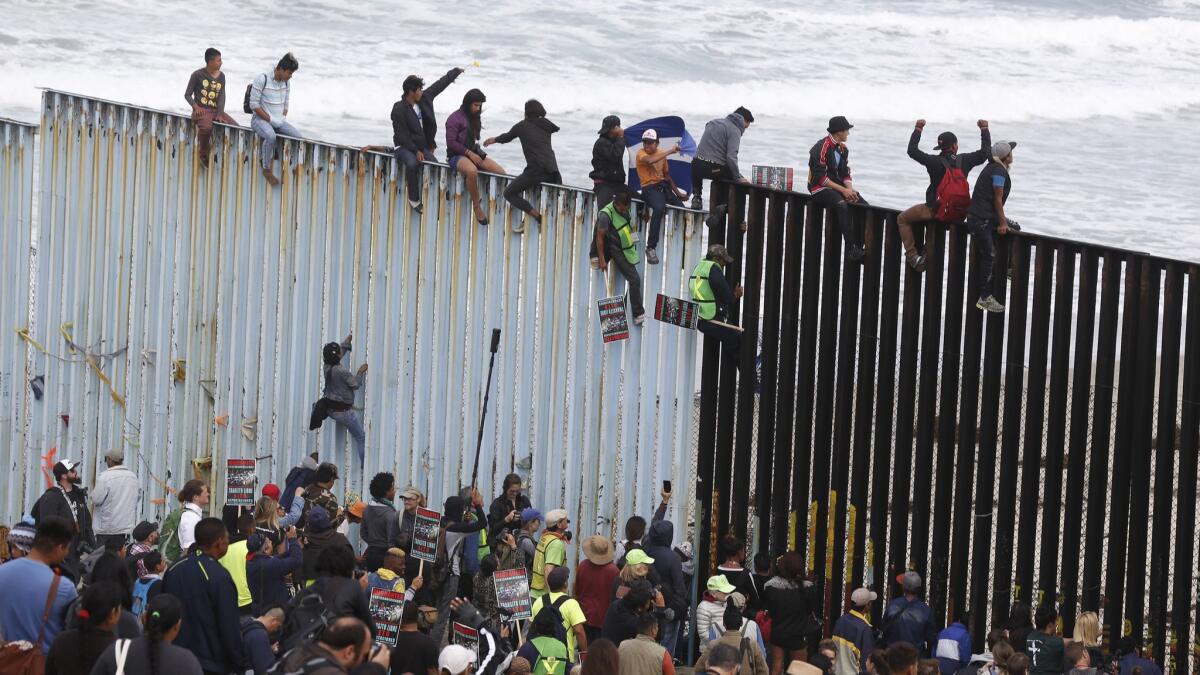 No More North Korean Nukes?
Too good to be true? That's one natural question after a spokesman for South Korea's president relayed that North Korean leader Kim Jong Un promised last week to give up his nuclear arms in exchange for a U.S. pledge to not attack. "Once we start talking, the United States will know that I am not a person to launch nuclear weapons at South Korea, the Pacific or the United States," Kim reportedly said. He also vowed to let outsiders observe the shutdown of its nuclear testing site and even made the symbolic gesture of synchronizing North Korea's clocks with South Korean time. Top Trump aides are expressing skepticism, while also saying the president's unconventional diplomacy is yielding results.
More Politics
-- Trump's steel and aluminum tariffs have left American manufacturers, construction firms, canners and others in a haze. "This administration has been supposedly pro-business, but business doesn't like uncertainty," says one distributor of stainless steel.
-- In Saudi Arabia, newly minted Secretary of State Mike Pompeo called Iran "the greatest sponsor of terrorism in the world."
-- Did comedian Michelle Wolf's jokes go too far at the White House correspondents' dinner? Either way, the reaction has been a far cry from when Trump subjected himself to a Comedy Central roast in 2011.
U.S. Citizens, Put on ICE
Immigration and Customs Enforcement agents are supposed to keep their hands off American citizens, but a Times investigation shows that is not always the case. Since 2012, ICE has released from its custody more than 1,480 people after investigating their citizenship claims, according to agency figures. A Times review found hundreds more cases of Americans being forced to prove their status, sometimes in a Kafkaesque process. Though the wrongful arrests are a fraction of the more than 100,000 arrests ICE makes in a year, imagine if you or a loved one had to spend months or years in detention because of a mistake made by the government.
To Catch a Killer
Four decades went by before a suspect in the Golden State Killer cases was caught. In that time, those who survived his attacks, and the grieving loved ones of those who did not, tried to find ways to cope. Some searched for clues; others went to therapy. In the end, sophisticated DNA analysis led police to the suspect, just as others from the 1970s and '80s have been arrested with the help of the technology.
Soccer in the City
Los Angeles already had the most successful franchise in Major League Soccer history in the Galaxy, but by playing in Carson, the team has felt more like the Angels than the Dodgers to some fans. Not so with the new Los Angeles Football Club and its Banc of California Stadium in Exposition Park, which hosted its first match Sunday. Columnist Bill Plaschke took it all in and says the LAFC's 1-0 victory was about much more than just the beautiful game.
Sign up to get Today's Headlines delivered to your inbox. »
OUR MUST-READS FROM THE WEEKEND
-- The Trump administration is speeding toward all-out conflict with California over fuel economy rules for cars and SUVs, proposing to revoke the state's long-standing authority to enforce its own, tough rules.
-- Overseas, the Trump administration is struggling to assemble a coalition of Arab military forces to replace U.S. troops battling Islamic State militants in eastern Syria.
-- A look at the Filipino tradition of packing, sending and traveling with balikbayan boxes full of things such as toothpaste, Spam, hand-me-down clothes and rice.
-- "When I'm in the studio, I feel like I'm 30," says artist David Hockney. "But when I leave it, I know I'm 80."
-- Tales from Ireland: Waterford is known for its crystal, but what becomes clear while staying there is the city's brilliant history.
MUST-WATCH VIDEO
-- This entrepreneur is trying to build a rocket almost entirely through 3-D printing.
-- Fifty years after it came out, the spaghetti western classic "The Great Silence" has made its proper U.S. debut.
CALIFORNIA
-- L.A. County leaders may put a measure on the November ballot to raise money for stormwater capture and cleaning. It would cost property owners 3 to 4 cents per square foot of area deemed impermeable to water. (Think roofs, driveways and garages.)
-- L.A. Mayor Eric Garcetti's new budget proposes more than doubling the amount of money to be spent on homelessness. Take a look at this breakdown of that $430 million.
-- Three decades before the #MeToo movement, UC San Diego led the way with its Sexual Assault Resource Center. Director Nancy Wahlig talks about the progress made.
HOLLYWOOD AND THE ARTS
-- Marvel's "Avengers: Infinity War" had the highest domestic opening of all time (not adjusted for inflation) and the highest global opening of all time, even without being screened yet in China.
-- Beyond the headliners, the Stagecoach festival in Indio offered a look and a listen into country music's many niches.
-- Rachel Dolezal, the woman who identifies as black and led the NAACP chapter in Spokane, Wash., is the subject of the documentary "The Rachel Divide." Here are four takeaways.
-- Self Help Graphics & Art, which has long nurtured Latino artists from its Boyle Heights headquarters, has bought its building rather than face rising rents. The cost: $3.6 million.
CLASSIC HOLLYWOOD
Cloris Leachman, who turns 92 today, said she wanted to be an architect when she was growing up in Des Moines — "and I think of acting as a kind of architecture, being a matter of how to fill space." She'd go on to build a career that includes an Oscar for best supporting actress in "The Last Picture Show" and an unprecedented eight Primetime Emmys for acting — a record that Julia Louis-Dreyfus tied last year.
NATION-WORLD
-- The National Weather Service says nearly 50 inches of rain fell in 24 hours in Kauai this month, and scientists are warning it's a sign of the future as the Earth heats up.
-- More violence: Israel's military says its troops fatally shot two Palestinians who infiltrated the country from the Gaza Strip and killed a third Palestinian who tried to cross in a separate incident.
-- A U.N. agency forecasts at least half of the 6,000 languages spoken today will be extinct by the year 2100, if nothing is done. A new project aims to preserve the sound and tone of some.
BUSINESS
-- T-Mobile and Sprint, the third- and fourth-largest wireless carriers in the U.S., have announced a $26.8-billion merger. It could dramatically reshape the industry, but are we ready for this much consolidation?
-- One unspoken factor in Amazon's search for a new home is Jeff Bezos' support for gay rights.
-- Personal finance time: Be ready for the taxes if you're putting money in a 401(k) and an IRA at the same time.
SPORTS
-- As an expansion franchise in the NHL, the Vegas Golden Knights were supposed to be merely competitive. Instead, they're mounting a Stanley Cup run.
-- In the Dodgers' latest loss, Cody Bellinger was benched and frustrations boiled over. The schedule only gets tougher this week.
OPINION
-- L.A.'s dysfunctional Probation Department needs real oversight, not what it has now.
-- Have you been on Nextdoor? It's supposed to be a way to connect with your neighbors but more often presents an alternative reality where black Audis terrorize and everyone is a meth-addled menace.
WHAT OUR EDITORS ARE READING
-- A conflict-zone photographer talks about why she risks her life. (NPR)
-- A remembrance of Barbara Bush from author Julia Reed: "If you could survive in West Texas, you could survive anywhere." (Garden & Gun)
-- Trump and French President Emmanuel Macron planted an oak tree at the White House last week. Where did it go? (Perhaps if someone had tied a yellow ribbon around it....) (Associated Press)
ONLY IN L.A.
One says, "El Se-gun-dough." Another says, "El Say-GOON-dough." So just how do you pronounce El Segundo, or for that matter, San Pedro, Calle Major or pho? It's one of the linguistic delights (and hazards) of living in Los Angeles. Columnist Steve Lopez hit the streets near the L.A. Times' future home to find out what the locals say — and did not call the whole thing off.
If you like this newsletter, please share it with friends. Comments or ideas? Email us at headlines@latimes.com.
Sign up for Essential California for news, features and recommendations from the L.A. Times and beyond in your inbox six days a week.
You may occasionally receive promotional content from the Los Angeles Times.