Newsletter: Today: High Stakes, Low Prep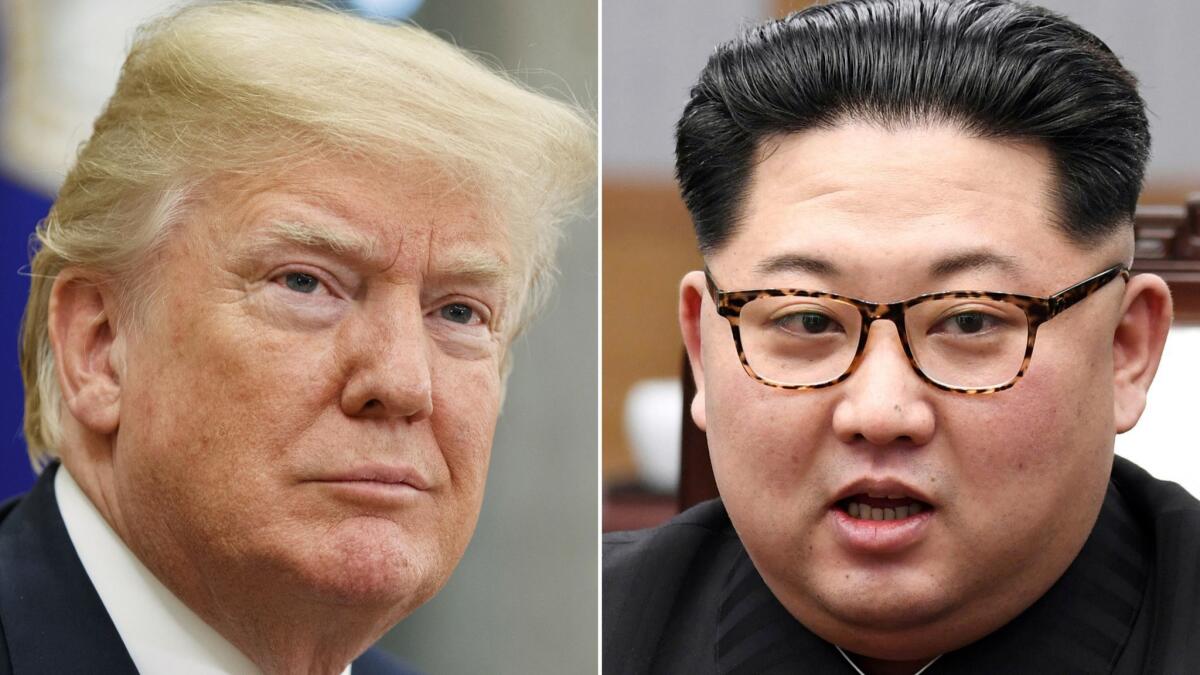 President Trump's unconventional approach to international relations could face its biggest test next week.
TOP STORIES
High Stakes, Low Prep
A "first step" to denuclearization. A possible declaration of an end to the Korean War. A potential invitation to the White House for North Korean dictator Kim Jong Un. President Trump has dangled several outcome scenarios for Tuesday's planned Singapore summit with Kim, if things go well. But unlike previous presidents who assiduously studied for similar high-stakes meetings, Trump said, "I don't think I have to prepare very much. It's about attitude." Should the makings of a deal emerge next week or down the road, experts and diplomats say it will probably be as limited as (or even more narrowly tailored than) the Iran nuclear accord that Trump bashed so much before pulling the U.S. out of it.
More Politics
--Trump will leave this weekend's Group of 7 summit early, the White House announced, amid an intensifying battle over his decision to impose tariffs on some of the United States' closest allies. On Twitter, he traded insults with French President Emmanuel Macron and Canadian Prime Minister Justin Trudeau.
-- The Trump administration said it will not defend the Affordable Care Act against the latest legal challenge to its constitutionality, a dramatic break from the executive branch's tradition of arguing to uphold existing statutes.
-- The former security director for the Senate Intelligence Committee was arrested on charges of lying to federal investigators probing a leak of information involving a former campaign aide to Trump. Officials also seized email and phone records from a reporter who currently works for the New York Times.
'Nothing Short of Evil'
It was a tragedy that spurred far-reaching reforms within L.A. County's child welfare system and led to unprecedented criminal charges against social workers: the torture killing of 8-year-old Gabriel Fernandez in 2013. On Thursday, a judge sentenced his mother, Pearl Sinthia Fernandez, to life in prison without parole and her boyfriend, Isauro Aguirre, to execution. "I hope you think about the pain you caused this child and that it tortures you," the judge said. "I rarely say that."
They Walk the Walk
Seventy-year-old Rose Rios cruises South L.A. in her minivan looking to help the neediest on the streets. Dan Johnson teaches a reading class at the Midnight Mission and created a book called "The Skid Row Reader." Wendell Blassingame hosts job fairs and movie screenings, but more than anything, he just wants people to care about the future. While some people avoid the homeless, these three are among the volunteers who go out of their way to embrace them.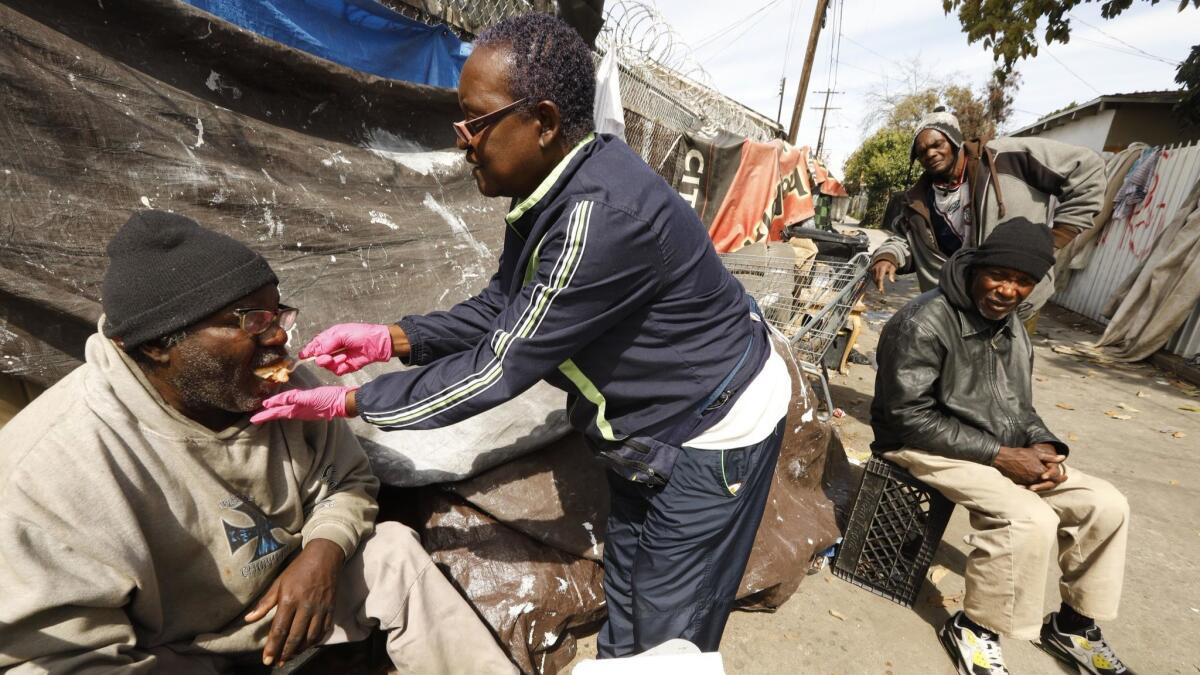 The Rainbow Connection
When Gilbert Baker died last year, the headlines hailed him as a "gay Betsy Ross," the creator of the rainbow flag. But, as we know, history is more complicated than a headline. Forty years after the first rainbow flag flew above San Francisco's Gay Freedom Day Parade, one of the women instrumental in its creation is drawing attention to some of the forgotten artists who made it happen.
Sign up to get Today's Headlines delivered to your inbox. »
FLASHBACK FRIDAY
Sen. Robert F. Kennedy had just finished his victory speech after winning the California Democratic presidential primary on June 5, 1968, and was making his way through the food service area of the Ambassador Hotel in Los Angeles when shots rang out. L.A. Times photographer Boris Yaro was 3 feet away. As gunman Sirhan B. Sirhan was restrained, Yaro said, "Sirhan kept trying to reach the revolver, and I was afraid he might get it, so I stuck my hand in under the guys holding him and picked up the gun. I turned away from the scuffle and was thinking, 'It's warm. The gun is warm,' and all of a sudden it was taken from me…. When I turned back to the scene, RFK was slowly sinking to the floor, and I realized I had better make pictures."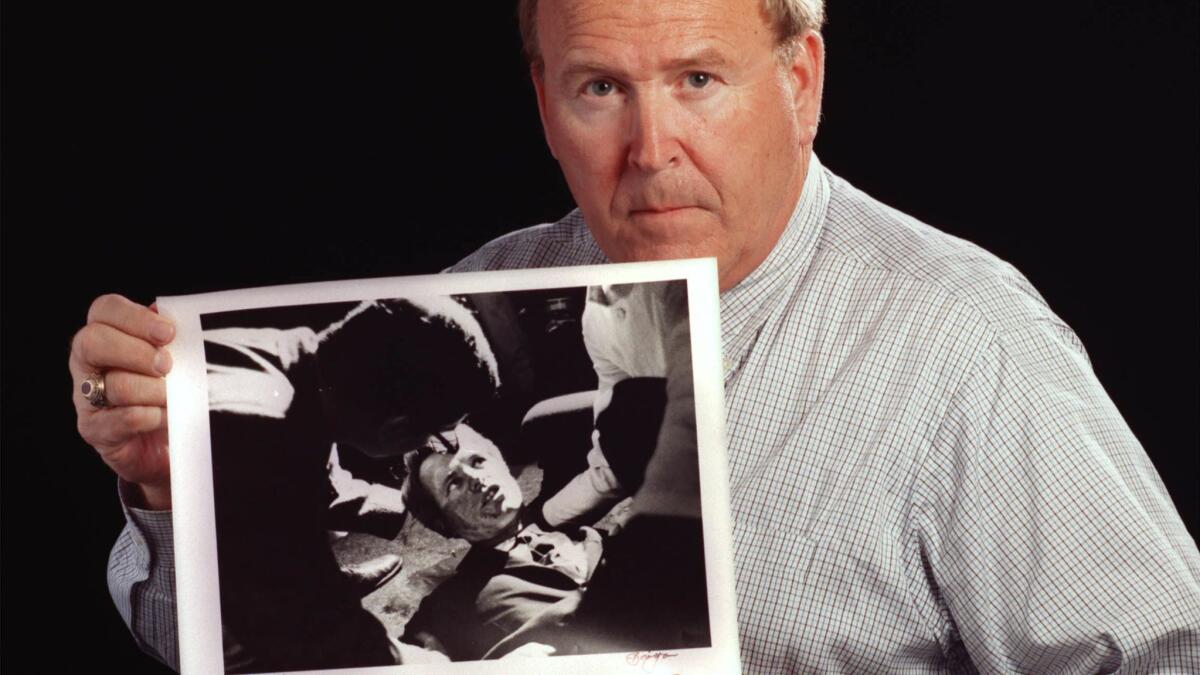 MUST-WATCH VIDEO
-- The battle for Los Angeles: Boxers Abner Mares and Leo Santa Cruz are L.A. natives who will fight for a second time on Saturday.
CALIFORNIA
-- Trump and taxes will dominate the governor's race between John Cox and Gavin Newsom for the next five months.
-- Wondering how your neighbors voted in the governor's primary? This map of L.A. County breaks it down.
-- In the San Francisco Bay Area, there's a lot to love, but the high price of housing and hideous traffic are prompting a startling number of people to think about leaving.
-- Celebrity real estate developer Mohamed Hadid is being sued by Bel-Air residents living downhill from the unfinished mansion that led him to be slapped with criminal charges.
YOUR WEEKEND
-- The beaches in Southern California should be cleaner this summer, as long as you avoid these stretches.
-- Need to spice things up? Chong Qing Special Noodles hits the spot, according to restaurant critic Jonathan Gold.
-- Flying Miz Daisy, an upscale indoor vintage market, is returning to the Orange County Fair.
HOLLYWOOD AND THE ARTS
-- The documentary "Won't You Be My Neighbor?" shows how Mister Rogers made goodness desirable.
-- Helena Bonham Carter, who is one of the stars in "Ocean's 8," says it's about time she did a heist film.
-- Linkin Park co-founder Mike Shinoda's new solo album chronicles the bruising aftermath of his bandmate Chester Bennington's death.
-- At Sunday's Tony Awards, Denzel Washington would ordinarily be a favorite for lead actor in a play, but this is no ordinary year.
NATION-WORLD
-- Suicide is now America's 10th leading cause of death and one of only three that are increasing in the United States, according to the Centers for Disease Control and Prevention.
-- The Pentagon plans to release a U.S.-Saudi dual citizen whom it accused of being a member of Islamic State at an undisclosed location in Syria, a move that his American lawyers call "a death warrant."
-- The Trump administration says it will yank visas from several Nicaraguan officials it blames for the country's deadly response to a wave of anti-government demonstrations.
-- Russian President Vladimir Putin held his annual call-in TV show this week. Here are some of the more unusual questions he's received and their outcomes over the last 16 years.
BUSINESS
-- Five months after the Republican tax bill went into effect, U.S. companies have ramped up their domestic spending, but many of those decisions were made months, if not years, before.
-- The Trump administration may shut down a federal database of consumer complaints about the financial services industry. Banks think that's a great idea; the attorneys general of California and more than a dozen other states, not so much.
SPORTS
-- The Washington Capitals won the first Stanley Cup championship in the team's 44-year history, defeating the first-year Vegas Golden Knights.
-- Despite the 1½-mile distance, some say the Belmont Stakes, where Justify will try to win the Triple Crown on Saturday, is really a speed race rather than one of distance.
OPINION
-- Recalling Aaron Persky, the judge from the Brock Turner case, is likely to bring about less justice in California, not more.
-- Fox News is a danger to this country. But don't kid yourself: It's just a small part of a bigger crisis on the left and the right.
WHAT OUR EDITORS ARE READING
-- How to make a disturbed artificial intelligence: feed it disturbing image captions from Reddit. (The Verge)
-- Is toxic fandom fueled by Hollywood just "giving the fans what they want"? (Vulture)
-- Inside "the world's first gym for your face." Work that zygomaticus! (The New Yorker)
ONLY IN L.A.
The world's tallest pendulum ride. A roller coaster with a 96-degree drop. An immersive theater experience starring a chubby animated panda. Theme parks in the L.A. area have spent a lot of money on new attractions in the hope that you spend a lot of money there this summer. But as Po the kung fu panda might say, "There is no secret ingredient."
If you like this newsletter, please share it with friends. Comments or ideas? Email us at headlines@latimes.com.
Sign up for Essential California for news, features and recommendations from the L.A. Times and beyond in your inbox six days a week.
You may occasionally receive promotional content from the Los Angeles Times.