Newsletter: Today: The Tussles in Brussels
President Trump has some harsh words for America's allies at a key NATO meeting.
TOP STORIES
The Tussles in Brussels
Just as many allies had feared, President Trump came out swinging at NATO's annual summit in Brussels. He wants each of the 29 member nations to pay more, and though it's not the first time a president has complained about that topic, it's by a lot: an amount equal to 4% of their gross domestic product, up from the goal of 2%. But where things really veered from the norm was when Trump claimed Germany "is totally controlled by" and "captive to Russia" after the subject of his summit next week with Vladimir Putin came up. Secretary of State Michael R. Pompeo would later try to smooth things over by calling NATO "the most successful alliance in history." On Thursday, Trump suggested the U.S. could leave that alliance before claiming victory on having secured firmer commitments. Later today, the president begins his visit to Britain, where thousands plan to demonstrate against him.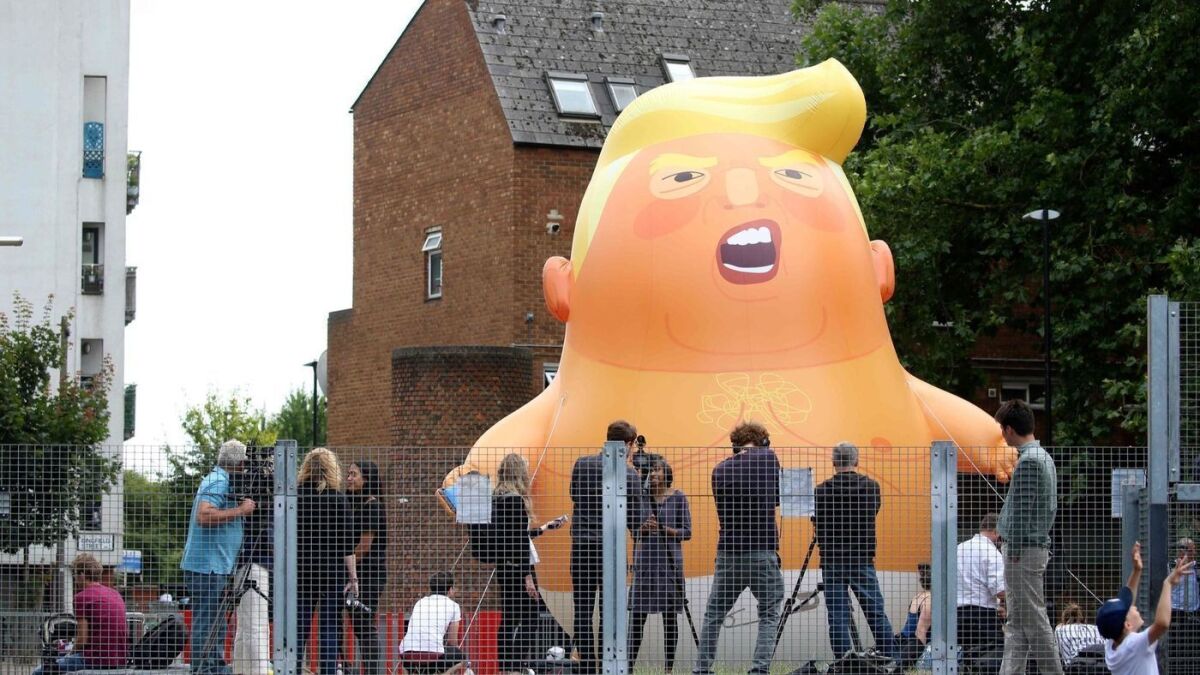 Living His Best Life (in Jail)
A private phone line, toilet and shower. His own laptop. And, for a man who allegedly spent more than $1 million on clothes, no prison uniform. Former Trump campaign manager Paul Manafort's cell while he awaits trial isn't exactly a gilded cage, but it's nice enough that he boasted of the "VIP" treatment during a recorded phone call, according to prosecutors on special counsel Robert S. Mueller III's team. Manafort's lawyers have described it as "solitary confinement." But soon, Manafort may have to move.
Is the Trade War About to Get Real?
So far, the trade war between the U.S. and China has been fairly abstract to most people. That could change soon, with Trump's latest threat of tariffs on Chinese imports totaling roughly $200 billion and talk in Beijing of as-yet-specified countermeasures. If Trump's new tariffs take effect, the 10% tax could raise the prices you pay for a mind-boggling number of everyday things. Chinese leaders may be waiting to see if Trump backs down under pressure at home before they act.
More Politics
-- Peter Strzok, the FBI counterintelligence official who's become a partisan punching bag for trading critical texts about Trump during the 2016 presidential campaign, is scheduled to testify today before two House committees investigating his actions.
-- Trump Supreme Court nominee Brett Kavanaugh gave a revealing speech last fall in which he lauded former Chief Justice William H. Rehnquist for having dissented in Roe vs. Wade and for rejecting the notion of "a wall of separation between church and state."
-- Think Trump's use of presidential pardons is unusual? It is, as he uses them to advance personal and policy goals.
Drip, Drop
For years, people in Compton and Willowbrook have complained about the Sativa Los Angeles County Water District. It's been accused of mismanagement, nepotism, bad service and, most recently, providing brown, smelly water. Now, county authorities have voted to dissolve the agency — but it's a process that could take months or years. Sativa has already successfully fended off two other attempts to disband it.
Sign up to get Today's Headlines delivered to your inbox. »
MUST-WATCH VIDEO
-- Authorities aired the first footage of the Thai boys rescued with their coach after being stranded in a flooded cave complex for days. It was a tightly controlled event designed to protect the players, who were castoffs from school teams.
CALIFORNIA
-- Preliminary data show the University of California opened its doors to a record number of Californians for fall 2018, led by growth in transfer students from across the state.
-- State Assembly officials revealed they have disciplined Assemblyman Devon Mathis from the Central Valley for frequently making coarse comments, including sexual remarks about fellow lawmakers.
-- Authorities have arrested a woman suspected of being involved in the assault of a 91-year-old man on the Fourth of July. A witness says an assailant yelled, "Go back to your country," or "Go back to Mexico."
-- A legal fight is brewing in Santa Cruz after a neighborhood group rejected state orders to open up a beach for free.
HOLLYWOOD AND THE ARTS
-- The Emmy nominations come out this morning. Here's everything you need to know.
-- More than a year after creating a firestorm with a photo depicting Trump's decapitated head, Kathy Griffin has returned to the show-biz arena, as outspoken and defiant as ever.
-- Did you catch the second season finale of "The Handmaid's Tale"? Showrunner Bruce Miller discusses it in a spoiler-filled interview.
-- To celebrate what would have been composer Leonard Bernstein's 100th birthday, the Hollywood Bowl pulled out all the stops. It's not alone.
CLASSIC HOLLYWOOD
Bruce Willis became a household name on the 1980s television series "Moonlighting," but it wasn't until the film "Die Hard" that he became a big-screen action hero. The movie premiered on this date 30 years ago in Westwood. After that success, Willis tried his hand at being a singer.
NATION-WORLD
-- Nevada's planned execution of convicted killer Scott Dozier was put on hold after a sedative maker sued to stop it.
-- Israeli Prime Minister Benjamin Netanyahu met with Vladimir Putin to try to enlist Moscow's help in getting Iran to remove its forces from Syria.
-- A German neo-Nazi was found guilty of 10 counts of murder and sentenced to life in prison for her role in a string of killings of mostly migrants.
-- To save the vaquita, the world's rarest porpoise, conservationists have asked for a ban on Mexican seafood imports.
BUSINESS
-- Papa John's says founder John Schnatter has resigned as chairman of the board. It came hours after Schnatter apologized for using a racial slur during a conference call in May.
-- The sale of the Weinstein Co. studio is expected to close Friday, after a bankruptcy court judge approved a $21-million price cut to $289 million.
-- Southwest Airlines says it will stop serving peanuts because of concerns over passengers with allergies, a decision that has prompted an outcry from — you guessed it — peanut industry leaders.
SPORTS
-- Croatia will play against France in the World Cup final after defeating England in a game for the ages.
-- Why did LeBron James choose the Lakers? Until he speaks publicly, it's hard to say. But columnist Dylan Hernandez thinks the hardest part of rebuilding the team may lie ahead.
OPINION
-- Climate change is heating up Los Angeles. We need an electrical grid that can keep the power on when it's sweltering.
-- Does Pfizer deserve credit for "rolling back" its price increases at Trump's demand? Columnist Michael Hiltzik explains why it doesn't.
WHAT OUR EDITORS ARE READING
-- Body language experts break down the uncomfortable looks given by Trump's aides as he claimed Germany was beholden to Russia. Hint: It wasn't about the European breakfast options. (Washington Post)
-- As television, the Croatia-England match at the World Cup was awkward in this critic's view. (The New Yorker)
-- Does meditation work? A look at some of the recent science. (Aeon)
ONLY IN L.A.
There was a time when 110 pieces of art by Pablo Picasso, Rufino Tamayo, Helen Frankenthaler, Richard Diebenkorn and many others could be seen at one spot in downtown L.A. It wasn't a museum, though. It was the Los Angeles Times' headquarters. The collection once owned by The Times' former parent company, Times Mirror Co., was designed to impress. Where is the artwork now, including five Picassos? That's where it gets strange and mysterious.
If you like this newsletter, please share it with friends. Comments or ideas? Email us at headlines@latimes.com.
Must-read stories from the L.A. Times
Get the day's top news with our Today's Headlines newsletter, sent every weekday morning.
You may occasionally receive promotional content from the Los Angeles Times.