Newsletter: Today: All Quiet on the EU Front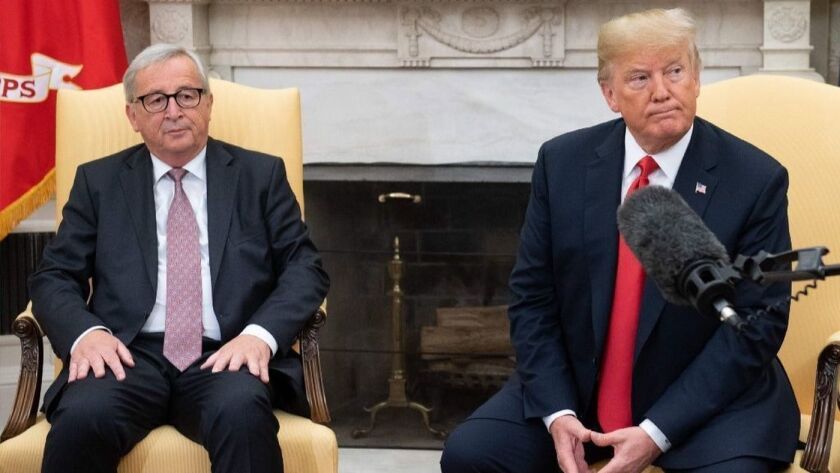 The United States and the European Union have stepped back from a trade war, at least for now.
TOP STORIES
All Quiet on the EU Front
After labeling the European Union a "foe" on trade and threatening 20% tariffs on imported autos and auto parts, President Trump met with EU leader Jean-Claude Juncker and declared a trade war cease-fire. In addition to dropping auto tariffs, Trump promised to "resolve the steel and aluminum tariff issues" (just as their effects are starting to show up in companies' earnings reports). As part of the deal, Europe vowed to buy an unspecified amount of U.S. soybeans and build more terminals to import liquefied natural gas. The apparent truce, along with the postponement of a possible second meeting between Trump and Russian President Vladimir Putin until next year, came after the president met with Congress' Republican leaders, who reportedly expressed concerns about the two issues' effects on the midterm election.
Speaking of Putin …
Trump's statements and actions regarding Russia have concerned and confounded even members of his own party. On Wednesday, it was up to Secretary of State Michael R. Pompeo to explain to senators what's going on. Pompeo attempted to dispel criticism that Trump has been soft on Russia, but in nearly three hours of questioning, he neither provided specifics about Trump's one-on-one with Putin nor fully answered questions about Trump's contradictory statements. Pompeo did unveil a declaration that repeated the U.S. condemnation of Russia's 2014 attacks on Ukraine and its invasion and annexation of Crimea.
Formerly the President's Man
There's no doubt that Trump's onetime personal lawyer Michael Cohen has flipped. The question is what did he know and whom, if anyone, is he telling it to. This week's release of a once-secret recording of a conversation with Trump — given to CNN, no less — made clear that Cohen is actively working to undermine the president. He's teamed with lawyer Lanny Davis, who previously helped Bill and Hillary Clinton navigate scandals over the years.
More Politics
-- A group of 11 House conservatives introduced articles of impeachment against Deputy Atty. Gen. Rod Rosenstein, but Republican leaders have not signed on to the effort and are unlikely to back it.
-- Today is the deadline for reuniting the more than 2,500 children who were taken from parents apprehended while crossing the border, but government lawyers have conceded they will fail to meet it.
-- Education Secretary Betsy DeVos has proposed rules that would cut student loan relief by an estimated $13 billion.
'I Just Pray for the Town'
As had been feared, a fast-moving fire broke out amid the heat wave in Southern California, consuming several structures and threatening hundreds of others in Riverside County. The Cranston fire prompted evacuations in the mountain communities of Idyllwild, Apple Canyon, Lake Hemet, Mountain Center and Hurkey Creek. Authorities said an arsonist set multiple fires in southwest Riverside County, including the Cranston fire.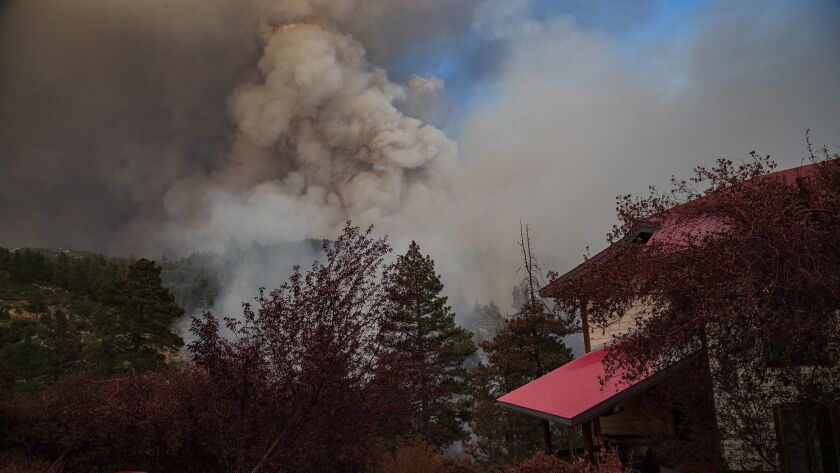 Bruin Pride
UCLA turns 100 years old next year, and by the looks of it, the Bruins will have something to celebrate: The university has surpassed its $4.2-billion fundraising goal 18 months ahead of schedule and could break $5 billion by the time the campaign ends. Though not as much as the $6-billion haul reached at crosstown rival USC last year, the amount represents one of the most successful efforts by a public university in the U.S.
Sign up to get Today's Headlines delivered to your inbox. »
MUST-WATCH VIDEO
-- Bethany Hamilton, who became a professional surfer after losing her arm in a shark attack, reflects on some of her most recent challenges: balancing a family and a career as an athlete.
CALIFORNIA
-- State lawmakers are looking at revamping laws designed to lessen the likelihood of catastrophic wildfires and are considering who should pay for blazes caused by utility equipment.
-- After months of demanding transparency from Trump on the president's alleged affair with porn star Stormy Daniels, Michael Avenatti has persuaded a federal judge to block the news media from covering his testimony about his Newport Beach law firm's bankruptcy.
-- A man who said he took a pickax to Trump's star on the Hollywood Walk of Fame gave himself up to police and was booked on suspicion of felony vandalism, authorities say.
-- P-55, a mountain lion who gained fame after being photographed peering through the sliding glass door of a Westlake Village home, has been found dead in the Santa Monica Mountains.
HOLLYWOOD AND THE ARTS
-- The Venice International Film Festival could take the focus off Cannes this year as the premier destination for showcasing the top awards-contending films.
-- "Annie" to the rescue: A three-day run of the musical at the Hollywood Bowl, starting Friday, aims to provide hope amid the dark news of the day.
-- HBO is hoping to keep paving the way in television, even as "Game of Thrones" ends its epic run early next year.
-- Buckle up: Roseanne Barr is scheduled to be interviewed by Sean Hannity on Fox News tonight.
CLASSIC HOLLYWOOD
Helen Mirren has played royalty on screen, won an Oscar and is the picture of confidence in speaking out about a number of causes. But "in my early 20s, I was very frightened about the future and about life in general," she told The Times earlier this year. As she turns 73 today, it seems everything turned out fine.
NATION-WORLD
-- Georgia's race for governor has come down to a shotgun-wielding white male Republican and a liberal Ivy League Democrat who hopes to be the nation's first black female governor.
-- A bitter election season in Pakistan concluded in bloodshed and fraud allegations after a suicide bombing killed at least 31 people and a top contender rejected preliminary results.
-- In Cambodia, a banned opposition party is calling for a boycott of Sunday's elections, which it calls a sham.
-- There's an uneasy calm in Nicaragua after more than three months of political turmoil, demonstrations, looting and street battles.
-- Using a satellite to peer beneath layers of dust and ice at Mars' south pole, scientists have detected a 12-mile-wide span of briny water.
BUSINESS
-- Mattel says it is slashing more than 2,200 jobs, which the toymaker said represented 22% of its global nonmanufacturing workforce.
-- Facebook's second-quarter revenue and average daily visitors missed analysts' projections, and its stock price sank as much as 25% in extended trading.
-- Genetic testing firm 23andMe, which has more than 5 million customers, has sold a $300-million stake to British pharmaceutical giant GlaxoSmithKline as part of a four-year deal to develop new drugs.
SPORTS
-- Columnist Bill Plaschke ponders: Can new coach Chip Kelly really make UCLA football not only relevant but also fun? Kelly did, for one day at least.
-- Triple Crown champion Justify, who burst onto the horse racing scene in February, has left just as quickly. The 3-year-old colt was retired because of an ankle injury.
OPINION
-- A welcome bit of transparency from the LAPD after the tragic Trader Joe's shooting.
-- A taxi driver from Karachi, Pakistan, who has been detained without trial at Guantanamo Bay for almost 14 years, writes: "The world has forgotten me."
WHAT OUR EDITORS ARE READING
-- A CNN reporter says the White House banned her from a media event because she asked Trump questions about Cohen and Putin. (NPR)
-- You are being followed: How companies use geolocation even when you're not aware of it. (Boston Globe)
-- "It changed my perspective of what beauty is": A blind choreographer is rethinking the world of dance. (Backstage)
ONLY IN L.A.
If you want to hit L.A.'s underground club scene but don't want to leave the safety of home, you now have an option: a new expansion for the video game "Grand Theft Auto Online." It features DJs such as Dixon, Tale of Us, Solomun and the Black Madonna, who ventured away from a warehouse and into a motion capture studio so that their digital likenesses could be captured.
If you like this newsletter, please share it with friends. Comments or ideas? Email us at headlines@latimes.com.
---