California is the strictest state in the nation when it comes to protecting police confidentiality, but that may change in the next few weeks.
TOP STORIES
The Secrets That California's Police Keep
As The Times has documented in a special series over the last week, California is one of the most secretive states in protecting records of police misconduct. Not even prosecutors have direct access, much less defendants trying to prove their innocence by calling an officer's credibility into question. So how did the law develop in the 1970s and why hasn't it changed for decades? The final article in our series looks at the history of hardball politics at play, as lawmakers in Sacramento look at ways to increase disclosure.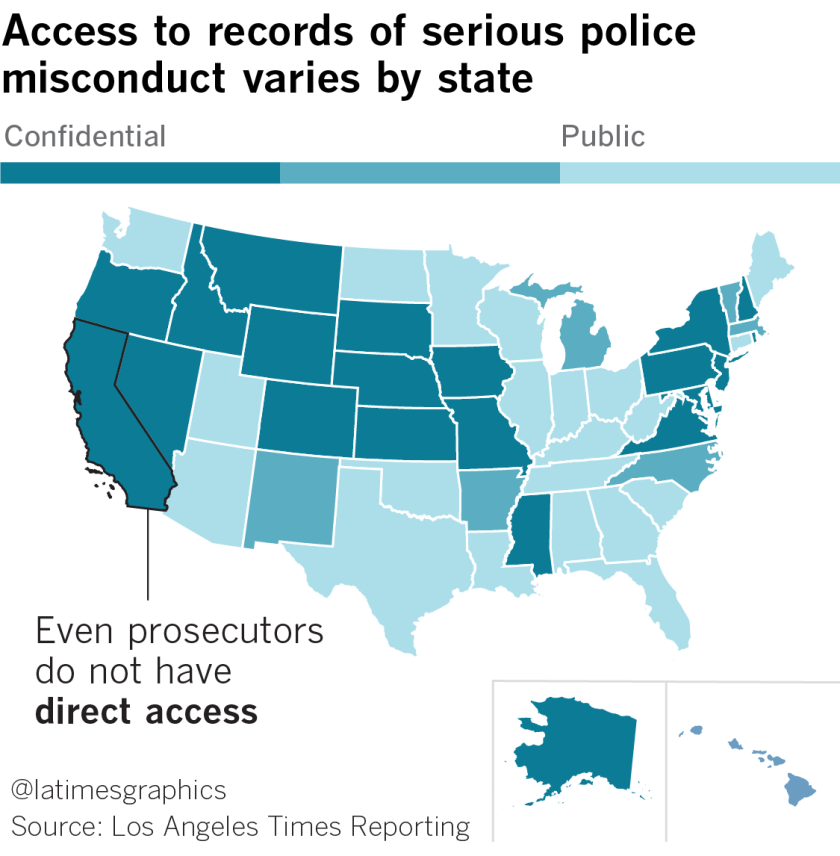 Offshore Accountability
When the Trump administration said it wanted to open up the waters off California's coast to new oil production, leaders here vowed to block any new drilling. But it turns out there's a loophole. Despite decades of lawsuits and regulations, the state's ability to block offshore drilling hinges largely on who's in power in Sacramento. Two bills that could live or die today would close that loophole, but they're far from shored up.
In the Jury's Hands
Jurors are scheduled to begin deliberations today in the trial of President Trump's former campaign chairman Paul Manafort. Prosecutors presented the testimony of 27 witnesses and reviewed 388 documents during the trial, as well as highlighting Manafort's sartorial excesses, such as an $18,500 python skin jacket. The defense team rested its case without presenting evidence, arguing that the government had not met its burden of proof and saying that key witness Richard Gates is not credible.
More Politics
-- Trump has revoked the security clearance of former CIA Director John Brennan, a prominent and frequent critic, and is threatening to do so for nine others.
-- The Trump administration imposed sanctions on three foreign companies it says are helping North Korea with illicit shipments of goods to fund its nuclear program.
-- Sarah Huckabee Sanders has made a rare apology for making a false claim about black employment.
Under Investigation
Former Assemblyman Sebastian Ridley-Thomas was the subject of two sexual harassment complaints when he stepped down from the Legislature last year, according to documents reviewed by The Times and sources. A few months later, Ridley-Thomas, who has denied any wrongdoing and cited chronic health problems for his resignation, became a professor of social work and public policy at USC. The university fired him last month amid questions about his appointment and a $100,000 donation to the school from his father's campaign funds.
A Musical Bridge to the Future
Inglewood will be getting a nearly $3-billion NFL stadium soon, but the mayor says he's most excited about the upcoming $14.5-million renovation of a bank building a mile away. That's where Youth Orchestra Los Angeles, the L.A. Philharmonic's signature music education program founded by conductor Gustavo Dudamel, is headed. The new center is being designed by the Disney Hall team of architect Frank Gehry and acoustician Yasuhisa Toyota. Times music critic Mark Swed says it will have a global impact.
Sign up to get Today's Headlines delivered to your inbox. »
MUST-WATCH VIDEO
-- Yosemite Valley reopened to a surreal scene of smoke and tourists.
CALIFORNIA
-- The Mendocino Complex fire, the largest wildfire recorded in state history, continued to grow as firefighters worked to protect threatened communities.
-- A suspected member of Islamic State accused of killing a police officer in Iraq was arrested in Sacramento, where he had settled as a refugee and sought to obtain a green card, federal authorities said.
-- A former L.A. police officer has pleaded no contest to statutory rape charges after being accused of sexually abusing a teenage member of the department's cadet program.
-- Those cancer warnings on coffee? They may be coming to an end.
HOLLYWOOD AND THE ARTS
-- "Simpsons" creator Matt Groening has a new fantasy-themed cartoon series in "Disenchantment" on Netflix: "All of the characters basically are inspired by how I drew when I was 12 years old."
-- In "Crazy Rich Asians," fashion labels have starring moments, but don't call this a fashion film.
-- Actress Tracee Ellis Ross is proud of the dramatic moments on "black-ish," but it sure brings the funny.
CLASSIC HOLLYWOOD
Bela Lugosi started as a classical actor in Hungary, but it didn't take long after he came to Hollywood in the early 1930s for him to become known for his portrayal of Dracula. Lugosi died on this date in 1956, just two days into the filming of "Plan 9 From Outer Space."
NATION-WORLD
-- West Virginia's House of Delegates made history this week when it voted to impeach every sitting Supreme Court justice in the state. What is going on?
-- A cease-fire between Israel and Hamas, the Islamist group ruling the Gaza Strip, went into effect Wednesday evening, ending four months of conflict along the volatile border.
-- Nearly 30 years after the Berlin Wall was toppled, a 20-yard-long section of the barrier has been discovered. It was hidden behind bushes, weeds and overgrown trees.
-- Egypt's summertime escape: white sand beaches and designer cocktails, but no room for the public at a growing number of posh resorts.
BUSINESS
-- Walt Disney Co. has put a hold on plans to build a luxury hotel in the Disneyland Resort's shopping district, citing a feud with Anaheim officials over tax subsidies.
-- The Securities and Exchange Commission has reportedly sent subpoenas to Tesla about plans to take the company private, with a special focus on two words from Chief Executive Elon Musk.
-- Constellation Brands, which for seven decades has made its money off beer such as the Corona brand, wine and whiskey, sees its future in a marijuana leaf.
SPORTS
-- Aaron Cox, the 24-year-old brother-in-law of Angels star Mike Trout and until recently a pitching prospect in the team's minor league system, has died.
-- For USC fans at the Coliseum, it will be a season of growing pains as the stadium undergoes a renovation in preparation for a 2019 unveiling.
OPINION
-- The Senate needs to see more of Judge Brett Kavanaugh's records before his Supreme Court confirmation hearings.
-- A UC Berkeley professor argues that a plan to keep California's oil in the ground is a noble goal, but the policy doesn't pencil out.
WHAT OUR EDITORS ARE READING
-- A botched CIA communications system is being blamed for a purge of secret agents in China starting in 2010. (Foreign Policy)
-- At home with Kellyanne and George Conway. She works for Trump. He can't stand him. They live in a 15,000-square-foot house. (Washington Post)
-- A young, diverse generation of poets offers a glimpse of America's future. (The Atlantic)
ONLY IN L.A.
For 46 years, the Palomino Club in North Hollywood played host to virtually every great name in country music as well as rock and folk figures: Johnny Cash, Willie Nelson, Waylon Jennings, Jerry Lee Lewis, Emmylou Harris, Linda Ronstadt and Dwight Yoakam, for starters. When it closed in 1995, it became a banquet hall. But for one night in October, it will revisit the glory days for a benefit concert.
If you like this newsletter, please share it with friends. Comments or ideas? Email us at headlines@latimes.com.
---