Newsletter: Today: Run With Trump, or From Him?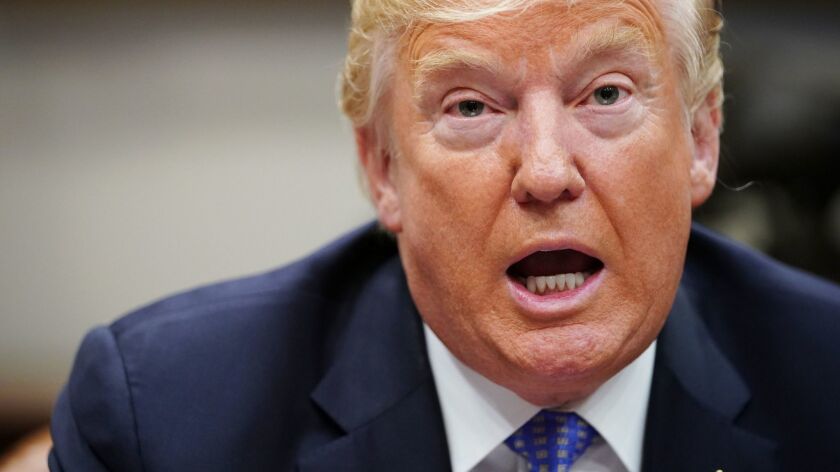 Republicans running for Congress in November face two paths, each with its risks.
TOP STORIES
Run With Trump, or From Him?
Eight weeks from today, the midterm election will determine the fate of Congress — and perhaps President Trump's as well. For Republicans hoping to maintain their majority in the House of Representatives, the political currents are particularly perilous in suburbs across America. Many incumbent GOP candidates have allied themselves with Trump, who has proven unpopular with swing voters and even some lifelong Republicans. On the other hand, those who've distanced themselves from the president may find themselves facing Trump's wrath.
More Pressure on the Palestinians
The Trump administration's strategy of punishing Palestinians to spur a peace deal with Israel has taken another turn: This time, the State Department says it has ordered the Palestinian leadership to close the office that serves as its de facto embassy in Washington. Leaders of the Palestinian Authority have accused the Trump administration of acting in bad faith and in favor of Israel. White House spokeswoman Sarah Huckabee Sanders maintains: "We are as committed today as we ever have been to the peace process."
More Politics
-- The White House said preparations are underway for a second face-to-face meeting between Trump and North Korean leader Kim Jong Un, despite the lack of any clear movement toward denuclearization.
-- Trump tweeted that growth in U.S. gross domestic product was higher than the unemployment rate for the first time in over a century. One of his own top economic advisors admitted that's incorrect.
An Ounce of Fire Prevention …
Southern California Edison wants to spend $582 million for a series of improvements to its grid in an effort to reduce the risk of wildfires sparked by electric power lines. The catch: It would increase customers' bills between 81 cents and $1.20 a month, according to the plan submitted for state approval. The costs of a fire, the utility argues, would be much greater.
The Drama Behind the CBS Drama
For nearly a year, Shari Redstone has been locked in a battle for control of CBS Corp., facing off against a powerful chief executive and other members of the board. So when longtime Chief Executive Leslie Moonves resigned Sunday amid a sexual harassment scandal and the company emerged with a revamped board, it handed Redstone a major corporate victory. "Shari won this round — big," says Los Angeles investment banker Lloyd Greif. "Les Moonves must feel like he got run over by an 18-wheeler."
Was It Racism or Free Speech?
The home team fans dressed in red, white and blue and chanted, "USA! USA!" One of the signs read, "We gonna TRUMP ya." That they were directed by students at a mostly white high school at those from a predominantly Latino school made the dynamic all the more charged. And though some of the details of what happened during an Orange County high school football game are still in dispute, the two campuses are grappling with a Trump-era collision of free speech and alleged racial insensitivity.
Sign up to get Today's Headlines delivered to your inbox. »
FROM THE ARCHIVES
"Everyone remembers where they were and what they were doing on Sept. 11, 2001. I was in Sacramento about to begin a one-week shift in the state capital covering a list of political stories," wrote Times photographer Mark Boster. "All those stories have faded from memory." Instead, Boster ended up driving across the country to record "the reactions, pulse and patriotism" after the attacks. Here is his 2011 recounting of that trip.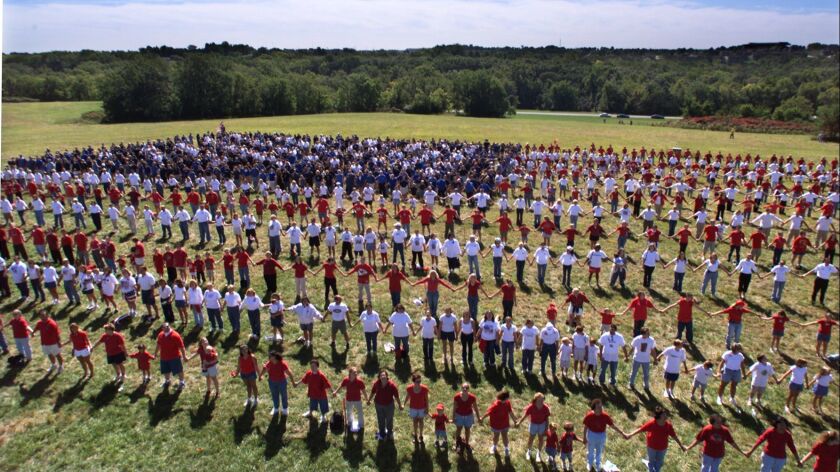 MUST-WATCH VIDEO
-- "American Dharma" filmmaker Errol Morris explains why he made a film focused on Steve Bannon and the questions he hopes it will answer.
CALIFORNIA
-- Gov. Jerry Brown signed legislation requiring all of California's electricity to come from clean power sources by 2045. It's the latest in a series of ambitious goals set by the state to combat the effects of climate change.
-- Los Angeles police have released a video of a gang member shooting an officer at point-blank range — and her partner fatally wounding the gunman.
-- Orange County authorities are investigating a woman suspected of making up a firefighter husband to scam people into giving her thousands of dollars.
-- Cuties, the only LGBTQ-focused coffee shop in L.A., is struggling to stay open, despite having a loyal customer base.
HOLLYWOOD AND THE ARTS
-- With "The Weekend," director Stella Meghie and actress Sasheer Zamata bring the black rom-com to the Toronto International Film Festival.
-- A new streaming service devoted exclusively to classical music has launched in the United States, the United Kingdom and the Netherlands with over 1 million tracks.
-- Here she is, Miss America 2019, empowered and embattled.
NATION-WORLD
-- More than a million people have been ordered to evacuate a huge stretch of the eastern U.S. coastline as Hurricane Florence rapidly intensified into an "extremely dangerous" Category 4 hurricane packing 130-mph winds.
-- A white Dallas police officer charged with manslaughter in the fatal shooting last week of a black neighbor in an apartment she apparently mistook as her own could face more serious charges.
-- The Vatican is preparing a response to accusations that top officials, including Pope Francis, covered up the sexual misconduct of a now-disgraced American ex-cardinal.
-- What does "biblical blue" actually look like and how can it be re-created? An exhibition in Jerusalem explores the mystery.
BUSINESS
-- Snapchat maker Snap Inc. is losing its chief strategy officer at a time when the struggling Santa Monica company has seen its stock hit an all-time low.
-- To get supersonic business jets off the ground, Aerion Corp. is building planes that don't go "boom."
SPORTS
-- The Rams won their season-opener against the Oakland Raiders 33 to 13, but columnist Bill Plaschke says you shouldn't let the score fool you: It was close, and the Rams' having rested their starters didn't help.
-- The shoe and apparel maker L.A. Gear is challenging trademark applications for "L.A. Chargers" and "L.A. Rams" in addition to the Chargers' "Fight for L.A." slogan, claiming the use of "L.A." infringes on its name.
OPINION
-- Trump's latest step backward on the Israeli-Palestinian conflict: shutting down the PLO's Washington office.
-- Breaking democratic norms was rampant before the anonymous op-ed. Now it's a free-for-all, writes columnist Jonah Goldberg.
WHAT OUR EDITORS ARE READING
-- The story of a hero on 9/11 and the widow he left behind. (The New Yorker)
-- Former Olympic sprinter Tommie Smith, one of the two men who became famous for raising their fists on the podium in 1968, reflects on his legacy and the resurgence of activism in sports. (The Atlantic)
-- A man who has eaten at more than 7,000 restaurants unravels some mysteries of Chinese buffets, including why there are so many east of the Mississippi. (Menuism)
ONLY IN L.A.
Have you ever wanted to see a cacao bean transformed into a chocolate bar? You don't need a golden ticket from Willy Wonka. The husband-and-wife team of David and Corey Menkes, who started the company LetterPress Chocolate in their Cheviot Hills home, just opened a retail shop in Beverlywood where you can watch the whole process. The decor is a product of pure imagination too.
If you like this newsletter, please share it with friends. Comments or ideas? Email us at headlines@latimes.com.
---