Newsletter: Today: 'No One's Pawn'
A look at today's pivotal hearing with Christine Blasey Ford, who accuses Supreme Court nominee Brett Kavanaugh of sexual assault.
TOP STORIES
'No One's Pawn'
In a hearing scheduled to start today at 7 a.m. Pacific, professor Christine Blasey Ford plans to tell senators that she is "no one's pawn" and that during an alleged 1982 sexual assault by now-Supreme Court nominee Brett Kavanaugh, "I thought that Brett was accidentally going to kill me." Kavanaugh is denying Ford's story as well as other allegations, including from Julie Swetnick, who has accused him of being present at another 1982 party where she says she was gang-raped. Senators will have five minutes each to ask questions of Ford and Kavanaugh, though the all-male Republican contingent on the Senate Judiciary Committee has opted to have a female prosecutor do their questioning.
'I Could Be Doing This All Day Long'
President Trump was planning to meet with Deputy Atty. Gen. Rod Rosenstein today, amid reports that Rosenstein could be fired or quit. But during an often rambling 80-minute news conference, Trump said his preference was to keep Rosenstein and that he might postpone the meeting to watch Kavanaugh and Ford. The president also claimed the women who had accused him of sexual misconduct were paid, called the laughter during his speech at the U.N. General Assembly "fake news," raised questions about George Washington's past, quoted Elton John and much more. "I could be doing this all day long," he said.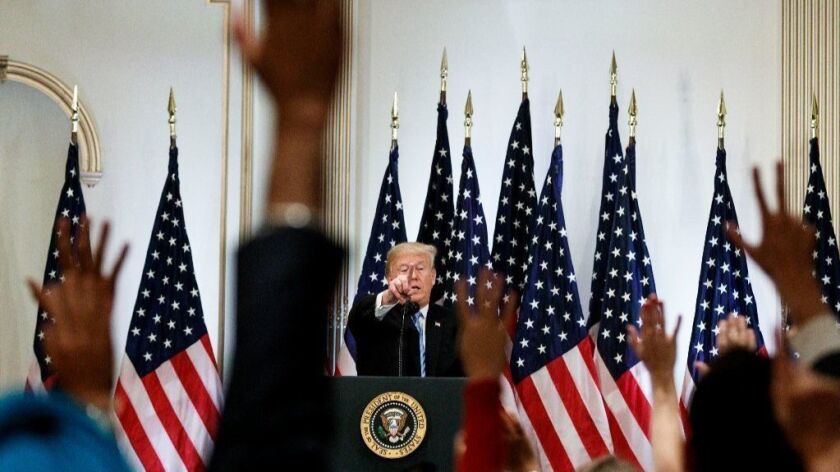 A Blast at Beijing
In his news conference, Trump also referred to a commentator as saying China has "total respect" for "Donald Trump's very, very large brain." It was just hours after the president had been at a United Nations Security Council meeting where he accused Beijing of interfering against his administration in November's midterm election. Though Trump wouldn't elaborate, a senior administration official cited propaganda such as newspaper ads, and retaliatory tariffs against Trump-supporting soybean farmers. The accusation comes amid an escalating trade war and a new espionage arrest in Chicago.
Lessons From the Starr Chamber
That Kavanaugh and Rosenstein are both in the limelight this week is an interesting twist of fate, considering both worked for Kenneth Starr during his independent counsel investigation of President Clinton. Starr hired them, in part, for their ability to tune out the noise in high-pressure situations. Here's a look at how their work in the 1990s is informing their experience today.
A Big GOP Boost From Little Saigon?
The Trump administration's crackdown on illegal immigration has sparked protests in many areas of California, but in Little Saigon, it's received strong support from an older generation who came to the U.S. as refugees. That could help Republican Rep. Dana Rohrabacher, a hard-liner on illegal immigration, keep his seat in the House. But it also reveals a generational conflict and the shifting dynamics of Orange County.
Get more midterm election coverage on our Decision California page.
Sign up to get Today's Headlines delivered to your inbox. »
CALIFORNIA
-- A man suspected of killing several homeless people and leaving others comatose during a string of assaults in Southern California was charged with three counts of murder. Meanwhile, a judge ordered journalists not to publish courtroom photographs of the man.
-- If the Democrats flip the House in November, Rep. Maxine Waters, one of Trump's fiercest critics, will get a powerful platform.
-- A fight over rent control in Silicon Valley could be a preview of things to come statewide.
-- Another first for scooters in L.A.: A conviction for scooting under the influence.
HOLLYWOOD AND THE ARTS
-- "Murphy Brown" is back on TV tonight after 20 years, and TV critic Lorraine Ali says the character is returning just when we need her the most.
-- Now 90, songwriter Burt Bacharach is doing everything he can to stop school shootings.
-- Kevin Hart says his new film, "Night School," was conceived as an adult version of the John Hughes classic "The Breakfast Club."
-- Hip-hop star Nicki Minaj has made good on her promise to donate $25,000 to "The Cosby Show" actor Geoffrey Owens after he was job-shamed while working at a Trader Joe's.
CLASSIC HOLLYWOOD
On this date in 1954, Steve Allen brought "The Tonight Show" to a national audience for the first time. Asked to describe his humor, he once said: "My comedy has always appealed to the hip and to the silly, whether it's the 9-year-olds who dig the silliness, or the high school and college kids who dig the hipness."
NATION-WORLD
-- An estimated 80,000 Americans died of the flu and its complications last winter. It was the disease's highest death toll in at least four decades.
-- How did Bakari Henderson, a 22-year-old from Texas, wind up being beaten to death by a mob in Greece? Witness testimony in a murder trial may shed some light today.
-- An evening with Oscar Goodman: Armed with only a martini and a long memory, the former Las Vegas mayor talks mobsters, "rats" and Trump.
-- Seeking to curb rampant gang violence and police corruption in Acapulco, Mexican authorities are replacing local cops with state police and the military.
-- India's Supreme Court upheld the constitutionality of a national identity program that has built the world's largest biometric database, but curbed some of its sweeping powers.
BUSINESS
-- Southern California home prices kept rising in August, but sales fell as questions grow over whether the torrid housing market is finally cooling.
-- Consumer columnist David Lazarus reviews the Apple Watch 4 and finds it blows away the competition with flashier looks and more functionality.
SPORTS
-- After losing to the Arizona Diamondbacks, the Dodgers are now a half-game behind the Colorado Rockies for first place in the National League West.
-- How Mike Scioscia led the Angels to the promised land: Part 2 of our series ahead of his anticipated departure as a manager.
OPINION
-- Why do we let border agents run checkpoints 100 miles from the border?
-- Author Gabrielle Selz writes that women don't come forward because talking about sexual assault is excruciating and people don't want to hear it.
WHAT OUR EDITORS ARE READING
-- Turkish President Recep Tayyip Erdogan offers how he would "fix the United Nations." (Foreign Policy)
-- What will Bill Cosby's life be like as Inmate NN7687? (New York Times)
-- Does language come from our brains or the universe? (Aeon)
ONLY IN L.A.
When Times classical music critic Mark Swed wrote about the Los Angeles Philharmonic's upcoming 100th anniversary, he chronicled the characters who helped create what is today one of the world's top orchestras. ("We don't choose our parents, and the LA Phil was born to an eccentric father" is how he begins to describe founder William Andrews Clark Jr., an amateur violinist and rare-book collector.) Readers wrote in to add a few more colorful details.
If you like this newsletter, please share it with friends. Comments or ideas? Email us at headlines@latimes.com.
---