Newsletter: Today: The Kavanaugh Clock Is Ticking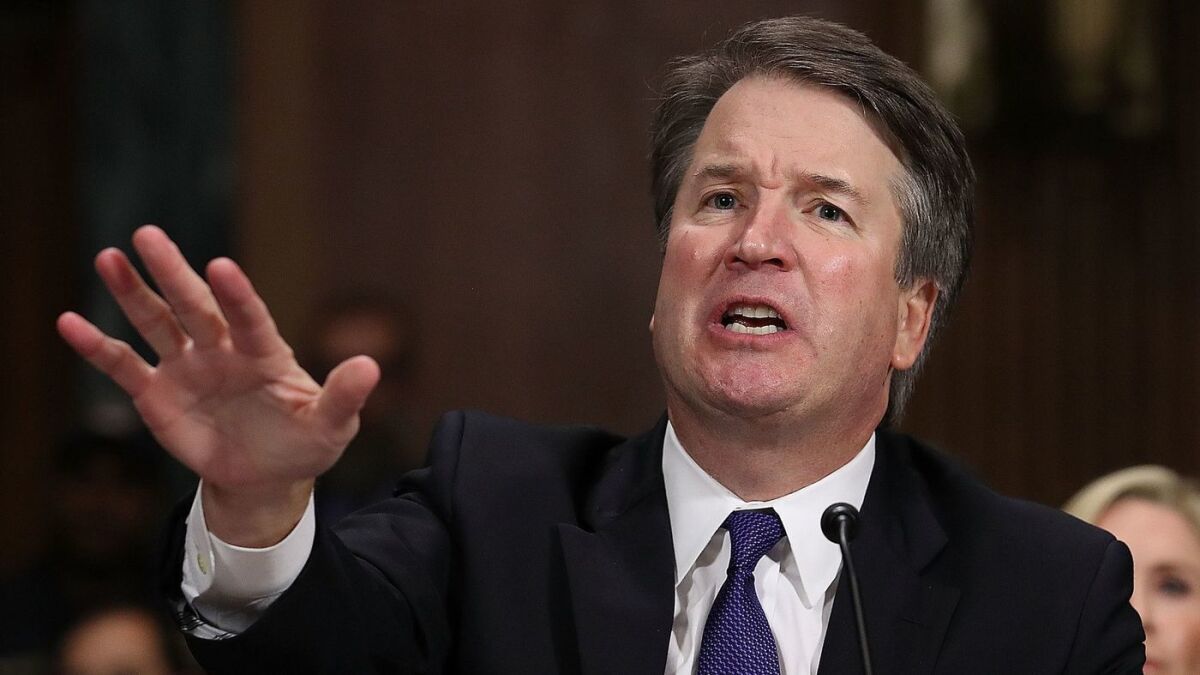 The stage is set for voting this week on Supreme Court nominee Brett Kavanaugh.
TOP STORIES
The Kavanaugh Clock Is Ticking
Just as the FBI finished its report on sexual assault allegations against Supreme Court nominee Brett Kavanaugh, Senate Majority Leader Mitch McConnell started the clock on the judge's confirmation. Today, senators are expected to begin reading the FBI's report, which the Senate Judiciary Committee has received, under tight security and strict rules, with a preliminary vote set for Friday and a final vote on Saturday. Democrats have accused the White House of restricting the investigation, even as President Trump proclaimed the FBI had free rein. Kavanaugh's fate will come down to a small group of senators, including three Republicans who all condemned Trump's remarks this week mocking accuser Christine Blasey Ford. Will those comments come back to haunt Trump, either in the Senate or in the midterm election?
California's Battleground Districts
With that election just under five weeks away and voting by mail starting in California on Monday, it's not too early to start reading the tea leaves. In six of the state's most hotly contended House races, a new poll conducted for the L.A. Times by UC Berkeley shows the Republican candidates are at risk of being wiped out. The biggest factor: reaction to President Trump. Here's a closer look at each district.
Get more midterm election coverage on our Decision California page.
More Politics
-- A U.S. district judge has dealt a blow to the Trump administration's decision to rescind temporary protected status for hundreds of thousands of immigrants from El Salvador, Haiti, Nicaragua and Sudan.
-- The Trump administration is canceling a 63-year-old treaty with Iran and part of a Vienna Convention on diplomatic rights in its latest rejection of international bodies that can challenge U.S. sovereignty.
A Witness to History Dies
For decades, Juan Romero was haunted by what happened just after midnight on June 5, 1968, when he was a busboy at the Ambassador Hotel. That's when an assassin shot Robert F. Kennedy. The photos of him, only 17 years old, cradling Kennedy's head became a part of history. This week, columnist Steve Lopez reports, Romero died in Modesto, not long after he began to make peace with that horrific scene.
Better Living Through Chemistry
This year's Nobel Prize in chemistry was awarded to three scientists who harnessed the power of evolution and sped it up in the lab, opening the door for alternative fuels, agricultural chemicals, cancer medicines and more. Frances Arnold of Caltech became just the fifth woman to win the chemistry prize when she was awarded half of it for her pioneering experiments in the field known as directed evolution. Two other scientists shared the other half.
In Post-Weinstein Hollywood, Has the Script Flipped?
In the year since allegations of sexual harassment and assault against film mogul Harvey Weinstein made headlines, Hollywood has made a number of changes: More powerful figures have been ousted, hotlines have been established, and standards of conduct revised. But, more significantly, the culture on movie sets, in TV writing rooms and executive boardrooms appears to be evolving, even if pockets of resistance remain.
The Curious Case of Fan Bingbing
For months, China's top female movie star, Fan Bingbing, had disappeared from public view. This week, she resurfaced on social media with an apology for tax evasion and praise for the Communist Party. Chinese authorities announced that she had been released from secret detention and would be paying a massive amount in fines and back taxes. But the fate of her career is unclear.
Sign up to get Today's Headlines delivered to your inbox. »
MUST-WATCH VIDEO
-- Dodgers manager Dave Roberts discusses his decision to start pitcher Hyun-Jin Ryu over Clayton Kershaw for the first game of the postseason today.
CALIFORNIA
-- The Trump administration's lawsuit to block the state's net neutrality law could be overshadowed by a broader challenge in the U.S. Court of Appeals for the District of Columbia Circuit.
-- It's expensive to be a tenant in California. Will Proposition 10's rent control expansion help?
-- Los Angeles could soon roll back an unusual set of city rules that have prevented some streets from being repaved since the Depression.
HOLLYWOOD AND THE ARTS
-- "Imagine if someone had weaponized a bowl of squid-ink pasta." That's pretty close to what the creature in "Venom" is like, writes film critic Justin Chang.
-- Get ready for "The Mandalorian." Jon Favreau has revealed some details about his upcoming live-action "Star Wars" TV series.
-- Wayne Kramer survived some volatile years with the MC5, and now he's ready to celebrate.
-- Painter Lari Pittman finds beauty in violence and telenovelas. He also has some advice for the Museum of Contemporary Art.
NATION-WORLD
-- Seven South Carolina law enforcement officers were shot, one fatally, and a suspect has been taken into custody, according to officials.
-- Russian President Vladimir Putin called Sergei Skripal, the former Russian spy who was poisoned in Britain with a Soviet-made nerve agent, a "traitor" and "scum."
-- Three months after a spectacular helicopter escape from a French prison, police caught one of France's most wanted men in a predawn raid.
-- British Prime Minister Theresa May told critics to abandon their dreams of a "perfect Brexit" and "come together."
BUSINESS
-- Employers are hitting pause on high-deductible health plans now that workers are harder to find and Obamacare's tax on generous coverage has been postponed.
-- Apple Watch faces its toughest challenge yet: Grandma.
SPORTS
-- As the Dodgers start their playoff run tonight, take an inside look at how a championship slipped away last year during Game 5 of the World Series.
-- A moment of truth for Conor McGregor and the UFC. What if he loses?
OPINION
-- Note to Rep. Duncan Hunter: Racism lives and breathes in California too. It always has.
-- With Kavanaugh, it's not a question of guilt beyond a reasonable doubt. It's a question of credibility.
WHAT OUR EDITORS ARE READING
-- Some of Kavanuagh's former classmates wanted to speak with the FBI and say they were ignored. (The New Yorker)
-- Is artificial intelligence the Frankenstein's monster of our time? (Aeon)
-- How immigrants from a small town in Puebla, Mexico, built the culinary infrastructure for New York City's first Michelin-starred Mexican restaurant. (Roads and Kingdoms)
ONLY IN CALIFORNIA
At Knott's Berry Farm, the "thrill level" of rides is rated on a five-point scale, "with 5 reserved mostly for teenagers and other lunatics too stupid to know better," writes columnist Chris Erskine, who recently went there with his daughter. "We start our day, of course, with a 5. I know it's a 5 because teams of surgeons wait at the bottom of the ride to piece you back together." Join him for the ride.
If you like this newsletter, please share it with friends. Comments or ideas? Email us at headlines@latimes.com.
---