Newsletter: Today: The Hunt for a Would-Be Bomb Maker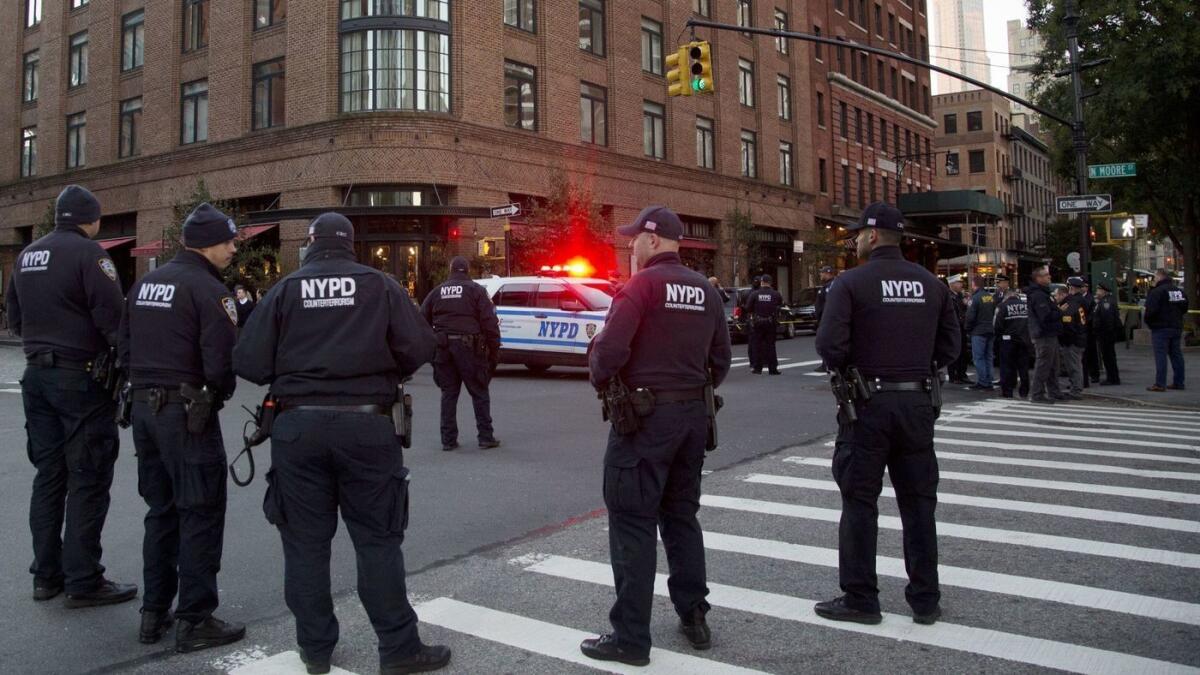 None of the 10 devices sent to Trump critics has ignited, but more are expected and officials urge vigilance.
TOP STORIES
The Hunt for a Would-Be Bomb Maker
Investigators are warning that additional suspicious devices resembling small pipe bombs may be working their way through the postal system after they intercepted three more Thursday: two addressed to former Vice President Joe Biden and one to actor Robert De Niro. Because none of the devices has ignited, authorities suspect the would-be bomb maker is either inept or the packages are meant to spread fear rather inflict bodily harm on the intended recipients, all of whom have clashed with President Trump. Still, authorities are treating the packages as potentially lethal. The FBI has turned much of its attention to Florida.
Travel Ban: Central American Edition?
Trump is reportedly weighing a plan to shut the U.S. border to Central American immigrants and deny them the opportunity to seek asylum, asserting emergency powers similar to those used during the travel ban first issued in early 2017. The Pentagon will also be sending at least 800 additional troops to the Southwest border in response to Trump's vow to block a caravan of Central Americans that is still about 1,000 miles from the U.S. and shrinking in size.
'Just Win, Baby'
House Minority Leader Nancy Pelosi knows that people say terrible things about her. That's never slowed her down — and she's hoping it won't stand in the way of her fellow Democrats being elected in the midterm election. If they want to distance themselves from her, she says, that's fine. It's part of the larger goal to win back the House. "Do whatever you have to do," she tells them, then channels another larger-than-life Bay Area figure: "Just win, baby."
More Politics
-- Michael Bloomberg's political action committee will spend $9.5 million on ads aimed at unseating Republican Reps. Dana Rohrabacher of Costa Mesa and Steve Knight of Palmdale.
-- "Dirty trickster" Roger Stone has long embraced infamy and controversy, but the Russia investigation has him in a state of denial.
-- GOP Sen. Charles E. Grassley has referred lawyer Michael Avenatti and his client Julie Swetnick — one of the women who accused now-Supreme Court Justice Brett M. Kavanaugh of misconduct — to the Department of Justice for a criminal probe.
The Fall and Rise of Noncitizen Voting
Should noncitizens be allowed to vote? Two years ago, San Franciscans approved a measure to let people who do not have U.S. citizenship participate in a school board election coming up next month. So far, only 42 have registered (perhaps because their information could reach federal immigration officials). Though letting noncitizens vote in the U.S. is not new — a century ago, it wasn't considered radical — San Francisco's move has become another flashpoint in the immigration debate.
More Fallout Over Traffic Stops on the 5
L.A. County Sheriff Jim McDonnell has launched a pair of internal reviews into a team of deputies who have pulled over thousands of innocent Latino drivers on the 5 Freeway in a search for drugs. The inquiries come on top of an independent review being done by the county's inspector general, after The Times published an analysis of the department's data.
Sign up to get Today's Headlines delivered to your inbox. »
FLASHBACK FRIDAY
Much has changed since 1930. Getting stuck in a traffic jam caused by road construction in L.A. has not — except for the lack of Red Cars. When this scene at Pico Boulevard and Figueroa Street (near today's Convention Center and Staples Center) was published in The Times on Oct. 26, 1930, the caption read, "Do You Enjoy Jam?" Some things never get old.
MUST-WATCH VIDEO
-- Still listed as endangered, olive ridley sea turtles have made a comeback along Mexico's Pacific Coast.
CALIFORNIA
-- An L.A. investigator says a city employee who inspected a Bel-Air mansion being built by developer Mohamed Hadid received "items of value" in connection with that work.
-- A judge has ruled there's enough evidence for Robert Durst, whose case was profiled in the HBO series "The Jinx," to stand trial for the 2000 slaying of his best friend.
-- What will Jerry Brown do when he's no longer governor? Helping to lead the group behind the Doomsday Clock will fill up some of his time.
-- As if we need something else to worry about: Three of the state's volcanoes are still considered to be a very high threat, according to a federal assessment.
-- Columnist Robin Abcarian went in search of the "riots" against sanctuary cities, and all she found was peaceful and legal objection.
YOUR WEEKEND
-- Halloween prep: Homemade candy recipes, healthful yet yummy treats and the Christmas-like tricks of decorating.
-- Carlos's Tijuana Tacos in Whittier could be your new go-to Tijuana-style taco spot.
-- A weekend escape to Santa Margarita offers wine-tasting and wildflowers.
-- Airline seats are getting more cramped, but there is a slim chance for hope of roomier days.
HOLLYWOOD AND THE ARTS
-- In her first major role since Sally Draper on "Mad Men," Kiernan Shipka is looking to bewitch in the Netflix series "Chilling Adventures of Sabrina."
-- With Kevin Spacey gone and Trump in the White House, the show "House of Cards" is finishing its run far from where it started.
-- The horror of "Hill House," "Halloween" and that "Suspiria" remake in convenient podcast form.
NATION-WORLD
-- Super Typhoon Yutu rampaged through the U.S. Commonwealth of the Northern Mariana Islands, leaving behind significant storm damage.
-- In Kentucky, a white man with a history of violence fatally shot two African American customers at a grocery store and was swiftly arrested.
-- New Jersey health officials say a 19th patient has been infected in a viral outbreak at a pediatric rehabilitation center that has killed seven people.
-- On Sunday in Brazil, voters are expected to make Jair Bolsonaro their president. He often fires off insults and praises dictators.
BUSINESS
-- The future of Megyn Kelly's tumultuous and costly run at NBC News is up in the air. She reportedly has $48 million left on her three-year deal.
-- Snap Inc. says its disappearing message app Snapchat has a disappearing user base, but the company is squeezing more money out of it.
SPORTS
-- Game 3 of the World Series is today, and it's pretty much a must-win situation for the Dodgers with the Boston Red Sox up two games to zero. And if the Dodgers lose the series, many of their key players are likely to be gone.
-- A lot of Dodgers fans have complained the TV announcers don't like the team. To which columnist Chris Erskine says: "Big deal. I have other gripes."
OPINION
-- The Trump administration is taking on drug prices, and though much remains to clarified, it's a promising start.
-- Take it from a genetic counselor: 23andMe's health reports are dangerously incomplete.
WHAT OUR EDITORS ARE READING
-- After her 10-year-old was accepted into a clinical drug trial for bipolar disorder, a mother chronicled her family's experiences. (ProPublica)
-- The history of the police training simulator and its connections with the video game industry. (Tedium)
-- Next week is the 25th anniversary of River Phoenix's death. His girlfriend, Samantha Mathis, recounts that night. (The Guardian)
ONLY IN L.A.
How do you show your enthusiasm for the Dodgers in their World Series matchup against the Red Sox when your restaurant is named Boston Market? You hang up a blue and white banner and rename yourself Los Angeles Market, at least for a few days. Ten locations in L.A. have done so. But does that mean Beantown now has a few Boston Fitness gyms?
If you like this newsletter, please share it with friends. Comments or ideas? Email us at headlines@latimes.com.
Sign up for Essential California for the L.A. Times biggest news, features and recommendations in your inbox six days a week.
You may occasionally receive promotional content from the Los Angeles Times.