Newsletter: Today: How Paradise Was Lost
A town in Northern California with an idyllic name thought it had prepared for the worst.
TOP STORIES
How Paradise Was Lost
With the discovery of 13 more remains Monday, the death toll from the Camp fire in the Northern California town of Paradise has risen to 42, making it the deadliest fire in state history. It's also the most destructive, with more than half the town's dwellings gone, as flames continue to burn out of control. Civic leaders had worried a tragedy like this might come; aware of the long history of fires in the area, they had developed evacuation plans and held drills. But the disaster plan relied on routes that date to the Gold Rush and were never intended to move out 26,000 people, many of them retirees, in just hours.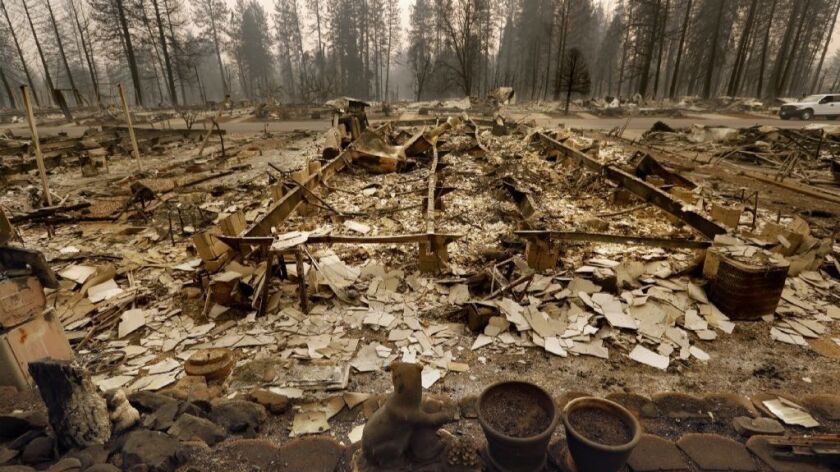 The Conditions for Calamity
Intense heat waves in the summer. A lack of rain in autumn. Powerful winds. Put all of these together, and you get a set of conditions across California that has already proven deadly. Experts say that early storms have usually ended the Northern California fire season by now, but this year, that hasn't happened – and that this matches up with the predicted consequences of climate change. Case in point: Paradise, which normally gets five inches of rain during summer and early fall, has received only one-seventh of an inch.
More About the Fires
-- The toll of the Woolsey fire began to come into focus when authorities more than doubled the number of buildings destroyed by the inferno to roughly 435.
-- State regulators and outside experts are tamping down concerns from advocacy groups about the Woolsey fire, which burned part of the Santa Susana Field Laboratory nuclear cleanup site, saying it likely posed no risk to the public beyond what is normal for wildfire smoke.
-- President Trump approved a major disaster declaration for California and, in a tweet, struck a more sympathetic tone for the victims.
-- A visual guide to why the fires seem as if they're getting worse every year.
-- Key details of the wildfires.
The Blue Wave in Slo-Mo
Last week, President Trump framed Tuesday's midterm election as a triumph for Republicans and particularly himself. But this week, he's seeing red as the Democratic "blue wave" reveals itself in slow motion. While votes in several states are still being counted, Trump has led some Republicans in alleging fraud — without evidence to back up the claims. The president has been most vocal about Florida, tweeting that election-night results should be used. That would disenfranchise absentee, mail-in, provisional, overseas and military voters. Meanwhile, the GOP lost a Senate seat when Rep. Martha McSally conceded the election in Arizona to Democratic Rep. Kyrsten Sinema.
More Politics
-- Sources say Trump has has told advisors he has decided to remove Homeland Security Secretary Kirstjen Nielsen, and her departure from the administration is likely to occur in the coming weeks, if not sooner.
-- Vice President Mike Pence is in Tokyo to discuss North Korea, China's growing regional influence and bilateral trade with Japanese Prime Minister Shinzo Abe.
Mr. Marvel Universe
Spider-Man. The Fantastic Four. Iron Man. The Hulk. Stan Lee, who died Monday at age 95, had a hand in creating a cast of characters that made superheroes relatable and, years later, would reshape the film industry via the modern superhero movie. But when Lee got his start in the 1940s, his line of work brought him embarrassment. "I would meet someone at a party, and they would ask what I did and I would say, 'I'm a writer.' … Finally I would say, 'comic books,' and they would walk away from me." As this illustrated history shows, his path to fame wasn't smooth.
Sign up to get Today's Headlines delivered to your inbox. »
FROM THE ARCHIVES
On Oct. 3, 1933, thousands of workers were widening roads and working on other projects in Griffith Park when a small brush fire broke out. The workers, untrained in firefighting, were sent to extinguish the flames. Then the wind changed and 29 people were killed. It was the deadliest fire in California history, until the Camp fire in Butte County ignited last week.
CALIFORNIA
-- In the latest vote tally in two of Orange County's races for the U.S. House of Representatives, Republican Rep. Mimi Walters' lead has slimmed to 1,000, while GOP contender Young Kim is up by fewer than 2,000.
-- Anaheim voters appear to have approved a "living wage" ballot initiative that requires some hospitality businesses to pay workers at least $15 an hour.
-- Democrats now have supermajorities in both houses of the Legislature, giving Gov.-elect Gavin Newsom more partisan allies.
-- The cost of constructing the Southern California section of the state bullet train could jump by as much as $11 billion over estimates released this year.
HOLLYWOOD AND THE ARTS
-- As FilmStruck heads toward its demise at the end of this month, movie buffs have been wringing their hands over the future of cinema's past.
-- To create the crime thriller "Widows," film director Steve McQueen and writer Gillian Flynn updated a British TV show.
-- Shakespearean actor Douglas Rain, best known for the voice of the computer HAL in Stanley Kubrick's "2001: A Space Odyssey," has died at age 90.
NATION-WORLD
-- Canadian Prime Minister Justin Trudeau is the first Western leader to acknowledge his country has heard recordings of the killing of Saudi writer Jamal Khashoggi.
-- Nearly 400 rockets and missiles were launched from the Gaza Strip into Israel on Monday in a lengthy barrage that followed a night of renewed combat.
-- Amnesty International has withdrawn its highest human rights honor from Aung San Suu Kyi, the leader of Myanmar, citing her defense of the military's crackdown against Rohingya Muslims and restrictions on free speech.
-- Uncle Sam wants you … to sit less and move more. Here's how you can meet the new exercise guidelines.
BUSINESS
-- Rep. Maxine Waters plans to zero in on two big banks — Wells Fargo & Co. and Deutsche Bank — when she becomes head of the powerful House Financial Services Committee.
-- Got insurance with fire coverage? Most California homeowners do. But that doesn't mean you can breathe easy. Consumer columnist David Lazarus explains what to do.
SPORTS
-- The Rams will play the Kansas City Chiefs next Monday night in Mexico City, where the elevation of about 7,300 feet and often smoggy conditions could make things interesting.
-- The Angels' Shohei Ohtani was named AL Rookie of the Year. He is the first Angels player named rookie of the year since Mike Trout in 2012.
OPINION
-- Half of all underage smokers choose menthols. We need to kick Kools to the curb.
-- Acting Atty. Gen. Matthew Whitaker is the new Harriet Miers. Conservatives should make Trump withdraw his appointment.
WHAT OUR EDITORS ARE READING
-- Can't fly in the rain? The White House's explanation of Trump's absence from a ceremony in France raises more questions than it answers. (The Atlantic)
-- Here's the reason YouTube videos are getting longer. (Wired)
-- In Cambodia, this architectural draftsman built scale models of temples. When the Khmer Rouge took over, he had to hide his work. (Roads & Kingdoms)
ONLY IN L.A.
It's college football rivalry week, which can mean only one thing in L.A.: all kinds of shenanigans between USC and UCLA. While the statues of Tommy Trojan and the Bruin Bear remain under watch, the smack talk online has begun. The opening salvo: a picture of USC quarterback JT Daniels in a UCLA T-shirt. Not exactly the same as UCLA dumping manure from a helicopter onto the USC campus, or USC fans setting 20,000 crickets free in a UCLA library. But it's a start.
If you like this newsletter, please share it with friends. Comments or ideas? Email us at headlines@latimes.com.
---