Newsletter: Today: Could This Border Mission Cross a Line?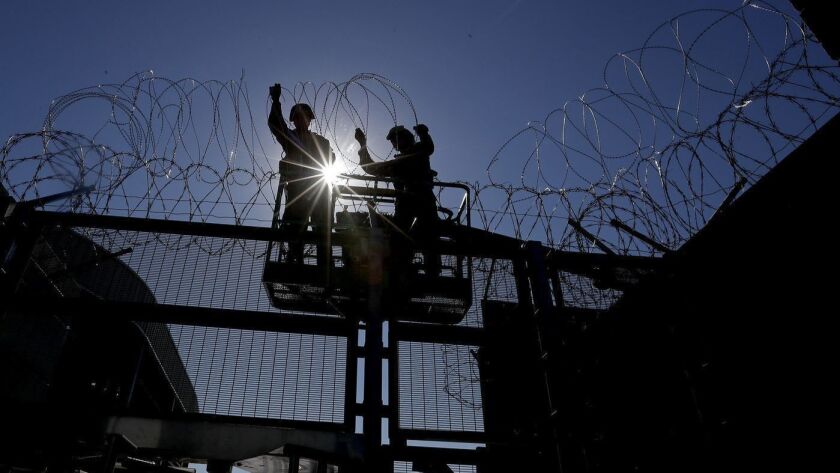 President Trump's plan to give U.S. troops permission to use force to protect the Border Patrol is raising new questions.
TOP STORIES
Could This Border Mission Cross a Line?
When President Trump ordered thousands of U.S. troops to the southern border before the election, critics decried it as a political stunt. Now, there are deeper questions about the mission, as the president plans to give the troops authority to use force to help protect Border Patrol officers. Trump's order could be challenged in court, in light of a federal law called the Posse Comitatus Act, which is intended to limit the use of military personnel in law enforcement duties within the United States. There is also the risk that a confrontation with unarmed migrants could escalate into deadly violence.
A New Challenge in a Grim Search
In the aftermath of the Camp fire in Northern California, search crews have found the remains of 81 people. But with 870 still reported as missing, their work is far from over. Now, authorities face a new complication: Two storms could bring up to 6 inches of rain to the burn area, creating not only the chance of flooding and debris flow but also the possibility that victims' remains may be lost forever.
More About the Fires
-- Paradise narrowed its main road by two lanes years ago, despite warnings of gridlock during a major wildfire.
-- In the Woolsey fire burn area straddling Ventura and L.A. counties, experts are more worried about storms in the next few months than today's anticipated rain.
-- In a season of suffering and loss, columnist Steve Lopez finds the small gestures of goodwill being made at an Agoura Hills donation center.
-- Two of Trump's Cabinet secretaries say federal agencies need more authority to manage the nation's forests to prevent tragic wildfires.
'The World Is a Very Dangerous Place!'
After weeks of scrutiny over how Trump would respond to the killing of Jamal Khashoggi, a dissident journalist from Saudi Arabia who had been living in the U.S., the president made clear he won't be punishing the kingdom or its crown prince. Trump did so in an unusual official statement of realpolitik, albeit one full of disputed claims (and exclamation points), that cast doubt on U.S. intelligence agencies, emphasized Saudi Arabia's role as a counter to Iran and argued that economic deals outweigh human rights. Or, as Trump said of Khashoggi's slaying and dismemberment: "It is what it is."
More Politics
-- Democrats will examine Ivanka Trump's email use when they take control of the House in January after reports that she used a personal email address to conduct official government business.
-- Thanks to heavy partisan gerrymandering, lopsided Republican electoral majorities in North Carolina, Ohio and Wisconsin survived intact after the midterm election.
-- Rep. Marcia L. Fudge, the only Democrat who had publicly considered a challenge to Minority Leader Nancy Pelosi for the House speakership, has abruptly announced she will support Pelosi.
Is the Go-Go Stock Market Gone?
Right before Thanksgiving and the holiday shopping season, the stock market delivered a turkey: a drop in share prices Tuesday that hit America's technology giants first, then spread through the market. That, combined with other recent losses, effectively wiped out the year's gains. The catalyst: the Trump administration's trade war with China. While analysts are generally not expecting a bear market at this point, they do have concerns the years-long rally is fizzling out.
Sign up to get Today's Headlines delivered to your inbox. »
MUST-WATCH VIDEO
These 360-degree videos show the Woolsey fire's damage to Paramount Ranch's Western Town and Oak Forest Estates mobile home park.
FROM THE ARCHIVES
Each Thanksgiving, charities in L.A. provide free turkey dinners to thousands of people. It's a tradition that goes back decades. During the Great Depression in 1935, The Times reported on the meals at the Midnight Mission as well as Los Angeles General Hospital.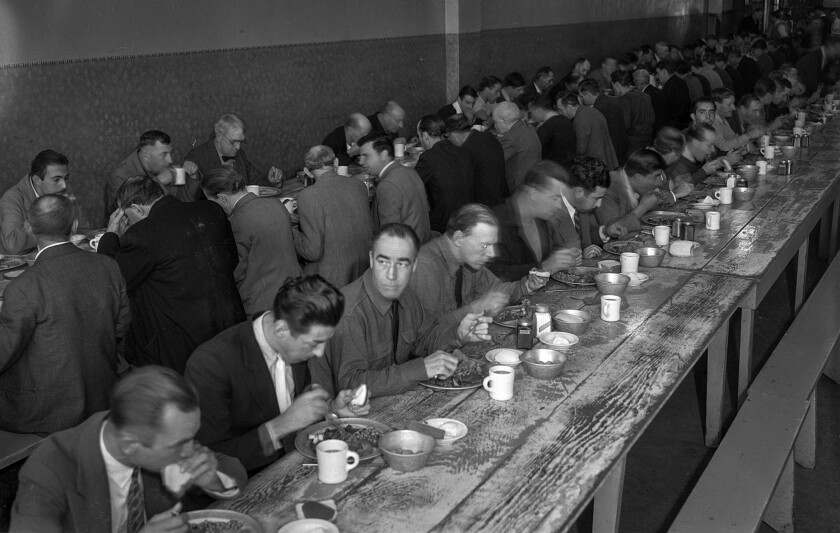 CALIFORNIA
-- Alex Villanueva, the retired cop who's commanded a startling lead in the election for Los Angeles County sheriff, is edging closer to a victory over incumbent Jim McDonnell.
-- Bail bond industry groups are trying to block a law that will overhaul the cash bail system. They've submitted signatures in an effort to bring a ballot measure before voters in 2020.
-- Prosecutors have announced criminal charges against nine people accused in an election fraud scheme to get homeless people on L.A.'s skid row to sign fake names in exchange for cigarettes and cash.
-- La Plaza Cocina, a museum and educational kitchen devoted entirely to the history and evolution of Mexican food, will open in downtown L.A. early next year.
HOLLYWOOD AND THE ARTS
-- The massive fires in California have disrupted TV and commercial production throughout the state.
-- Movie reviews: "Ralph Breaks the Internet" has wit and energy to burn but takes a cynical turn, while Michael B. Jordan is a knockout again in "Creed II."
-- "Black Panther" redefined superhero movies. Can it do the same thing for the Oscars?
-- Supreme Court Justice Ruth Bader Ginsburg is getting the rock star treatment. Does pop culture need to give it a rest?
NATION-WORLD
-- Federal food safety officials say you should not eat any romaine lettuce after another outbreak of a deadly strain of E. coli bacteria.
-- An elevator in a Chicago skyscraper fell 84 floors, requiring a dramatic rescue. As one occupant said: "I believed we were going to die."
-- Israel has reacted with anger to Airbnb's announcement that it will drop rental listings in Israeli settlements in the occupied West Bank.
-- Seventy years ago in Spain, Nicolas Sanchez-Albornoz was sent to prison for painting the words "Long Live Free University!" This week, he reenacted the "crime."
BUSINESS
-- SpaceX Chief Executive Elon Musk's infamous marijuana video reportedly was no joke to NASA, which will launch a safety review of SpaceX and Boeing Co.'s efforts to build capsules to take astronauts to the International Space Station.
-- A Department of Education audit found Navient Corp., one of the largest student loan servicing companies, may have driven borrowers into higher-cost repayment plans. The report was kept secret.
SPORTS
-- LeBron James' I Promise School in Cleveland might be experiencing growing pains, but the seeds of success have been planted.
-- Meet Trevor Hendershot, who works as a greeter at the team stores of the Angels, Ducks, Rams and USC.
OPINION
-- How do we prepare for the "new abnormal" wildfire risk in California? Let's start with a discussion of power lines.
-- Special counsel Robert S. Mueller III might soon bring charges that even Trump die-hards can't trivialize.
WHAT OUR EDITORS ARE READING
-- Sources say that in the spring Trump told then-White House counsel Donald McGahn he wanted to order the Justice Department to prosecute Hillary Clinton and former FBI Director James B. Comey. McGahn reportedly told Trump he had no authority to do so. (New York Times)
-- Watergate revealed that multinational corporations were bribing politicians. An excerpt from the book "Kickback: Exposing the Global Corporate Bribery Network." (Longreads)
-- The argument for why puns are among the highest forms of humor. (The Paris Review)
ONLY IN L.A.
The wallpaper looks leafy. Tree branches surround a desk. And the crystals? They're everywhere. As a YouTube star, Joey Graceffa is all about being an online presence, but the office in his 6,373-square-foot Los Angeles home is all about nature, or a close approximation thereof. Think of it as an enchanted storybook forest.
If you like this newsletter, please share it with friends. Comments or ideas? Email us at headlines@latimes.com.
---