Newsletter: Today: A Christmas Eve Tragedy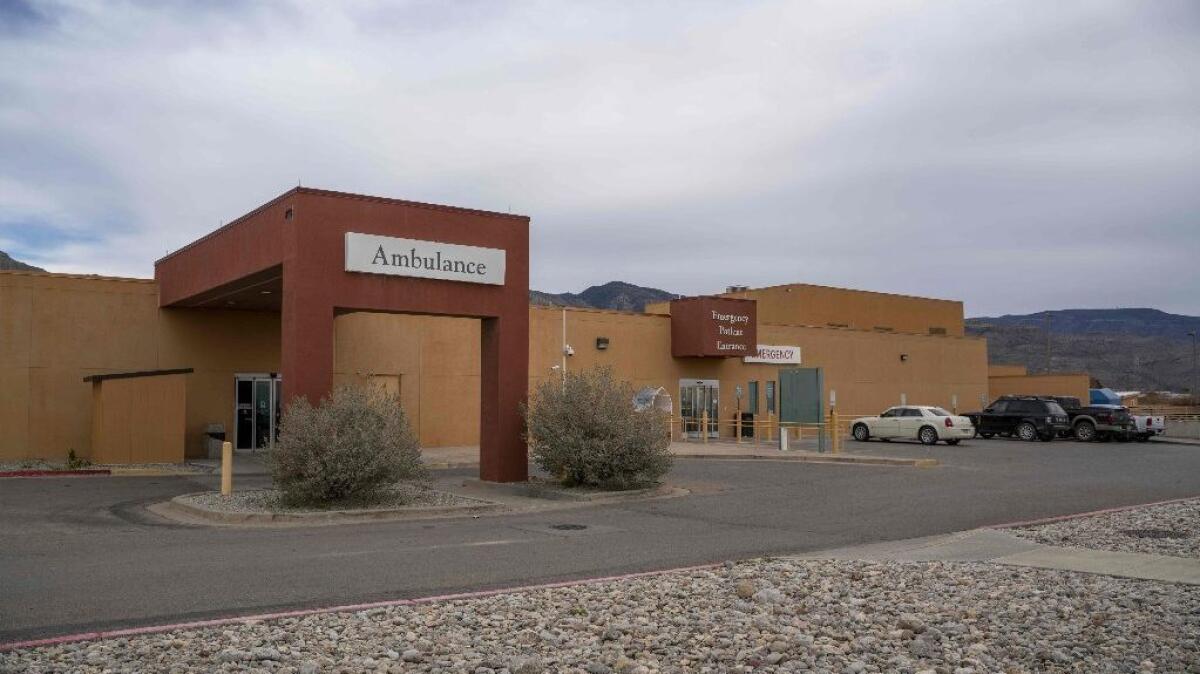 Another child from Guatemala has died in U.S. custody along the border.
TOP STORIES
A Christmas Eve Tragedy
It was a heartbreaking event on Christmas Eve: Shortly before midnight Monday, an 8-year-old Guatemalan boy died in the custody of American immigration authorities after being treated for a cold, according to U.S. Customs and Border Protection. It was also the second death in less than three weeks of a child in detention under the Trump administration's border policies. Border officials say an "independent and thorough review" will take place, but critics want Congress to investigate the Department of Homeland Security when Democrats take over the House of Representatives next week. Meanwhile, on the larger immigration front, President Trump said he intends to continue the shutdown of the federal government until he is assured of his desired funding for a border wall.
More Politics
-- Trump expressed confidence in Treasury Secretary Steven T. Mnuchin, the Federal Reserve and the U.S. economy, in an attempt to calm financial markets, which reopen in the U.S. today after being in a tailspin before Christmas.
-- The government shutdown will hit home for many starting today, with some federal offices shuttered.
-- In Little Saigon, there's a strong generational divide over the Trump administration's push to get Vietnam to accept more deportees.
Fast, Furious, Deadly — and Hard to Punish
In pop culture, street racing is often portrayed as glamorous. In reality, it is often deadly. And in L.A. County, where officials say street racing is on the rise, it rarely leads to significant jail time, according to a Times analysis of law enforcement and court records. Since 2009, authorities have made arrests in more than half the cases where street racing was suspected in a fatal car crash. The Times examined 45 incidents that led to 20 prosecutions. In 15 of those, the defendants were sentenced to less than five years in jail. In one case, a driver involved in a crash that killed a teacher was sentenced to probation. Why do murder charges often not stick?
Coal Miner's Son
When Danny Fouts began working in a Kentucky coal mine, he knew he'd get black lung disease, just as his father and grandfather had. He didn't expect to be diagnosed with it at 27 — and now, at 44, dependent on state and federal disability benefits. More and more young miners are just like him. Now their benefits are in question as the Black Lung Disability Trust Fund, a federal safety net for miners when coal companies go bankrupt, faces drastic cuts if Congress doesn't act by the end of the year.
In China, Losing Builds a Character
China's official word of the year is fen, or "striving," a reflection of the Communist Party's aspirations for the country. Its unofficial word of 2018? That would be qiou, which you won't find in any dictionary and can't even type. It's a made-up character composed of the characters for "poor," "ugly" and "dirt." For those who like to call themselves losers for not being among the country's wealthy, the term has become popular in certain corners of the internet behind China's great firewall.
Sign up to get Today's Headlines delivered to your inbox. »
MUST-WATCH VIDEO
A look back at the 2018 Hollywood Christmas Parade, which took place back in November. (Go figure.)
CALIFORNIA
-- The day before Christmas, 49-year-old Heather Burnett received a full and unconditional pardon from Gov. Jerry Brown, erasing a 20-year-old drug offense. Her husband received his own pardon just a few weeks earlier. They lost their two-bedroom home in the Camp fire.
-- New Los Angeles County Sheriff Alex Villanueva and his entourage celebrated Christmas Mass with inmates at the Men's Central Jail.
-- Four researchers at Scripps Institution of Oceanography have earned state grants to study how climate change is shifting conditions on the Pacific Coast, including cliffs and tide pools.
-- A tiny salamander in Northern California could mean big problems for plans to make the Shasta Dam taller.
HOLLYWOOD AND THE ARTS
-- "Amazing Grace," the film document of Aretha Franklin's 1972 gospel recording sessions, took a 46-year-long journey to the screen.
-- For the film "On the Basis of Sex," the nephew of Supreme Court Justice Ruth Bader Ginsburg helped actress Felicity Jones portray his aunt.
-- Is this the year that TV broke TV? Critic Lorraine Ali examines the great fragmentation and why "peak TV" didn't die.
-- Ben Whishaw and Emily Mortimer play the adult versions of Michael and Jane Banks in "Mary Poppins Returns." They quickly developed a sibling-like bond that's held strong long after the last frame.
NATION-WORLD
-- Israeli warplanes flying over Lebanon fired missiles toward areas near Damascus, the Syrian capital, hitting an arms depot and wounding three soldiers, Syrian state media reported.
-- The United States, Britain, Norway and Canada say they are concerned by "credible reports" that Sudan's security forces have used live ammunition against demonstrators demanding that President Omar Hassan Ahmed Bashir step down.
-- Term limits? Egypt's President Abdel Fattah Sisi may have found a way around that roadblock.
-- At 92, Britain's Queen Elizabeth II reflected on the wisdom of age in her annual Christmas message.
-- It's winter in landlocked Munich, Germany. Oktoberfest is a distant memory, but … surf's up?!
BUSINESS
-- Johnson & Johnson paid a steep price this year for claims that its celebrated baby powder was contaminated with asbestos. And its 2019 could be even worse.
-- The office-sharing company WeWork is increasingly stepping on landlords' and real estate brokers' turf. Now, the industry is starting to push back.
SPORTS
-- LeBron James strained his left groin as the Lakers surprised the Golden State Warriors 127-101.
-- As Santa Anita gets set to open its 82nd season today, it seems to be conflicted about trying to sell its past or its future.
OPINION
-- The Trump presidency will end poorly, because character is destiny.
-- Measles outbreaks in the U.S. and Europe should be a wake-up call for states with loose immunization rules.
WHAT OUR EDITORS ARE READING
-- Documenting hate in America: A look back at the some ugly incidents in 2018. (ProPublica)
-- Meet Collman Lloyd, the 7-year-old girl Trump asked, "Are you still a believer in Santa?" This is what happened on the other end of the line. (Post and Courier)
-- Thoughts on Boxing Day, the day after Christmas. (New York Times)
ONLY IN L.A.
When Frank Sinatra got a suit from Carroll & Co. in Beverly Hills, he sent a note saying, "It swings." Paul Newman said his new clothes "fit terrific, however I did not receive the garter belt." Walter Matthau wondered jokingly "how many sweaters can I get for the Oscar" he had just won for best supporting actor in 1967. But nostalgia will get you only so far in today's world of e-commerce, and the upscale men's clothier in the Golden Triangle is getting ready to close for good. Some customers are saying thanks for the memories.
If you like this newsletter, please share it with friends. Comments or ideas? Email us at headlines@latimes.com.
Sign up for Essential California for the L.A. Times biggest news, features and recommendations in your inbox six days a week.
You may occasionally receive promotional content from the Los Angeles Times.