Newsletter: Today: With the Wall, Nothing Is Concrete
Facing a defeat on border wall funding, President Trump is promising to finish something that hasn't started.
TOP STORIES
With the Wall, Nothing Is Concrete
If at first you don't succeed, try, try rebranding? "Finish the wall" is President Trump's new rallying cry, unveiled during an event in El Paso on Monday night. Yet two years into his term, not one new mile of a wall (or "steel slats," if you prefer) has been erected along the nearly 2,000-mile U.S.-Mexico border — despite his claims to the contrary. Instead, Trump has shifted to taking credit for 654 miles of fencing largely built or funded under the George W. Bush and Obama administrations. Meanwhile, the president says he's not happy with a deal struck by congressional negotiators to keep the government open later this week. It includes $1.375 billion for 55 miles of border barrier, less than a quarter of what Trump wants for a wall. Will he support the deal if Congress passes it? As one Republican senator said: "He could sign it. I think he'll probably sign it. But he might not."
No Escaping This
Joaquin "El Chapo" Guzman. The name conjures not only images of drug trafficking and unspeakable violence but also the mythology that grew around the leader of the Sinaloa cartel; his exploits, two escapes from prison and many colorful weapons became the subject of movies, TV shows and songs. Now Guzman has been convicted on 10 criminal counts in New York and faces the prospect of life behind bars when sentencing takes place. His conviction is a major victory for authorities in the U.S. and Mexico, but experts in Mexico say it's primarily symbolic in the fight against drug cartels.
New Train of Thought
In his first State of the State speech, California Gov. Gavin Newsom put forth some far-reaching initiatives, but he also announced plans to scale back two of his predecessor's grandest visions: the bullet train project and a pair of water tunnels. Originally conceived of as a high-speed rail line to connect Southern California to the Bay Area, the train project has run into cost overruns and delays; now Newsom wants to complete the segment from Bakersfield to Merced in the Central Valley and apparently postpone the rest. Newsom also plans to downsize the Sacramento-San Joaquin River Delta twin-tunnels project, which would help move water to the south, to one tunnel. Newsom's speech, once again, signals a significant change from former Gov. Jerry Brown.
How Will L.A. Keep the Lights On?
Los Angeles Mayor Eric Garcetti thrilled environmentalists with his announcement this week that the Department of Water and Power won't spend billions of dollars rebuilding three gas-fired power plants along the coast. Now the hard work begins: figuring out how to replace them without raising prices or increasing the risk of power outages. And on top of that, there's the issue of a coal-fired power plant in Utah that supplies 18% of L.A.'s electricity; officials want to replace it not with a green alternative, but with a new gas facility.
Into the Fryer
A great French fry is more than the sum of its parts. Beyond the taste and mouth feel, there's an emotional component. So what fast-food chain serves the best fries? New food columnist Lucas Kwan Peterson has eaten a lot of them and come up with "the authoritative, totally not subjective, incontrovertibly definitive and 100% correct L.A. Times Fast Food French Fry Rankings." So who's No. 1 — and in last place? Read on.
Sign up to get Today's Headlines delivered to your inbox. »
FROM THE ARCHIVES
On this date in 1985, L.A. Times readers awoke to stories about proposed cuts in military spending in Washington and President Reagan's talks with Saudi Arabia, but leading the front page that day was something closer to home: a photo of the aftermath of a traffic accident near downtown L.A. that splayed hundreds of cases of Old Milwaukee beer over a freeway transition road. Fortunately, no one was injured.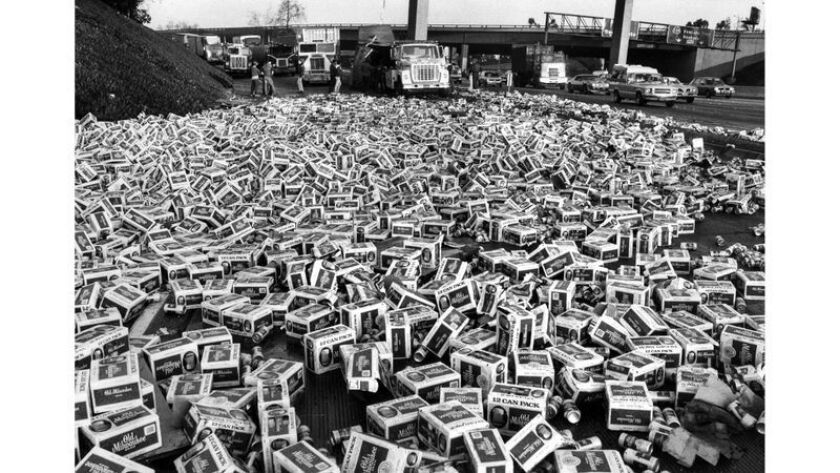 CALIFORNIA
-- The strongest and potentially wettest storm of the winter season will hit Southern California today, threatening to unleash debris flows in burn areas in Orange and Riverside counties. It's expected to last through Thursday.
-- In another strike against USC's student health clinic, six male graduates filed a lawsuit this week accusing a men's health doctor of sexual battery and harassment during appointments. He denied any inappropriate behavior toward patients and called the allegations "terribly hurtful."
-- Los Angeles County supervisors have narrowly approved a plan to tear down the dungeon-like Men's Central Jail downtown and build at least one mental health treatment facility in its place.
-- L.A. will become the biggest city in the United States to ban the sale of animal fur under a law going into effect in 2021, though there will be a number of exemptions.
HOLLYWOOD AND THE ARTS
-- The Oscars have another mess on their hands: a backlash against the decision to hand out four awards during the commercial breaks this year in an effort to streamline the show.
-- Film critic Kenneth Turan calls "Alita: Battle Angel," the latest from director Robert Rodriguez and co-writer-producer James Cameron, a surprisingly fun mix of B-movie sci-fi and earnest romance.
-- The new Amazon docuseries "Lorena" asks: Why was domestic-abuse victim Lorena Bobbitt vilified?
-- "Lords of Chaos," a stark new feature film, examines the youthful excitement and genuine horror of the Norwegian black metal movement.
NATION-WORLD
-- Confessed serial killer Samuel Little has drawn portraits of his victims, which the FBI has released in hopes of generating tips that might help authorities identify the women who were killed.
-- Deputies in Texas discovered two malnourished children in a locked dog cage and two more smeared with feces and urine in a barn, in what a sheriff described as the worst case of child abuse he has ever seen.
-- German Chancellor Angela Merkel's conservative party has publicly distanced itself from her landmark decision in 2015 to open the nation's borders to more than 1.5 million refugees, saying it had drafted plans to tighten immigration rules.
-- Iran-affiliated militias helped save Iraq from Islamic State. Now, they're transforming themselves from a fighting force into a political and economic entity that seeks a larger role in the government.
BUSINESS
-- Video game maker Activision Blizzard is laying off about 8% of its workforce because of drastically lowered revenue expectations for 2019.
-- A record 7 million Americans are 90 days or more behind on their auto loan payments, according to the Federal Reserve Bank of New York. Economists warn that this is a red flag.
SPORTS
-- Has all the LeBron James hype lived up to the reality for the Lakers? Columnist Bill Plaschke makes the case that it hasn't.
-- Spring training has kicked off for several Major League Baseball teams. For Dodgers pitcher Clayton Kershaw, it's a mission in "trying to regain some stuff I lost."
OPINION
-- Abandoning high-speed rail would be a mistake for California, the country and the planet.
-- Trump claims that he has slapped the "toughest ever" sanctions on Iran and that his strategy is succeeding. There's no sign that Tehran is changing its behavior.
WHAT OUR EDITORS ARE READING
-- U.S. military officials say a Chinese-run deep-space ground station in Argentina poses an espionage threat. (Foreign Policy)
-- The earthquake that lasted 50 days but no one felt. (National Geographic)
-- Hipster kimchi? A columnist discusses his love of kimchi, and it has nothing to do with "beneficial probiotic cultures." (Catapult)
ONLY IN L.A.
Pasadena Rose Queen Louise Deser Siskel had a big high school physics project due Tuesday morning. But on Monday night, she had a real-life civics lesson at the City Council meeting. The topic: raising the minimum wage. As columnist Steve Lopez reports, the queen just may have had some influence on her royal subjects.
If you like this newsletter, please share it with friends. Comments or ideas? Email us at headlines@latimes.com.
---