Revelations that Robert S. Mueller III complained to Atty. Gen. William Barr about his handling of the special counsel's report are sure to fuel more questions in Congress.
TOP STORIES
Mueller's Complaint
Democrats were already planning on grilling Atty. Gen. William Barr at a hearing before the Republican-controlled Senate Judiciary Committee today over his handling of special counsel Robert S. Mueller III's report on the Russia investigation. Now, they have a fresh line of inquiry, after a Justice Department official said Mueller complained to Barr that the attorney general's initial letter to Congress about the investigation did not "fully capture the context, nature and substance of this office's work and conclusions" and sowed "public confusion about critical aspects of the results of our investigation." The special counsel's protest was filed in a letter to Barr on March 27 and was followed up with a phone call. In Barr's prepared remarks to the Senate committee today, he states that "it is vitally important for the Department of Justice to stand apart from the political process."
More Politics
-- Trump has issued new rules to further restrict asylum claims, which include making asylum seekers pay application fees, but the plan will face legal and financial limits.
-- Trump met with House Speaker Nancy Pelosi and Senate Minority Leader Charles E. Schumer in what both sides called a productive discussion about a comprehensive infrastructure package. The Democrats said they had agreed to seek a $2-trillion legislative package to repair and improve the nation's roads, bridges and broadband networks, though the White House did not confirm the price tag.
-- Trump is heaping nonstop pressure on the Federal Reserve to lower interest rates and provide further support to speed up growth, even though the economy is expanding at a healthy pace and economists widely agree that this is not the time to be taking such actions.
-- House Intelligence Committee Chairman Adam B. Schiff is making a criminal referral to the Justice Department for Erik Prince, the founder of the security firm Blackwater, alleging he lied to Schiff's committee in 2017.
Venezuela in Crisis
The political crisis in Venezuela deepened Tuesday when U.S.-backed opposition leader Juan Guaido issued fresh calls for the military to switch sides and protesters crowded the streets demanding the ouster of President Nicolas Maduro. Throughout the day, clashes between protesters and government security forces battered Caracas, where gunshots were heard and tear gas drifted over parts of the capital. But by Tuesday evening, Maduro remained. Here is the latest.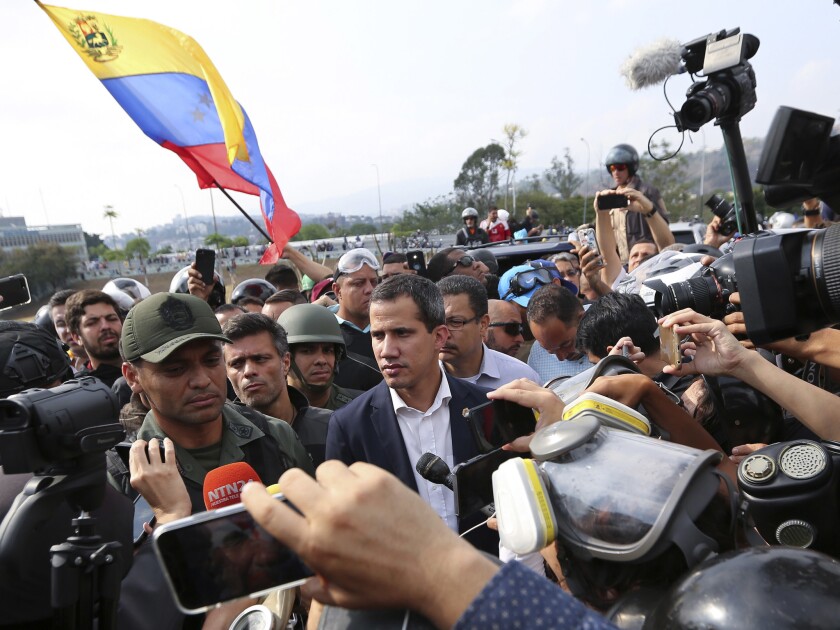 A Grim Toll in South L.A.
When rapper Nipsey Hussle was killed outside his Hyde Park storefront last month, the incident brought worldwide attention to South Los Angeles. While his death stirred an outpouring of grief, he was one of 29 people who've lost their lives in the area so far this year. Almost all of the victims were black, male and died from gunfire. Here are some of their stories.
The Final Chapter for Another Bookstore
After three decades in the Westside neighborhood of Mar Vista, Sam: Johnson's Bookshop will close by the end of the month. Its rent jumped this year to $4,000, and the owner put the building on the market. Its story is not unfamiliar. "The shuttering of a bookstore is like a recurring couplet — Caravan Book Store in downtown Los Angeles closed last year; Circus of Books in West Hollywood, in February," writes Jeffrey Fleishman in the latest Column One feature. "But each has its own peculiarities and enchantments."
Sign up to get Today's Headlines delivered to your inbox. »
CALIFORNIA
-- Rabbi Yisroel Goldstein, who was wounded in the attack on the Chabad of Poway, has become a global messenger of faith.
-- The U.S. Army veteran accused of orchestrating a thwarted terrorism plot in Southern California was kicked out of the armed forces several years ago after a clash in Afghanistan, sources have told The Times.
-- The cost of building a 119-mile section of the bullet train in the Central Valley is projected to increase by $1.8 billion, taking the total to $12.4 billion, according to an internal draft report by the state rail authority's staff.
-- In the capital of car culture, can you envision not needing a car, insurance or a parking space someday in the future? Columnist Steve Lopez ponders the possibilities.
HOLLYWOOD AND THE ARTS
-- A medieval warfare expert says Sunday's episode of "Game of Thrones" got these five things wrong.
-- Broadway's "Tootsie," which turns 1982 gender politics into a post-MeToo musical, has earned 11 Tony nominations. See the full list of Tony nominees here.
-- "The Daily Show's" Trevor Noah says he wants to make the presidential candidates laugh, because laughter "reminds us of who we are."
NATION-WORLD
-- A shooting at the University of North Carolina at Charlotte left two people dead and four wounded, prompting a lockdown and chaotic scene in the state's largest city.
-- Sri Lanka has lifted a social media ban that was imposed after the Islamic State-claimed Easter bombings, a sign of security easing even as a Cabinet minister said he and others could be targeted by the same group in possible new attacks.
-- Egypt has sentenced seven Muslim Brotherhood members, including one of the group's top financiers, to life in prison on charges of joining and funding a terrorist group.
-- In Nigeria, the dream of an independent state called Biafra lives on in underground radio broadcasts.
BUSINESS
-- Tesla's ugly financial results turned uglier after a filing showed its results were goosed by a surge in regulatory credits.
-- Facebook has unveiled a redesign that focuses on the Groups feature of its namesake social network. It's another sign that the company is moving toward more private, intimate communication.
SPORTS
-- The predicted cost of staging the 2028 Los Angeles Olympics has risen to $6.9 billion — that's up $700 million — according to an updated budget released by the private committee responsible for staging the event.
-- In ruling against runner Caster Semenya, a court found Wednesday that the international track federation may regulate women with naturally high testosterone levels.
-- Canelo Alvarez will be under plenty of pressure to deliver Saturday in his title fight against Daniel Jacobs, a fighter he sees as posing a tougher challenge than Gennady Golovkin.
Heading to Las Vegas for the fight this weekend? The Times invites you to a live recording of our podcast "Arrive Early, Leave Late" from Losers Bar at the MGM Grand Casino from 5 to 6:30 p.m. Friday.
OPINION
-- Trump's newest asylum policy has the seed of a good idea buried amid bad ones.
-- California has some of the strongest vaccination laws for children of any state, but we have to do better, as the latest measles outbreak shows.
WHAT OUR EDITORS ARE READING
-- Five years after the death of his infant son, the Dodgers' Rich Hill opens up in a heartbreaking essay. (The Players' Tribune)
-- When a pair of the famed ruby slippers from "The Wizard of Oz" were stolen in a small town, it produced a whodunit as gripping and colorful as the film itself. (Washington Post)
ONLY IN L.A.
For more than half a century, Ruben Rueda — the longtime bartender of Hollywood's legendary Musso & Frank Grill — crossed paths with the likes of Charles Bukowski, whom he'd often drive home when Bukowski was drunk, and Steve McQueen. He made martinis for Orson Welles and served a potent pecan punch to Bing Crosby. Keith Richards once gave him a Gibson electric guitar, and Gore Vidal was hoisted from his wheelchair to a barstool for one last drink from Rueda. Now, Hollywood is remembering Rueda, who has died at 67.
If you like this newsletter, please share it with friends. Comments or ideas? Email us at headlines@latimes.com.
---