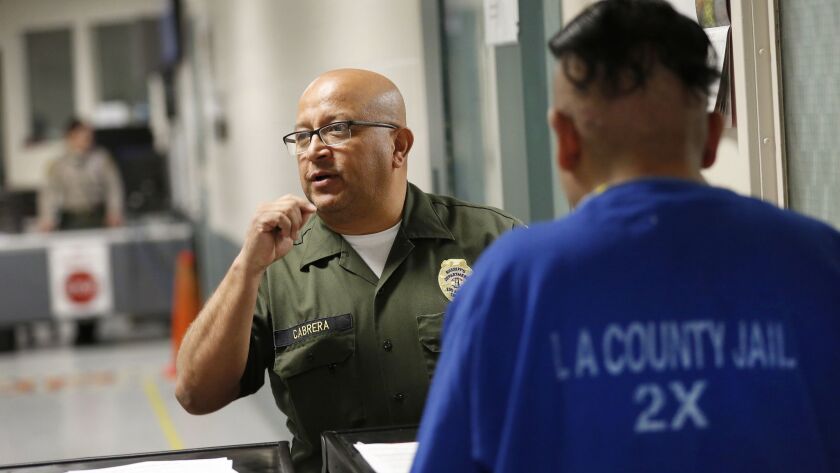 In L.A. County's jails, Immigration and Customs Enforcement agents are gone, but that doesn't mean inmate transfers have stopped.
TOP STORIES
The Asterisk on 'ICE Out of the Jails'
L.A. County Sheriff Alex Villanueva, who promised during his 2018 campaign to end the "pipeline to deportation," has removed Immigration and Customs Enforcement agents from the largest local jail system in the nation and limited the criteria that allow inmates to be transferred to federal custody for possible detention or deportation. But there's an asterisk of sorts: Inmates are still being delivered to ICE, through officers who are contracted by the federal agency. "The reality inside the jails is a complex tango that grants ICE a role while distancing it as a law enforcement partner," reports The Times' Maya Lau.
Sanctions Upon Sanctions
President Trump's latest round of sanctions against Iran underscores his preference for using economic pressure rather than military force. But his specific targeting of Iranian Supreme Leader Ayatollah Ali Khamenei is likely to be more symbolic than punishing, given the leader's lack of mainstream financial assets. And experts say the new sanctions are unlikely to have a significant impact, considering the sanctions that the United Nations, Trump and President Obama before him have already placed on Iran.
Promises, Promises
Vermont Sen. Bernie Sanders has unveiled a proposal to pay off all the country's college debt. Former Vice President Joe Biden has rolled out an immigration plan. Washington Gov. Jay Inslee has built out his framework for a future free of fossil fuels. Massachusetts Sen. Elizabeth Warren, whose campaign merchandise logo says she "has a plan for that," is rolling out, yes, another plan today. In the days leading up to the first Democratic debates in Miami on Wednesday and Thursday, the campaign promises are flying fast and furious — and expensive.
More Politics
-- Author E. Jean Carroll's allegation that she was raped by Trump 23 years ago hasn't received much attention in the media. Trump has denied the accusation, claimed he never met her (despite photographic evidence) and said that "she's not my type."
-- U.S. Secretary of State Michael R. Pompeo held talks with the Saudi king and crown prince after days of mounting tensions with Iran.
Smelling Like a Rose
Ever since he was a kindergartner in the Texas Panhandle, entranced by a pale purple rose called "Sterling Silver," Tom Carruth knew he wanted to work with flowers. Today, he is the curator of the Huntington's rose garden, and has bred roses for the likes of Barbra Streisand and Julia Child. Now, rose lovers are wild about his new creation "Huntington's 100th" rose — but few know the backstory of how it was made.
Your support helps us deliver the news that matters most. Subscribe to the Los Angeles Times.
Sign up to get Today's Headlines delivered to your inbox. »
FROM THE ARCHIVES
On this date in 1971, Times readers learned the horrifying details of a methane gas explosion in a Metropolitan Water District tunnel beneath Sylmar that killed 17 workers the day before: "One thousand feet from the explosion, Paul (Dutch) Badgley, 63, a veteran of 45 years in mines, was blown from the small yellow transporter, an electric locomotive for the cars which remove slag. He staggered to his feet. It was, he said later, a blast 'like a heavy dynamite explosion.' From down the tunnel he could hear the screams of the men trying to escape the holocaust. He jammed his motor in gear and drove toward the trapped and dying men through darkness so thick he could see only inches."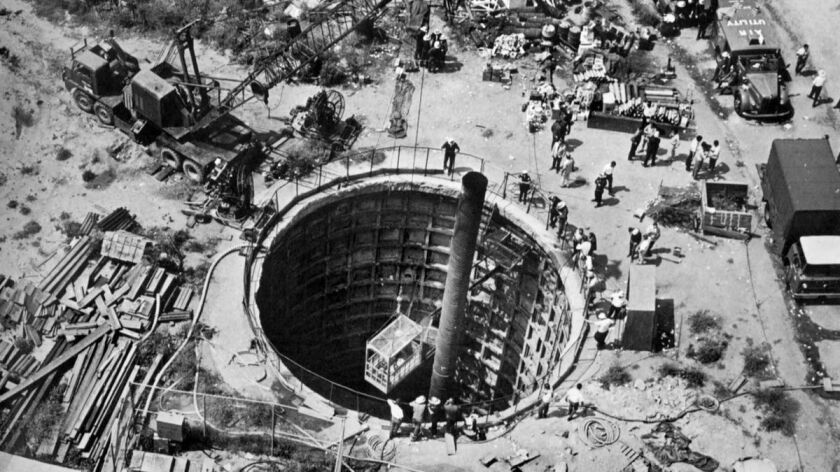 CALIFORNIA
-- Throngs of mourners including law enforcement officers from across the state said their final goodbye to Joseph Gilbert Solano, two weeks after the Los Angeles County Sheriff's deputy was shot in a surprise attack that claimed his life.
-- The parents who were critically wounded when an LAPD officer opened fire at a Costco earlier this month are beginning to recover and have been told that their son was killed in the shooting.
-- State officials have warned Casa Libre, a Los Angeles group home for migrant youth, that it could lose its license if it doesn't comply more fully with state rules for the protection of children.
-- Citing concerns about airplane noise for residents in West Adams, Mid-City and surrounding neighborhoods, the city of L.A. is suing the Federal Aviation Administration to get a court to invalidate the routes jets now use to access LAX.
HOLLYWOOD AND THE ARTS
-- Three months after Warner Bros. was rocked by a sex scandal, the nearly century-old movie and television studio is getting its first female chief executive in Ann Sarnoff.
-- The dispute between Hollywood writers and their agents has gotten uglier with talent agency WME filing a lawsuit against the Writers Guild of America.
-- The Mueller report as theater: John Lithgow portrayed Trump and headed an all-star cast in a new play highlighting 10 instances of potential obstruction of justice.
-- The Times' Gerrick Kennedy says BET got its groove back with its awards show and festival over the weekend. Now it's time for the show to tell a different story.
NATION-WORLD
-- The FBI is investigating the deaths of what appeared to be a migrant woman and three children, whose bodies were found near the Rio Grande in south Texas, amid a surge in migrant families.
-- The U.S. Supreme Court has ruled that an L.A. clothing maker had a free-speech right to win trademark protection for his brand, even if the government viewed the words or messages as "scandalous" or "immoral."
-- In Ethiopia, an army general accused of leading a failed coup was killed in a firefight with security forces amid a crackdown in which more than 180 others have been arrested.
-- How will Turkey's authoritarian president react to the opposition's big win in the Istanbul mayoral race?
BUSINESS
-- City of Hope will invest $1 billion in a new hospital and research center on the site of a former air base in Irvine that will enhance the way cancer care is delivered in the region.
-- A group of 18 wealthy Americans, led by billionaire financier George Soros and including a Disney family member, sent an open letter telling the field of Democratic presidential hopefuls to raise their taxes.
SPORTS
-- Fifty years ago, soccer teams from El Salvador and Honduras met in competition, and three weeks later a war between the countries broke out. As they get set to play today in L.A., the ramifications from that era are still felt.
-- Lakers co-owner Jeanie Buss finally broke her silence about the state of the organization and said she has "100% confidence" in Rob Pelinka running the team.
-- In the Women's World Cup, the U.S. survived a tough challenge from Spain.
OPINION
-- The only consistent thing about Trump's immigration policy is his animus toward migrants.
-- If you believed Bill Clinton was a sexual predator, how can you possibly defend Trump?
WHAT OUR EDITORS ARE READING
-- People want to donate diapers and toys to children at Border Patrol facilities in Texas. Instead, they're being turned away. (Texas Tribune)
-- Remembering basketball star Len Bias, 33 years after his death. (The Undefeated)
-- Feeding bears is even worse than you might think. (National Geographic)
ONLY IN L.A.
A lot has changed in the nine years since "The Hills" went off the air. The reality TV show's protagonists are now in their 30s and have had kids, gotten married (and divorced), and launched businesses. Many of their on-screen hangouts in L.A. have closed. But recently a few them of them got back together at the nightspot formerly known as Les Deux to revisit the old days — and celebrate their sequel series on MTV.
If you like this newsletter, please share it with friends. Comments or ideas? Email us at headlines@latimes.com.
---