Opinion: The culture war against sexual harassment needs cautionary tales. Raul Bocanegra is one of them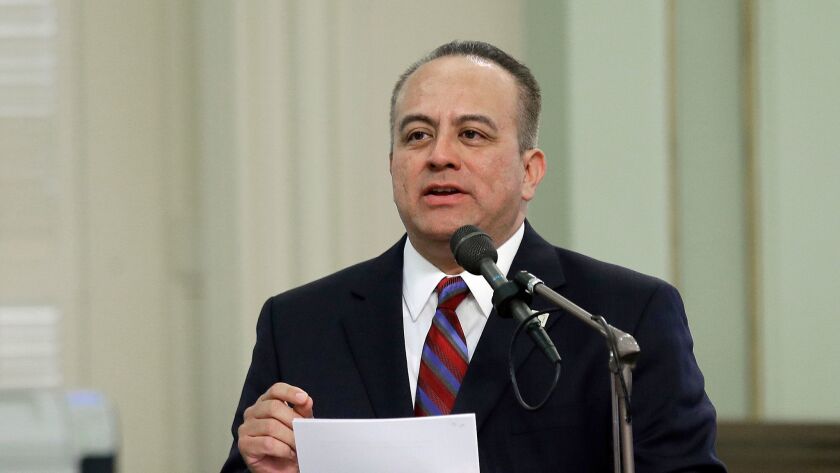 Now that the details of an alleged groping incident nearly a decade ago by California Assemblyman Raul Bocanegra (D-Pacoima) have been made public, some people would like the Democrat to resign his post representing the northeast San Fernando Valley.
Should he? I can't say. There is an argument to be made that, as creepy as his treatment of a female colleague may have been back then, if it were a one-time incident and was dealt with appropriately at the time, it doesn't rise to career-ending level.
I'm not going to make that argument, though, because here's the thing: At this point, it kind of doesn't matter if he deserves to lose his job. The accusation has rendered Bocanegra so politically toxic he probably will anyhow. If he runs for re-election next year this story is going to dog him relentlessly, making it tough for him to get his message out and raise money.
And even his own party seems ready to throw Bocanegra under the bus.
"I think Assemblyman Bocanegra needs to look into his own heart and decide what he's going to do," Eric Bauman, chairman of the California Democratic Party, said Wednesday in Sacramento when he was asked what should happen to the lawmaker. Is it just me, or is that the kind of chillingly ominous thing that Don Corleone might have said before someone got whacked?
Assemblywoman Cristina Garcia (D-Bell Gardens), chair of the Legislative Women's Caucus and a leader of Sacramento's #metoo movement, #wesaidenough, tweeted that she won't work with him. Los Angeles Unified School District board member Kelly Gonez, whose district overlaps with Bocanegra's, called him out on social media Thursday and later told an L.A. Daily News reporter that she had doubts about his ability to continue serving.
Assembly Speaker Anthony Rendon (D-Paramount) hasn't condemned Bocanegra, but he hasn't defended him either. Bocanegra serves as Rendon's majority whip.
The political sharks in Bocanegra's district smell blood in the water. The small protest that gathered outside his Valley office the other day calling for his resignation? Well, many of them are political aspirants in this northeast Valley district who have previously run for city council, school board and the state legislature, usually without success. Even Patty Lopez showed up. Lopez surprised everyone when she beat Bocanegra in 2014 and temporarily deprived him of a second term. He won the seat back in the next election.
Will Lopez or one of the other people at the protest run against Bocanegra next year? I wouldn't bet against it.
Bocanegra may feel like he's paying for the sins of every bad boy who ever walked the halls of the state Capitol. And maybe he is. It's possible that some of the men outed for alleged sexual harassment during this wave of accusations that is still rocking the country will be punished with disproportionate severity.
But if this moment has any hope of becoming a movement that permanently changes the culture between men and women in the U.S., it needs cautionary tales. If Bocanegra ends up losing his job, perhaps it will provide him a tiny bit of consolation to know that his downfall is also a kind of public service.
Follow me @marielgarzaLAT
---
A cure for the common opinion
Get thought-provoking perspectives with our weekly newsletter.
You may occasionally receive promotional content from the Los Angeles Times.