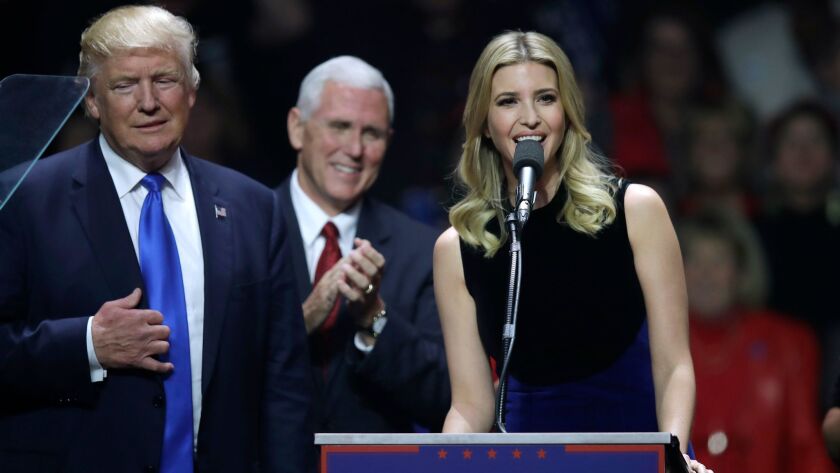 To the editor: James Kirchick nails it regarding the role Ivanka Trump appears poised to play in her father's administration. For all her seeming intellect and prudence, Ivanka will function as President-elect Donald Trump's deceptive prop, one Kirchick foresees as "providing feminine cover and a bogus veil of responsibility for the most crudely misogynistic and immature man ever to occupy the Oval Office." ("Ivanka Trump is not going to save us," Opinion, Dec. 29)
It's all part of the president-elect's push to elevate image over substance to manipulate public opinion. This tactic may work, given Americans' love of "reality" TV shows and social media tripe.
Grooming Ivanka to distract the gullible masses merely reinforces what most insightful observers already perceive in her father: a veritable caricature of a president, one who displays all the integrity and composure of a banana republic strongman.
Gene Martinez, Orcutt, Calif.
..
To the editor: To counteract the damage I expect from a Trump presidency, I think we should act in support of the values he threatens. Here's one example:
If we want civility and care for facts in public life, let's do it. Please do not publish ad hominem rants like Kirchick's piece on Ivanka Trump.
Anne Gero-Stillwell, San Diego
..
To the editor: Kirchick's hard hitting op-ed article highlights the pedestrian greed lurking just beneath Ivanka Trump's pleasant smile. Frankly, though, I think he's too late.
Kirchick and his journalistic colleagues should have started churning out pieces about the Trumps 18 months ago when he came gliding down the escalator and started maligning large swaths of our population. But they didn't. Instead, they gave him non-stop coverage and wrongly predicted his imminent downfall.
Now we have to depend on a Republican majority in Congress to keep this administration in check. Good luck with that.
Bart Braverman, Los Angeles
Follow the Opinion section on Twitter @latimesopinion and Facebook
---