Readers React: What a spectacular win for North Korean leader Kim Jong Un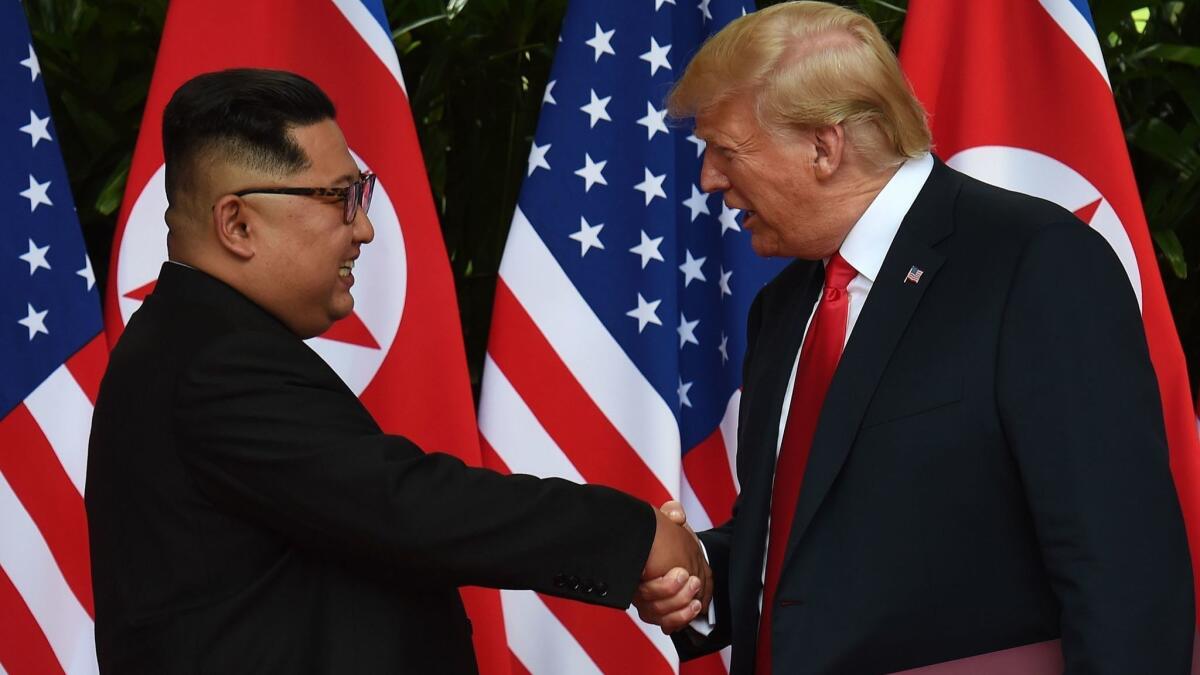 To the editor: What a spectacular win for North Korean leader Kim Jong Un. This funny young man from an isolated little country gets the president of the United States to fly halfway around the world to meet with him and gains a worldwide spotlight.
I wonder whether this meeting was conceived by North Korea when new U.S. President Trump began calling Kim the Rocket Man and continually told his followers how bad North Korea is. Understanding Trump's huge ego and his need for a world-class meeting, did Korea initiate the process to gain the world's spotlight? Wait a minute: Did a North Korea envoy begin the chant "Nobel" at one of Trump's mass meetings?
Martin A. Brower, Corona del Mar
..
To the editor: If nothing else comes out of it the summit it will at least have succeeded in bringing the world's two worst haircuts into the same room.
Skip Nevell, Los Angeles
..
To the editor: Everything has a beginning. If there is to be change in the dangerous Korean peninsula, good communication and the fostering of common interests are paramount. We all hope for good intentions on everybody's part.
My suggestion is that the next step should be the release by North Korea of all foreign captives, and that those responsible for the death of Otto Warmbier be brought to justice. There is no discussion or movement on a next step until this happens.
Sid Pelston, Marina del Rey
..
To the editor: Many people are saying it was a great honor and historic success to look into Kim's soul and see a talented man and most important the perfect photo opportunity. Now time to get back to insulting America's long-standing allies representing democracy and free speech and fit in a quick 18.
Ken Passon, Newport Beach
Follow the Opinion section on Twitter @latimesopinion and Facebook
A cure for the common opinion
Get thought-provoking perspectives with our weekly newsletter.
You may occasionally receive promotional content from the Los Angeles Times.