Trump's bomb aimed at Mexico trade threatens to explode his strongest asset, the economy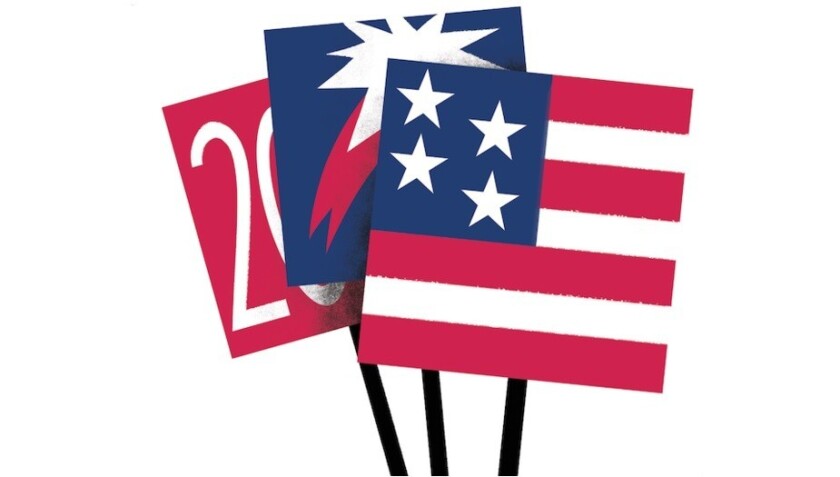 Reporting from Washington —
Impulsiveness defines President Trump's approach to his job — sudden decisions that often conflict with other actions he has taken, without much apparent concern for how, or whether, they fit together.
Thursday night's announcement that he would impose escalating tariffs against Mexico unless that country blocks Central American migrants from traveling through its territory to the U.S. provides the clearest example yet of that pattern.
The move reflected Trump's deep frustration over his inability to stop migration from Central America. But in lashing out, he's putting at risk his single biggest asset for reelection — steady growth of the U.S. economy.
Sign up for the Essential Politics newsletter »
A TARIFF BOMB
The new policy Trump announced Thursday evening in a series of messages on Twitter would impose a 5% tax on Mexican imports starting in two weeks. The tariffs would escalate monthly until they hit 25% unless Mexico takes unspecified actions to block migration, as Molly O'Toole, Don Lee and Margot Roosevelt wrote.
Like many Trump threats, this one might never become reality. It almost surely will get a court challenge from aggrieved companies that would pay the new tariff. Trump's action relies on a law, the International Emergency Economic Powers Act, that hasn't been used for this purpose since Congress passed it four decades ago.
And he's already drawn opposition from at least one leading Republican, Sen. Charles E. Grassley of Iowa.
But assuming Trump sticks to his plan and the courts let it take effect, he'll be rolling the dice with some very big assets at stake.
Start with the revised North American Free Trade Agreement that the administration negotiated with Canada and Mexico. Getting that approved is the administration's biggest legislative goal so far this year — just hours before Trump made his announcement, the administration formally submitted it to Congress.
The new tariffs almost surely have put advancement of that agreement on ice.
Just two weeks ago, Trump agreed to lift tariffs he had imposed on steel and aluminum imported from Mexico and Canada in order to get the new NAFTA agreement passed. Canadian leaders and Republican senators all made clear that the deal would stand no chance of being ratified unless the tariffs were eliminated. The new tariffs will be an even bigger impediment.
Trump might willingly give up the NAFTA deal if, in return, he could get a sudden decrease in the number of Central American families showing up at the U.S.-Mexico border asking for refuge. Controlling immigration was his biggest campaign issue, after all, and he might figure that congressional Democrats would not approve the trade agreement, anyway.
But it's not clear that Mexico could stop the migrants, even if its government truly wanted to, and damaging Mexico's economy could end up producing more migration, not less.
Moreover, the potential cost to Trump goes beyond his legislative agenda.
Trump's biggest boast for his reelection has been steady economic growth. Polls repeatedly have shown voters giving him higher marks on the economy than anything else.
Democrats can say over and over that the economic growth rate simply continues the positive trends of President Obama's second term, but the reality is that many voters reward presidents for good economic news, whether they brought it about or not.
Tariffs are taxes ultimately paid by the consumer, and higher taxes slow economic growth — it's a truism that Republican politicians have preached for decades. Trump has already slapped tens of billions of dollars of tariffs onto the economy as part of his trade war with China.
Every 5% increment in tariffs on Mexican imports would add about another $17 billion to the load.
So far, growth has succeeded in chugging along — the U.S. economy is resilient, and imports make up only a small part of it. But even before these latest tariffs, bond markets had begun to forecast trouble ahead.
Beyond the cost of the tariffs, themselves, business leaders fear that Trump's actions could disrupt supply chains that key industries, including autos and technology, rely on. If so, that would worsen the economic impact.
Trump has repeatedly said, both in public and in private meetings with business leaders, that he thinks tariffs are good for the economy. He's virtually alone in that belief, and he's got a lot riding on it.
CHINA TRADE FIGHT HARDENS
Even as Trump threatened to open this new trade fight with Mexico, the ongoing tussle with China has morphed into a wider and harsher conflict, Lee wrote.
On both sides of the Pacific, government officials have begun to talk about the dispute as part of a "clash of civilizations." Trump could still strike a deal with China's President Xi Jinping if the two meet at an economic summit in late June, but business leaders and analysts have begun to lower expectations for any breakthrough.
MUELLER SPEAKS
Trump's gamble on Mexico tariffs comes against an agitated background as he's lashed out angrily against Robert S. Mueller III, the now-retired special counsel.
Mueller's 10-minute, nationally broadcast statement on Wednesday that summarized the results of his investigation into Russian interference in the 2016 election provided his only public comment in more than two years, as Chris Megerian wrote.
Among other things, his remarks highlighted the reality that nothing fully matters until it happens on television.
Mueller didn't say anything that he hadn't already written in his report. That was the point: The report "speaks for itself," he said.
But by publicly repeating key words from the written document — "If we had had confidence that the president did not commit a crime, we would have said so" — Mueller rebutted White House claims of exoneration. And by doing so on television, he made that conclusion real for many who did not read the report.
None of that's likely to change public opinion, which is heavily dug in on both sides at this point. But as Jennifer Haberkorn and Janet Hook wrote, Mueller's remarks ratcheted up the pressure on House Speaker Nancy Pelosi to open a formal impeachment inquiry. Haberkorn also explained how an impeachment inquiry would work.
[Pelosi, meanwhile slammed Facebook as "enablers of false information" over its refusal to remove a doctored video that was altered to make her appear to be slurring her words.]
As Noah Bierman wrote, Mueller's statement set off another furious round of tweets from Trump, underscoring how agitated he remains over the investigation and its aftermath.
In one of the tweets, Trump appeared to concede what U.S. intelligence agencies and many congressional Republicans had long ago admitted was true — Russia acted to help him win. He later, however, repeated his denials of that.
A MCCAIN COVER-UP
Trump also acknowledged that when he was in Japan on Sunday and Monday, the Navy had taken steps to keep him from having to see the name of John S. McCain on a U.S. warship named for the late senator and his father and grandfather, both admirals.
As first reported by the Wall Street Journal, White House aides told the Navy to make sure Trump didn't see the McCain name. Navy officials draped a tarp over part of the ship, which is being repaired at the port outside Tokyo after a collision last year, and kept sailors from its crew away from Trump's Memorial Day speech aboard another Navy vessel, the amphibious assault ship Wasp.
Trump insisted he hadn't known about the actions in advance. But the telling fact about the incident is that people who work for him were so worried about how he would react to any honor for McCain that they were willing to go to great lengths to avoid the chance that he might see it.
"Somebody did it because they thought I didn't like him. OK? And, they were well-meaning, I will say," Trump said.
FOREIGN POLICY CONFLICTS — WITH ADVISORS
While in Japan, Trump downplayed recent missile tests by North Korea, putting himself at odds with Japan's government and with his own top aides.
He also split, at least rhetorically, with Secretary of State Michael R. Pompeo and national security advisor John Bolton over the goal of U.S. policy toward Iran, saying that the United States was "not looking for regime change."
Bolton has long advocated regime change in Iran, and Pompeo, although he hasn't used those words, has strongly implied that the U.S. wants to get rid of Iran's clerically based government system.
Trump's intentions are the subject of intense speculation. Many Democrats believe Trump and his advisors are trying to provoke Iran into a military clash. But Trump has sent mixed signals about how far he's willing to pursue his advisors' hawkish views.
On North Korea, Trump has been more consistent. He's spent much of the past year trying to build and keep good relations with North Korea's leader, Kim Jong Un. His refusal to condemn Kim's recent missile tests was consistent with that pattern, which many critics say has allowed Kim to take advantage of him.
As for Kim, he has apparently purged top officials who advised him on strategy leading up to the failed summit with Trump in Hanoi in February. South Korean media reported that Kim had one top negotiator executed and has imprisoned another in a forced-labor camp, Victoria Kim reported from Seoul.
SUPREME COURT FLASHES THE GO-SLOW SIGN
The Supreme Court issued its first abortion-related decision of the year on Tuesday, and, as David Savage wrote, the justices clearly indicated a desire to go slow.
Conservative legislators in Alabama and several other states have passed sweeping restrictions on abortion, hoping that the high court's newly expanded conservative majority would use those laws as an opportunity to overturn Roe vs. Wade, the 1973 ruling that legalized abortion nationwide.
But the justices indicated they're not eager to do that. They rejected Indiana's effort to revive its abortion restrictions, which are considerably less rigid than Alabama's.
In another case before the Supreme Court, new documents released Thursday provided evidence to back up what long has seemed clear, Savage wrote: The administration's decision to add a question on citizenship to the census began as part of a GOP plan to hurt Democrats.
But while the documents may have political importance, they seem less likely to have an impact on the court. When the census case was argued earlier this spring, the conservative majority seemed set to rule that the administration had a legal right to add the question, regardless of its motivation.
The renewed political focus on abortion, meanwhile, has emboldened Democrats. In the latest example, California Sen. Kamala Harris proposed a new law that would give the federal government oversight of state and local abortion laws, much as the Voting Right Act did with voting laws.
HARRIS RISE STALLED
Harris had a dazzling debut in the presidential race, but has fallen from the top of the pack since, Melanie Mason and Mark Barabak wrote. This weekend's California Democratic convention provides evidence, as nearly all her top rivals, with the notable exception of Joe Biden, will be in the state campaigning, something they wouldn't do if Harris had her home turf sewn up.
Sen. Bernie Sanders of Vermont is among those who hope to do very well in California's primary next March. He announced his California team, which includes some well known operatives from the party's left, this week, Evan Halper wrote.
Biden made his first big policy proposal of the campaign this week. As Halper wrote, it's a big expansion of federal money for K-12 schools, which he announced at a town hall sponsored by the American Federation of Teachers.
The Democrats already have 23 candidates in their race. Some think there's still room for more. Take Joe Sanberg, who made millions as an investor in Los Angeles. As Mason wrote, he now says he may join the race to highlight the need to fight poverty.
WEEKEND GREAT READ
If you haven't already, read David Cloud's account of a transgender soldier in the U.S. Army. It's a fascinating look at one person's life and service as Trump seeks to push transgender people out of the military.
LOGISTICS
That wraps up this week. Until next time, keep track of all the developments in national politics and the Trump administration at our Politics page and on Twitter @latimespolitics.
Send your comments, suggestions and news tips to politics@latimes.com.
If you like this newsletter, tell your friends to sign up.
---
Get our Essential Politics newsletter
The latest news, analysis and insights from our politics teams from Sacramento to D.C.
You may occasionally receive promotional content from the Los Angeles Times.